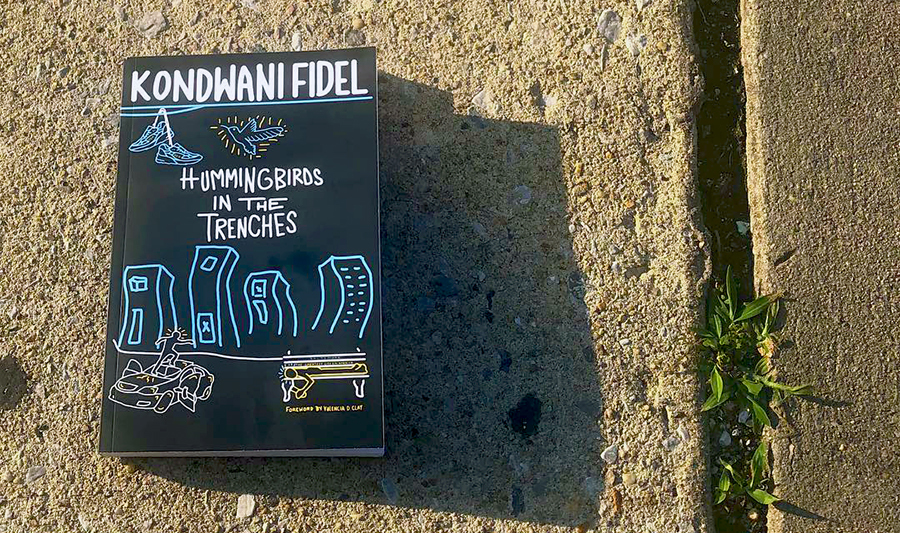 We traveled to Appalachia to sit inside the last honky-tonk bar in Winchester, Virginia, and took a ride back in time to learn about Maryland's rich history in music. We were mesmerized by the timeless mystique of mermaids and disheartened by the dire state of the Chesapeake Bay. We got perspective into our city's history, through stories of the 1968 riots after Dr. Martin Luther King Jr. was assassinated, the Baltimore Uprising of 2015, and the aftermath of both.
And we did this all through books that were penned by Baltimore authors.
We pored over poetry, novels, art books, children's books, collected essays, memoirs, and handbooks, all of which provided insight into understanding our world and ourselves. Here are our top picks for the must-read books of the 2018. (Spoiler alert: in the case of Michael Northrup's book, it's a must-see.)
I Wrote This Book Because I Love You
Tim Kreider (Simon & Schuster)
It's no surprise that when he's not writing for The New York Times, Tim Kreider is also a cartoonist (many in Baltimore may know him for his dark-humor comic strip "The Pain—When Will It End?," which ran for 12 years in City Paper). The Baltimore native's second collection of essays is chock full of laugh-out-loud moments, mostly at his own expense, as he puts his love life on display with stark honesty. Like the time he briefly dated a prostitute (er, fetish model), or when he followed a girl to the circus and posed as her husband, or when he tracked down the psychologist who tested him as a child for the renowned Strange Situation study that's used to predict attachment issues into adulthood. All the while, he's discovered a thing or two. Kreider isn't solely a humorist—he's also part philosopher, part psychologist, part poet. Paired with his depth of insight into the human condition and startlingly sharp observations, this intimate collection is as hilarious as it is poignant, as it explores what it means to love and be loved—even if it's love shared with your 19-year-old cat.
Hummingbirds in the Trenches
Kondwani Fidel (self-published)
Kondwani Fidel's raw, brutal, and unabashedly honest account of growing up in Baltimore and losing family and friends to murder, drugs, and gang violence is painful to read but also refreshing, uncompromising in its integrity to tell the truth as he sees it. There's a sensitivity and a fire to the voice of this 25 year old, who has already traveled the country and world to give lectures and readings. His new collection of memoir-esque essays, one-liners, conversation excerpts, and rhythmic poetry—referred to as "The Tracklist" in the table of contents—encompasses the writer's ruminations and research. Here, he reflects on the repercussions of slavery and systemic racism in America: the toxic lead paint study on black youth; kids suffering in public schools without air conditioning or heat; and general poverty, depression (including his own), suicide, drugs, and blood on the streets of East Baltimore. If you're not aware of what growing up in a rough neighborhood is like—what it's like to be a hummingbird in the trenches—this book will pry your eyes wide open.
Clock Dance
Anne Tyler (Knoff)
In Anne Tyler's latest novel, the Pulitzer Prize-winning Baltimore author explores the passage of time and how pivotal moments come to define us. In blocks of narrative that skip ahead 10 to 20 years at a time, she tells the story of a rather ordinary character, Willa Drake, whom we meet as a daughter, wife, and mother of adult children who longs to be a grandmother. We see her through love and loss, from childhood into retirement—and we watch as she evolves (albeit slowly). It's Tyler's graceful prose and solid narrative, peppered with her subtle sense of humor, that makes this book a joy to read. Whether it's Willa's straight-and-narrow, slightly miserable second husband; her sardonic little sister; or the badass, motorcycle-riding neighbor in leather pants, these characters come to life off the page, another one of Tyler's gifts.
Dream Away
Michael E. Northrup (Stanley/Barker)
In this limited-edition art book, Baltimore's Michael E. Northrup presents a series of 66 photographs of his now ex-wife that revolve around femininity, revealing the girl in the woman and the woman in the girl. These portraits also serve as a love story and an intimate look into the photographer's own life. "As for the subject matter, we met in 1976, married in 1978, and divorced 1988," Northrup says succinctly. We see her life—and body—change as she goes from lover to mother, from casually smoking cigarettes and skinny dipping to donning a bare-bummed baby over her shoulder and modeling breast pumps. Black-and-white images are juxtaposed with color, giving a sense of reflection on past times. With Northrup's imaginative experiments with shadow, strategically placed objects, and curated poses, the moments-in-time feel of a family album is elevated to fine art.
Liza Jane & the Dragon
Laura Lippman (Black Sheep/Akashic Books)
The New York Times best-selling author Laura Lippman's foray into the arena of children's literature is delightful and yet manages to maintain the author's quirky sense of humor. In this tale, a little girl named Liza Jane fires her parents and hires a dragon to take their place . . . until she realizes the dragon has only one tactic for solving problems: breathing fire. Late to school? Set the secretary's desk on fire. Pizza delivery man got delayed? A fiery blast to his car. The picture book is illustrated by Maryland painter Kate Samworth, who brings the characters to life and gives us visual clues for reading this story in a broader context. While this story is a fun romp through what might be the occasional daydream of many children, it also serves as a political allegory. The dragon has a familiar blond mane that swoops between his two horns.
Before and After Loss: A Neurologist's Perspective on Loss, Grief and Our Brain
Lisa M. Shulman, MD (Johns Hopkins University Press)
This poetic and insightful, if heartbreaking, memoir from neurologist Lisa M. Schulman stems from her own bereavement of her late husband, Bill Weiner, former chair of neurology at the University of Maryland, as she chronicles his diagnosis and eventual succumbing to cancer. His journal entries, her recorded dreams, and photos of meals they shared add a personal touch to the book that illustrates their love for one another, while interspersed quotes from philosophers, mystics, poets, and psychotherapists offer wisdom on death, dying, and grieving. Combined with the latest scientific studies in traumatic brain injury and holistic approaches to healing, Schulman has created a unique book that touches on all aspects of the process of grieving—the psychological, physiological, and overlap between neurology and psychiatry. Ultimately, Shulman points out that whether brain injury is caused by physical or emotional trauma, it results in similar long-term effects—and also that post-traumatic stress can become post-traumatic growth, with the right tools. In short, it could prove to be an invaluable aid to counselors, psychotherapists, and medical doctors, as well as anyone moving through grief toward wholeness.
A Memory of the Future
Elizabeth Spires (W.W. Norton & Company)
In this new poetry collection, Spires seems to channel Rumi or Buddha or both. The poems feel like prayers, and in some cases koans—each unique but all with a timeless, spiritual quality. To say they're Zen-like would be both literal and figurative; references to Zen Buddhism are strewn throughout Spires' work, and her verses unfold like meditations. The Goucher College professor of English possesses the rare gift to present lovely, solemn passages with a light touch and deft use of metaphor while simultaneously feeding her readers profound and heady truths. These little nuggets of wisdom come like offerings placed on an altar, quietly, with grace and intention.
Homeplace
John Lingan (Houghton Mifflin Harcourt)
Homeplace is an honest, bittersweet, and at times humorous look at small-town America through the lens of Winchester, Virginia, in the Shenandoah Valley. Lingan, who grew up in Catonsville and has written for Oxford American and New York Times Magazine, examines Patsy Cline's hometown and its longtime resident Jim McCoy, the honky-tonk owner who discovered her (and who continued to smoke, drink, and make music well into his 80s). What we ultimately see is a town in the midst of an identity crisis—from a slow-paced, Southern area known for its apple production to a burgeoning suburb of new establishments that have attracted an influx of urbanites from Washington, D.C., and Northern Virginia. But the book also feels like a travelogue at times—clearly the observations of an out-of-towner with a voice of his own. His four years of researching and writing it is evident, as he reveals the town's (and neighboring towns') quirks while bringing into focus a broader, nostalgic story of a vanishing way of life, as factory farms, opioids, big-box stores, and even music streaming services swallow up what once was.
The Chesapeake in Focus: Transforming the Natural World
Tom Pelton (Johns Hopkins University Press)
Pelton, one the country's leading environmental journalists, offers us a wealth of knowledge about the Chesapeake Bay, collected from his more than two decades of reporting on this ecological, cultural, and historical treasure (you may also know him from his show Environment in Focus on WYPR). His book is part history of the bay's watershed region, part political history of its preservation, and, to a lesser extent, part personal history, as Pelton draws gorgeous imagery of scenes he's experienced as an avid kayaker on the bay's waters and tributaries. In total, he paints a compelling portrait of what it is he wants to preserve. Divided into four sections (The Waters, The People, The Wildlife, and The Policies), the book covers a lot of ground, from Baltimore's sewage issues to the over-harvesting of wild oysters. The highlight, perhaps, comes toward the end, when Pelton proposes 10 realistic steps for bay restoration. We should listen to him.