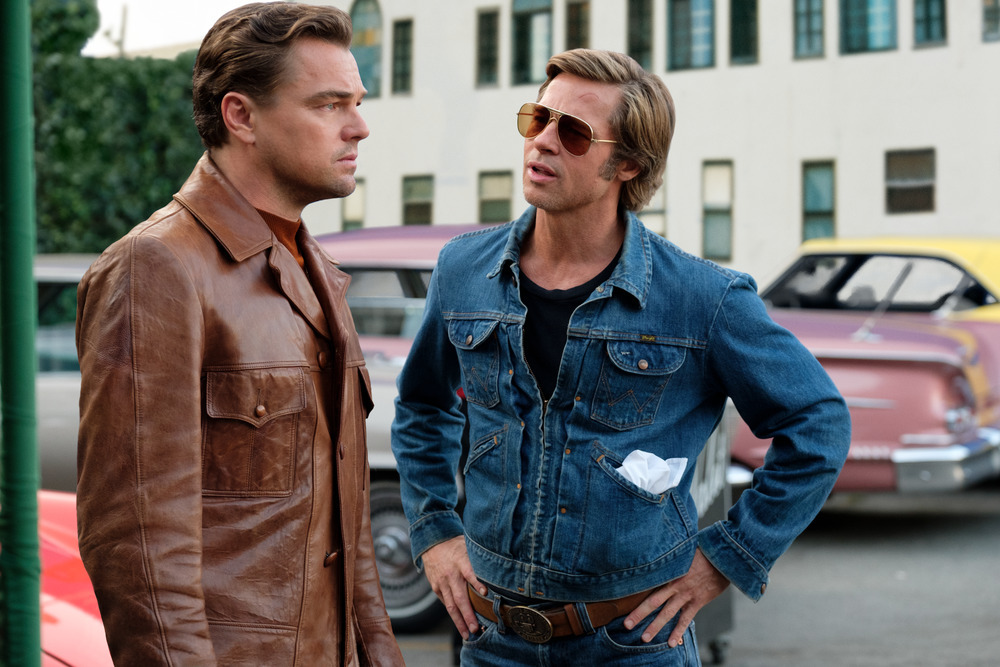 Sony
As I work on this list of my favorite films of 2019, I'm also, of course, reflecting on the best films of the decade. And I can't shake the stubborn belief that no less than three (!) films from this year will make my decade's Top 10 list. Yes, I worry about recency bias: If there's one thing I've learned looking back over my "Best of the Year" lists from years past it's that not every film withstood the test of time, even in my own mind. It's fascinating which films seemed vital at the time but have since faded in my estimation, either because they seem hopelessly outdated (Precious or Birdman, for example) or because other films simply have more resonance, a stronger and more lingering artistic pull.
That being said, I feel somewhat confident that my three favorite films of this year will withstand the test of time. Two are directed by incontrovertible masters, who seem to be taking stock of their own lives, reflecting on the work they've done and why they've done it. The third is an audacious masterpiece from one of the most exciting rising directors on the planet.
So let's get to it. And watch this space in the weeks to come to see if my Top 3 here ultimately did land on my Best of the Decade.
(A few of the capsule reviews below contain excerpts from my earlier reviews of those films)
1. Once Upon a Time in Hollywood
Tarantino has made cathartic revisionist history where the good guys win before—his Inglorious Basterds took on Hitler and the Third Reich; Django Unchained enacted bloody (and bloody good) revenge on slave owners. Compared to those films, the Manson Murders might seem like small potatoes, but we can see how they loomed large for young Quentin, who was six years old and living in California when the murders occurred. They were, no doubt, a terrifying bogeyman, a nightmarish scenario for a child to worry about at night, but they were probably doubly resonant for young Tarantino because they intersected with what would become his life's passion—film (one of the victims was Sharon Tate, a rising starlet and the wife of film director Roman Polanski). And it's Tarantino's genius that he managed to see those murders in the context of a culture war. Once Upon a Time in Hollywood is, more than anything else, about the shift from the morally straightforward Westerns and war flicks of the 50s and early 60s to the morally murky auteurist films of the late 60s and 70s. His lead character, actor Rick Dalton (Leonardo DiCaprio) was a natural fit for those sturdier, squarer times and is having a hard time adjusting to the new cinematic landscape. Dalton desperately wants the approval of the likes of Polanski, who happens to be his neighbor. He's aided, at all times, by his trusty sidekick, the impossibly cool and laidback stuntman Cliff Booth (Brad Pitt), a role that will probably win Pitt his first Oscar. The film, bathed in a kind of golden light and accented by iconic neon signage and gleaming American cars, is gorgeous—vintage Hollywood has never looked more enticing. The Manson murders are hardly central to the story but they loom over the film like a specter.
My review.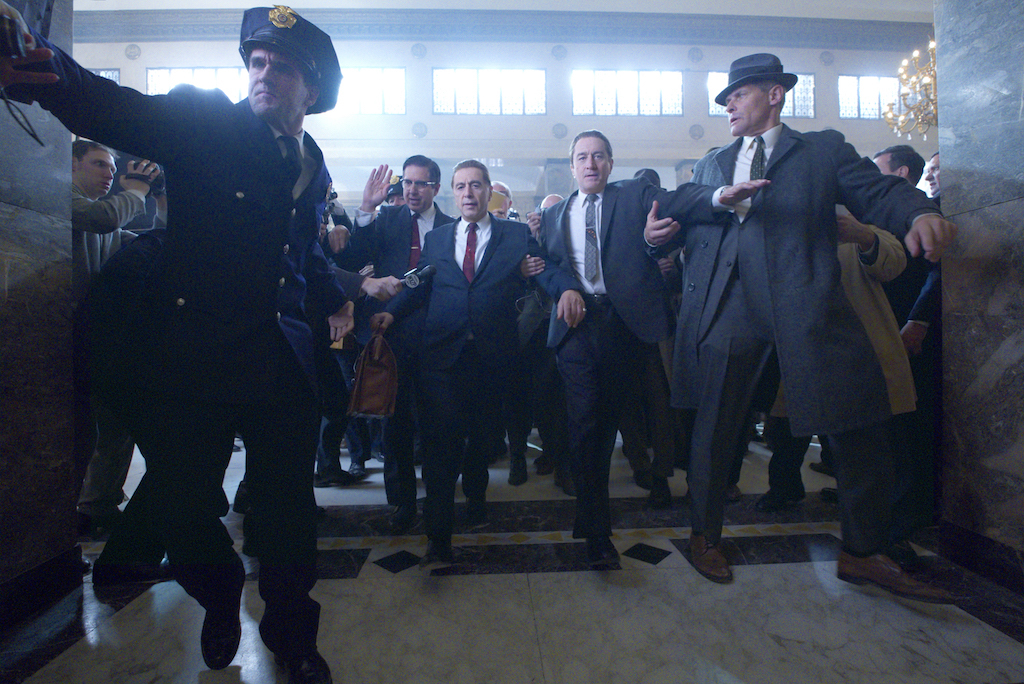 2. The Irishman
Scorsese is joined by two of his favorite collaborators—Robert De Niro and Joe Pesci (whom he lured out of semi-retirement)—and throws in no less than Al Pacino in his film about the war waged between teamster Jimmy Hoffa and the New Jersey mafia. Even more so than Tarantino, Scorsese is in self-reflection mode here, reckoning with his own past, his history of making great films about not-so-great men. The Irishman is filled with colorful characters and all the bluster, humor, and violence you'd expect from a Scorsese film, but it moves beyond the glory days to ask: When it is all over, what are left with? Old men, filled with regret, forgotten by time, enfeebled by age, fading into irrelevance. Of course, with a film this vital, this deeply felt, this elegiac, Scorsese proves that his own star will never dim.
My review.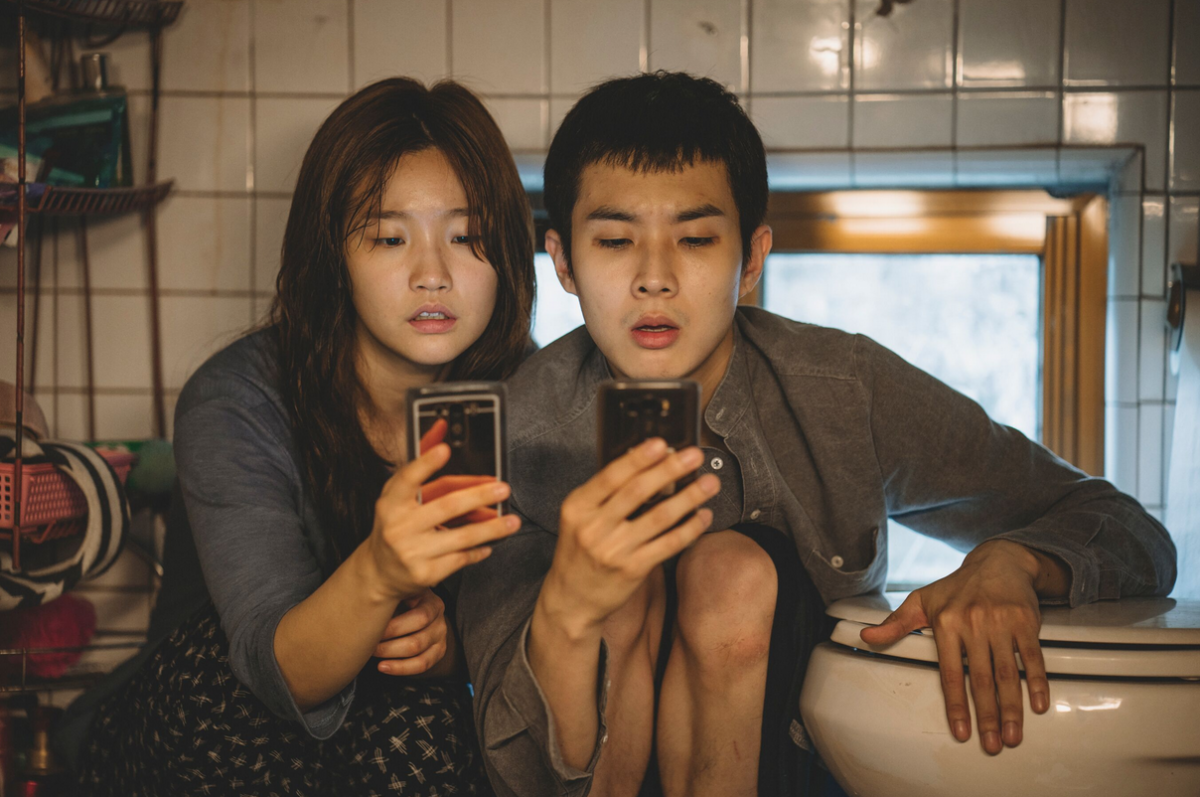 3. Parasite
Can you be both deeply cynical and humanist at the same time? Bong Joon Ho demonstrates both tendencies in this wickedly funny (and grim) satire. The film takes a classic upstairs/downstairs scenario and turns it on its head. The wealthy Park family are not terrible people, but their noblesse oblige comes with a heaping side order of classist disgust. And the loveable family of grifters who worm their way into the Park mansion? They're willing to take down anyone who stands in the way of their new windfall. The film, while stylish and almost extravagantly entertaining, also forces us to interrogate our own biases and assumptions.
My review.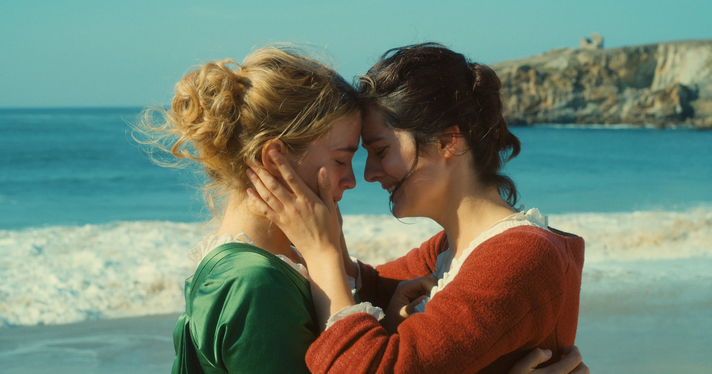 4. Portrait of a Lady on Fire
If the Female Gaze had an official film it would be this one, by French director Céline Sciamma. In the rugged countryside of 18th century France, the fearless Marianne (Noémie Merlant) has been hired to paint a portrait of Heloise (Adèle Haènel), who is to be married off to an Italian count she's never met. But since Heloise wants neither the marriage nor the portrait, Marianne must work surreptitiously, befriending Heloise and stealing furtive glances and sketches when her new friend isn't looking. Heloise is angry, and with good reason. She loves music and literature and her freedom—she has no desire to be anyone's wife. As for Marianne, a gifted artist, she must toil as a female in a field whose methodology and themes are completely defined by men. The film imagines a radical alternate reality of sorts where women's anger is able to be fully expressed and rituals central to their lives (abortions for example) are considered valid artistic subjects. Beautiful, bruising, and sensuous, the film—like Greta Gerwig's great adaptation of Little Women which almost made this list—allows us to contemplate a better world where women are given bodily autonomy and artistic freedom.
Baltimore opening date: TBD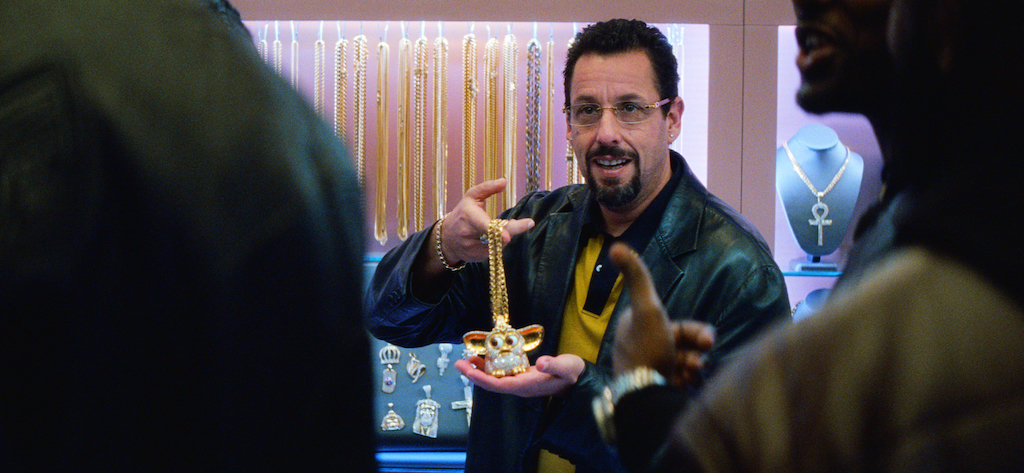 5. Uncut Gems
I can't get this meshuggeneh film out of my head. It's honestly a nightmare—a nervous breakdown of a movie that never allows you to catch your breath. But it's mesmerizing. Adam Sandler, in his best performance yet (I say this as a person who thinks Sandler is a great actor) plays a Jewish merchant in New York's famous Diamond District who is also a gambling addict. More importantly, he's addicted to the hustler's life, even as it destroys him. The Safdie Brothers film him like a shark that needs to keep moving to stay alive. The film is sweaty, twitchy, disturbing, and utterly wonderful.
Opens Christmas day.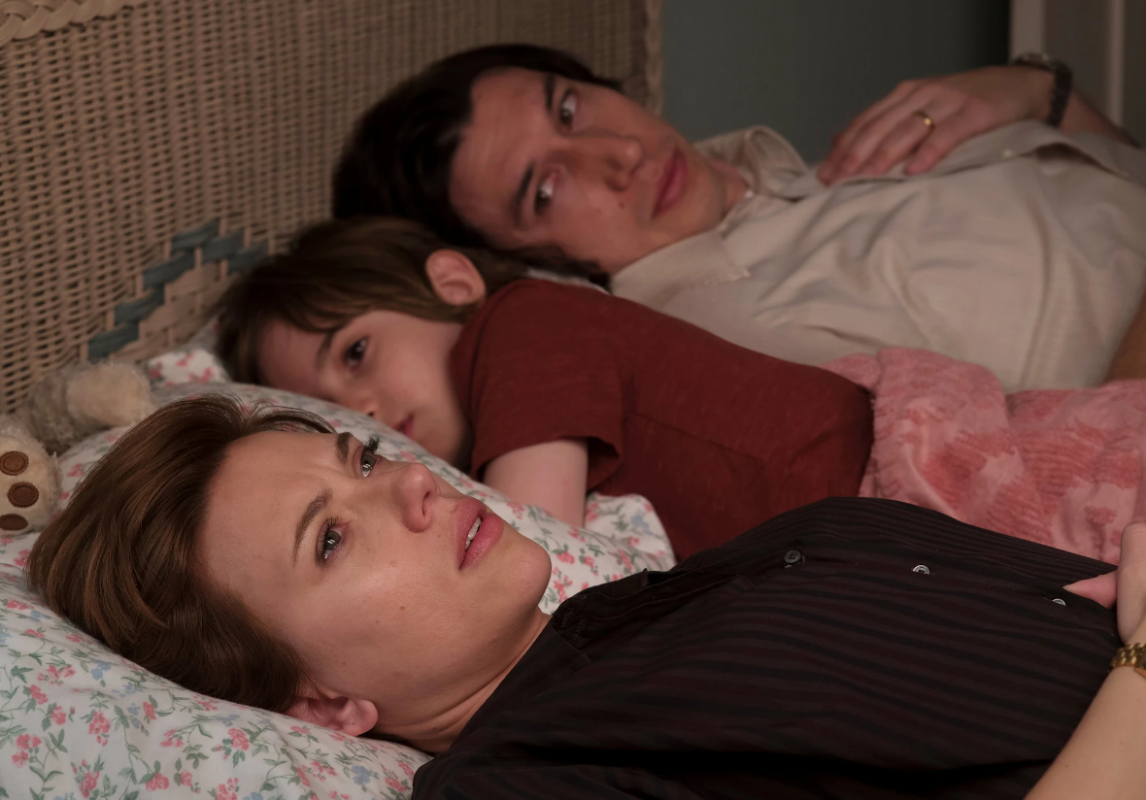 6. Marriage Story
As Tolstoy said, "Happy families are all alike; every unhappy family is unhappy in its own way." So it is with divorces and Noah Baumbach shines a light on a particular divorce (not his own! he swears!) that will slowly break your heart. Actress Nicole (Scarlett Johannson) and director Charlie (Adam Driver) want to do things amicably, including sharing the custody of their son. Then she ends up in California (he's in New York) and gets seduced by a shark of a lawyer (Laura Dern) who encourages her to lean in. He hires a shark of his own (Ray Liotta). They both seem baffled, swept up by all the unexpected ugliness. A film about how two good people who once truly loved each other can be separated by physical and emotional gulfs. The two leads are remarkable.
My full review.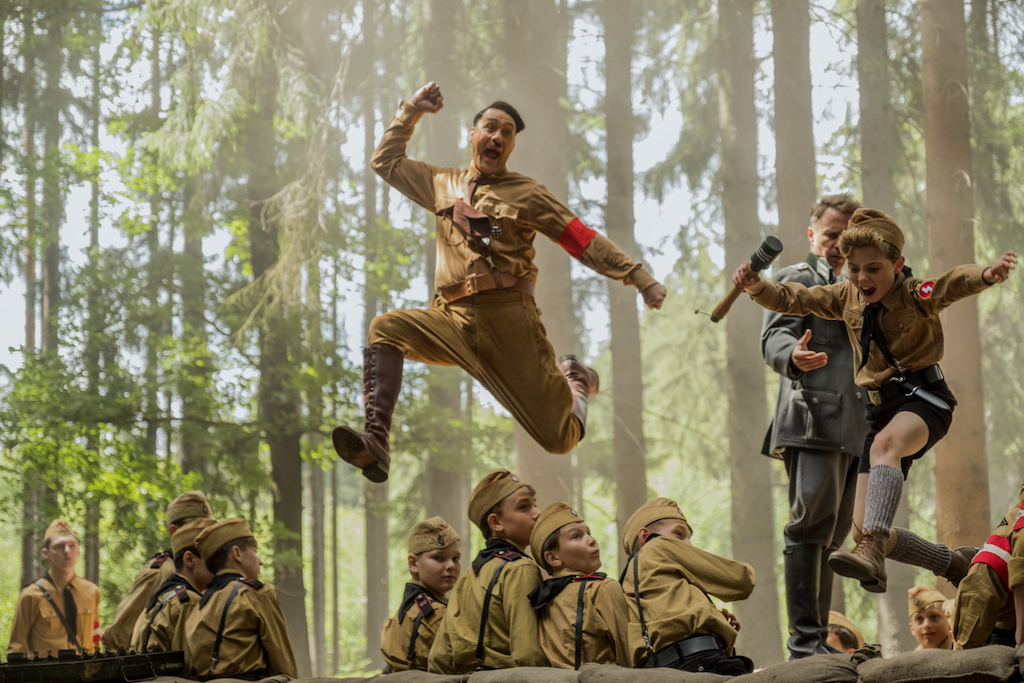 7. Jojo Rabbit
In most films, Nazis are the cold, brutal men. In Taika Waititi's equal parts funny and tragic Jojo Rabbit, they are sometimes that, but more often ridiculous, bored, and/or clueless. This is the sly genius of a film that highlights what has recently become an uncomfortable truth: "Nazis, they're just like us!" Our young Hitler-worshipping hero (Roman Griffin Davis) is shielded from the ugliness of Nazism by his own resistance-minded mother (Scarlett Johansson) who believes that his ignorance protects him. The imaginary Hitler friend Jojo conjures (Waititi) is a mostly loveable buffoon who encourages him to be brave and resolute. Things get complicated when Jojo discovers the Jewish girl his mother is sheltering in the attic and develops real feelings for her. Sometimes, losing one's innocence means confronting man's capacity for evil. Among its many other virtues, Jojo Rabbit contains the best deployment of an F-Bomb ever wielded in a family-friendly film.
My review.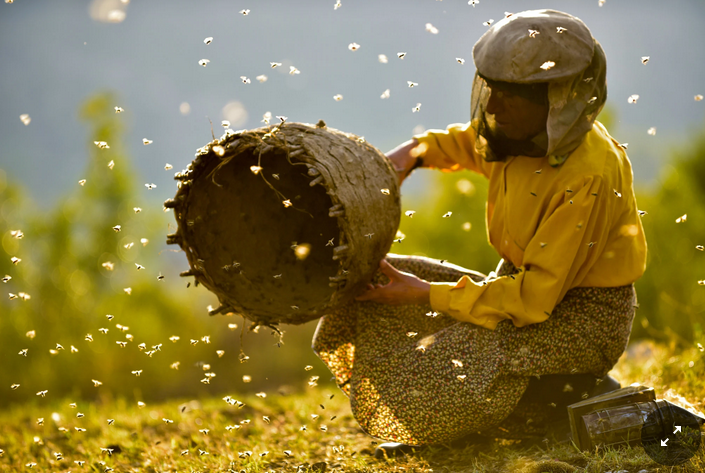 8. Honeyland
I've never seen anything like it. Directors Tamara Kotevska and Ljubomir Stefanov takes us deep into a remote Macedonian village where our middle-aged heroine, Hatidze, collects honey from bees and tends to her ailing mother. She is a simple woman who lives in complete harmony with her bees, until a family of nomads moves in next door. At first she enjoys their company—there are playful, rough-and-tumble children running about the hills and adults to talk to—but the father starts harvestings bees as well, only he is less eco-friendly than Hatidze is. While the bees never sting Hatidze, the father, who also recruits his children to help, is constantly getting stung. (In one sad scene, a baby gets stung in the face; in another, a little girl is seen sitting forlornly with a bee-sting-swollen eye; the middle son, who resents his father, often refuses to help.) The father is exploiting the bees—and the land—and taking away Hatidze's livelihood, but can we truly blame him? He has nearly 10 mouths to feed. Honeyland is an uncommonly beautiful film, as we watch Hatidze traipse through the fields and mountains, often backlit and basking in her peaceful solitude. This kind of access to and deep examination of the lives of people we'd otherwise never meet is one of the reasons I love cinema. I'll never forgot this unruly and rambunctious and resilient family of nomad children. But mostly I'll never forget the heartbreaking grace and kindness of Hatidze.
Available to rent on Amazon Prime.
9. The Souvenir
We've all had bad boyfriends or girlfriends who nonetheless had an outsized influence on our lives. Joanna Hogg's gorgeously-crafted film, set in the early 80s, is about a particularly bad boyfriend—condescending, withholding, an addict—who nonetheless had a certain Byronic glamour and who, quite possibly, helped our aspiring-filmmaker heroine become a better artist. With Honor Swinton Byrne (Tilda's kid) as the young filmmaker and Tom Burke as the louche, disaffected man she can't stay away from. Good news for all: Tilda Swinton is also on hand, playing the devoted mother who helplessly watches her daughter's toxic relationship play out.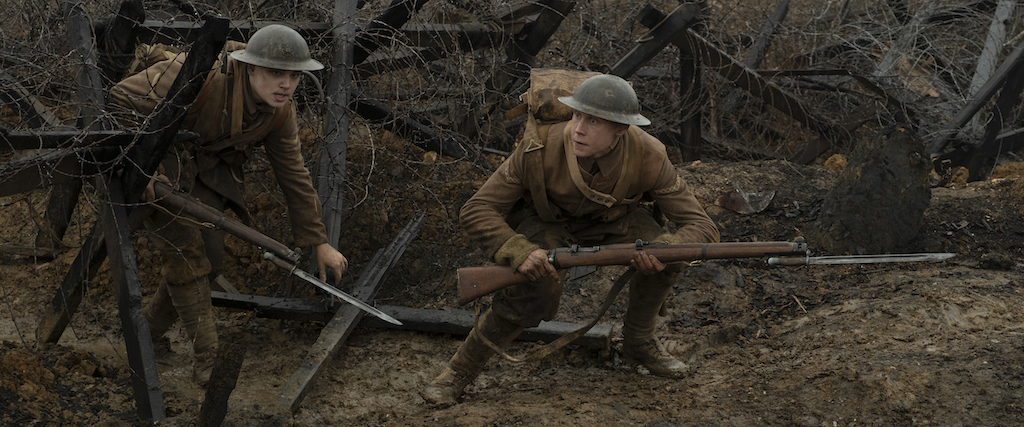 10. 1917
In WWI, two British foot soldiers—hungry, tired, and hopeful that the war will soon end—are abruptly given a near impossible assignment: to travel through "No Man's Land" to the front lines to warn 1,600 British troops that they're about to walk into a German trap. The mission is personal for one of the two soldiers (Dean-Charles Chapman)—his lieutenant brother is among the men about to fall prey to the trap. The other one (George McKay) is just a victim of being in the wrong place at the wrong time. Off they go, the two of them—so young, babies really—scared, but brave, chatting idly to keep their morale up. Sam Mendes' film, convincingly shot to create the illusion that it's all one long take, works as both an adventure and buddy film. It's thrilling, ravishing, and, at times, achingly sad.
Opens Christmas Day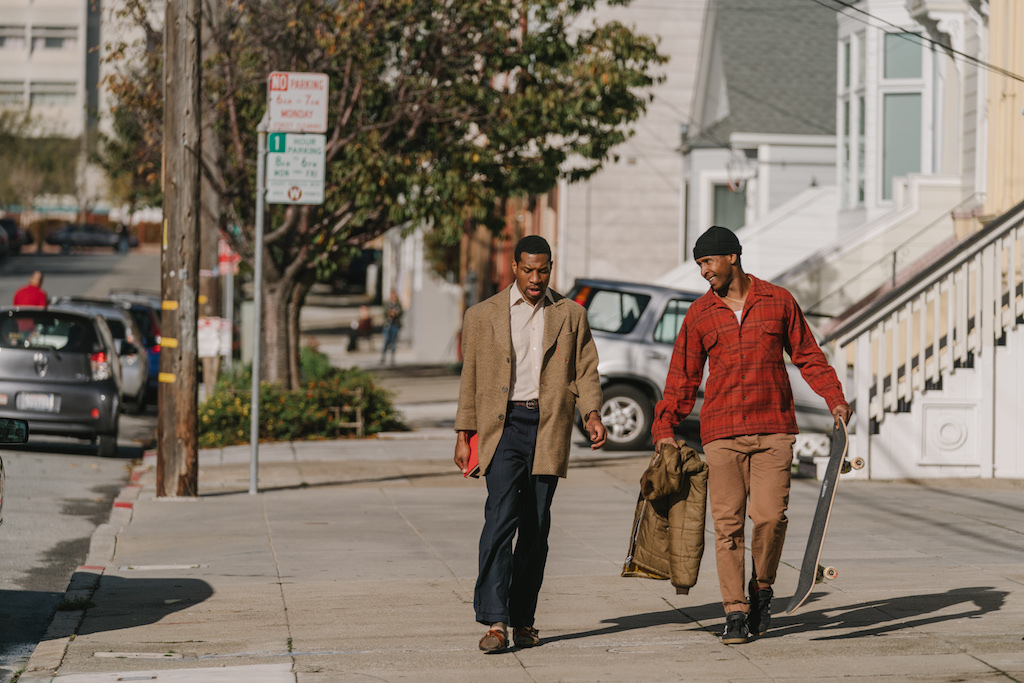 11. The Last Black Man in San Francisco
Joe Talbot's beautiful film aims for something mythic—and achieves it. In San Francisco, a young black man named Jimmie (Jimmie Falls, who also co-wrote the story, loosely based on his own life) obsessively tends to a Victorian townhouse that isn't his. He paints the trim, plants flowers in the window ledges—much to the consternation of the white couple that resides in it. You see, he says the house was built by his grandfather; he has a special connection to it. The film follows what happens when the white couple leaves and Jimmie and his courtly, quietly observant best friend (Jonathan Majors) squat in the house. They are men out of time—two gentle artists struggling to live in a world that is too expensive, too uncaring, too unjust to lift them up.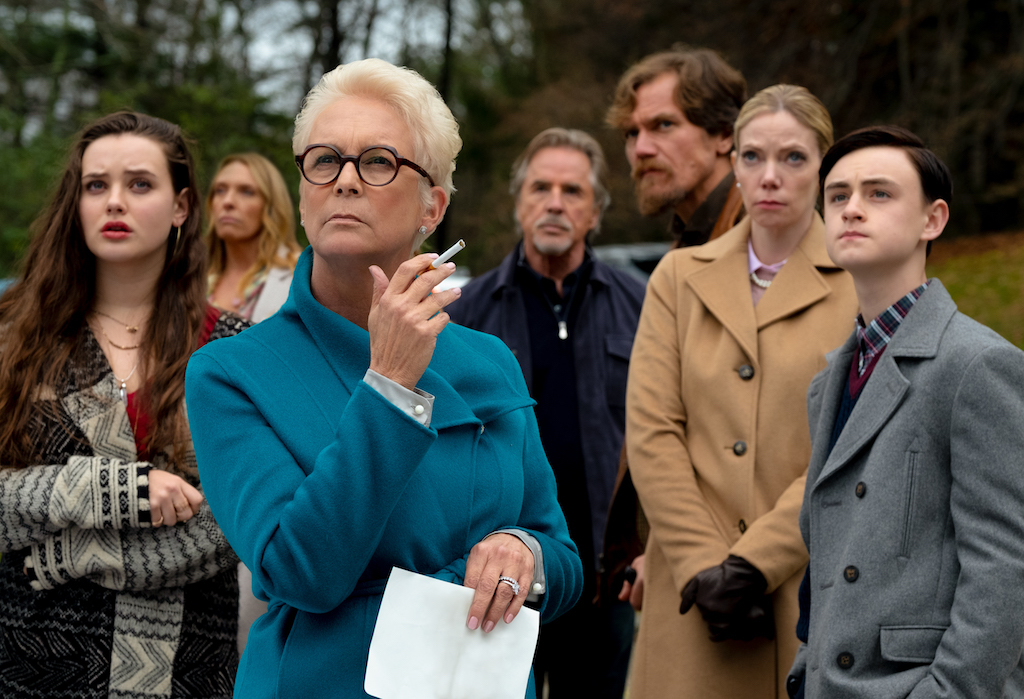 12. Knives Out
This film is a total blast. Director Rian Johnson does an updated take on an Agatha Christie style murder mystery, employing a goodly amount of meta humor and some of the best actors in the biz, clearly having the time of their lives. When the mystery writing patriarch (Christopher Plummer) of a large family dies by unlikely suicide, everyone is a suspect, including the rascally grandson (Chris Evans), the grasping in-law (Toni Colette), and the sad sack, underachieving son (Michael Shannon). And what to make of the patriarch's special relationship with his beautiful immigrant caregiver (Ana de Armas)? With Daniel Craig as the larger-than-life detective with a thick-as-molasses drawl, and Jamie Lee Curtis as quite possibly the only competent family member left.
My review.
[Honorable mention to Ready or Not, a fun horror/thriller also featuring a satirical murder mystery in a creepy old house that would make a nifty double feature with Knives Out.]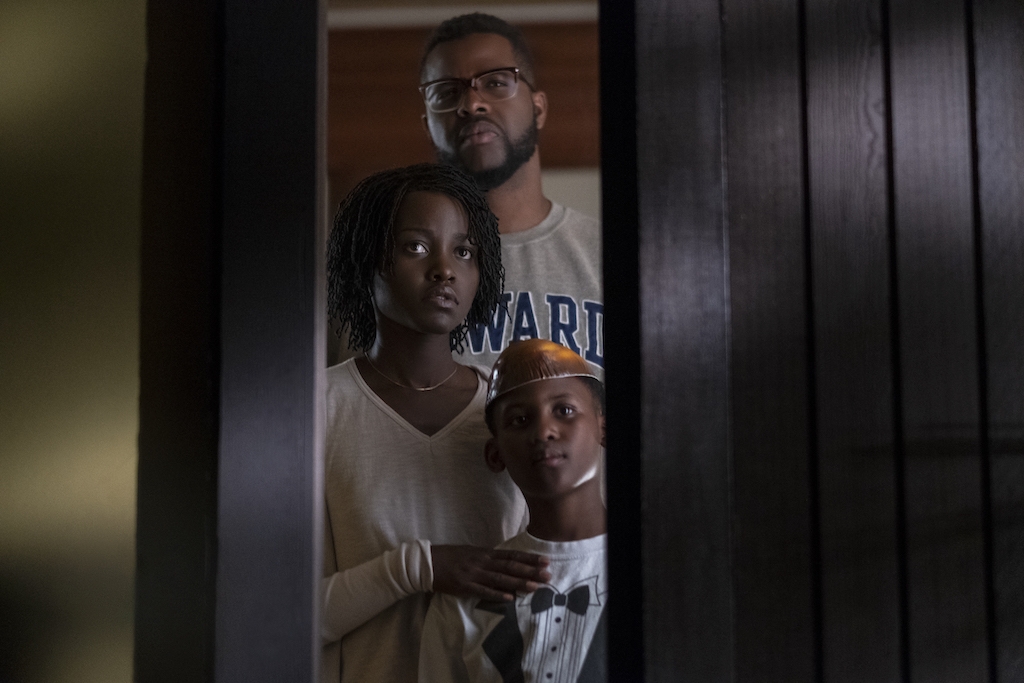 13. Us
Jordan Peele defies the sophomore slump with this chilling and thought-provoking thriller. A family goes to their beach house, looks out the window and see a horrifying simulacrum of themselves—only feral, dressed in red jumpsuits, with rictus grins, and holding knives. It becomes clear that this family of doppelgangers, who live underground, wants to kill and replace them. Lupita Nyong'o gives one of the best performances of the year as both the frenzied doppelganger and the ferocious mother who will do anything to protect her family and retain her own status as one who lives in the light.
My review.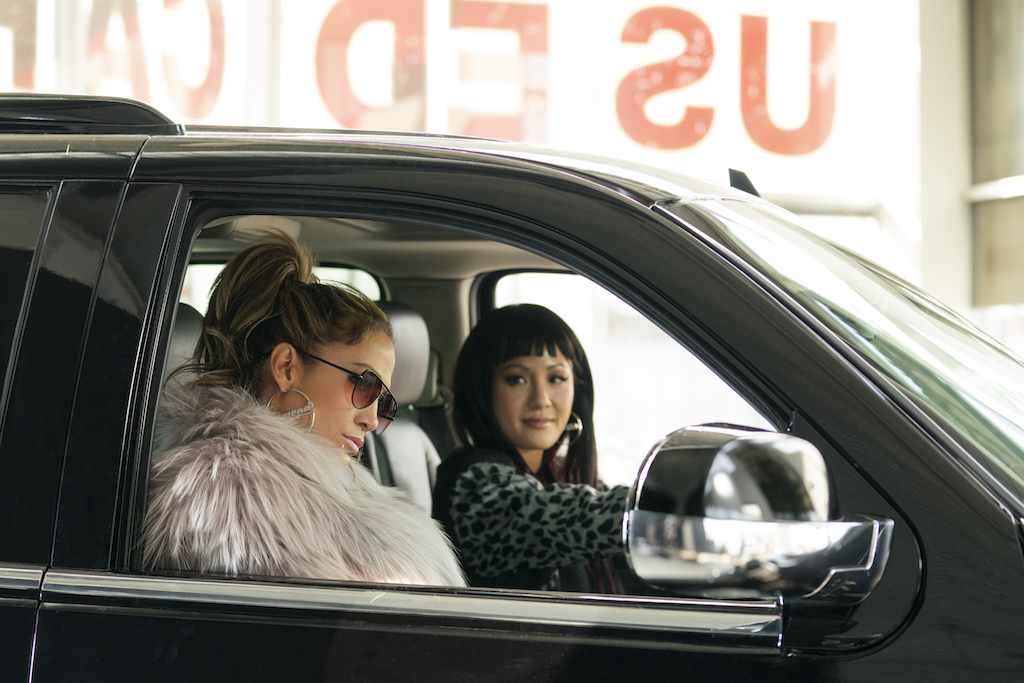 14. Hustlers
It's J-Lo's world, we just live in it. Lopez gives a balls-out, "I'm a star, get out of my way" performance as aging stripper Ramona, who takes wide-eyed newcomer Destiny (Constance Wu) under her wing, and eventually recruits her in a scheme to scam money from Wall Street jerks. Lorene Scafaria's film borrows heavily from Goodfellas (hey, good choice) but has a giddy, sister-power language and rhythm of its own. It's a crime caper, but even more so, it's a celebration of female friendship, badassery, and resilience.
My review.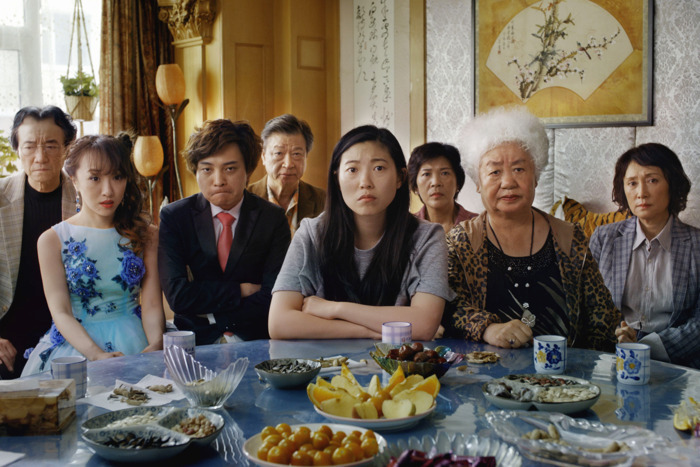 15. The Farewell
There's a lot of gentle humor and a deep reservoir of empathy in this film about a Chinese-American family who travel to China to be with their aging grandmother (Zhao Shuzhen). But there's one catch: They know she's dying of cancer, she doesn't. This fact shocks and offends granddaughter Billi (Awkwafina), who has a particularly close relationship with her "Nai Nai" and believes she is deserving of the truth. One of the things that makes The Farewell so winning is that Billi's belief system, which often mirrors our own, is challenged along the way. She begins to understand why the family doesn't tell Nai Nai about her illness—that they are shouldering the burden of grief and fear for her. The Farewell is loosely based on writer director Lulu Wang's own family and it shows: The specificity of detail, the complete avoidance of cliché, and the deep immersion in family ritual makes this film really come to life. Awkwafina is great in her first (semi) dramatic role, but the breakout is Zhao Shuzhen, who plays Nai Nai with an irresistible amount of warmth, playfulness, and wisdom.
My review
Honorable Mention: Little Women, Midsommar, Pain and Glory, Toy Story 4, Waves.