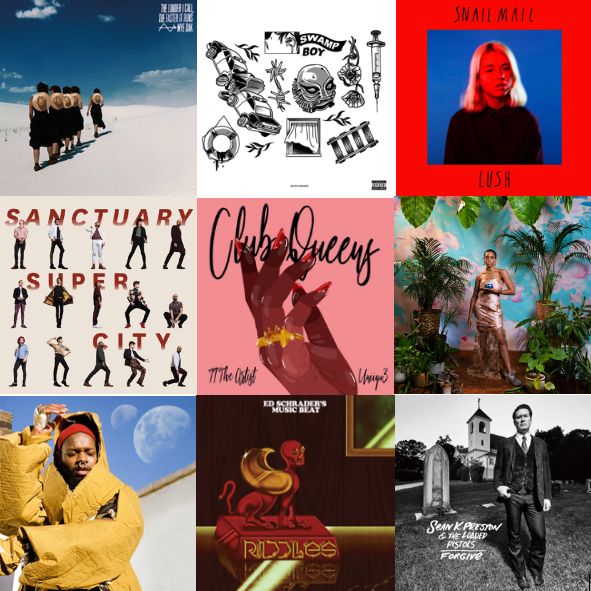 This was a big year for Baltimore music. A decade after Rolling Stone dubbed our city the best music scene in the country, local artists continued to make great music—in some ways better than ever—and they got recognized for it, both through local listeners and on the national stage.
Locally, Baltimore artists released a record number of highly anticipated albums over the course of the last 12 months, and in doing so, also treated us to a heap of had-to-be-there concerts on our hometown stages, from Snail Mail making her debut at The Parkway to DDm transforming the Soundstage into a fashion runway to one very memorable night starring TT The Artist at Union Collective during our first-ever Baltimore magazine Music Festival. (Be on the lookout for its return in 2019.) Nationally, it seemed as if every time we went online, another local musician was being recognized by a top tastemaker, from The Fader and Vice (both thanks in no small part to True Laurels' Lawrence Burney) to, yes, Rolling Stone, plus NPR, Billboard, and The New York Times, with one especially deserved piece on local artists of color. Hearing this music, seeing these concerts, and reading these headlines amidst the chaos of 2018 gave us a glimmer of hope.
Picking favorites from this past year has felt nearly impossible—we simply didn't know where to begin, or end—so to help narrow our focus, we've chosen 20 songs off those aforementioned new albums, which includes everything from fresh-faced folk and up-and-coming hip-hop to the rebirth of indie veterans and the solidification of new rock stars. Hear for yourself, via our Spotify playlist below, but in this age of quick consumption, we encourage you to listen to these records in full, and to find your own favorites. And to continue to follow the local music scene, these artists and others, into 2019 and beyond.
---
"Dive" by Beach House
We've learned to no longer sit on the edge of our seats for a Beach House album as over the last few years the duo has continued to drop a sudden new song here or full-blown record release there without so much as a whiff of Internet buzz. But their seventh record, aptly titled 7, did serve as a solid reminder of the band's ability to surprise us. It's a hazy, haunting evolution in their decade-long perfection of shimmering, fuzzed-out dream-pop, with the new songs bringing a fresh sense of urgency and innovation, as heard in this second single. It builds in Beach House's signature slow-burning way before erupting in a potent moment of thunderous live drums and lustrous guitar. This newfound clarity only further cements Victoria Legrand and Alex Scally as indie rock royalty, in Baltimore and beyond.
Honorable Mentions: "Lemon Glow," "Drunk In LA," "L'Inconnue."
"Feel Nobody" by Butch Dawson
One of the biggest breakthroughs of the year might belong to Butch Dawson (and one of the biggest oversights of the year likely belongs to leaving him out of our Music Issue's list of top 50 bands to watch). This mosh-ready single off the West Baltimore rapper's autumn debut, Swamp Boy, was undoubtedly one of the most beloved songs in 2018, bringing his punkish, smoke-swirled brand of hip-hop to the forefront of the local music scene. Dawson's unbridled fire was also recognized by The Fader and that aforementioned article in The New York Times.
Honorable Mentions: "Division St. Blues," "Liberation," "Distances."
"Hollow Imitation" by Caleb Stine
Long before the birth of the Charm City Bluegrass Festival and the region's recent folk music renaissance, there was Caleb Stine, stoking the flames of his genre and its deep ties to Maryland through Americana tales over the course of the last two decades. But Moon, the rustic raconteur's first new solo record in some time, turns its attention away from the road and religion, toward the ground-shaking, all-consuming power of love. This reverential ballad is Stine's storytelling at its very best, with saturated imagery unfolding like an old film.
Honorable Mentions: "Higher Ground," "Garden," "Bodhi Tree."
"Rude" by DDm
Okay, so we know this record hasn't officially dropped, but anyone who's seen DDm perform over the last several months has already fallen for the new tracks off his upcoming Soundtrack To A Shopping Mall, due out in the new year. DDm, aka Emmanuel Williams, aka Unkle Lulu, aka the Secretary of Shade, is the master of bona fide swagger, side-splitting braggadocio, and Beyoncé-worthy production, as showcased on this track. We can't think of many (or any) other local artists who put on a performance quite like DDm; he brings it to everything he touches.
Honorable Mentions: "Ready To Wear," "Try Me On," "Forever 21."
"Riddles" by Ed Schrader's Music Beat
After a decade of cutting their chops and gaining a loyal following on the local scene, Ed Schrader and Devlin Rice finally got their national due this year, with the post-punk duo's spring album, Riddles, via Car Park Records, lauded by the likes of NPR, Spin, and Rolling Stone. We could say it's about time, but those years allowed ESMB to find new footing in this cathartic triumph, produced by friend and fellow local institution Dan Deacon. Out of 10 bold songs, this twinkling title track is the unrivaled star—swelling in synth-fueled emotion and '80s-pop euphoria—speaking to facing your fears and, in turn, yourself. Just be sure to watch its Best of Baltimore-winning music video as well.
Honorable Mentions: "Kid Radium," "Dunce," "Tom."
"Knock the Man Down" by The High & Wides
Yes, the city's bluegrass scene has been growing like kudzu over the last few years, but few new bands have caught our eye—and ear—quite like this Baltimore-by-way-of-Eastern Shore string quartet. Their spring debut, Lifted, was met with critical acclaim for its reverence to, revolution from, and revival of the Americana genre; thought rooted in tradition, the band reimagines bluegrass for the 21st century. This track is all grit and gumption, from its jangly melody to its howling vocals and expert instrumentation—a back-woods boot-stomper for modern day.
Honorable Mentions: "Rake Out The Nails," "Ballad of Caulk's Field," "Dark Blues."
"Water" by Joy Postell
Diaspora, the full-length debut by Joy Postell, only affirmed what we already knew: the twenty-something soul powerhouse is a forerunner of the local music scene and a force to be reckoned with. Drawing inspiration from legends of the past (Nina Simone, Billie Holliday, Sarah Vaughn), Postell looks toward the future as a black woman in America in 2018, and each of the album's tracks tackle the African-American experience, from freedom to love. With a rippling jazz melody and the singer's mighty vox, this second single is an especially poignant portrait, presenting young black minds as the seeds of future change. Indeed Postell, also featured in the summer New York Times feature, is one herself.
Honorable Mentions: "Consciousness," "North Star," "Free Black."
"1539 N. Calvert" by JPEGMAFIA
Heading into 2019, JPEGMAFIA is definitely one of the city's—and country's—top wavemakers, thanks to a record year riding on the success of his boundary-pushing spring Veteran, with fiery live performances at the likes of Afropunk and spots in a slew of end-of-year best-of lists from Stereogum to Pitchfork sold. Though he now lives in L.A., we continue to claim the rap provocateur as our own. After all, this first track off the sophomore record is an ode to the former Bell Foundry art space in Greenmount West that abruptly closed after the Ghost Ship fire in California. The murky melody is a no-holds-barred stream-of-consciousness, best listened to alongside its dystopian Last Supper music video featuring other fellow Bell regulars.
Honorable Mentions: "Baby I'm Bleeding," "Rock N Roll Is Dead," "Macaulay Culkin."
"Assume The Position" by Lafayette Gilchrist & The New Volcanoes
There are few living legends left in Baltimore quite like Lafayette Gilchrist. The Baltimore-by-way-of-D.C. jazz and 2018 Baker Artist Award winner is revered by critics and listeners alike for his dynamic domination of the keys, easily recognized on his iconic scores in David Simon's HBO series, from The Wire to The Deuce, but the. On his latest EP, Deep Dancing Suite, Gilchrist and his 10-piece New Volcanoes bring back the uncontainable energy of jazz-era improvisation with a dose of modern danceability. Notably, this long-held hit gets new life at nearly double its original length, where keys, brass, and percussion take part in a lively jive. The reinvention stands testament to the artist's freestyle fluency and finesse.
Honorable Mentions: "Deep Dancing Suite," "Ping Pong," "Return of the Inchworm."
"Where I'm Bound" by Letitia VanSant
In her spring album and follow-up to 2015's Parts & Labor, Gut It To The Studs, folk singer-songwriter Letitia VanSant crafts a thoughtful opus on new chapters and change, with this first melody being a love letter to that of personal growth. On it, VanSant's mellifluent voice rolls bright and clear along a hearty river of acoustic guitar, upright bass, and old-school fiddle, setting the stage for the rest of the record and embracing the yet-to-be-seen discovery that still lies ahead of her. In the end of both this song and the entire record, she emerges newly powerful and perceptive. We'll be anxious to see how she channels that newfound purpose on her next release.
Honorable Mentions: "Gut It To The Studs," "Wild Heart Roam," "Sundown Town."
"Winning" by Peso Da Mafia
Last summer, Northeast Baltimore rap group Peso Da Mafia launched onto the local airwaves and, shortly thereafter, national stage with their come-up single turned viral dance video "Money Man." It would be a tough act to follow, but by early 2018, the trio would drop this sneak peek off their debut Never A Drought via Warner Music subsidiary Asylum Records. With more than a million Spotify listens and YouTube music video views for this track, it's safe to say that their slow-burn beats, confident rhymes, and catchy hooks are in anything but short supply. And with slots at SXSW and the BET Awards preshow, plus shout outs in Complex and XXL, it seems the big-wigs are watching, too.
Honorable Mentions: "Money Man," "TSAY," "About Us."
"Homeward Bound" by Sean K. Preston & The Loaded Pistols
We've heard this ballad around the Fells Point dive bars for a few years, but newly produced on the fall full-length, Forgive, by Sean K. Preston and his band The Loaded Pistols, the country blues number has taken on new meaning. This song details the heartache, hard luck, and hungry dreams that it takes to be a full-time musician, and in term, captures the essence of one of Baltimore's most dogged performers and true-blue, truth-speaking storytellers. After more than a decade on the local scene, this ballad and its accompanying record not only document but put on full display the hard-earned talents of Preston and his bandmates.
Honorable Mentions: "Last Call," "Barnburner," "Life's a Bitch."
"cherubim" by serpentwithfeet
This spring, the unexpected sound of serpentwithfeet, aka Baltimore native Josiah Wise, brought the country's top music critics to their knees. The avant-R&B artist's debut soil was considered a singular tour de force—absorbing in its theatricality, moving in its occult spirituality, liberating in its effusive emotion—transcendent of all boundaries. In short, it's unlike anything anyone had heard, as showcased in this devastatingly intimate devotional. The holy roller brings the multitudes of love, specifically queer black love, to light, melodically marching uphill to the pedestal upon which we humans put our lovers, chanting a declaration of dedication through an intricately layered chorus of Wise's vibrato vocals and soaring tenor with every step along the way.
Honorable Mentions: "whisper," "bless ur heart," "mourning song."
"Play Hard" by Soul Cannon
Seven years is a long time for any band to not release new music but still maintain its relevancy in the music business. But rules don't apply to the hip-hop collective of Soul Cannon, which remains a vital force on the local scene for its explosive experimentation and fiery live shows. And MC Eze Jackson and his three classically trained comrades have only solidified that status through this winter's self-titled record on which the quartet continues to break new ground through old tracks and new. Exhibit A: this agile sprint of a song that we can't get enough of, founded in the tight tango of Jackson's urgent, poetic vocals and his bandmates' wily, propulsive instrumentation. The band is a well-oiled machine that inspires any listener—music, writer, whoever you are—to play harder, too.
Honorable Mentions: "Hospital Records," "F Sharp," "Talk Less."
"Pristine" by Snail Mail
We wish Snail Mail had been around when we were in high school. Has there ever been a band that so perfectly bottles the essence of the teenage heart? Have there every been any lyrics—"Don't you like me for me?" or "I know myself and I'll never love anyone else"—that so captured and catapulted out into the world the hidden thoughts and emotions of that tumultuous time of life? Maybe that's why this has been the year of Lindsey Jordan, with the Ellicott City 18-year-old, her debut Lush, via Matador Records, and this first single featured in nearly every noteworthy publication and best-of end-of-year list on record. And rightfully so—Jordan is the brooding, heart-on-her-sleeve rock star we needed in 2018. And next year, too.
Honorable Mentions: "Heat Wave," "Golden Dream," "Full Control."
"Vulture" by Super City
To get a dose of the infectious energy and undeniable chemistry of Super City, pick any song off their fall Sanctuary—the indie (or "freakwave," as they've been called) quintet's new fall record. Though not one of the band's first singles, we find this breakneck anthem to be a good starting point. Co-frontman Greg Wellham commands the mic on this pop-punk-go-go melody, riddled with livewire guitar, punchy drums, and one epic buildup starting at the 2:25 mark as they swat away negative energy. For the full effect, see it live for their fancy, fame-worthy footwork. We've said it before and we'll say it again: these are the local rock gods you need to know now.
Honorable Mentions: "Sanctuary," "Artificial Sin," "Ghosts of Love."
"I Lost You" by Surf Harp
Eighties kids will feel instantly drawn to Surf Harp's Mr. Big Picture. Maybe it's because of the indie quintet's visuals, reminiscent of the early Macintosh computers and MTV music videos of our youth. Likely it's their post-punk-meets-new-wave sound, as creative and off-kilter as a Talking Heads hit. This band finds their own lane, though, with each of this spring record's 10 songs keeping their own unruly pace. For us, this shadowy ballad felt like the album's diamond in the rough, building from windswept melancholia into a swirl of momentum, spinning out before the story ends, leaving you wanting more.
Honorable Mentions: "D.I. Cig," "Catholic Glass," "Homework Program."
"Payroll" by TT The Artist
We'd like to put it on record: Baltimore Club queen TT The Artist is one of the hardest working musicians in the business. In 2018 alone, she premiered the trailer for her upcoming directorial debut, Dark City: Beneath the Beat, a full-length documentary on the city's music and dance genre of Bmore Club; she moved to L.A. and launched her all-women Club Queen Records, still with frequent stints back east for filming and fiery performances; and she dropped the label's first Club Queens EP with New Jersey's UNIIQU3. But one listen to her label's first single—full of unabashed bravado, electric beats, playful creativity, and featured on heavy rotation this summer on 92Q—and you'll see that TT is just getting started.
Honorable Mentions: "Off The Chain," "Freaking in the Club," "Fall Back."
"It's Okay" by Wume
We knew we couldn't wait for new music from experimental duo Wume after their mesmerizing 2015 EP, Maintain, but this fall, their new full-length record left us completely dazzled. In a quest for deeper truths, Toward the Shadow, via Northern Spy, offers a moment of reflection and introspection. Combining sparkling electronics by keyboardist Albert Schatz and newly prominent vocals in the form of philosophical incantations by drummer April Camlin, the band takes listeners on a trip into even more immersive soundscapes, urging them to dig deeper, to push further, to shift and breakthrough, just like the band has. This track is a rejuvenating listen in the chaos of our modern times.
Honorable Mentions: "Shadow," "Walled Garden," "Ravel."
"The Louder I Call, the Faster It Runs" by Wye Oak
We could feel something stirring in Wye Oak's 2016 release of Tween. A transition. A simultaneous closure and commencement. A reawakening. And now, with this gorgeous spring record, it all makes sense, as the band has emerged as a stunning new version of itself—and yet after 12 years, we've maybe never felt more in tune with music by Jenn Wasner and Andy Stack. Out of a dozen deeply human songs, this title track is an illuminating crescendo, revealing the beauty of the journey toward yourself. We still find ourselves pouring over its lyrics for answers, ultimately finding some sort of solace in the song's—and life's—elusions. As Wasner concludes, "Sometimes it takes a long, long, long time," and if Wye Oak's long game is any indication, the wait is certainly worth it.
Honorable Mentions: "The Instrument," "It Was Not Natural," "Lifer."