Neighborhood Fiber Co. Aims to Weave Positive Social Change
More than a yarn store, the firehouse-turned-production-studio on Eutaw Street downtown prioritizes its activism efforts—which only continue to grow.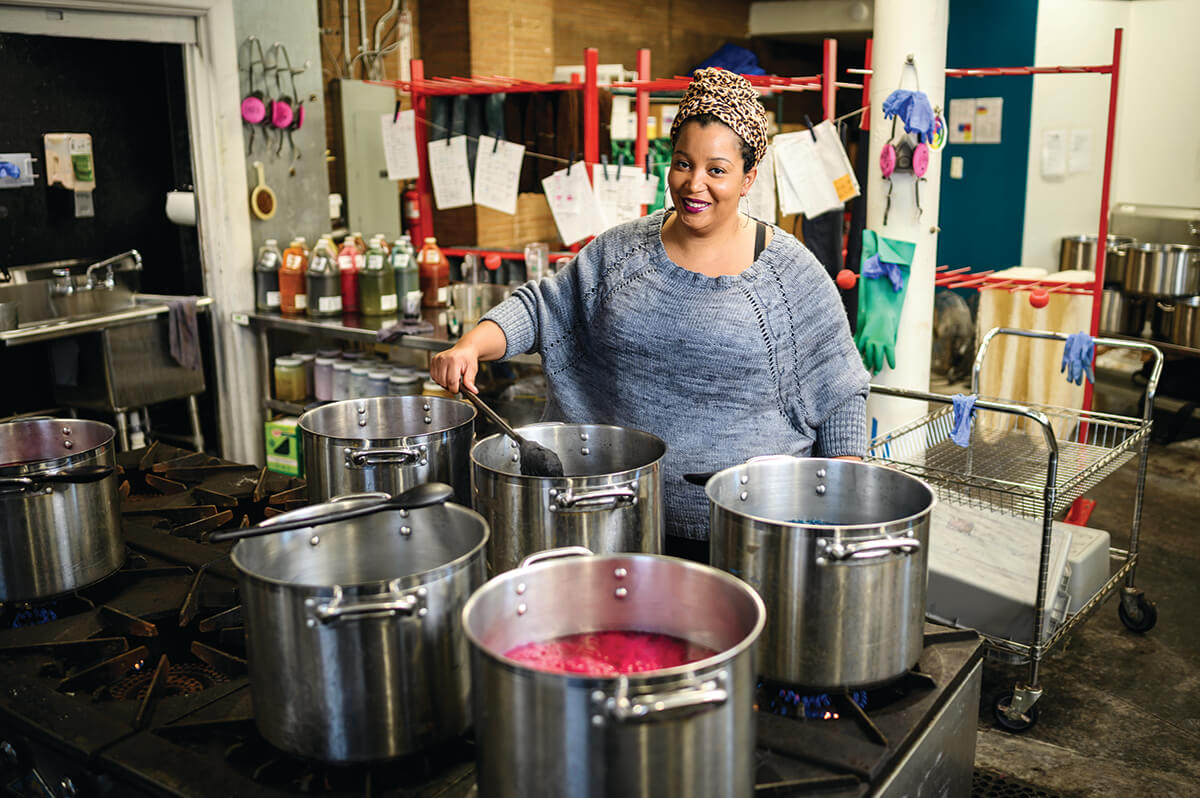 Karida Collins is writing a love letter to Baltimore, in the form of dyed yarn.
Collins, owner of Neighborhood Fiber Co. (NFC), knew she'd be naming her skeins after neighborhoods from the earliest stages of her business plan. The goal was to create something distinctly urban and highlight the beauty of city spaces, rejecting stereotypes of knitwear consisting of all pastels and soft prints. NFC hand-dyes yarn out of a firehouse-turned-production-studio on Eutaw Street downtown, selling the unique colors in its upstairs retail space to local knitters and crocheters and to the world via a robust online operation.
With more than 70 colors of yarn, the rationale behind each name varies. Some of them offer a gateway to ask questions and discuss historical context. "Upton" is the shop's black, Collins says, adding it is difficult to dye full black so it's really a dark gray.
"Upton was historically an important Black neighborhood in Baltimore, around the time my grandparents moved here," Collins says. "Our undyed color, which is like a white, is 'Roland Park,' which was one of the first places in the country to codify redlining and prevent Black and Jewish families from moving in."
"Penn North," meanwhile, is yellow, the favorite color of Collins' close friend, who calls the neighborhood home. Though not every color has a political undertone, using the business as a platform is important to Collins.
These days, people want to know the politics of the places where they shop, she explains. NFC first expressed its beliefs in 2015 after the death of Freddie Gray.
"I remember feeling so helpless after that happened and feeling like everyone was seeing Baltimore in a negative light," she says. "The Fiber Co. has customers all over the country and an international base, and I wanted to help and represent my city. This is my home, this is what I care about, and I wanted to stand in that place. I was so full of emotion I couldn't hold it in."
As an outlet for that emotion, the team at NFC decided to raise money for Baltimore Community Foundation's Fund to Rebuild Baltimore. Far from being a one-off, the Fiber Co.'s activism efforts have only grown. Each June the company donates to an LGBTQ+ charity in the community. After the Parkland shooting, they raised money to send people to the March for Our Lives. With the overturning of Roe v. Wade, Collins launched an initiative to raise funds to be split between Baltimore Abortion Fund and Baltimore Safe Haven. The shop is selling T-shirts that say, "Protect your rights like you protect your stash," referring to the term knitters and crocheters use for their precious yarn collections.
The shop also sells tote bags, buttons, and clothing reading "vote" with the "o" depicted as a ball of yarn. One can purchase items featuring the unity fist with a ball of yarn in hand, or a pin featuring Collins herself knitting on the stoop of a rowhome. Collins takes a think globally, act locally approach to activism.
"I can't stop myself from being fully me," she says. "If it loses us business, then okay, but I don't want to be inauthentic; advocating is such a big part of my life."
In 2020, Collins formalized her efforts when she created the NFC Momentum Fund, a donor-advised fund at the Baltimore Community Foundation designed to provide grants to groups working to mitigate the effects of systemic racism and support vulnerable populations, with a focus on Black-led organizations in the city.
"After the George Floyd murder, everyone was paying attention to Black Lives Matter and translating that into a desire to support Black business," Collins says. Because she had built a reputation for using her company to fundraise, such as selling a special yarn color specifically to raise money for a cause, the community trusted Collins to do good with their dollars. "All of a sudden, I had all these people who wanted to give me money," she says.
From an accounting perspective, constantly donating various sums of other people's money was impractical. Collins had wanted the company to have an official giving component, but without the added administrative aspects of a charity, which is why the donor-advised fund made sense. She needed $10,000 to launch it and published a GoFundMe page. The original goal was raised within hours, so she bumped it to $25,000—achieved in a day. Within a month, Collins had $100,000 to start the NFC Momentum Fund.
"It was really meaningful to me because it meant there were all these people who trusted me to make decisions about where their charitable donations should go, and that was before I even really articulated what I was going to do with the money besides give it away," she says.
"EVERYBODY HAS THAT STORY OF HOW THEIR GRANDMOTHER TAUGHT THEM TO KNIT…NOT ME."
Sheri Parks, Ph.D., is one of the many community members who knows and works closely with Collins. Parks, formerly the vice president of Strategic Initiatives at MICA, now co-leads the Baltimore Natural Dye Initiative, a multi-agency project that explores the cultural and economic impacts of growing and using natural dyes in this region.
The project, which is supported by the Maryland Department of Commerce and the Maryland State Arts Council, engages underserved farmers to grow and provide indigo, which is dried and processed. A larger dye kitchen and additional expertise were needed—enter Collins. NFC stores the Dye Initiative's indigo and allows the group to run workshops out of its studio.
"[Collins] is well-known in the industry," Parks says, citing Collins' feature in Vogue Knitting and numerous other recognitions in the fiber world, "yet she is very personable and really cares about people."
Parks does not knit or crochet herself, rather she is a self-described "enabler." Along with Kibibi Ajanku, a local fiber artist who makes and presents ethnically charged art, and Wanda Best, a member of the Natural Dye Initiative and Upton Planning Committee, Parks and Collins launched a unique community initiative this summer in which an arabber would take their horse and cart to an underserved community, but instead of having produce in the back of the cart, they would carry indigo. Collins provides the dye and came up with a dye formula that requires fewer steps.
One-hundred-percent cotton, white T-shirts are handed out, and Ajanku teaches participants how to tie traditional African patterns with string or rubber bands. Though gloves are provided for the dyeing step, many people like to remove the gloves and allow the harmless, natural dyes to color their hands, Parks says. It's a beautiful sight to see.
Collins refers to herself as a "heritage Baltimorean": Her mother grew up in West Baltimore and her grandparents came to the city as part of the Great Migration. Collins lived in Memphis before moving to Columbia in high school.
"Everybody has that story of how their grandmother taught them to knit, or how all the women in their family crochet," Collins says. "Not me."
A friend who learned to knit as a summer camp counselor offered to teach Collins, who agreed out of politeness.
"And then I was obsessed," she says. "It felt like coming home, like my hands should have been doing this forever. It was the most natural thing and all I wanted to do was knit."
Collins had just graduated from George Washington University and was in graduate school, where she would knit through all her lectures.
"I was knitting a hat a week," she says with a laugh.
An American Studies graduate student, Collins initially thought she wanted to write about the communities women form for themselves, specifically in regards to knitting. Halfway through her master's, she realized she didn't want to write about knitting, she just wanted to keep doing it.
"So I finished school and got a job as manager of a yarn store," she says. "In 2006, I started my yarn-dyeing business with all the confidence of someone in their 20s who is used to things working out."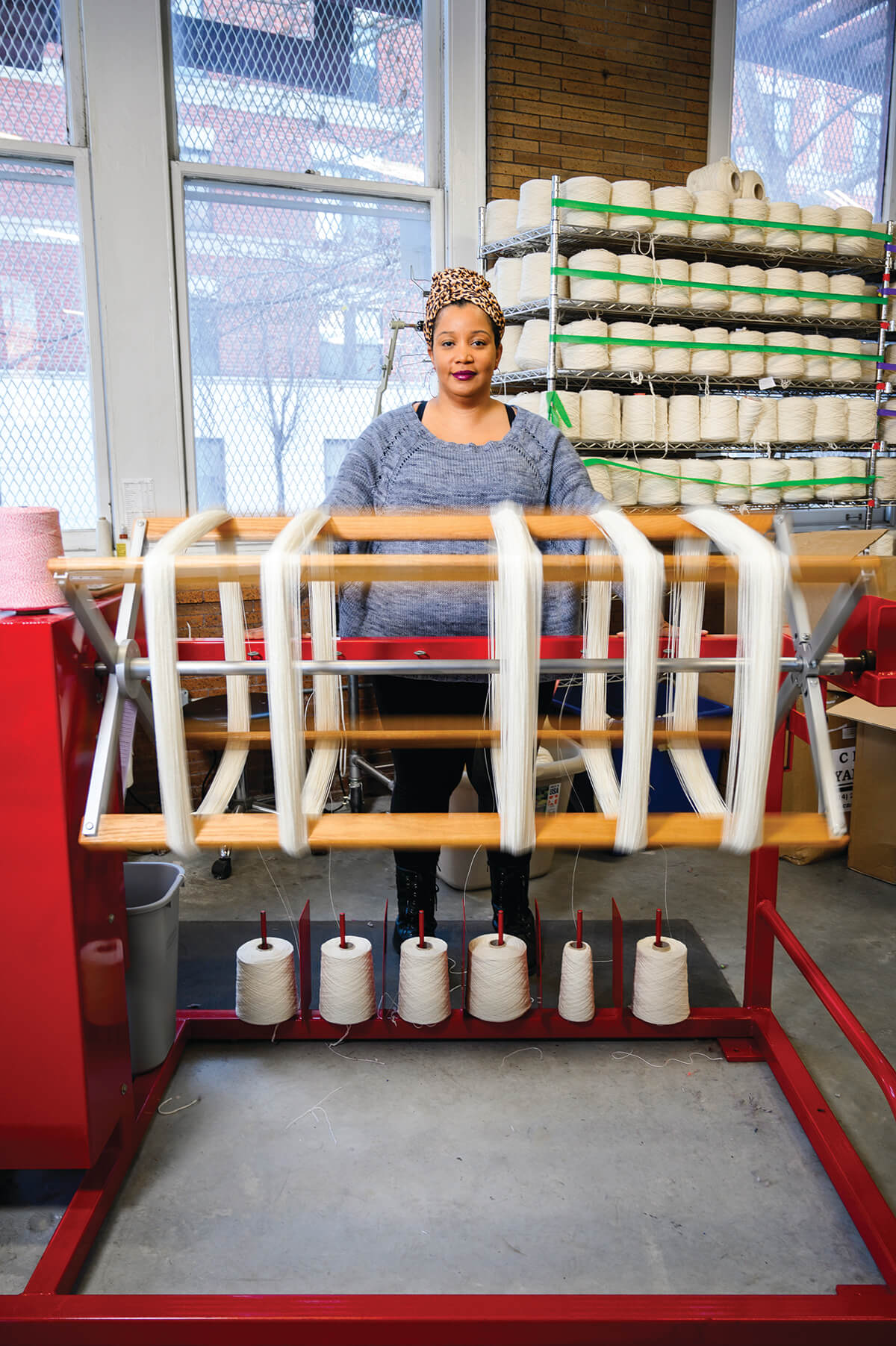 Collins chose a yarn-dyeing business because the financial investment required was significantly lower than opening a yarn shop. Never mind that she didn't know how to dye yarn. She wasn't even tapped into the fiber community enough to know there were workshops at sheep and wool festivals, so she taught herself.
Many creators start by selling their products to individual consumers on Etsy or at local craft shows. Collins wanted to take the opposite approach—she targeted wholesalers at the beginning.
"I knew what I wanted to make wasn't represented in stores, it wasn't out there," she remembers. "My perspective on color was different. I'm into highly saturated, vibrant, intense colors. You see more of it now than you did back then."
At first, she struggled. Although the business was launched in her Washington, D.C., basement, she was forced to relocate.
"I realized I couldn't afford to live there, because nobody can afford to live there," she quips. "I spent a year in Columbus, Ohio; I had friends there who provided studio space. I came to Baltimore in 2010 to take care of my grandmother until she passed, and then I was at loose ends."
At that point, she'd had the business four years and wasn't seeing much profit. Right before moving on to new endeavors in an unrelated field, Collins discovered the City Arts Apartments, which provide income-limited housing for local artists.
"That set the trajectory for me to focus on the business and grow it," she says. "I'd have open house events where customers could come and visit me in my workspace, which was my studio apartment. But instead of a dining room, I had this dye kitchen setup because the space was designed for artists."
Success demanded more space and a studio on 25th Street was opened. In 2015, NFC moved into its current location at 700 N. Eutaw Street in an old firehouse. The dyeing happens downstairs in a space open to the public, and the retail store is upstairs, though the majority of orders come from wholesalers and online shoppers. During the COVID-19 lockdown, Collins' online sales took off, as many people had more time to knit and crochet.

"TALKING ABOUT THE YARN IS A WAY TO TALK ABOUT BALTIMORE ITSELF."
Most of the yarn is made with certified organic merino wool, free of harmful chemicals often associated with traditional processes. It is milled in Quebec—pallets containing 600 pounds of undyed yarn are delivered to the firehouse for coloring. Dyed, unspun fiber is also available. Collins employs five staff members full-time.
Customer service and inventory manager Kerrin Smith enjoys the mix of retail, production, and administration that is her job. The variety keeps her engaged, and being around the yarn itself is inspiring, she says.
One of Smith's favorite colors is "Alice Gadzinski," a blue-purple with pops of light green and deep orange. It's named for the late Baltimore-based artist and MICA teacher. Other colors have paid tribute to the Obamas, Supreme Court Justice Ketanji Brown Jackson, and Vice President Kamala Harris.
"I'm always thinking of new projects and patterns that will work well with our yarn" Smith says, adding she loves helping customers find the perfect color for whatever they're working on. "It feels good to not only talk to the people who come in, email, or call, but to talk to them about where we live. Talking about the yarn is a way to talk about Baltimore itself."
The next step for NFC is to renovate and move into the 7,500-square-foot warehouse Collins purchased in March 2021.
"Construction costs have been all over the place, so we've had to postpone the project for now," she says. "We have funding from Baltimore Community Lending, Central Baltimore Partnership, Baltimore Base Network, and we're running a GoFundMe campaign. I believe that 2023 will be the year we're able to get this accomplished."
As for the NFC Momentum Fund, the goal was always to grow it into an actual nonprofit foundation that supports people and organizations doing good work for marginalized communities, mainly in Baltimore. In particular, Collins wants to continue to partner with arts-based organizations to provide artistic and economic opportunities to people, such as the work with the Natural Dye Initiative.
But the heart of the business will remain tightly knit to her love of yarn.
Collins calls Baltimore a "crafty city," with its art colleges and unique fashion and street style. It's friendly to artists, too, being more affordable than other cities along the I-95 corridor, and it has real neighborhoods, she says.
"Naming my colors for the neighborhoods—I like that they all have distinct character and people who have lived there a long time," she says. "Baltimore is a place where you can be a little weird and do weird stuff…All that creativity comes together with a real DIY attitude, and a willingness to be unique."