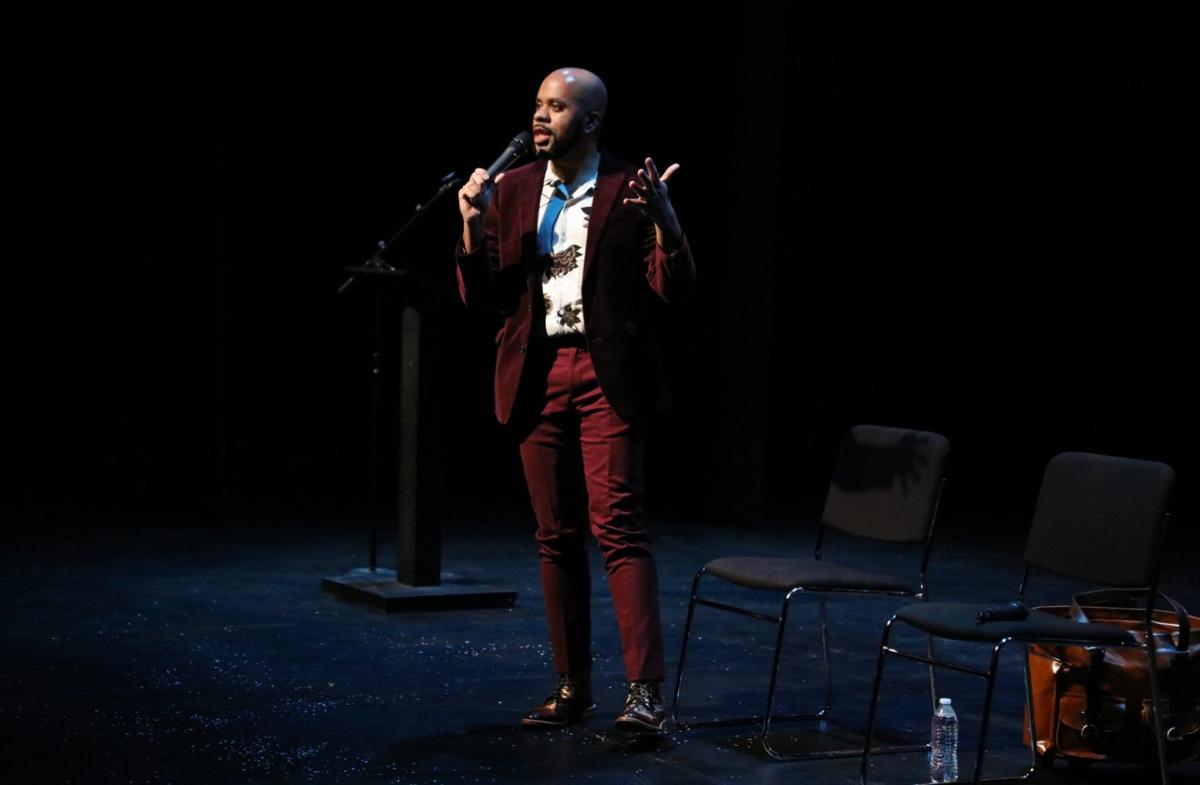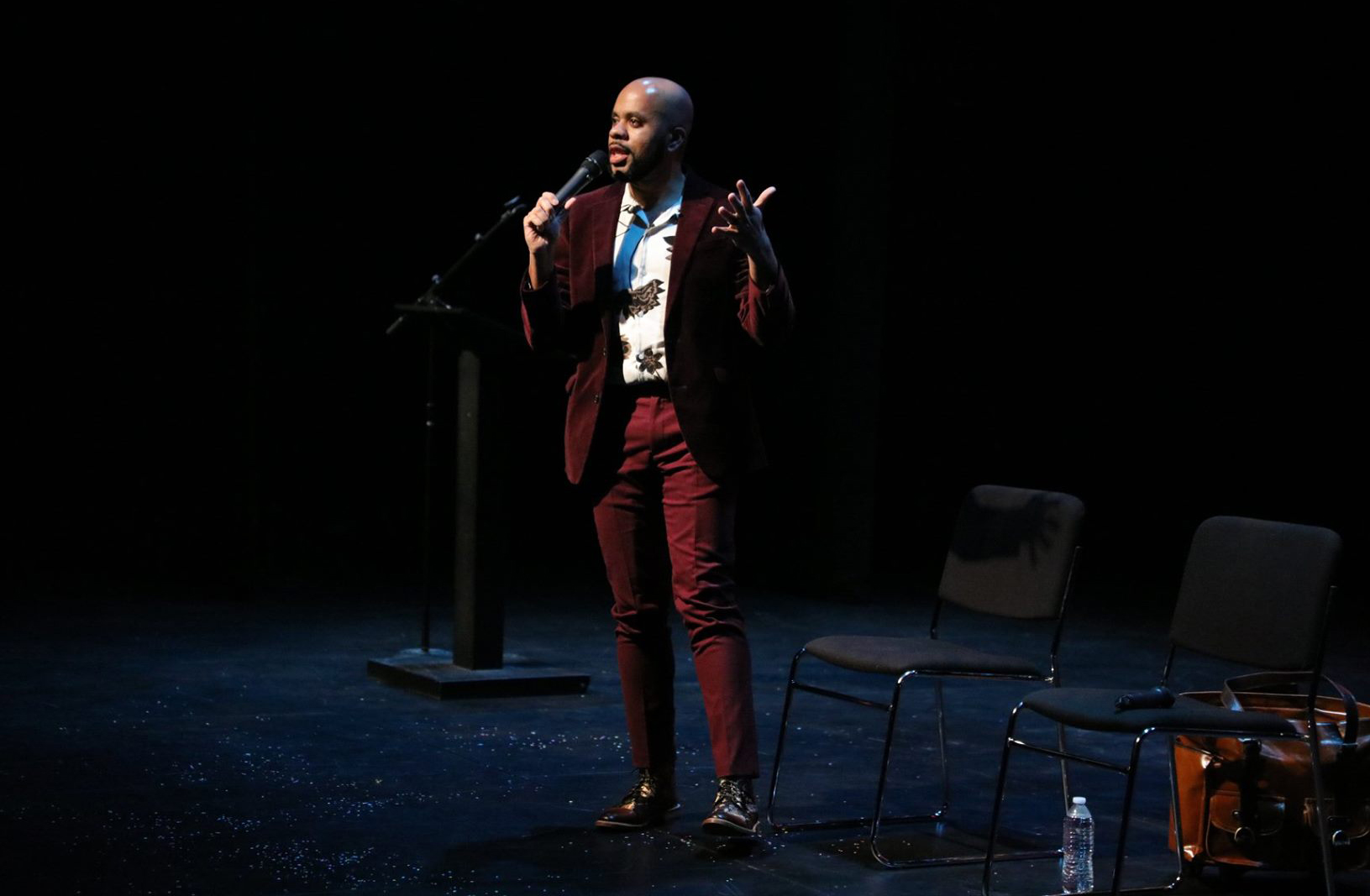 R. Eric Thomas via Facebook
With in-person performances back on the books and plans for 2021/2022 theater seasons coming down the pipeline, there's a lot to be excited about when it comes to Baltimore theater. 
But the latest news from Everyman Theatre has us looking forward to what's right around the corner.
The downtown company announced today that it has been approved for a $25,000 Grants for Arts Projects award from the National Endowment for the Arts, which will go toward the production of a new play from Baltimore's own R. Eric Thomas.
Thomas—whose wit, humor, and sincerity are already well-loved by audiences in Baltimore and beyond (see: national bestseller Here for It, his column for Elle, @oureric on Twitter)—is currently working on the play, titled Crying on Television, which he describes as a "platonic rom-com" about making friends as an adult. The NEA grant will provide for the workshopping of the piece, its inclusion in Everyman's Summer 6-Pack reading series, and, eventually, a main stage production during the upcoming season.
"I believe Crying on Television is a vital play for a post-COVID world," said Everyman founder and artistic director Vincent Lancisi in a release announcing the award. "I was immediately drawn to the story, as it's a joyful comedy with a BIPOC cast that celebrates relationships and shared spaces. It also encourages audiences and reminds us to reconnect, especially with the people around us every day."
Thomas has written several other plays, most recently Safe Space, which had its world premiere with Single Carrot Theatre last year and earned a finalist nod for the 2020 Lambda Literary Award.
We caught up with Thomas to discuss his partnership with Everyman and getting back into theaters.
How did you get involved with Everyman?
I've been a fan of Everyman's work for most of my life and attended as a subscriber and as a single-ticket buyer. This process began when Vinny reached out to me as a playwright who had recently moved back to Baltimore, just to get to know me. I sent them Crying on Television, which I'd just finished working on with Nashville Repertory Theater, and a few years later, here we are. 
I love the concept of exploring finding friends as an adult. It's one of those really hard things people don't warn you about. Why did you decide to tackle this topic?
I moved into this lovely new construction apartment building—which shall not be named—and it was nice enough, and there was a package room and a gym and a pool, but I have never felt so isolated in my life! I thought that making friends as an adult, in an apartment building especially, was going to be like Friends or The Mary Tyler Moore Show, with people just bursting through the door and doing hijinks. This question—how do we reach people?—has become even more pressing and rich during the pandemic. I think we're all thinking about what's important in life and how we can make and maintain relationships that matter. 
How has working on the piece been so far?
We haven't started the workshopping process yet—that'll happen later this summer—but this process has already introduced me to director Raymond Caldwell, who is an absolute genius and has such exciting ideas about this script. 
In what ways has working on Crying on Television differed from your previous playwriting experiences?
This play was born out of a fellowship experience at Nashville Rep, where a four-playwright cohort was invited down to Tennessee for one weekend every month for half a year. We would work with performers and a dramaturg to shape the play. This was an extremely valuable process, as it allowed the play time and space and resources to grow organically. I got to experiment and explore in a way that is rarely possible. 
What does being awarded this NEA grant mean for the production?
I think it actually makes it possible for the play to exist at all, which is no small feat. This play really sings with a talented team of performers, a director, and designers. The NEA grant allows Everyman to hire them and give them enough time to build the play. 
After more than a year of traditional theaters being closed to audiences, what does it mean to you that people are going to see this work on a main stage?
There's absolutely nothing like being in the same room as a group of people and performers experiencing that transformative power of live theater. I write for a lot of different mediums, but one of my first loves was writing for the stage, and I am hungry to have that experience back. I'm also excited that this year has given us so many new skills for creating hybrid theatrical experiences for people who can't join in live, but still want to enjoy the show. 
What do you want people to know about this production?
It's two hours of laughing, which is good for your health.