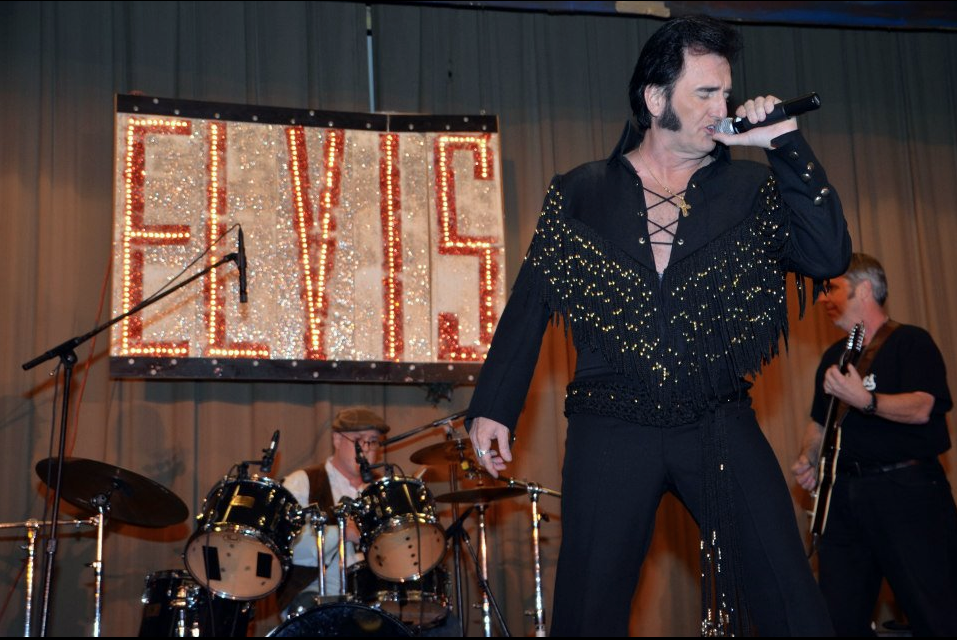 Courtesy of the Night of 100 Elvises
Every December for 20 years, the wood-paneled walls of the Lithuanian Hall in Hollins Market were filled to brim with the King. Elvis impersonators from around the country flocked to Baltimore to perform in the hall's giant ballroom, the intimate Jungle Room, and the cavernous, and sometimes outrageous, basement.
But, last year, Night of 100 Elvises organizer Carole Carroll wanted to try something new. For years, there were shuttles that transported guests back and forth from hotels to the venue, so she thought, why not combine the idea. With budget constraints and the requirement of three separate party rooms for entertainment, it was hard to find a hotel that fit the bill—until she found The Hunt Valley Inn.
"It was built in the late '60s, so it had a little more snap than a newer hotel," Carroll says. "Plus the basement was an old Studebakers nightclub, so it had the old car and soda shop. It was a very Elvis vibe."
The party was a smashing success (Carroll remembers people partying late-night in the hotel hallways, even), but that old soda shop has since been converted into an Irish pub. And there was one other problem.
"You know tree huggers? Well there are Lithuanian Hall huggers, too," Carroll says. "People love it, and it just works for us."
This Saturday, from 4 p.m.-1 a.m., the Night of 100 Elvises will make the triumphant return to its original home. As always, there will be free beer provided by Heavy Seas and fried peanut butter and banana sandwiches, fried chicken, and shucked oysters.
Of course, there will be more than 100 acts of every genre imaginable paying tribute to the King, including tap group The Moxie Fords, the 23-member Wild Anacostias Brass Band, country band The Honky Tonk Confidential, and 6-year-old Benjamin Dalske, an adorable Elvis impersonator out of Philadelphia.
"It's fun to hear bands do a lot of Elvis in non-traditional ways," Carroll says. "There's been a dark, Nick Cave-like version of 'Down in the Valley' and a surf guitar version of 'Love Me Tender.' We never want people to hold themselves back. We always want to put on something that's memorable—like they've stumbled into Brigadoon."