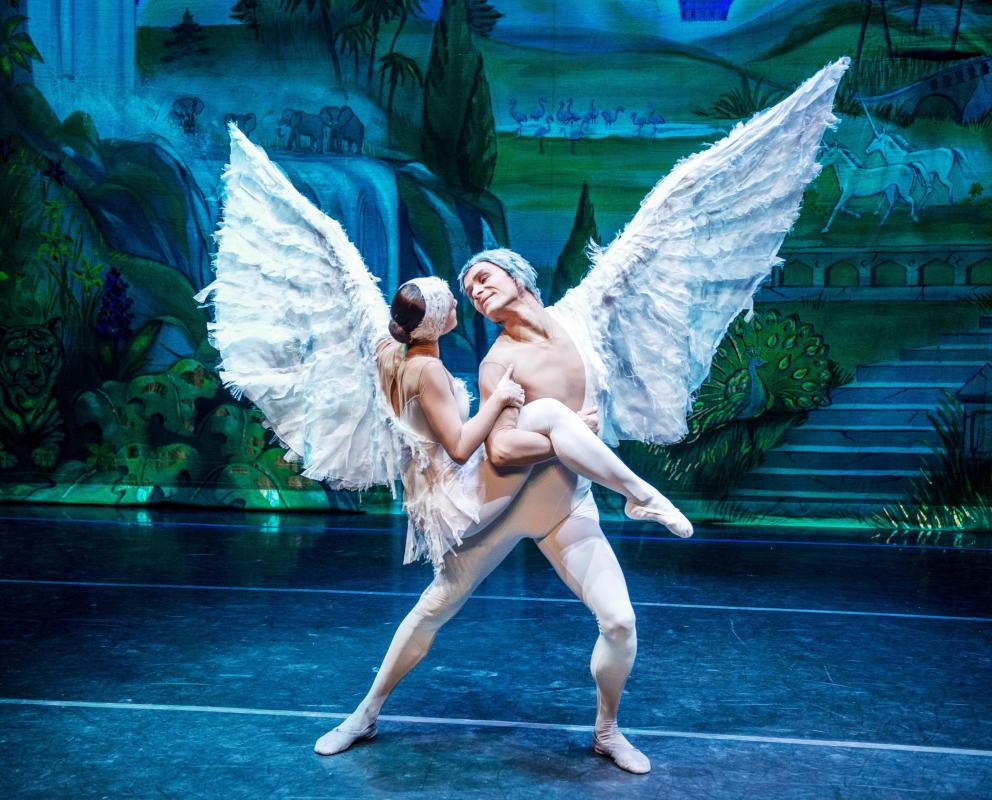 —Courtesy of Nutcracker! Magical Christmas Ballet
The holidays are all about tradition. For some, this means strolling down Hampden's Miracle on 34th Street or visiting the German Christmas Village in the Inner Harbor. For others, it means settling in at a local theater to take in a performance of The Nutcracker. Since 1892, Tchaikovsky's famed work—which sees young Clara and her toy nutcracker through a range of action-packed adventures while her family sleeps—has been a seasonal staple. Below, we list upcoming local productions of the beloved ballet, ranging from classic to contemporary.
12/7-8: Nutcracker! Magic of Christmas Ballet
At the Hippodrome Theatre, experience the classic tale through stunning acrobatics, giant puppets, and pristine footwork in this special 30th anniversary performance. Touring company Talmi Entertainment, which features dancers from Japan, Ukraine, Italy, and Turkey, incorporates its foundational themes of peace and harmony into the performance. Hippodrome Theatre. 12 N. Eutaw St. 7 p.m. $49-601. 
12/8-17: The Nutcracker: A Magical Tale in Mount Vernon
As in years past, this Christmastime tradition features dancers from Baltimore School for the Arts and its after-school TWIGS (To Work In Gaining Skills) program. This year, BSA guest artist and renowned choreographer Amy Hall Garner will help to put a fresh spin on the holiday performance. Baltimore School for the Arts. Mark K. Joseph Building. 712 Cathedral Street. Times vary. $20.
12/10: Ballet Theatre of Maryland presents "The Nutcracker"
In Annapolis, join Clara as she rushes to retrieve her precious nutcracker from the peril brought by one sinister Rat Queen. Prior to the show, snap pictures with your favorite characters and nibble on light refreshments at a sweet Sugar Plum Party. Maryland Hall. 801 Chase Street, Annapolis. 7 p.m. $30-50.
12/10-11: The Arabesque Dance Studio Presents The Nutcracker Ballet
Looking for some weekend entertainment for the little ones? Ride out to Jim Rouse Theater in Columbia for all the festive fun of The Nutcracker, trimmed down for short attention spans. Jim Rouse Theater. 5460 Trumpeter Road, Columbia. Times vary. $18-20. 
12/10-11: The Maryland Nutcracker
In Carroll County, the wintertime play receives a Maryland makeover, incorporating an array of familiar landmarks and pastimes. Think: all the things we know and love about Tchaikovsky's classic—with a dash of Old Bay seasoning. Carroll Community College Theater. 1601 Washington Road, Westminster. Times vary. $35.
12/10-11: The Mini-Nut
Courtesy of Maryland Youth Ballet, this short, kiddo-friendly version of the fabled tale has all the thrills that one could ask for. Head out to Silver Spring to catch an early showing, and be back in Baltimore well before nap time. Montgomery College Cultural Arts Center. 7995 Georgia Ave. Silver Spring. $22-30.
12/10: Nutcracker Ballet Storytime
Bundle up the little ones and head to College Park for this fun reading of The Nutcracker, complete with dancing candy canes and other festive cameos. Once storytime is over, munch on treats and snap a picture with your child's favorite character. Old Parish House. 4711 Knox Road, College Park. 10 a.m. and 6 p.m. Free. 
12/11: The Nutcracker Suite at The Eubie
On North Howard Street, this swanky adaptation of the 19th-century play will feature live jazz in addition to its requisite ballet score. Embrace the spirit of the holidays alongside the Charles Funn Big Band, Keith Snipes, and Baltimore Dance Tech. Eubie Blake National Jazz Institute and Cultural Center. 847 North Howard Street. 5 p.m. $15 donation suggested.
12/16-26: Maryland Youth Ballet: The Nutcracker
In Rockville, this rendition features everything from dancing snowflakes to a team of life-sized rodent friends. For kiddos, who might not be ready for a longer sitting, see "The Mini-Nut," which shaves the whole thing down to an hour. Robert E. Parilla Performing Arts Center. Montgomery College. 51 Mannakee Street, Rockville. Times vary. $27-41.
12/17: The Ballet Nouveau School Presents "A Nutcracker Suite"
Spend an evening with the Ballet Nouveau School as dancers flaunt their own iteration of the winter masterpiece. Enjoy the second act of The Nutcracker, in addition to original performances by students. Murphy Fine Arts Center. 2201 Argonne Drive. 3 p.m. and 7 p.m. $30.
12/17: The Nutcracker with Greater Annapolis Ballet
In Anne Arundel County, the Greater Annapolis Ballet's chamber ensemble sets the soundtrack for an evening filled with mesmerizing footwork. Soak in the magic of the story in while watching expert dancers bring its characters to life. Anne Arundel Community College, Pascal Center for Performing Arts. 101 College Parkway, Arnold. 6-8 p.m. $25.
12/19-22: The Hip Hop Nutcracker
In Bethesda, this rendition of Tchaikovsky's lauded score takes place in modern New York City, where hip-hop is known to flourish. We can almost guarantee you'll want to bust a move with friends Maria-Clara and the Nutcracker Prince. The Music Center at Strathmore. 5301 Tuckerman Lane, North Bethesda. 8 p.m.  $34-68.