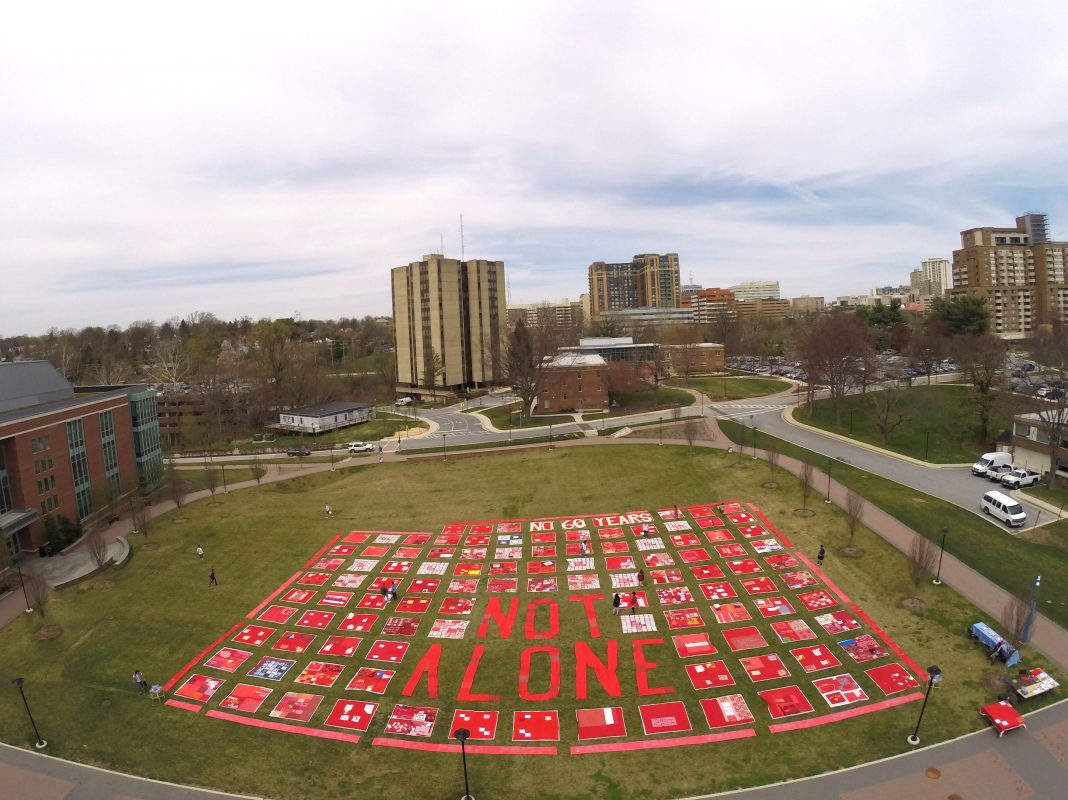 Courtesy of FORCE: Upsetting Rape Culture
You could see the red as you walked through the center of Towson University on Wednesday, the brightness blanketing an open lawn between the brick buildings.
The fabric told stories of sexual assault and violence, shame and anger, empowerment and support. More than 500 such testaments from across the country are written, painted and stitched onto this quilt, a monument to survivors of rape and abuse.
The red is meant to pull people in, said Rebecca Nagel, chosen because it's a powerful color that "symbolizes emotions from love to anger."
Nagel is the co-founder of Baltimore-based FORCE: Upsetting Rape Culture, and a survivor herself. She and fellow artist and co-founder Hannah Brancato started The Monument Quilt because they felt public healing space and conversations about sexual abuse were missing.
Nagel said she felt this personally, during her healing process. "Only working on myself didn't feel complete."
Some of the quilt's squares give straightforward depictions of abuse, while others are more symbolic. One contains a string of brown beads, and reads, "My rapist gave me this necklace."
Though many are heartbreaking, there are uplifting messages as well. "I reclaim MY BODY as my sanctuary," is one. Nearby messages reminded visitors to protect themselves first, to read as many or as few stories as they liked, and that it was ok to walk away.
Towson and FORCE had set up tables where visitors could create their own portion of the quilt. Organizers took the quilt down Wednesday evening, but in two weeks, it will be on display at The Johns Hopkins University.
Nagel said the goal is to gather 6,000 squares that will be displayed on the National Mall for a week. That time frame is significant—during those seven days, 6,000 more people in the U.S. will be sexually assaulted.