REB Records in Bel Air is Riding the Wave of Vinyl's Renaissance
Owners Sean Lanahan and Mark Santoro are bringing records to a new generation.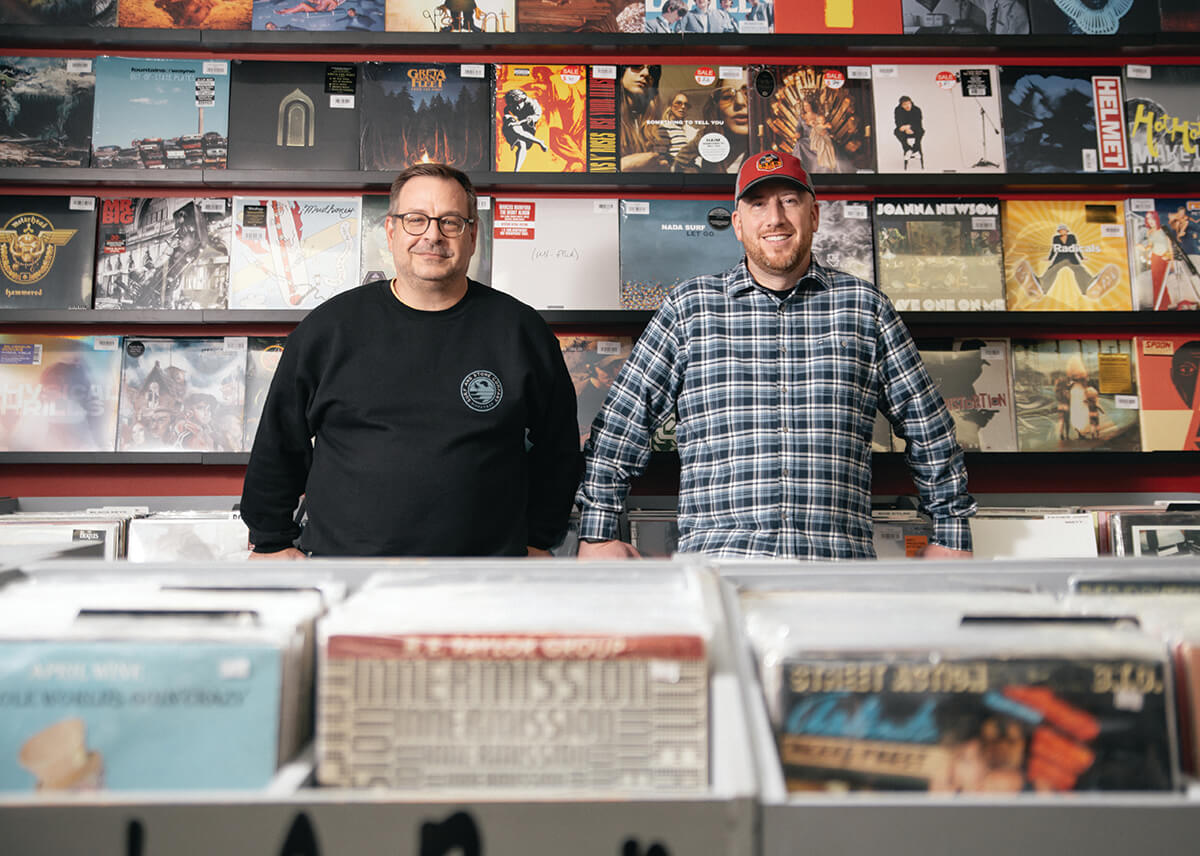 When Bel Air residents Sean Lanahan and Mark Santoro started hanging out together while attending Calvert Hall College High School, they bonded over music, mostly '80s classics and '90s alternative. Their shared love of music, and their friendship, endured.
"Music never took a backseat for us," says Lanahan, 48.
During their teens and 20s, they explored record stores. As they flipped through the albums, they often discovered new records or artists they hadn't heard: Def Leppard's Pyromania, R.E.M.'s Document, and Surfer Rosa by the Pixies. But there was more to it than that.
While attending Towson University, Lanahan would frequent the now-defunct Record & Tape Traders located nearby. "You got to know the people there," he says. "It was just always really kind of a cool community."
After graduating from college, both Lanahan and Santoro, 50, got jobs, got married, and had kids—the typical adult path. And while they moved on to buying cassettes, CDs, and even MP3s, they never forgot about their first love: vinyl.
About 12 years ago, Santoro began frequenting Coda Records, the last record store still holding out in town, located on Main Street in Bel Air. "That was before the giant wave had come for records," he explains.
Santoro was hooked on buying records all over again. But Lanahan admits it took him a little longer to return to his youthful hobby. The first rumblings occurred when his parents dropped off a bunch of old records from when he was a kid. But what really got him collecting again was a concert.
"In order to get in on pre-sale for concert tickets to a U2 concert, I joined their fan club. They sent you a gift, and it was all these 45s, and I didn't have anything to play them on," explains Lanahan. "So my wife bought me a cheap turntable for Christmas that year."
Soon after, Santoro took him to a record show. "Two hundred bucks and a big stack of records later," Lanahan says, he was a collector again. "Next thing you know, I'm totally upgrading my stereo system. I just dove back into it."
By that time, Coda Records had closed and the friends needed to travel to get their vinyl fix. They went to Protean Books & Records in Baltimore City and to the monthly Arbutus Record Show, still held today at the Arbutus Volunteer Fire Department. They also spent tons of time in Ramm On Records, in the North Point Plaza Flea Market.
But in 2018, the friends saw a Facebook post announcing that Ramm On Records was closing. Lanahan immediately called Santoro and asked him, "What do you think it would take to buy all their inventory?"
Strangely enough, they both had the same number in mind. And it turns out, their guess was on the nose: When Lanahan went to see the owner, she told him that the price was the exact same amount they were prepared to offer. While they won't say how much they paid, they will say that their purchase included about 18,000 records, DVDs, CDs, and more.
Both Santoro and Lanahan had spent their entire careers in retail: Santoro for more than 30 years as a manager at Kohl's, Barnes & Noble, and Target; Lanahan as a district manager at Sherwin Williams. Could they use their experience to start selling records? They knew it was meant to be, they just weren't sure was it was.
With a U-Haul, they spent two weeks moving the Ramm On cache to a climate-controlled storage unit. Meanwhile, they set up racks in Lanahan's basement, much like a mini record store. Then, they began grading, cleaning, sleeving, and pricing their wares.
"Used records work off of a grading system similar to what you would see with baseball cards, stamps, comics, etc. So, it ranges from poor up to mint—mint being unplayed," explains Lanahan, adding that there's a little wiggle room, "when it's something really rare and valuable."
Santoro and Lanahan began by selling records online through Discogs.com. (The site also taught them how to price their records.) They called their enterprise REB Records, which is named after their kids: Lanahan's daughter, Riley, Santoro's daughter, Elizabeth, and Lanahan's son, Brendan. While the two had always talked about opening a record store, that was a serious step, one they weren't totally sure they wanted to take. But online orders were slow going.
"It would have taken us 100 years to sell everything," quips Santoro.
"USED RECORDS WORK OFF A GRADING SYSTEM SIMILAR TO WHAT YOU WOULD SEE WITH BASEBALL CARDS, STAMPS, COMICS, ETC…"
Lanahan's wife, Nora, saw an opening with the Armory Marketplace, a program operated by the town of Bel Air that provides incubator space for new businesses. With reduced rent, it enables businesses to become more established without the stress of paying commercial rental rates for space. It seemed the perfect way to level up their vinyl game.
Santoro still remembers getting the phone call while he was at the barber saying they'd successfully navigated the application process and REB Records was in. "I think the next words out of my mouth were, 'Oh shit. What are we going to do?'"
"We both had that 'oh shit' moment, like this just got real really fast," recalls Lanahan with a laugh.
In 2019, they signed a six-month lease as part of the program. After that, they could go month-to-month, with a limit of three years. If your business hasn't succeeded by then, it's time, at least with this program, to move on.
When they first opened, their hours were Friday nights and Saturdays and Sundays. After working all week at their full-time jobs, they would work at REB Records. Things took off pretty quickly and they were even able to hire Jason Chaillou, their first parttime employee. By Christmas of that year, business was going so well that they began thinking about bringing on another employee. Then COVID hit.
During the shutdown, they tried selling records on Facebook. While that worked, they couldn't do curbside pickup because a record store wasn't considered an essential business, so Santoro and Lanahan began delivering records to customers' homes.
"It was kind of prehistoric," says Santoro. But the pandemic was also, ironically, a boon for business. The popularity of vinyl soared during lockdown. According to Lanahan, sales increased 29 percent in 2020, soaring to more than 50 percent in 2021. Last year was the 17th consecutive year of increasing vinyl sales.
"People were home and bored and listening to music," says Santoro. Vinyl was already hugely popular, and folks began placing tons of orders with REB Records to have them delivered. "It was kind of insane."
After the major shutdowns, they hired a second employee, then-college student Edward Benner, who now works as an English and film teacher at Baltimore City College High School. "Ed was a big part of our success. He helped us with expanding our offering," says Lanahan. They took his suggestions and brought in different artists' records.
He introduced them to Phoebe Bridgers, Mitski, Beach Bunny, Death Grips, Porridge Radio, Snail Mail, Soccer Mommy, Bon Iver, and other artists that would appeal to Gen Z. "That was when we really saw a shift in our customer base as far as the age demographics go," says Lanahan.
In 2021, REB Records moved to its current location at 4 North Main Street in Bel Air. The first explosion of sales, indicating they were doing the right thing, occurred just before moving.
As an independent record store, they were able to participate in Record Store Day, a national event held every April, during which only approved independent record stores can sell special vinyl releases, printed just for that day. They may be one-of-a-kinds or exclusives, such as Hail Satin, a limited-edition disco album put out by a side project of the Foo Fighters called the Dee Gees. (This year, Record Store Day is April 22.) But during COVID, in 2021, the day was split into two days—one in June and one in July.
Santoro and Lanahan admit they were apprehensive that first Record Store Day. They weren't sure if they ordered enough or too much of the special sales of the day. They ordered a lot, hoped for the best, and showed up in the morning. What they saw astounded them: Customers were outside the shop in sleeping bags and on air mattresses. Behind them, the line of folks ready to buy looked endless.
"It was like a weight lifted off our shoulders," says Lanahan. That day, it took people up to three hours waiting in line to check out. And wait they did. "That June was so successful, and we got a lot of new customers who had never been to our store before," says Santoro.
The guys spent the next couple of days moving the rest of their inventory to their new storefront on Main Street. By August of that year, business was so great in the store that they knew someone needed to leave his full-time job to work there. Lanahan was the first to take the leap. "I left my job of 25 years, and I was terrified of it," he says. But a few months later, the success continued, and in December, Santoro left his full-time job as well.
Today, Lanahan and Santoro do everything, including inventory management, ordering, paying bills, social media, making house calls to buy collections from people, and even running the register when needed.
The largest private collection they've purchased was 4,000 records. Their store contains about 20,000 records now, both old and new. As for their clientele, they estimate that 50 percent are Gen Z and under the age of 30 and the other 50 percent are usually Gen X and older.
As to why younger customers—even teens—have embraced the vinyl trend, Lanahan has some thoughts.
"I think they're getting into some of what we got into when we were kids and bought a record. You want to take the sleeve out. You want to look at the liner notes. You want to see the lyrics or what musicians played on it," he says. "Album artwork has become a big thing now. They display the albums on their walls. And the tactile nature of it. They grew up with nothing like this. Actually, being able to physically hold something is kind of cool again."
"I LOVE…JUST THE PHYSICAL MEDIUM ITSELF—BEING ABLE TO HOLD THE RECORD, LOOK AT THE RECORD, READ THE INSIDES."
Mary Beth Taylor, 18, from Parkville has been collecting vinyl since mid-2020 and owns about 40 albums. She first saw people on TikTok and YouTube listening to records and displaying the covers. Her sister, Lindsey, got her a record player for Christmas and gave Taylor her first record—Guardians of the Galaxy. The first one she bought for herself was Whipped Cream & Other Delights by Herb Alpert's Tijuana Brass. After hearing the song "Ladyfingers" on Spotify, she liked it and wanted the record.
Like many younger customers at REB, Taylor will listen to music on Spotify and then search for the album. "I like listening to one album all the way through," she says. Vinyl has become hip for her generation because, "I feel like part of it is that it's considered vintage, so people like the aesthetic of it."
Dan Gittings, 44, is a customer from the other end of the spectrum. A Gen Xer from Havre de Grace, Gittings got back into vinyl about 10 years ago, after his parents gave him their old records. "I love the sound, and just the physical medium itself—being able to hold the record, look at the record, read the insides. Some of them still have lyrics in them. The sound quality—if you get yourself a good enough turntable system—it just blows you away," he says.
He was attracted to REB Records because of their customer service. "The guys are very friendly. Their prices are fair," Gittings says. "I won't go anywhere else."
In addition, the shop will look for specific records for customers. In Gittings' case, he's always looking for the Grateful Dead. Lanahan and Santoro remember that thrill. Growing up in the 1980s and '90s, they got excited when they'd find a first press of '90s alternative vinyl. In fact, one of the rarest records they have on sale is U2's Achtung Baby, which is an original 1991 press that's sealed. "We'd never seen one before we found that," says Santoro.
While that goes for $250, it's not the most expensive record in the store. That honor goes to a first press of Led Zeppelin Two, mastered by Robert Ludwig. What makes it special is that the bass was mastered so heavy in the original press that when played on cheap 1969 turntables, it would skip. So people kept returning it. They had to remaster it, and pulled the others that hadn't sold. The original had one run.
"It's rare. It's in good condition. It's a four- or five-hundred-dollar record," explains Lanahan. (His statement was prophetic; the record sold shortly before press time for $400.)
What's their holy grail? Not surprisingly, for the friends, it's the same album: The Beatles Yesterday and Today, with the infamous "butcher cover." The original photo on the cover showed The Beatles dressed like butchers covered in blood, holding meat and parts of baby dolls.
"Everybody freaked out over it," says Lanahan. "An original butcher cover in good condition is an extremely rare and expensive record and would cost about $10,000. My wife is supportive. But she would not be good with my buying that."
But that's the thing about Lanahan and Santoro. They're fans first—and business owners second. They don't just understand their customers—they are their customers.
"One of the really cool things about what we do is connecting people with the music they love," says Lanahan. "I can listen to a song from a different point in time and it's always like a little slideshow of something going on with my life. You remember what you were doing and who you were with."