Star Struck
When it comes to Star Wars collectibles, it's hard to come up with something Thomas Atkinson doesn't have.
There's a line in the most recent Star Wars film, The Last Jedi, in which saga newcomer Rose tells Stormtrooper-turned-Resistance-hero Finn, "That's how we're gonna win. Not fighting what we hate, saving what we love." For most of his 53 years, Star Wars superfan and Linthicum Heights resident Thomas Atkinson has subscribed to that philosophy, saving merchandise and ephemera ever since the release of the original Star Wars, now known in the saga as A New Hope, was released in 1977. Of course, Atkinson has the essential items—the Kenner action figures and Lego Millennium Falcon you might find in any enthusiast's home. But he also has more unique pieces, such as a Tauntaun teapot and Ewok soap, not to mention a larger-than-life-size R2-D2 (filled with other, smaller R2-D2s, naturally) and an entire fleet of speeders, fighters, and other spaceships suspended from the ceiling.
In fact, it's hard to come up with something Atkinson doesn't have when it comes to Star Wars collectibles. There are Chef Boyardee cans featuring animated Clone Wars characters, Polly Pocket-like miniatures of the saga's heroes and villains, promotional Taco Bell cups, and a Darth Vader Mr. Potato Head—they're all there, sometimes in multiples. Dominating most of the first floor, the collection has taken over more than its fair share of the home. Clearly, for Atkinson, it's a passion. 
That passion isn't unique to Atkinson. The original 1978-1985 run of Kenner action figures alone sold more than 300 million toys, and $1.75 billion in Star Wars games and toys were sold last year. The largest collection of memorabilia belongs to Steve Sansweet of Petaluma, California, whose 93,260-piece collection is on display at his 9,000-square-foot Rancho Obi-Wan in Sonoma County.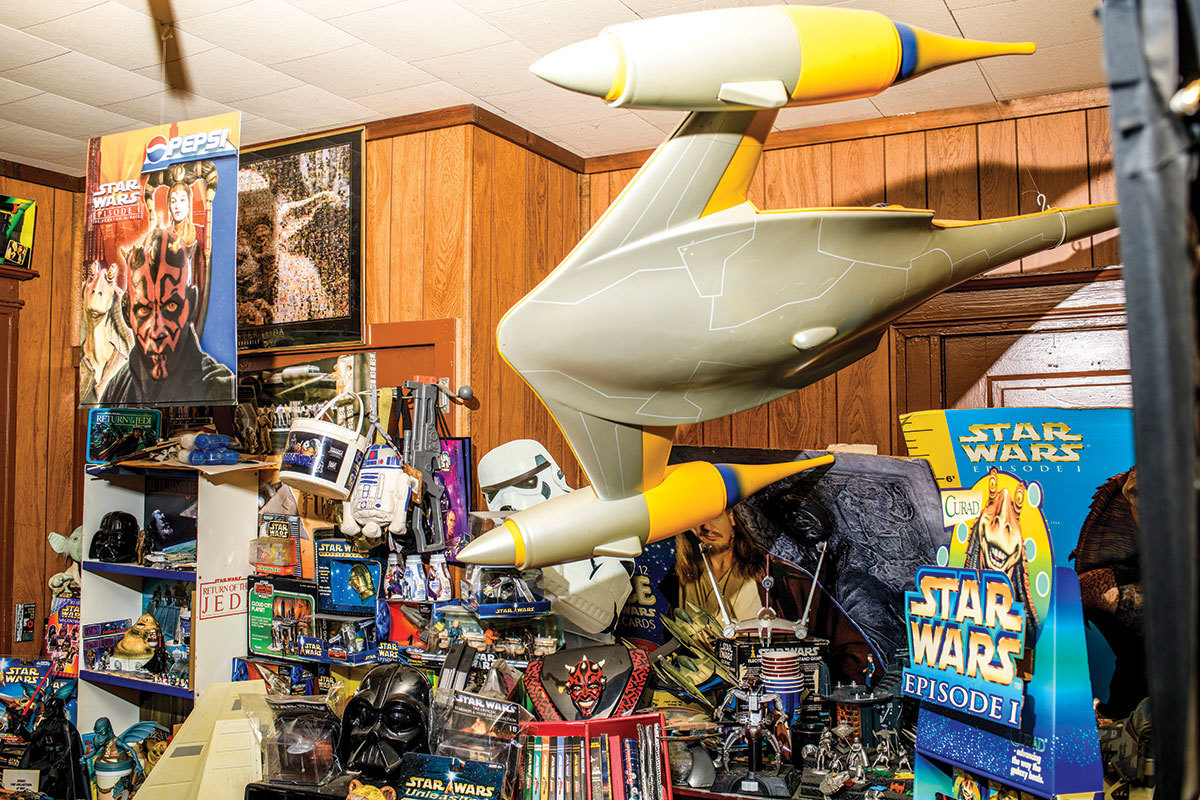 It may all seem a bit much for those who are less enthusiastic about the space epic, but Star Wars is no joke to the people who love it.
It's such a serious subject to its legions of fans that there are college courses (at Harvard, Brown, and others) and many a book dedicated to the films. "Star Wars is no longer just something to watch, it has become something to do, which is one of the key aspects to the very large and sustained fanbase the franchise enjoys," write authors Jason Davis and Larry Pakowski in their essay "The Influence of The Force" for the Star Wars installment of the Fan Phenomena series, a collection of titles exploring the fandoms of various franchises. "One of the most fascinating things about Star Wars is the extent to which it affects the daily lives of its fans. Fans have, essentially, internalized what Star Wars means to them and it becomes a part of who they are." 
Case in point: In 1994, Atkinson and his spouse, science-fiction novelist and fellow Star Wars fan Don Sakers, moved into the house on Camp Meade Road and designated one room to display the Star Wars collection. In 1998, they officially incorporated the collection and became The Star Toys Museum.  
Even Atkinson's day job harkens back to his love of toys and other worlds. When he's not at home or out sharing his passion at conventions or events with others, he's laser-cutting and designing intricate puzzles for Kadon Enterprises, a local game company. "I have a lot of fun," he says. "I get to work with robots armed with lasers." 
It's not quite a lightsaber, but it'll do.
Atkinson was 13 when George Lucas first took moviegoers to a galaxy far, far away. On screen, he saw a world so complete and lived in that he wanted to be a part of it. He got his first lightsaber, a knockoff that wasn't much more than a flashlight with a plastic cone attached, for Christmas in 1978. He and his friends played space smugglers together, wanting, like any sci-fi-loving kids of the '70s and '80s, to be just like Han Solo. 
"Star Wars changed everything," Atkinson says. "No one had seen anything like that. It changed the way movies were made. But for me, it was just going into the theater and seeing this world, this universe up on the screen that I wanted to move into."
Stop by for a visit to The Star Toys Museum and you'll likely be greeted by Atkinson fittingly dressed like Luke Skywalker as we first met him on Tatooine all those years ago. With his graying hair combed back and his short beard, the effect isn't a far cry from Luke's return in 2017's The Last Jedi.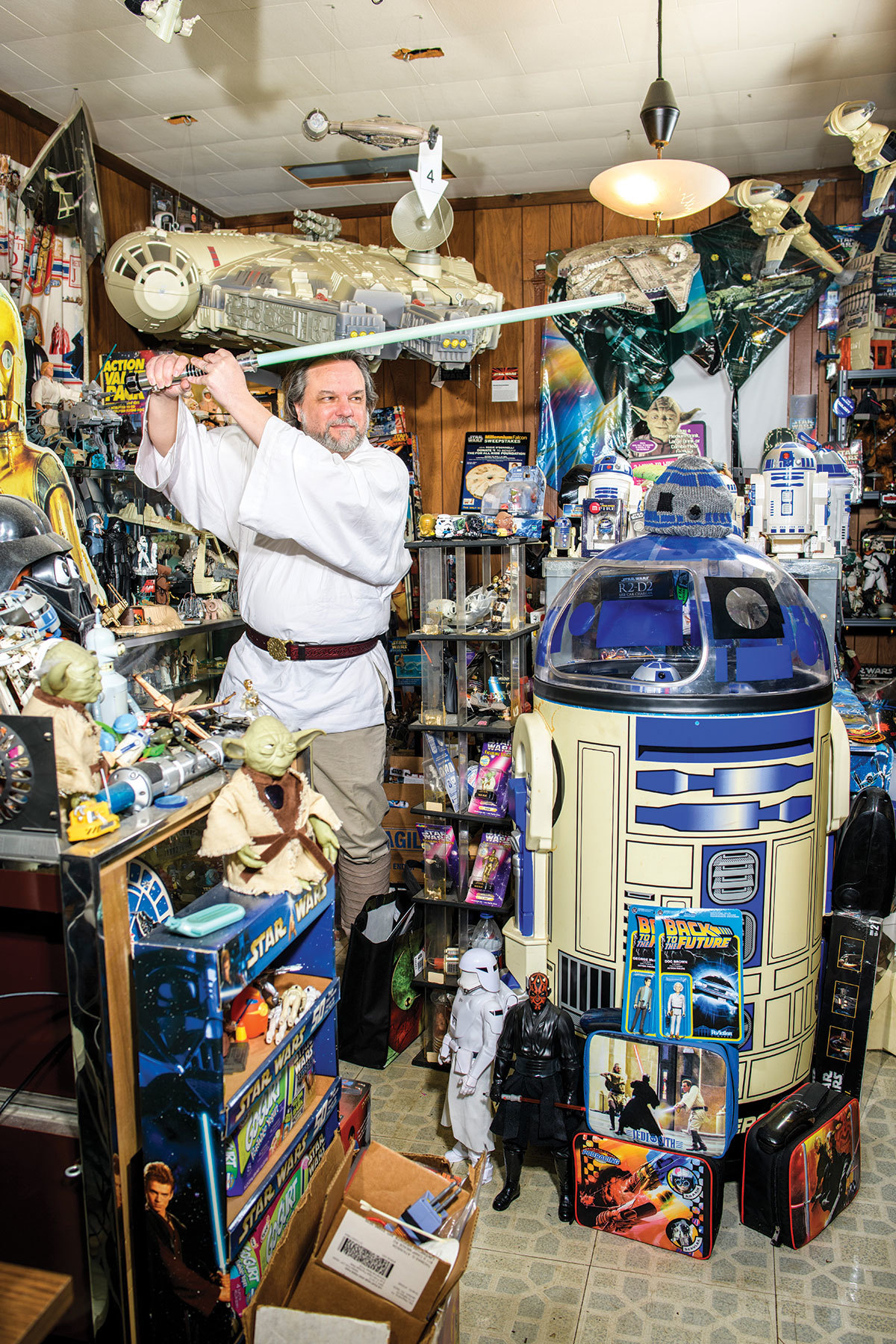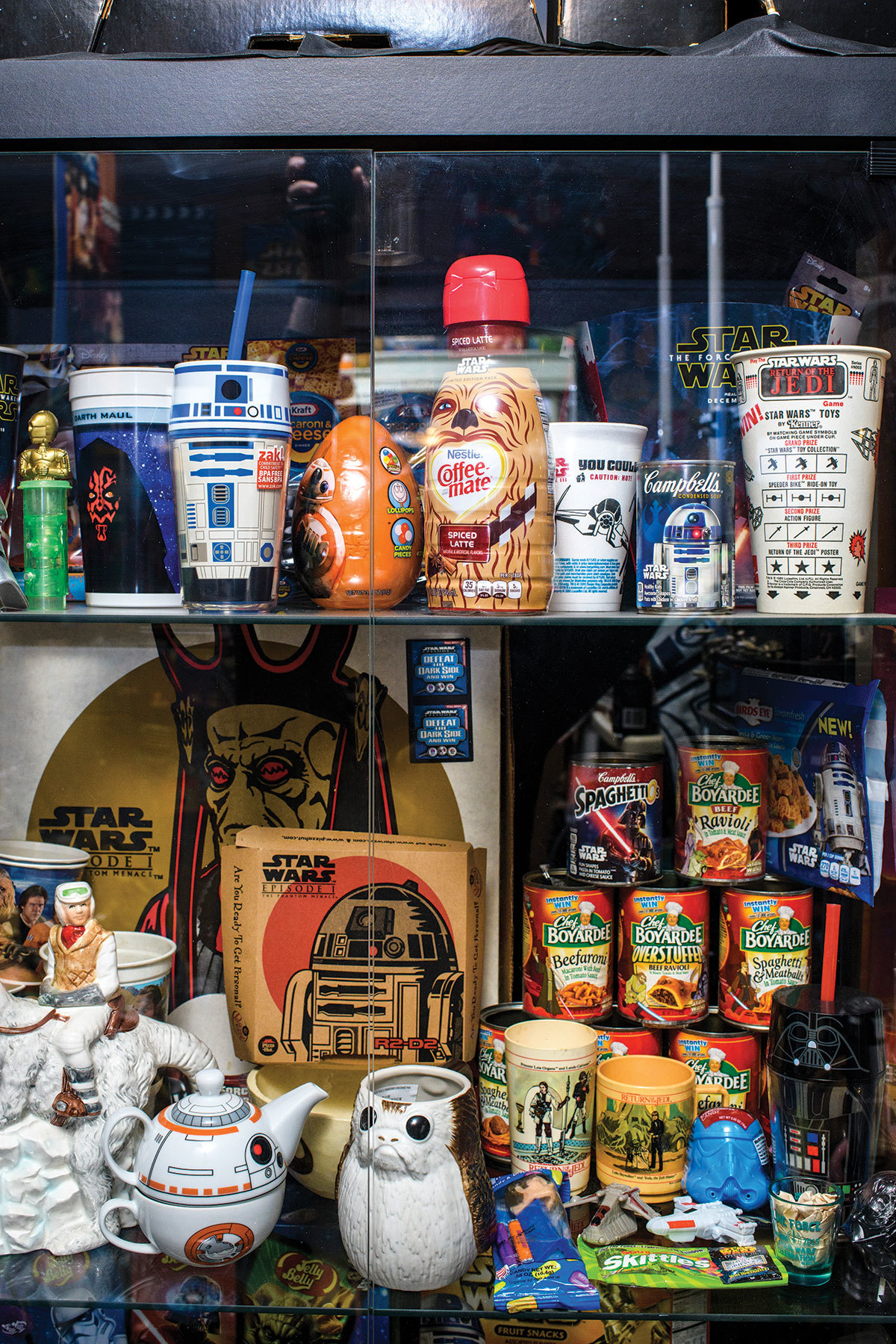 Available by appointment only, the museum officially has more than 14,000 items, although new things show up all the time, and the collection continues to grow. 
"Every time I go through some boxes and get to cataloging new toys, I find something else that I've had for a while that isn't catalogued, so I may be deluding myself," Atkinson says with a laugh. 
Many fellow fans have enjoyed different parts of Atkinson's massive collection, but most who have seen it have never actually been to the museum itself.
Selections from the museum have been showcased at Geppi's Entertainment Museum, local libraries, and several minor league baseball teams.
Atkinson is a fixture at the Bowie Baysox's annual Star Wars Appreciation Night. The team normally draws a crowd of about 3,500 to an average game, but that number jumps to between 8,000 and 9,000 for one night each June. Star Wars Night is so popular, in fact, devotees participate whether the game gets played or not. One stormy evening a few years back, the park stayed open despite a rainout as nearly 2,000 people came to take pictures with their favorite characters and browse Atkinson's tables in all their '80s Star Wars bed sheet-covered glory.
"A lot of times, when our fans get in there, it will cause a huge bottleneck," says Chris Rogers, promotions manager for the Baysox. "It's hard for me to catch up with him and have a conversation during the game, because there will be at least 10 or 15 people at his table throughout the night at any time. And it's something that I know our fans have come to anticipate and really enjoy. It would be hard for us to put on a Star Wars Night without him at this point."
The nights at the ballpark give Atkinson access to people who are just as excited about the toys and products he brings as he is. 
"That was so much fun, and so many more people and so many more families saw the traveling collection that first Star Wars Night than had ever come to visit here," he says. "And I got to talk to people and hear the parents say, 'Oh, I had that when I was your age.'" 
The items in Atkinson's home cover the entire history of the franchise, from an early flyer Don got from a then-barely known Mark Hamill at a sci-fi convention in 1976 all the way to a stuffed Porg from The Last Jedi. 
Atkinson is slightly wary of the latest release, Han's spinoff movie, Solo. To him, the continuing legacy of the Star Wars franchise is welcome, yet concerning, but maybe not for the reason you think.  
In fact, he and Don have both enjoyed the new characters and story introduced by The Force Awakens and The Last Jedi. At a Star Wars panel the pair attended in February, the audience was asked what they wanted to see from the new movies. Many Star Wars fans are resistant to change, but not Thomas and Don. "It's a wide open field here," Don says. "Why can't we go in a different direction? I think they've hit a really great balance." That new direction is well represented in the museum collection. Visitors can find scrappy new Jedi Rey featured prominently in a display case dedicated to the women of Star Wars, and BB-8 keeps watch over a packed hallway from his spot on a shelf. No, it's the pace between films that worries Atkinson. Fans once had to wait more than a decade for a new film. Solo's release came just six months after The Last Jedi. Disney's Star Wars movies are "like the city buses," he says. "If you miss one, there will be another one along."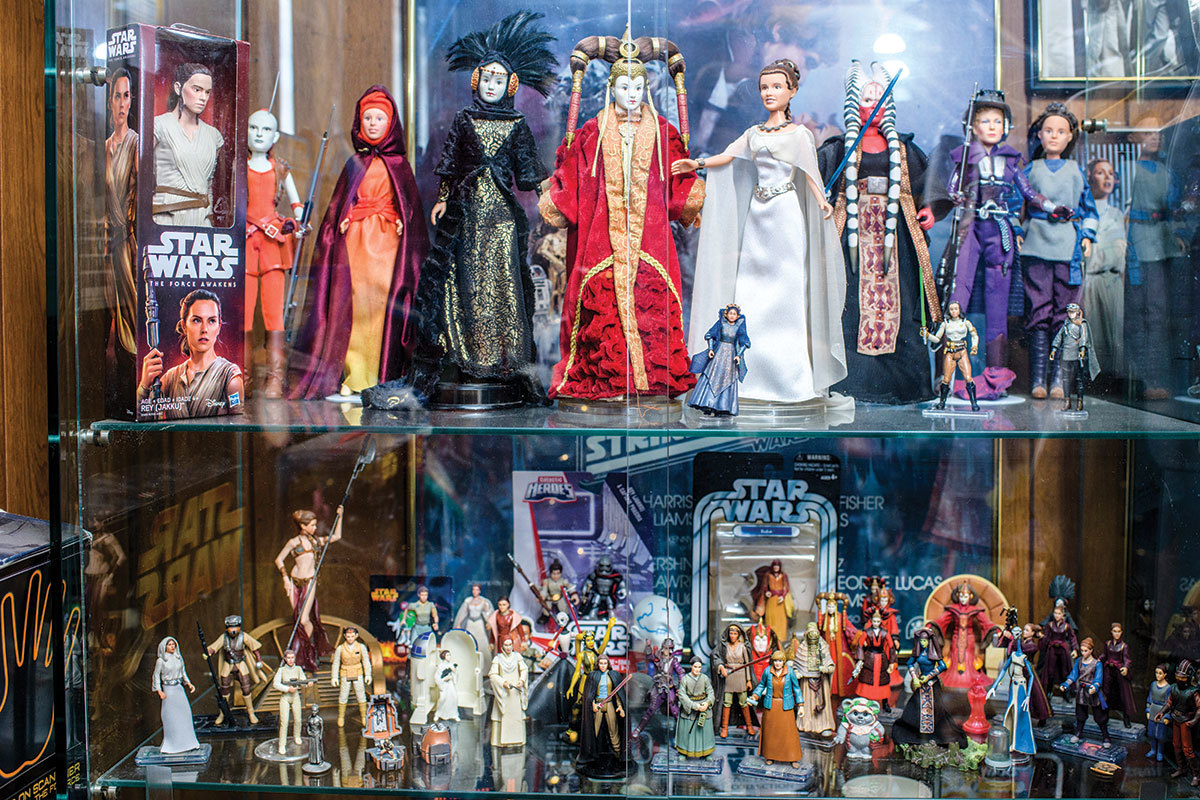 The prolonged anticipation was all just part of the joy for Atkinson. The original long-awaited reentry into George Lucas' universe holds a special place in his heart. In fact, The Phantom Menace, released in 1999, 16 years after Return of the Jedi, ranks second best among the Star Wars films for Atkinson, a more than somewhat controversial opinion. On both Rotten Tomatoes and Metacritic, the film ranks last among the live-action films in the franchise.
Shortly before The Phantom Menace premiered, there were early showings across the country for charity. The day of the event in D.C., Atkinson's friends gathered for lunch in the city and surprised him with a ticket to the preview so he could head back to that world just a little bit sooner.  "What I wanted from that movie was a trip back to the Star Wars galaxy, and I got a trip back  to the Star Wars galaxy," he says. "There were tears on my face through that whole movie, just thinking, 'Oh my God, I have the best friends.'"
Even Atinkson's favorite character is from a sequel, though only technically. He's appeared in every Star Wars movie. Although Atikinson has been dressing like Luke Skywalker for the past 40 years or so, he identifies most with C-3PO. And as he walks through his collection, telling stories of items and people and places, that makes more and more sense. Atkinson is a wealth of information, and unfailingly polite and pleasant. And like C-3PO, he's been present for every adventure, from the junk shop on Tatooine all the way to the Rebel Base on Crait. It's as hard to picture a Star Wars movie without a quip from the worried protocol droid as it is to picture Atkinson without Star Wars. 
"Star Wars changed my life," says Atkinson. "I was a little sci-fi nerd at the time when it first came out. That was the realest visualization of a science-fictional universe that I or anyone had ever seen. . . .  And I probably couldn't have said so at the time, but I wanted to live there. And I've kind of done that."