Taking Her Shot
Street photographer Martha Cooper has documented urban culture for 40-plus years.
Martha Cooper adjusts the strap of the black camera bag around her neck as she comes upon a concrete Jersey wall at the end of a desolate South Baltimore street. She looks left, then right. Most people, at this juncture, might retreat to more familiar terrain, but Cooper presses on, navigating around the barrier and continuing along a trash-strewn path. A pair of stacked highway overpasses loom in the distance. "This is the way," she says, in a tone of voice Lewis and Clark might recognize.
Dressed in a long-sleeve T-shirt, jeans, and tennis shoes, the 75-year-old Cooper is as unpretentious as she is intrepid. A steady gaze and impish smile enhance her disarming presence. She is the cool aunt whose twinkling eyes say she's seen things you wouldn't believe, and she's determined to share them.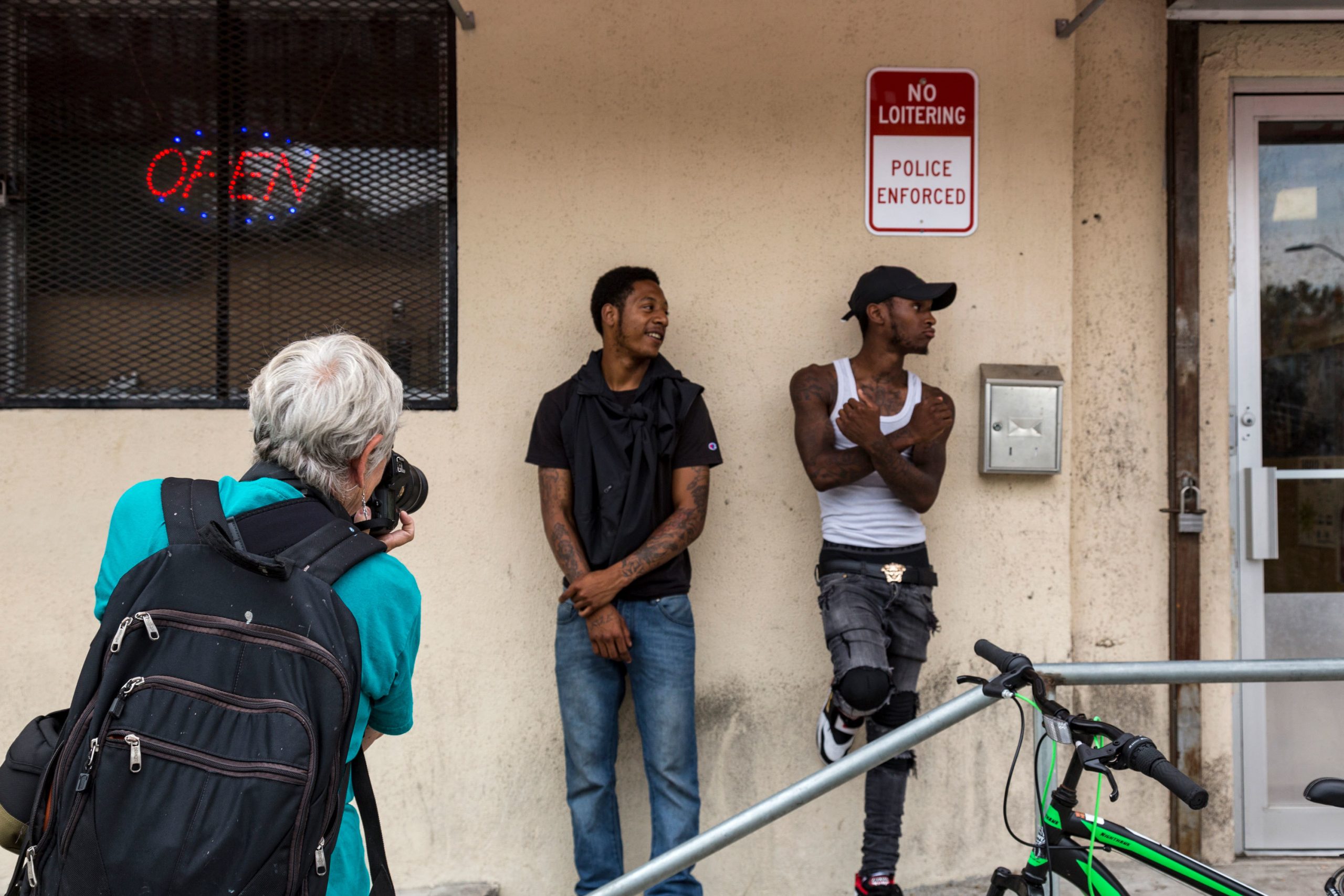 After reaching the soaring cement structures, Cooper follows a shaded route under I-95 as a steady procession of speeding vehicles thrums overhead.
She tramps past piles of strewn aluminum siding and plastic bags and eventually locates an unmarked trail amid a tangle of overgrown vines and thorny bushes. It leads to a clearing about a quarter-mile into the urban forest.
Here, local skateboarders and BMX bikers have constructed a secret compound. Its sprawling trails and sloping ramps are made from a hodgepodge of packed dirt, plywood, concrete, and bricks. A makeshift clubhouse is furnished with castoff car seats and plastic lawn furniture.
Cooper has a knack for finding and photographing these sorts of untamed, vibrant places where underground culture flourishes. In fact, she has been doing it for four decades. A Baltimore native now living in New York, she is arguably the most acclaimed street art photographer on the planet, with work in exhibitions such as 2011's blockbuster Art in the Streets at the Los Angeles Museum of Contemporary Art. Among her books is Subway Art, the groundbreaking survey of early New York City graffiti.
As Cooper scans the grounds, a bearded man in a blue O's cap emerges from the woods. It's Dink, the driving force behind this clandestine playground. He's here cleaning up after a particularly fierce storm, and Cooper compliments him on the work that has been done since she last visited. "Well, we don't have much in this part of town," says Dink, "so we made our own place to have fun. No one was doing it for us."
-Courtesy of Martha Cooper
Volunteers carried in most of the materials, though some bricks were salvaged from a nearby warehouse. "It's taken a lot of effort to hump all this stuff in here and get everything laid out," says Dink, who seems particularly proud of what at first appears to be a low stack of charred concrete blocks. "It's a pizza oven," he explains, before pointing out that slots on each side can hold as many as six pies. "It keeps them warm, too. We have to be innovative out here."
Cooper smiles approvingly. "It's amazing how creative people can be," she says. "This sort of thing happens all over the world."
Cooper grew up in Mount Washington on South Bend Road. Her mother taught English at Western High School, and her father and uncle ran Cooper's Camera Mart on Harford Road for nearly 60 years. "My parents gave me a lot of freedom," says Cooper, between bites of pizza at Zella's in Sowebo. "My mother let me walk to kindergarten, which was close to a mile, by myself. My sister and I were allowed to run around and play in the woods before it became the Greenberry Woods development. We had a lot of fun and could basically do whatever we wanted."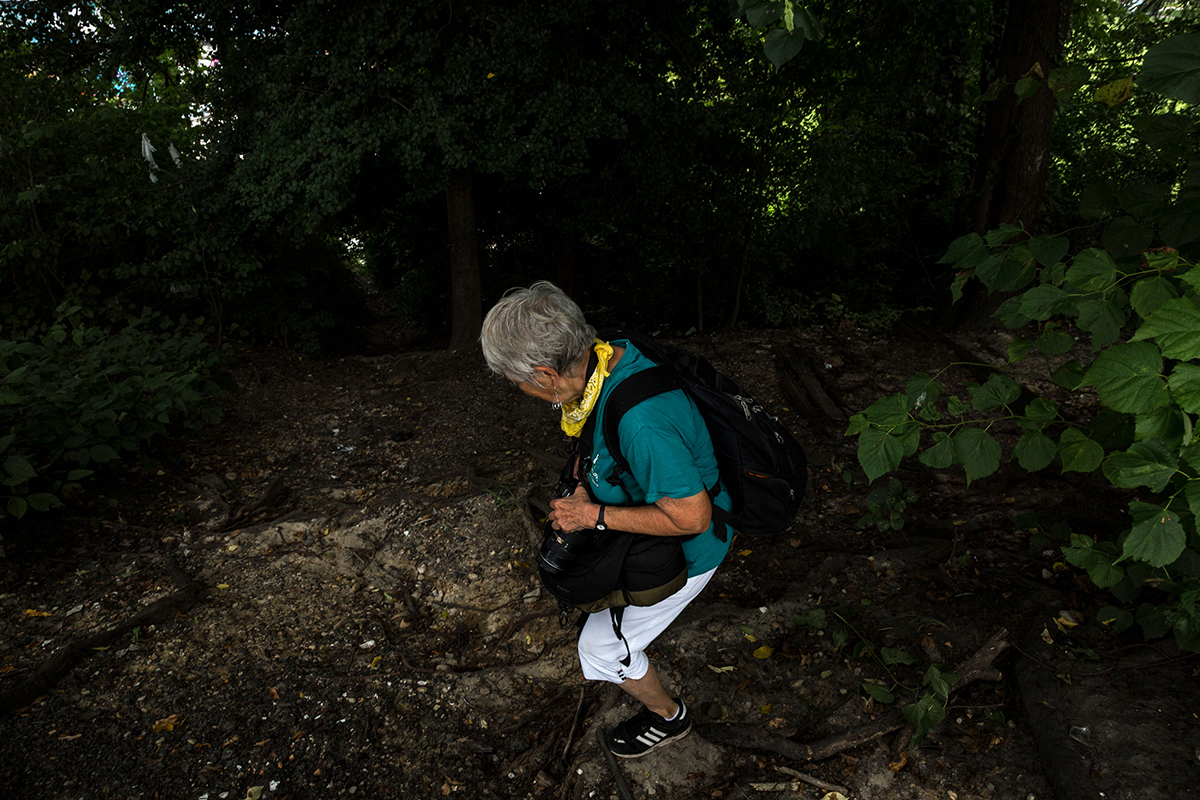 Cooper has a knack for finding and photographing these untamed, vibrant places.
She traces that sort of freedom and empowerment to her maternal grandmother, Henrietta Szold, a prominent Jewish-American Zionist. Szold's father was the rabbi at Temple Oleb Shalom in Southwest Baltimore, and she relentlessly advocated for a Jewish state and lived most of her life in Jerusalem. Szold, who passed away in 1945, had a school and research institute named after her, was inducted into the American Women's Hall of Fame, and even appeared on Israeli postage stamps and currency. "I come from a feminist family," says Cooper. "It's a line of strong, independent women."
Cooper graduated early from Forest Park High School at the age of 16. She also graduated early from Iowa's Grinnell College, earning an art degree in just three years, and then headed to Thailand with the Peace Corps. There, she developed a keen interest in anthropology and an appreciation of the Thai hill tribes' culture, especially their ornate embroidery and wax-resist dyed fabrics. Figuring she could parlay that into a career in museum work, Cooper earned a degree in ethnology from Oxford University, returned to the U.S., and got a job cataloguing artifacts at Yale's Peabody Museum of Natural History.
She quickly grew bored, realizing that the artifacts didn't interest her and working in a museum was too far removed from the action. She wanted to be out in the field. She'd been taking photographs since getting her first camera, a Brownie, from her father when she was just 3, and she had also enjoyed an independent photo project at Grinnell, so she took her camera and got to work.
After interning at National Geographic, she turned to newspaper photography, starting at The Narragansett Times in Rhode Island before landing a staff photographer position at the New York Post. The Post job piqued her anthropological interest as she explored the far reaches of New York City and met and photographed all sorts of people.
A photo essay she produced for the Post in the late 1970s (included in her book Street Play) changed the direction of her career. The piece was about "kids being creative," she says. "All the kids in those pictures were making things and doing things."
She scrolls through a few old images she has stored on her iPhone: children playing in water gushing from a fireplug, girls practicing dance moves, a group of teenagers making go-carts, and a boy with a pigeon. That boy, she says, introduced her to Dondi White, the first graffiti artist she ever met: "When Dondi explained graffiti to me, I was back in museum mode, back in ethnic art mode. Also, it was a super underground movement at the time, which was one of the reasons I was attracted to it. I felt as if I had been let in on a secret."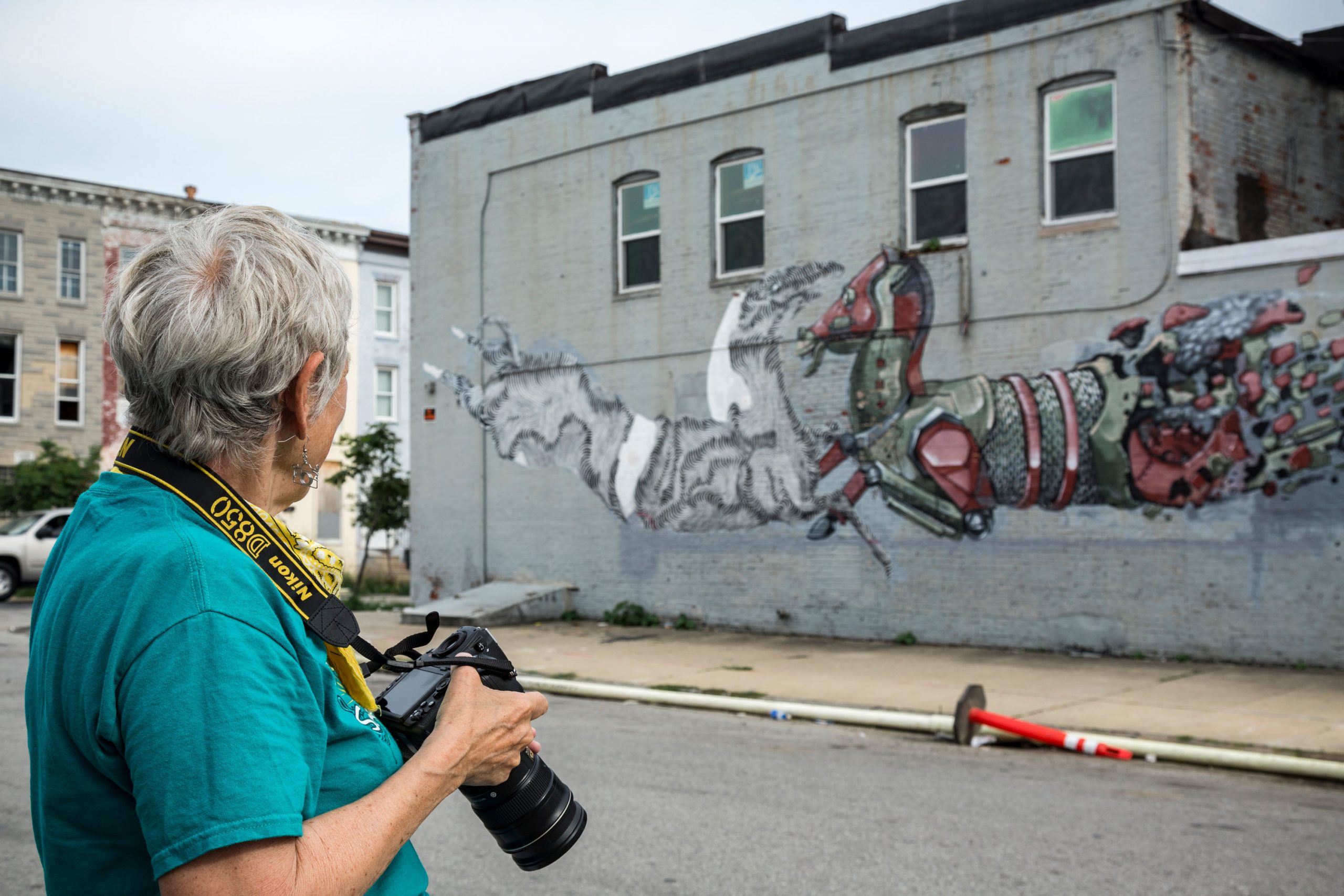 Cooper shadowed Dondi and other early graffiti artists around train yards, on subway cars, and in the streets to shoot the burgeoning scene in the late 1970s and early 1980s. She documented that golden age of New York graffiti in Subway Art, her 1984 book with photographer/filmmaker Henry Chalfant, which went on to sell half a million copies and was dubbed "the [graffiti] movement's Bible" by The New York Times. It established Cooper as graffiti's foremost photographer and led the likes of Time magazine to declare, "Martha Cooper introduced street art photography to the world."
It was a blessing and a curse. "I don't want to be known as just a graffiti photographer," she says. "It's limiting and not really what I do."
Cooper points out that she has always been interested in the culture framing the art as well. "One of the things I learned at Oxford is that you can't just look at the art," she says. "It has to have context. My pictures are the ones with context. To this day, I don't want to simply take pictures of walls. To me, that's boring. Anybody can do that. I'm trying to get the walls and some other thing. I like to see the process of people painting walls, how they do it, or I like to get some sense of community around the wall."
Indeed, Cooper's strongest work focuses on community, especially overlooked subcultures in urban areas. She has extensively photographed sidewalk shrines, Japanese tattoos, Haitian Vodou, Brazilian trash collectors called catadores, Chinese Lion dancing, and Puerto Rican casitas ("little houses").
She has been obsessively shooting Sowebo since the mid-2000s. At the time, she'd inherited a little money and wanted to use the funds for a street photography project she wouldn't otherwise get to do. She considered various spots around the world but was intrigued by returning to Baltimore, to a neighborhood not far from where the Szold family lived. During an early visit to Sowebo, Cooper spotted a child jumping on a mattress, which reminded her of the Street Play project. "It just looked right," she recalls. "I thought, 'That's the kind of neighborhood I want.'"
Against her real estate agent's advice, she bought a house in Sowebo and started frequenting the neighborhood, often taking a Bolt bus from her Upper West Side apartment in Manhattan. Cooper figures she has taken well over 100,000 pictures in Sowebo. She acknowledges challenges—from rampant drug dealing to the amount of trash on the streets—but lauds residents for being "incredibly resilient and friendly. Every day, they transcend their circumstances."
Cooper paired some of the Sowebo images with uncannily similar photos taken in Soweto, South Africa, during a 2012 artist residency. The resulting photo essay, "Soweto/Sowebo," features virtually interchangeable scenes of block parties, children playing, storefronts, neighbors relaxing together, and even vegetables and fruits being sold from horse-drawn carts (Baltimore gave it a Best of Baltimore award in 2014). It showcases Cooper's eye for detail, as well as her penchant to capture a sense of human resilience. Cooper hopes to eventually publish a book of Sowebo photos.
These days, Cooper rents out the Sowebo house and spends much of her time traveling to street art and graffiti festivals as a featured artist, honored guest, and/or official photographer. She photographed Germany's notorious 1UP graffiti crew, which resulted in a new book, One Week with 1UP. Her popular Instagram feed (she currently has 195,000 followers) includes photos from recent trips to Sweden, Mexico, and Tahiti. It also includes pictures taken on the Fourth of July in Sowebo and at Dink's compound.
While eating pizza at Zella's, Cooper occasionally glances toward the street outside the restaurant's large windows. It's almost as if she's afraid she might miss something by staying inside, or remaining stationary, for too long. Finally, she asks for a to-go box and packs up the remaining slices. "There's an alley just a few blocks from here that I haven't visited for a while," she says. "It seems like there's always something going on there."
With that, Cooper grabs her camera bag and heads out the door.