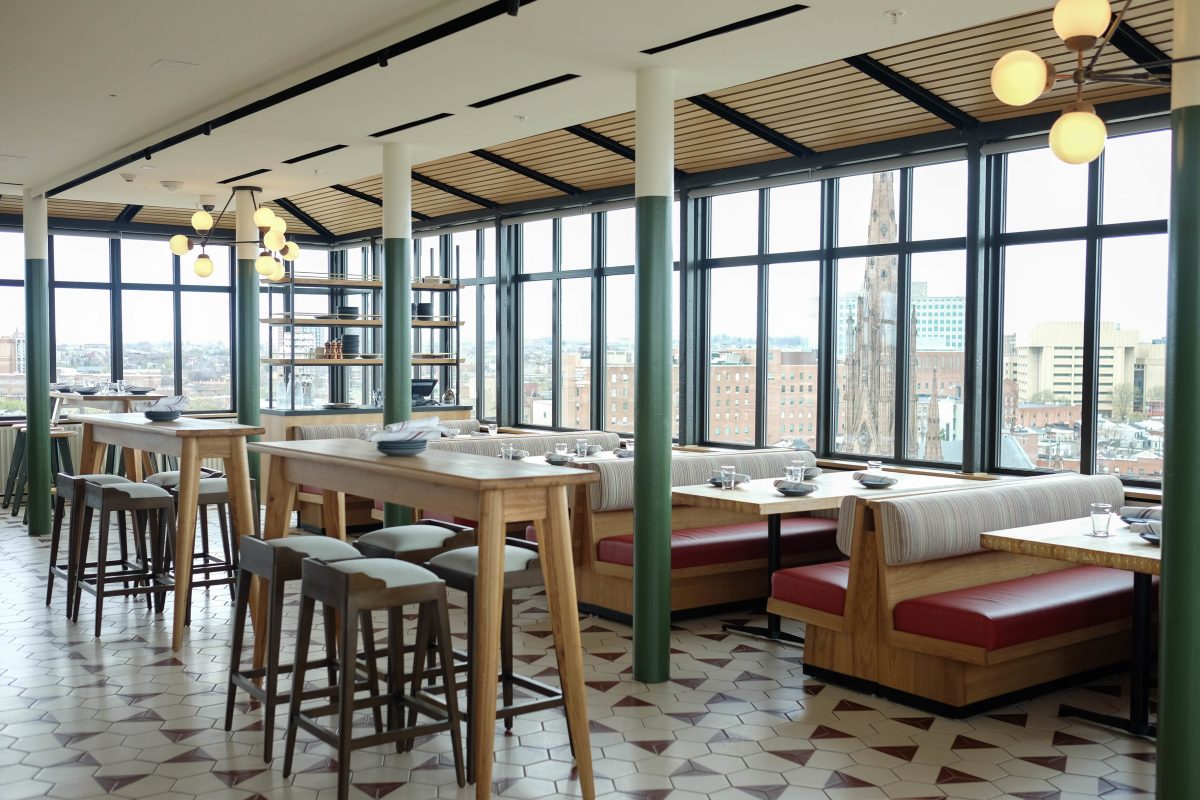 Outside the entrance of the new Hotel Revival at 101 West Monument Street, a black-and-gold plaque details the roots of the site, which dates back to 1929 and operated as a 12-story apartment complex until the early '80s. It was later transformed into The Peabody Court Hotel, and the team behind San Francisco-based Joie de Vivre took over the property in 2016 to oversee Revival's multi-million-dollar renovation.
Although the hospitality group operates other boutique hotels all over the country, Revival isn't a carbon copy of another national chain. In fact, a laundry list of Baltimore artists and makers—including the likes of painter Greg Gannon, Younts Design in Clipper Mill, and Mt. Vernon-based SM+P Architects—helped to execute the final product.
"Every detail tells a story," says general manager Beth Brainard. "We're trying to create a very Baltimore-centric experience that you can't find anywhere else." Here are a few features that contribute to the uniqueness of the hotel, which is currently in soft-opening mode, and will officially cut the ribbon on Thursday, May 3.
Topside on the 14th floor boasts 360-degree views of Mt. Vernon
A top-level bar and restaurant, fittingly named Topside, features a laid-back gaming vibe with foosball tables, wood furniture sourced from old bowling lanes, an 18-seat bar, and panoramic views of the Washington Monument. "We wanted to create a space that is comfortable for everyone," Brainard says. "Whether it be business travelers, locals coming from a meeting, or the gal that just walked her dog down the street with yoga pants on." Bar manager Chelsea Gregoire oversees the beer-centric beverage program, highlighting 60 regional bottles and cans, 13 East Coast varieties on tap, and a beer-inspired cocktail list. Not to mention the "Thirstay" pale ale brewed exclusively for the hotel by Peabody Heights. In keeping with the local theme, Topside's food menu focuses on seafood dishes (think bay scallops and a whole-fired blue catfish) from executive chef Wilbur Cox.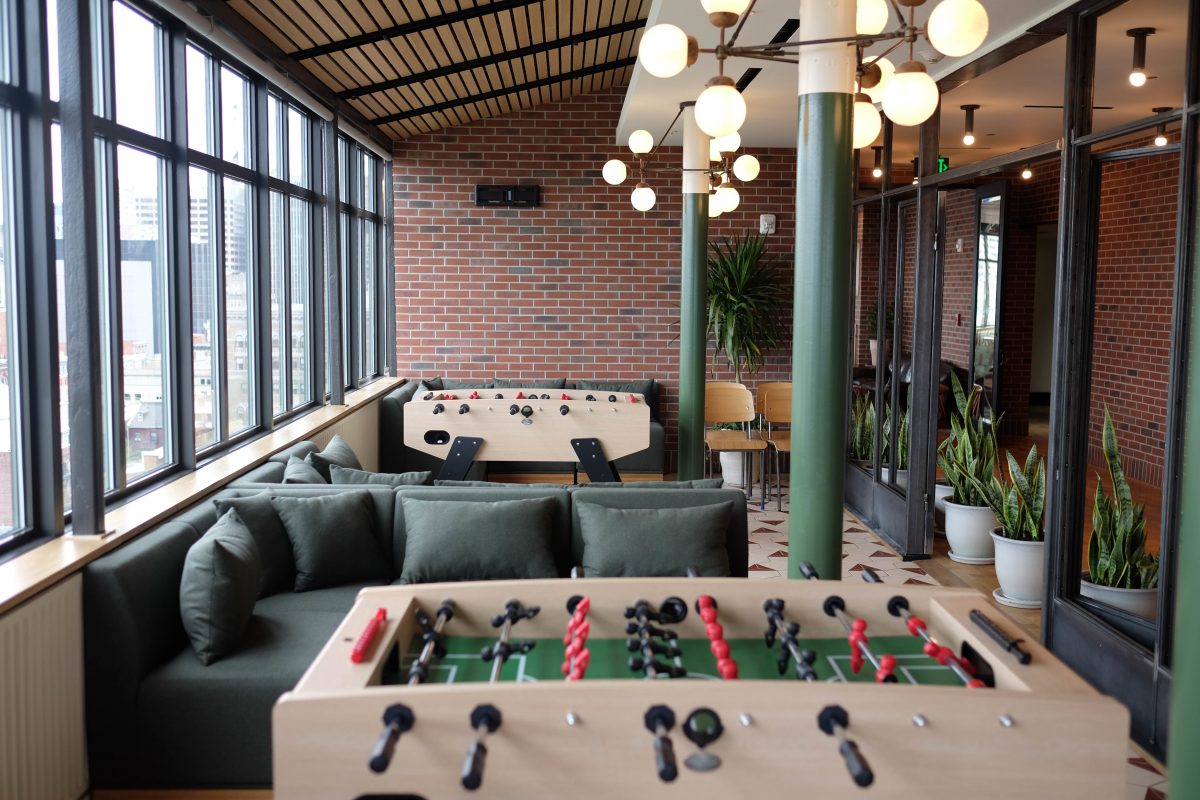 The hotel's restaurant, Square Meal, is open for all-day service 
Cox's street-level restaurant plays up its proximity to the Washington Monument with wooden bench seating that is meant to mimic the benches surrounding Mount Vernon Place. Other fun touches include a full-service coffee bar, market space with grab-and-go items, and a custom split-flap sign that rotates to display a different message to diners every 30 seconds. The all-day menu is sourced by local farms—including Liberty Delight in Reisterstown and Albright Farms in Phoenix—and includes signature dishes like a smoked white fish mousse bagel, citrus pound cake French toast, mustard green agnolotti, and Maryland rockfish with cauliflower puree. The downstairs restaurant also has its own fully-stocked bar, which includes a limited-edition bourbon bottled for the hotel by Old Line Spirits in Highlandtown.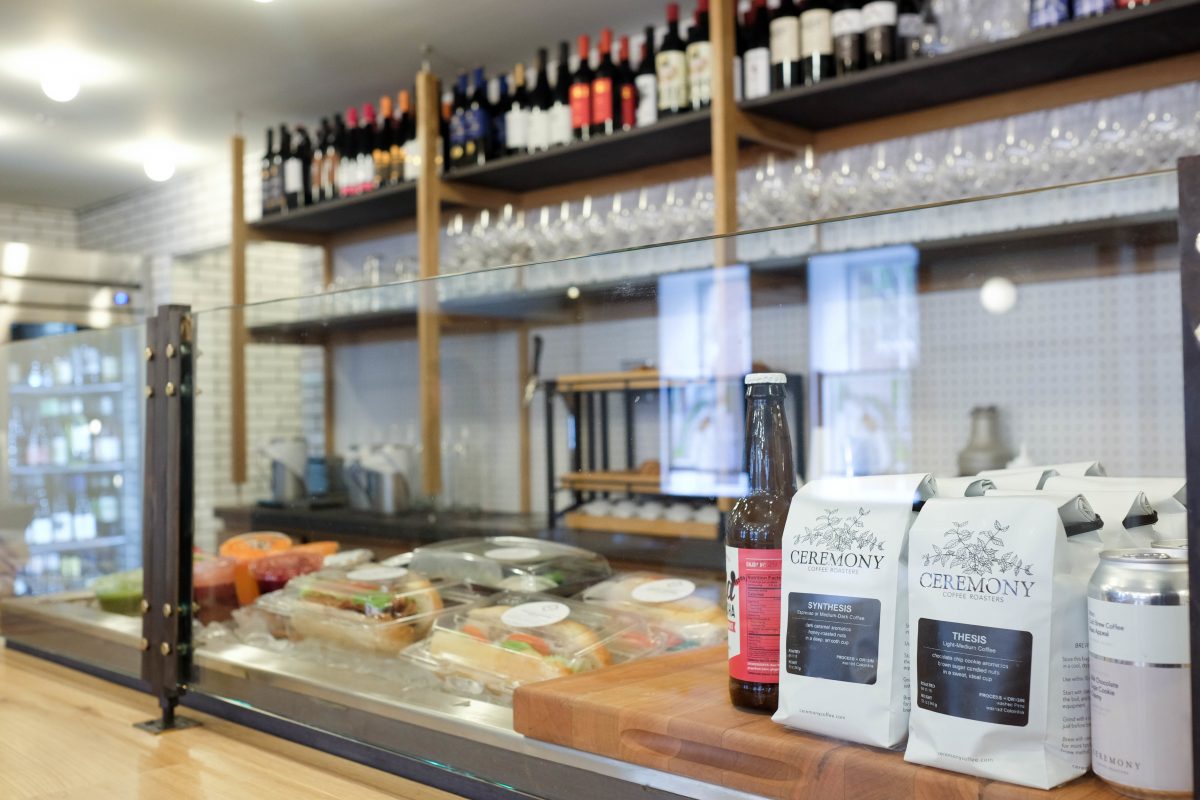 Private karaoke rooms can be rented by the hour  
Three soundproofed karaoke rooms will allow guests to belt their favorite tunes while enjoying a custom menu of drinks and shareable bites with friends. The cozy nooks, which accommodate groups of 8-12, are powered by Voicebox, a program that allows guests to pre-schedule their playlists using a mobile app. The spaces can also be booked as private conference rooms, or for game-day watch parties.
B. Willow curated all of the interior greenery 
The team partnered with Liz Vayda of Remington plant shop B. Willow to enliven the space with interior greenery. A private garden room on the 14th floor boasts al fresco patio tiles, garden furniture, delicate drapery, succulent centerpieces, and its own bar. "There's no outdoor element here, so we wanted to bring the outdoors in," Brainard says. Vayda is also in the process of installing a living green wall in the space, which will produce herbs that Gregoire and Cox can use as ingredients at the restaurants.
All of the rooms have doorbells  
To harken back its days as an apartment complex, all of the hotel's guest rooms have a residential feel. "A lot of hotels are very matchy-matchy," Brainard says. "Everything is either mid-century, rustic, or classical. But here, we wanted it to look like a person collected things throughout their lifetime." All 107 guest rooms feature a mix of various furniture and accent pieces. (Think touches like vintage rugs and quilts embroidered with a map of the Chesapeake Bay.)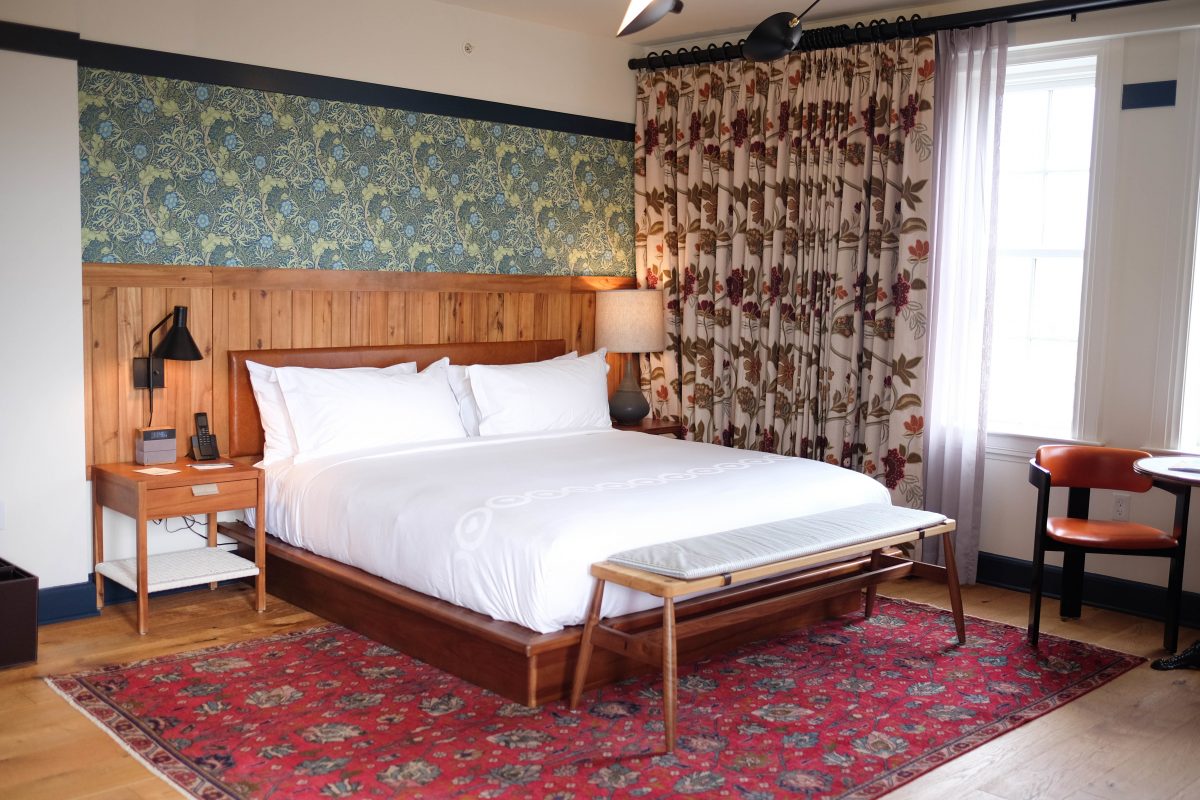 The lobby pays homage to Howard's Woods 
A stone's throw away from the Washington Monument, the hotel sits on a 700-acre plot of land that was originally owned by Revolutionary War hero John Eager Howard in the early 1800s. During that time, it became known as Howard's Woods. To commemorate the nickname, Revival's front lobby features hand-painted murals of trees and shrubs by local artist Kelly Walker of Artstar Custom Paintworks. "I've never worked in a hotel that has a forest inside the lobby," Brainard says with a laugh. "It's pretty unique."
Featured artists took inspiration from the Maryland Historical Society 
A whimsical wallpaper display near the lobby was created to mimic the iconic Baltimore Album Quilts—a style that dates back to the 1800s and makes use of different designs in each block. California artist Cassandra Jones paid a visit to the Maryland Historical Society do research on the quilts, and put her own spin on them with a custom collage using colorful objects like flamingos, flowers, pineapples, and beach balls to create larger patterns. "It's kind of a trick on the eyes," Brainard points out. "What you see is not what you get."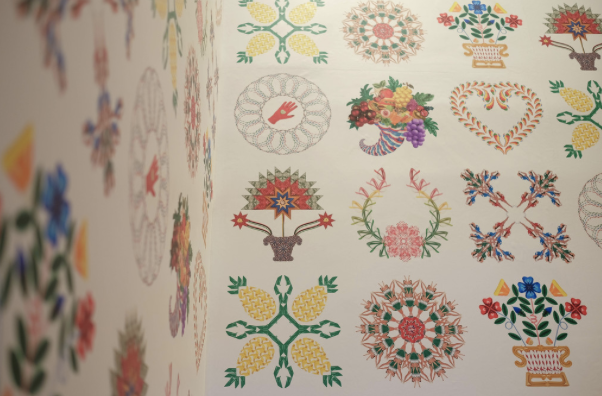 John and Mary Elizabeth Garrett used to live on the property in the 1800s
The art-heavy interior is influenced by philanthropist—and renowned art collector—Mary Elizabeth Garrett, whose father John W. Garrett founded the B&O Railroad. The family's private mansion previously sat on the Revival site, and was home to the inaugural exhibition of the Baltimore Museum of Art. There are many nods to Mary Elizabeth throughout the space, including an extensive collection of Baltimore art (Brainard estimates that 50 percent of all works displayed inside the hotel are local), and a luxe "Miss Mary" suite equipped with a king bed, restored woods, crown molding, and an oak table.
Staffers sport locally crafted uniforms
It only makes sense that the hyper-local hotel would outfit its staff with Baltimore-made accessories. The nattily dressed valets, bellhops, and greeters sport bow ties from Harbor East-based Christopher Schafer Clothier, while front desk workers don vintage jewelry from Bottle of Bread in Mt. Vernon. Local tailor Aaron Jones of Treason Toting Co. and Bushelers of Baltimore made custom aprons for the restaurant workers.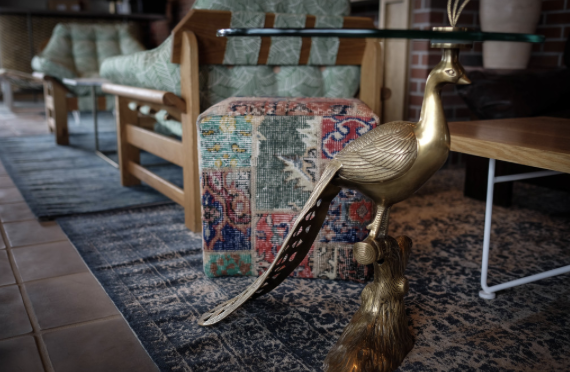 Peacock designs are featured throughout the space 
There's more than meets the eye when it comes to Revival's mascot, the peacock—whose feathers are displayed in wall murals, furniture, and other artistic touches throughout the space. As a symbol of resurrection and resurgence, the animal was an ideal accompaniment to the hotel's name. "We went through several rounds of brainstorming about Baltimore, and revival was a word that popped up in every round," Brainard shares. "All of the sudden at the end we had this aha moment where we were like, 'This is the one.'"