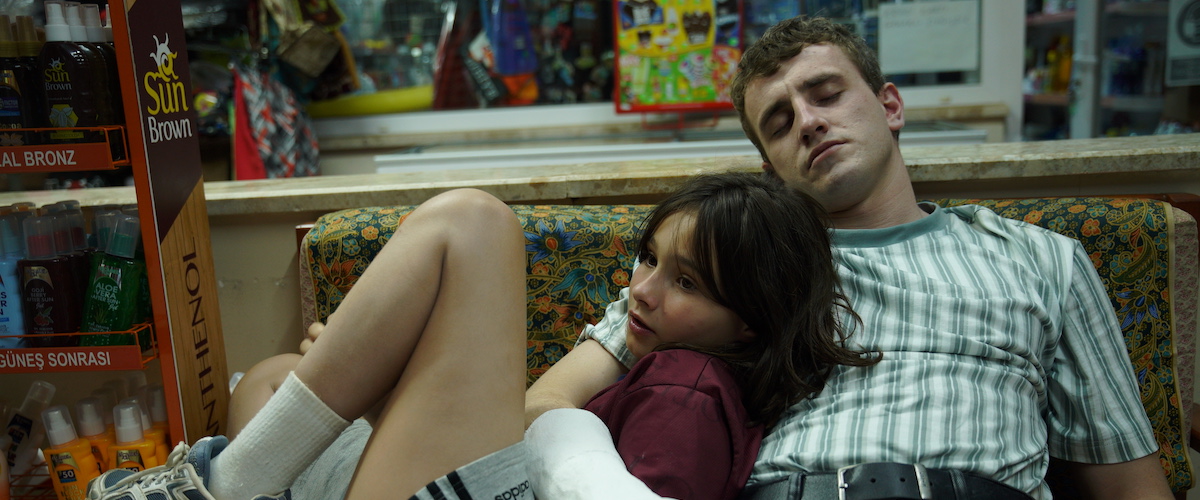 —A24
I watch the Oscar nominations on TV the way some people watch a sporting event. I'm very…vocal. Even when I'm all alone. So without further ado, here are all the sounds I made as I watched this year's Oscar nominations.
A fist-pump, followed by a "Yes!"
This was when Paul Mescal was nominated for Aftersun. The dreamy, quietly heartbreaking film doesn't necessarily warrant fist pumps or loud exclamations, but the heart wants what the heart wants. As a sad but doting father on vacation with his daughter, Paul Mescal is just so so good in this film. And his nomination was hardly a lock.
An inhale, followed by a relieved exhale.
This was for Women Talking taking the 10th and final Best Picture slot. They announce the awards alphabetically, so I knew we had hit the Ws. It was down to Women Talking, an intelligent, serious film I liked very much, and The Whale, a film I kinda hated. (That Darren Aronofsky blend of voyeuristic body horror and sentimentality rarely lands for me.) And Women Talking got that final slot. Huzzah!
An actual gasp.
This was when Andrea Riseborough got nominated for To Leslie. "To…who?" you might say. Exactly. This barely seen film got a major push by what seemed to be an orchestrated social media campaign. A whole lot of celebrities including Mia Farrow, Joe Mantegna, and Dulé Hill posted about the film using the exact same language. (They called it a "small film with a giant heart" and gushed that "Andrea Riseborough gives the performance of the year.") Deeply sus, to be sure. But I will say that those who have seen the film (I haven't yet) do agree that she's incredible. Still, a shame for Danielle Deadwyler of Till who almost definitely would've otherwise taken that fifth slot.
An "awww."
That was when I saw that Hong Chau got nominated for The Whale in the Best Supporting Actress category. As mentioned, I wasn't a fan of that film, but I liked Chau in it. And I like her even more in the wickedly fun The Menu.
A "huh?"
That was when Tom Cruise wasn't nominated for Top Gun: Maverick. I mean, how do you nominate that film for Best Picture and not nominate Tom? He's the whole deal, both the Top Gun and the Maverick. And his maniacal, undimmed star power is what drove that film to its soaring heights.
A "well, good for them!"
That was when the Best Supporting actor category was announced. Honestly, it's a whole category filled with nice people who deserve nice things. Most went by the book, but I was pleasantly surprised that Brian Tyree Henry, of the little-seen Causeway, got a nod. (Without the benefit of a social media campaign!) I also really love that Barry Keoghan got nominated alongside his more seasoned costar Brendan Gleeson, although they will likely cancel each other out. (A merely academic point, as Ke Huy Quan of Everything Everywhere All At Once is as much of a lock as we're going to get this awards season.)
A "who knew?"
This actually came after the nominations, when I found out that all five actors in the Best Actor category (Austin Butler, Colin Farrell, Brendan Fraser, Paul Mescal, and Bill Nighy) are first time nominees. Good for them! (And it's about damn time when it comes to Nighy and my personal favorite in the category, Colin Farrell.)
A satisfied, knowing laugh.
This was when I saw that Michelle Williams got nominated for Best Actress in The Fabelmans. A lot of people think this was the rare reverse category fraud (usually, someone who is arguably a film's star tries to position themselves in a supporting category because they have a better shot at winning). In this case, Williams could've made a strong argument that she actually was a supporting actress. Some thought she had outsmarted herself by submitting her performance for Best Actress. But Michelle Williams got the last laugh, as Michelle Williams often does.
Look, obviously, I have my quibbles with the nominations (nothing for The Woman King or Nope?), but for the most part I think they're pretty solid. In fact, many tracked with my Favorite Films of the Year. You can peruse the whole list, here.
And watch this space for my Oscar predictions the day before the ceremony, on Sunday, March 12, 2023 on ABC.