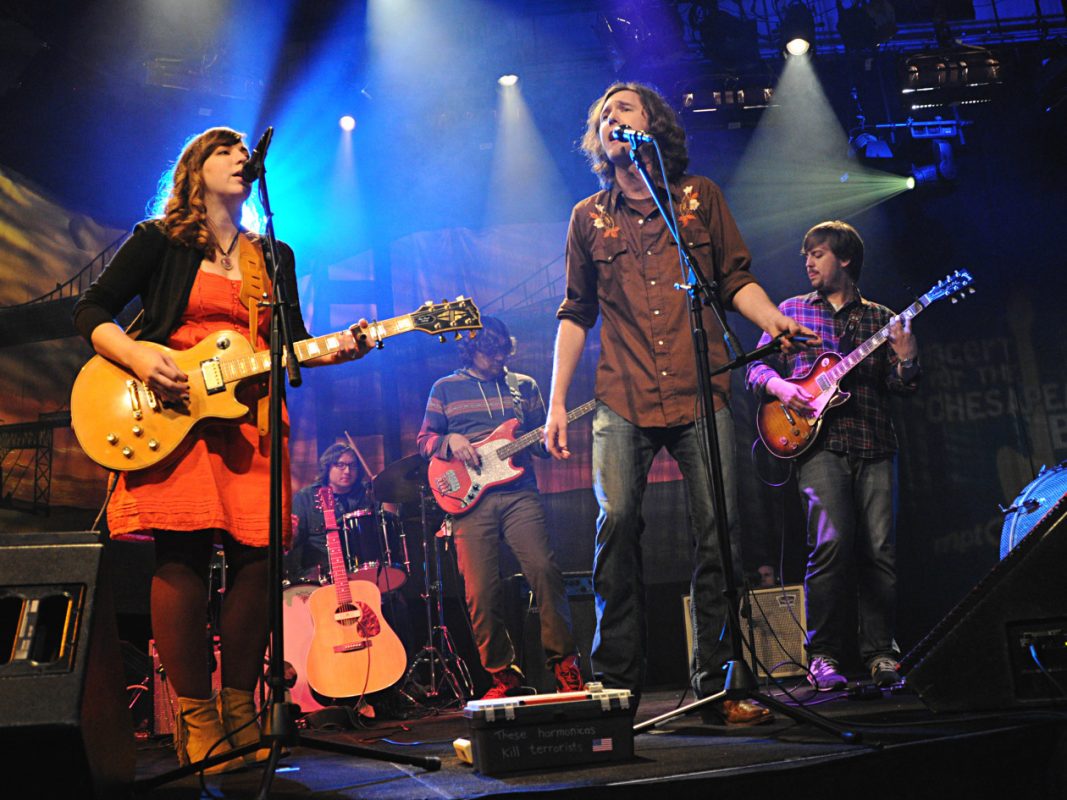 In this third iteration of The Big Baltimore Playlist, we found five local songs we can't get enough of, ranging from psychedelic pop and Americana medleys to rockabilly headbangers and soulful R&B. Check back each month for new top songs of the moment, and follow our Spotify playlist as we continue to build a soundtrack for our city. 
---
"Kinda Bonkers" by Animal Collective
Sure, this experimental quartet doesn't live in Charm City anymore, but born and raised in the region—and with a strangely wonderful set at Merriweather a few weeks back—we'll always consider them our own. This fittingly titled track is a swirling feat: off-kilter and eclectic as ever, culminating in a hypnotic, almost tribal piece of pop music that only our boys could create.
"Paper Trails" by Celebration
This sprightly number off Celebration's spring album will put you in a good mood any time of year. A duet with frontwoman Katrina Ford and Future Islands' frontman Sam Herring, it's a swinging dance between two of Baltimore's most passionate performers. His low guttural croon bounces along with her buoyant, brilliant pipes, amidst a backdrop of shimmering synth and steady hi-hat drums. At the core, it's a bright little love song. It makes you want to snap your fingers, find a partner, and dance along. (For more Ford-Herring tour de force, see 2010's "In The Fall.")
"Heartbroken Shogun" by Dolphin*
We learned about this little known Baltimore songwriter, producer, and multi-instrumentalist through the airwaves of WTMD. With more than 50 unreleased albums, the prolific artist has dozens upon dozens of tracks, but we'll argue that this new one—a scratchy, funky beat swimming in vintage soul with a hint of futuristic R&B—is his best yet. Go ahead and get lost in the wavy, laidback groove.
"Never Look Back" by The Herd of Main Street
In order to listen to this song right, you need to get out of the city. That's right—hit the road, get out of dodge—because this jangling, heart-pounding melody is best listened to with the windows down or outside in the country air. Combining classic country and rock-and-roll with blues and folk roots, this 10-year-old quintet makes a rich medley of Americana music, one that's reminiscent of the greats who came before them: The Band, The Allman Brothers, Gov't Mule. Be sure to check out their full album, Heyday, when it drops this weekend.
"Preaching To The Choir" by Snakes*
This two-year-old band sounds anything but young. With a sort of punkish twang, they strum together the sort of lo-fi frenetic rockabilly music that lends better to bolo-tied mosh pits than boot-scooting line dances. (They also have heartbreaking blues songs, with swirls of organ and pedal steel,.) However you embrace them, this five-piece might just be the best spaghetti-western slingers that ever stepped foot into Station North, with regular sets at Metro Gallery, The Windup Space, and The Crown. We're eagerly awaiting their 2018 EP.
*Not yet available on Spotify. We'll add it when it comes online.