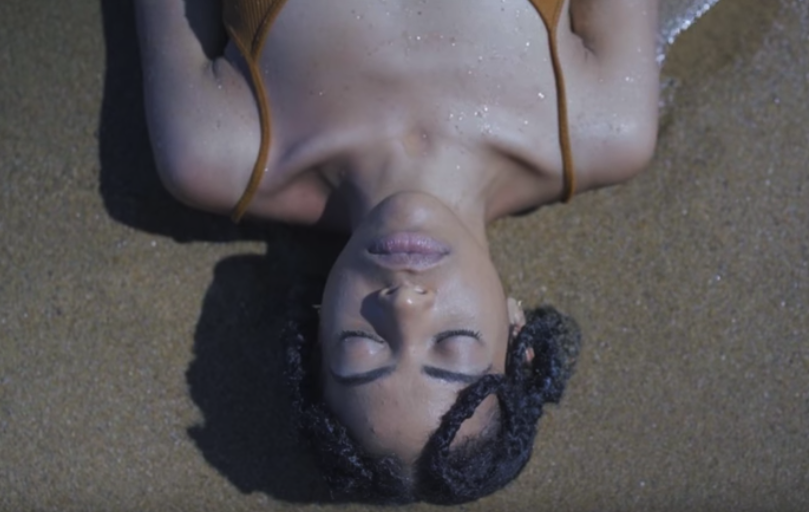 YouTube
In the latest iteration of The Big Baltimore Playlist, we found five local songs ranging from soulful hip-hop and smoky blues music to dreamy indie-pop and galactic R&B. Check back each month for new top songs of the moment, and follow our Spotify playlist as we continue to build a soundtrack for our city.
---
"Water" by Joy Postell*
We've been anxiously awaiting new music off the upcoming Diaspora EP by local singer-songwriter Joy Postell. We've said it before that Postell is one of the most soulful voices in Baltimore, but she is also one of the city's most sophisticated poets and visual storytellers. Exhibit A? Her fierce "Consciousness" from 2016. Exhibit B? This stunning new single and its equally inspired music video. The song and its accompanying art paint a poignant and powerful portrait of being black in America in 2018. The murky jazzy melody floats slow and steady—a pitter patter of hand drums; the echo of snapping fingertips; a searing line of saxophone—and on it, like a wave, rides Postell's husky, honey-coated vocals, speaking truth to power and standing resolute in history's wake. With a sampling of words by one of her idols, Angela Davis, she connects past and present racial injustices—gun violence, police brutality, outright oppression—and presents young people, like those notable Baltimoreans featured in the video (rapper Al Rogers Jr., singer :3ion, artist Malaika Aminata Clements, culinary entrepreneur Krystal Mack, to name a few), as the future seeds of change.
"All To Come" by June Pastel
Pick any song off the new debut album of this young band led by Salt Lake City native artist Anthony Peña, and you're bound to get lost in its dreamy indie-pop. Crafted by a quartet of Peabody students that call themselves June Pastel, Collages is a lush, hazy feat, fit with tender, seeking vocals and lustrous surf guitar. Next to "Into a Spell" and "En La Vida," this track stands out for its subtle motions. With a rush of synth and ripple of saxophone, it rhythmically zigs and zags before building into a bright and textured ballad. All the while, the lyrics seek for certainty in the future, and toward the end of the song, Peña and his bandmates reach a sonic clearing. To us it feels like finding faith in the unknown.
"Saturn Returns" by Pangelica*
Move over, Grimes. There's a new cosmic pop princess in town. Meet Pangelica, Baltimore producer, cofounder of the GRL PWR arts collective, and creator of otherworldly beats. With a singular sound founded in futuristic melodies, she brings a powerful presence to the local music scene, landing somewhere between electro-punk and experimental R&B, and her new debut album might just be worthy of the national scene. On its title track, she speaks to modern romance, using her lush electronic brew to move through the heart's complexities—lust, heartbreak, healing—and along the way lay bare the ways in which we are pushed and pulled by power and desire. With heart-on-her-sleeve awareness and addictively glittery production, Pangelica is a local artist to closely follow.
"Let's Ride" by Quinton Randall*
In Baltimore, we often talk about the DIY scene and the indie, hip-hop, and electronic genres that go along with it. But outside of Station North, often down in Fells Point, another form of music flourishes—blues—thanks in part to Quinton Randall. This young guitar virtuoso has been gigging around the city for years now, performing at Artscape, the Creative Alliance, and the Ottobar, as well as releasing two EPs. He's become a Charm City staple, and yet this soulful new song seems like the starting point for what's to come. On it, Randall's trademark axe is in tow, undulating in propulsive waves, waiting in turn for its occasional electric guitar solo, but it's his raw, reverberating vocals—stronger and more soulful than ever before—that rock you to the core. We always knew he was a rising star, just waiting to be discovered, and if this song is any indication, his upcoming Halfway To Midnight record might do the trick.
"Sanctuary" by Super City
When a song goes viral, it's always a little unnerving for a band. What will come next? How will they follow up? But this first new single—the title track of Super City's forthcoming sophomore album—takes the energy still simmering from last summer's infectious "Artificial Sin" and uses it to skyrocket toward the Bowie-filled stars. We've had the luck of listening to the new record from the high-fashion, fierce-dancing indie-pop quintet, and we'll just say that this soaring power ballad sets the stage for the entire collection. Just like this melody, it is playful, sprightly, confident, and outright fun. Its golden harmonies, crashing drums, and fuzzy grunge guitar will keep you hooked from the first to very last note. Give this one a listen (and check out its just-released video) and try not to nod, bop, or outright rock along.
*Not available on Spotify. We'll add it when if/when it comes online.