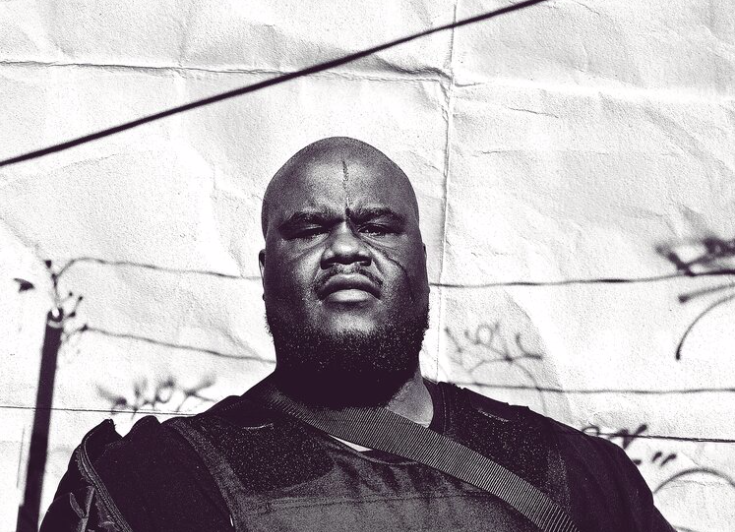 Each month, we're amazed by the musical talent of this city's artistic community, but never has it been more apparent than in the age of coronavirus—acting as both a salve for hardship and a source of hope. Even from quarantine, artists are still honing their craft, and their fans can continue to show their support by purchasing music and merch. In this month's Big Baltimore Playlist, we showcase 10 local songs to listen to right now, ranging from freewheeling jazz and meditative electronica to hard-hitting rap anthems. Check back each month for new top songs of the moment, and follow our Spotify playlist for a soundtrack to the city.
---
"Tension, Tension, Release" by Ami Dang
On her Meditations Mixtape Volume 1, local Baker Artist Award winner Ami Dang uses her transcendent electronic music to ease the tension of these strange modern times. Created in response to her own family members' coronavirus illness, these songs channel the vocal hymns of her Sikh upbringing to create space for prayer, healing, and reflection. Using traditions from Hindustani classical music, each, and in particular this last track, can be used as a breathing exercise of sorts, be it through singing along or using the moment to meditate.
"Water Talks" by Amy Reid

Speaking of meditative music, earlier this month, local singer-songwriter Amy Reid of beloved indie duo Chiffon released a stunning solo instrumental EP and this ambient track through D.C.'s Atlantic Rhythms. It's a short, serene soundscape that slowly builds before bubbling into a bright, vivid melody, showcasing Reid's mastery of the electronic melody. Especially during the times of COVID, we recommend using this song to start your day.
"Love On Deck" by Colada*
In 2017, Colada made broke out as a local slow-jam hitmaker with her TT The Artist collaboration, "Stupid," exuding old-school R&B vibes, heart-on-her-sleeve rhymes, and good style for days. This new love song, recently released on TT's Club Queen Records label, proves that's more than just a one-hit wonder, with a languid beat, lilting melody, and Colada's honeyed, confident vox running the show.
"Swivel" by Dapper Dan Midas
After much anticipation, rising star DDm is back with a new solo album, and for the first time, fittingly, it's under his full original moniker, Dapper Dan Midas, which dates back to his early days on the local rap-battle circuit. These eight tracks are a reflective homage to his Baltimore upbringing, both in lyric—ruminating in smart, vigorous verses on the likes of racism, sexuality, and culture (if you missed The Wire reference)—and in style—shedding the pop trappings of recent past albums to brazenly showcase his rap prowess while baring his soul and paying tribute to the city's black experience. This second track, with a driving beat and authoritative rhymes, is one of many standouts, best followed by his album-accompanying virtual video experience.

"Johnny Bag of Smoke" by Dope Body
After a five-year hiatus, punk-rock quartet Dope Body has reunited on a raw, rollicking new album, aptly titled Home Body, as it was recorded remotely from the bandmates' respective homes in the midst of COVID quarantine. This rough-and-tumble first track kicks things off with a bang, featuring clashing drums, searing guitar, and singer Andrew Laumann's all-out vocals. It's a fervent, fuzzed-out anthem that makes us, even more, miss the collective mosh of live music venues.
"Queen of Spades" by Ellen Cherry*
Throughout April and May, Ellen Cherry gifted us the new songs off of her latest album, Collage, with the Emmy-nominated singer-songwriter releasing each one by one through a Facebook Live performance this spring. It was something to look forward to in the times of COVID. We found this third indie-folk track especially poignant, speaking to our past selves and relationships and the ability for change, fueled by steady drums, effusive synth, and Cherry's own haunting vocals.
"Focus" by Josh Stokes
Long live the unlikely, experimental tunes of Josh Stokes. The singer-drummer dynamo is a regular on the local scene, working with other household names over the years like Future Islands, JPEGMAFIA, Eze Jackson, and Abdu Ali, but his solo work shows his unique approach and own staying power, fusing myriad inspirations and multiple genres across the generations into a new-age take on funk, soul, and R&B. Off his new EP, Toons, this second track is a trippy, textured slow-jam, thanks to layers of steady beats, distant backup vocals, and Stokes' own ethereal croons, speaking to bringing out the best in each other.
"Bmore Careful" by Lafayette Gilchrist*
It's unclear whether or not this 12-minute track was written in the times of coronavirus, but rich in staccato energy and layered in jubilant sound, it feels like a soundtrack to navigating the city streets in the wake of a global pandemic. Off his new album, Now, it is veteran musician Lafayette Gilchrist's improvisational jazz at its very best—a buoyant, wandering exploration of the keys, with Herman Burney on bass and Eric Kennedy on drums. For the full effect, be sure to watch one of his livestream concerts at An Die Musik before the quarantine is up.
"And So On" by Michael Nau*
We need more little, lovely acoustic ditties in our lives these days. Luckily, Cumberland indie-folk artist Michael Nau has us covered with his latest record, So On So On. This similarly titled track features a few aching, jangly strums of guitar and Nau's weightless, bare-bones vocals speaking in poetic, labyrinthine verse. Like much of his music, it's a lesson in the art of simplicity, without ever losing power or touch. A must listen for the sticky, sun-dappled afternoons ahead.
"Drive" by Sickle Cell
There's something immediate about this instrumental exit song off of Sickle Cell's first full album, You Might Be Dead Tomorrow. A solo project from local artist Alexander Briscoe Jr. (Oda Red, Slow Jerks), the spring record is a personal reflection on life's ephemerality, with this twelfth track unfolding like a cinematic, into-the-sunset, final scene, and yet at the same time the mark of a new beginning. Founded in new wave and post punk, Briscoe intertwines electronic drumbeats and '80s-infused synth with slow, undulating progressions of livewire electric guitar, urging the listener follow, too.
*Not on Spotify. We'll add if/when it becomes available.