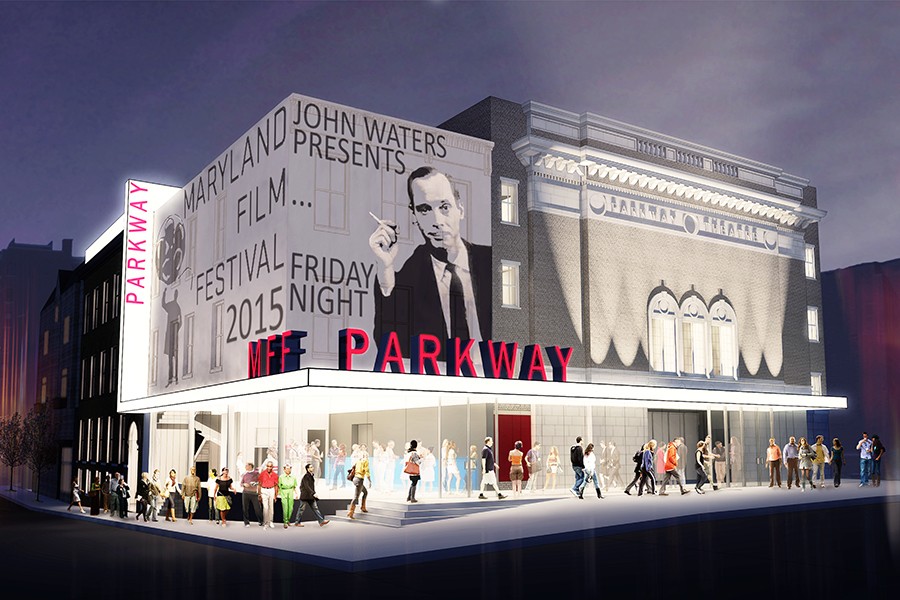 Courtesy of JHU and Ziger/Snead Architects
For every heartbreak that comes with the demolition of a beautiful, ancient building for some glitzy, new condo, there is a beacon of hope like the Parkway Theatre.
This morning, Johns Hopkins University announced that the historic 1915 movie theater will be reopening in late 2016, thanks to a $5 million donation from international philanthropic organization, the Stavros Niarchos Foundation. The renovation project began in 2012 as the MFF Parkway Film Center but this new funding gives JHU and its partners, the Maryland Institute College of Art and the Maryland Film Festival, a green light to once again turn the long-shuttered landmark into a thriving, pulsing part of the Station North arts and entertainment community.
"We have more money to raise but this gift is a game-changer," said Jed Dietz, director of the Maryland Film Festival. "The project has gone from a great idea that everyone really loved and supported to something that is now going to be a reality. It would be hard to overstate how good this will be for our city."
Located near the corner of North Charles Street and North Avenue, the historic theater was built in 1915, in the image of the grand houses that came before it. It eventually closed in 1977, due to poor attendance and urban decline, and, albeit a few courtships, it sat vacant for decades—a hallowed, hollow shell of what it once had been.
Now, the venue, renamed the Stavros Niarchos Foundation Film Center, will feature three screens, 600 seats (compared to the original Parkway's 1,100, which were ultimately reduced down to 420), and a live performance space. Major renovations are needed, due to minimal maintenance over the years (read: virtually none), but the center will still pay homage to the building and neighborhood's heritage, as well as recognize its vibrant and progressive transformation.
"There will be new sound, projection, and movie-viewing technology because what is currently there was built for 1915 and the art form has obviously changed quite a bit since then," said Dietz. "But our goal is to honor the theater's history. As people walk in, we want them to really feel that the 100 years of movie-going are all here in this building—because they are."
The current plan's design phase will begin in January 2015, followed by construction later that summer. In the meantime, fundraising efforts will continue.
The center will be devoted not only to the exhibition of film, but also the study and production of it, which will directly benefit JHU and MICA as both have undergrad film programs. Starting in the fall of 2015, MICA will also offer an M.F.A. in filmmaking. In collaboration with this project, JHU and MICA will host their programs and related academic activities across the street on 10 E. North Avenue in the soon-to-be-renovated Centre Theater. MICA's graduate facility, the Fred Lazarus IV Center, is already located at 131 W. North Avenue in Station North.
Before finding the Parkway Theatre in 2012, the Maryland Film Festival spent a number of years in search of a space that would draw in crowds and the kinds of films and filmmakers of other major cities. It was the perfect venue, location, and size for what the MFF had envisioned, and in December of that year, the Baltimore Development Corporation awarded property development rights to the organization and its partners, JHU and MICA, for a historic renovation of the city-owned space.
Earlier that year, JHU had also launched its Homewood Community Partners Initiative, a $10 million revitalization of 10 neighborhoods near its Homewood campus, including Station North, which the city had designated as its first arts and entertainment district back in 2002.
The new film center will be a cornerstone addition to the creative community of Station North. Since the Parkway's curtains were drawn shut in the '70s, The Charles Theatre has remained and newer venues like The Windup Space, Metro Gallery, and Charm City Art Space have become mainstays in their own right. There are galleries like Case[werks], Area 405, and the Guest Spot at the Reinstitute. There's the Mercury Theatre and the Strand Theater Company. The Baltimore Design School.
Just south of Station North, there's MICA and its ever-expanding empire, and just north—beyond the fuzzy, invisible line that separates it from Remington and Charles Village—there's Ottobar, The Crown, and Single Carrot Theatre.
The new Parkway, though it never left, will fit right in.
"Station North is where we started," Dietz said. "This is our home."