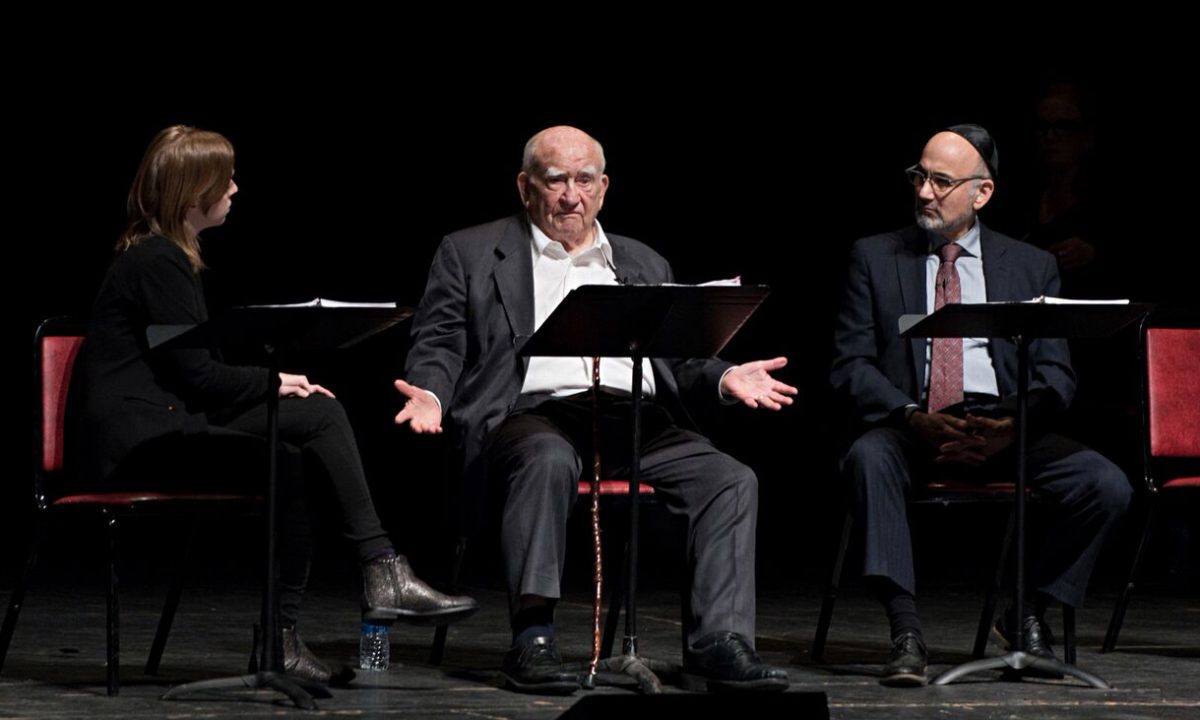 Gordon Center for Performing Arts
Nearly 20 years ago, when Baltimore native Jeff Cohen was running a small, 74-seat storefront theater in New York City, he was approached by an elderly gentleman who handed him a manila envelope after a performance.
"He said, with a little accent, 'Please take a look at this and maybe there's something you can do with it,'" Cohen recalls. "I opened up the envelope and there was a magazine called Moment, which bills itself as a progressive Jewish monthly. Inside was an article titled 'Slippery History,' which was about this guy who gave it to me and his story about soap."
Cohen never saw the man again, but the article was the catalyst for The Soap Myth—his poignant play that poses the chilling question of whether Nazi soldiers made soap from the corpses of their Jewish victims.
The emotional drama, starring theatrical icon Ed Asner and Emmy nominee Tovah Feldshuh, will begin an upcoming nationwide tour at the Gordon Center for Performing Arts in Owings Mills on January 20. Though it debuted off-Broadway in 2012, this will be the first time Cohen brings the script, performed as a live reading, to his hometown.
"The Soap Myth took around seven years for me to write," says Cohen, a Friends School alum who grew up living in Mt. Washington and Druid Hill. "Like many people, I had no idea there was any kind of dispute about whether there was this soap. It was all very new to me."
The story is centered around Asner's character, Milton Saltzman, a Holocaust survivor committed to proving that the Nazis did indeed make soap from the bodies of those they murdered. Though Saltzman, like many real-life survivors, cites his own memories and eye-witnesses who testified in The Nuremberg Trials, his experiences are rejected by Holocaust historians who dismiss the "soap myth" due to a lack of concrete evidence.
"I identify very strongly with him as an individual who is out of step with the majority," Asner says of his character. "I've found myself in that position a few times, and it made it very easy for me to say, 'Well, what do they know?'"
Another layer of the script explores journalistic integrity. The character of Annie Blumberg, a young Jewish reporter, develops a friendship with Saltzman, and struggles to tell his story when confronted with the opposing viewpoints.
"It's a wonderful play," Asner adds. "It talks about the overcoming of great odds, standing alone, and finally finding a sympathetic soul who identifies with you."
Cohen says that the themes remain more timely than ever in today's political climate. Not only does the journalistic message add to the conversation in the era of "fake news," but the focus on Holocaust education feels paramount in the wake of the shooting at the Tree of Life synagogue in Pittsburgh last fall.
"What's happening in the world is really heartbreaking," he says. "Not just the rise of antisemitism, but the rise of anti-immigration, and generally that kind of hatred and bigotry. Most of the audiences that we play to are very aware of issues regarding the Holocaust, but every once in a while we play to a non-Jewish organization and it opens their eyes."
To further educate audiences, the cast has made a habit of engaging in talkbacks after the show. Cohen says that a frequent topic of conversation is the character Brenda Goodsen, an adamant Holocaust denier.
"I'll never forget, once a feisty elderly woman stood up and said, 'I'm a survivor and when she started talking, I wanted to throw my cane at her,'" Cohen recalls. "But she said, 'You have to keep her in the play, because as painful as it is, people need to know. People need to see that evil in front of them and they need to never forget it.'"
Though Asner hasn't spent much time in Baltimore—he speculates he filmed an episode of Route 66 here in the '60s—he says he is looking forward to engaging with the Gordon Center audience.
"I respect, and like, Baltimore for the great history," Asner tells us. "It's bigger than its name. And I honor the fact that it has a standout Jewish community that has brought much dignity to the Jewish people."
While it might only be in town for a single performance, Cohen says the beauty of The Soap Myth is that, like all plays, it transcends time.
"Survivors of the Holocaust are rapidly dying off," he says. "Every time an actor plays the role of Milton Saltzman, whether it's Ed Asner next month or another actor 150 years from now, Milton Saltzman will be alive. By enacting the role on stage you are creating an immortality for that character. So long as Milton lives, he will not let the world forget about the Holocaust."