Open House
The Walters gives this 170-year-old Mt. Vernon mansion a makeover.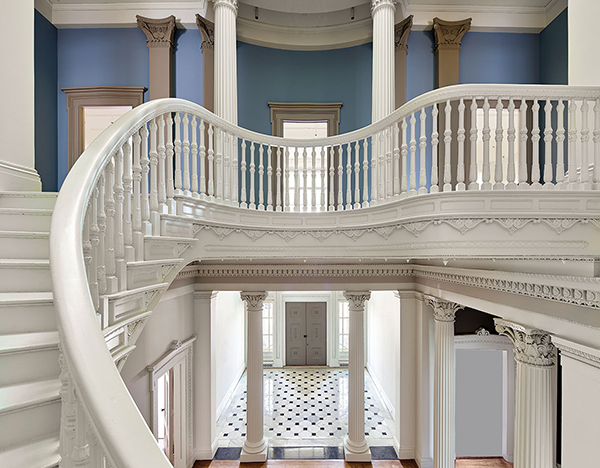 If they could talk, the walls of the 19th-century Hackerman House in Mt. Vernon would reveal their storied past and promising future.
The former residence's 170-year history covers multiple generations of tenants, renovations, and even a period when it fell into disrepair—all before Baltimore philanthropist Willard Hackerman purchased it and gave it to the city in 1984. The property was then awarded to The Walters Art Museum to expand its square footage and house its Asian art collection, which it did until 2014.
Fast-forward to June 16 of this year, when, after a four-year revitalization process, the house will be revealed, once again, as a stunning architectural treasure. The transformed—and renamed—1 West Mount Vernon Place will open to the public as a hybrid of its past: part historic mansion and part art museum.
"We're getting away from object-label-object-label," says Eleanor Hughes, project curator and deputy director of The Walters' art and program division. "This is a different way of encountering The Walters."
Gone are the mansion's velvet drapery, worn carpets, and dark, heavy feel. Now, floor-to-ceiling windows flood the marble-floored conservatory with natural light, while fresh coats of paint intentionally reflect a modern palette. It's lavish—chandeliers, pillars, and a staircase spiraling toward a Tiffany skylight—yet free and available to everyone.
Visitors can engage with the space casually by browsing digital manuscripts on the library's iPads, working in the all-ages art studio, or roaming the halls to take in rotating exhibits—predominately ceramics—which will fill the entire house, even the stairwell. Guests can also download an app for archival stories about the mansion's builders, craftspeople, and past residents, giving listeners a micro-history of Baltimore through diverse perspectives.
Philadelphia ceramic artist Roberto Lugo's handmade dishes and urns, which depict historical African-American figures such as Freddie Gray and Frederick Douglass, will be on display during the grand opening. Although guests will enter the new space through The Walters, the doors of 1 West Mount Vernon Place will be open on special occasions so people can wander in from the sidewalk, as they would have many years ago.