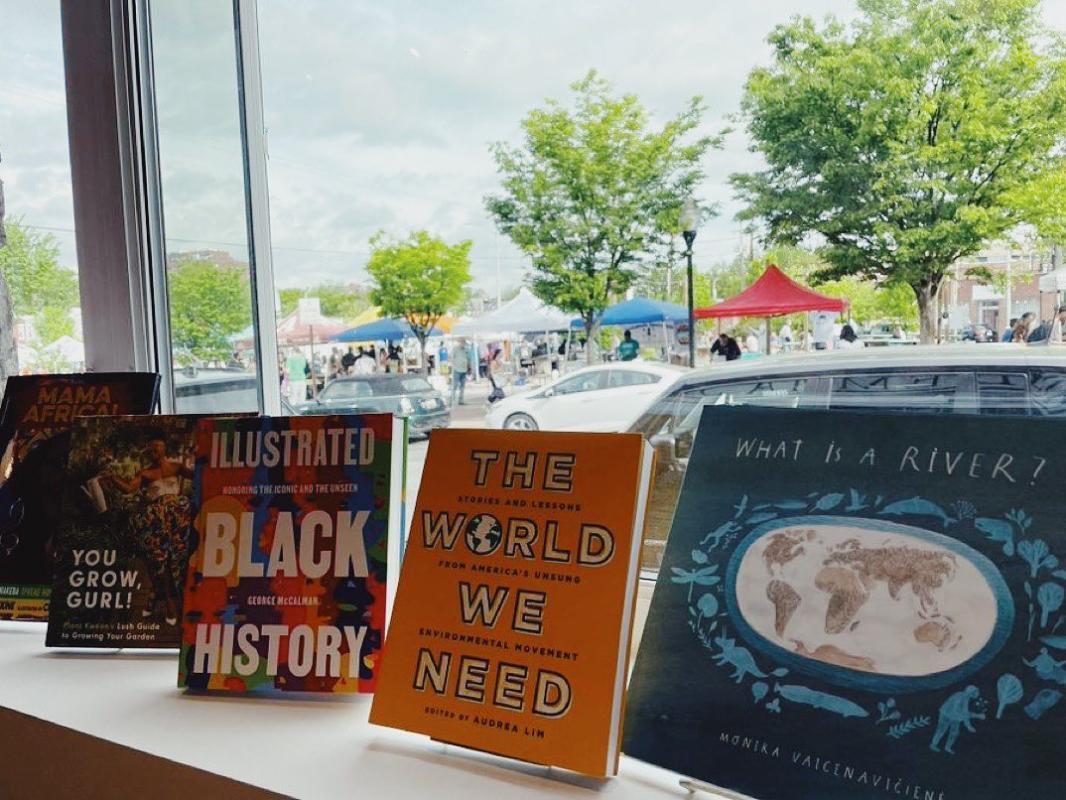 The view from Red Emmas' new Greenmount Avenue home overlooking the 32nd Street Farmers Market. —Courtesy of Red Emma's via Facebook
The brand new Waverly Book Festival—organized by Waverly Main Street, a nonprofit dedicated to ensuring the prosperity of the historic North Central Baltimore neighborhood—is set to debut this weekend, April 28-30, with a lineup of panels, author meet-and-greets, and plenty of chances to support the community's many literary hangouts. Among them are Normal's Books and Records, Urban Reads, The Book Thing, Enoch Pratt's Waverly branch, and Red Emma's—which just recently settled into its new cafe, bookshop, and events space at 3128 Greenmount Ave. 
The new bibliophile bash undoubtedly fills a void left by the Baltimore Book Festival, the Mt. Vernon event organized by the Baltimore Office of Promotion and the Arts that hasn't been held since COVID-19 hit. Waverly Main Street's executive director Diana Emerson calls it "a huge loss," but also explains that the Waverly fest isn't meant to be in competition with its predecessors. Mainly, organizers hope locals see it as an opportunity to explore a new pocket of the city.
"[We want] everybody to recognize that we have hundreds of neighborhoods in the city with great access to small businesses, up-and-coming entrepreneurs, foodies—everything," she says. "[In Waverly,] we have so many amazing shops on Greenmount Avenue and on our side streets. We want people to come see us often."

Festivities throughout the weekend will kick off on Friday, April 28 with a pre-event talk led by local photojournalist Jim Burger (author of What's Not to Like: Words and Pictures of a Charmed Life) at Enoch Pratt, as well as an opening party at Peabody Heights Brewery. On Saturday—fittingly Independent Bookstore Day—attendees can check out a pop-up book shop at the Waverly Farmers Market; micropress fair and drag storytelling with Vee Vee Majesty at Peabody Heights; typewriter poetry by DJ Leary at The Book Thing; and talks by local authors at various locations throughout the day.
Closing out the weekend on Sunday will be an open-air market with eats, drinks, kids activities, and a jam-packed lineup of author panels on the main stage at 32nd and Greenmount—with appearances by local writers including D. Watkins, Baynard Woods, Kristina Gaddy, Alanah Nichole Davis, Teri Henderson, Shae McCoy, Devin Allen, and Sheri Booker. 
Overall, Emerson hopes Baltimoreans will take the time to stock up on books, absorb insight from the conversations, and be reminded of the wonder that is Waverly.
"I want to give people another reason, [other than us being the home of Memorial Stadium,] to remember to come back," she says. "We're hoping that this will be an annual tradition."
Below, we break down five highlights you can't miss during the inaugural festival's run:
4/28: Waverly Writers Salon Kickoff 
At the kickoff party, grab a beer (Peabody is unveiling its new "Plot-Driven" brew in honor of the festivities) and settle in to hear readings led by artist Rahne Alexander and other local writers. The party will also feature food from Waverly's own Eat This Food Truck and a special dessert from Charm City Cakes. Make sure you register ahead of time—the first 150 people to RSVP will receive a complimentary drink ticket. Peabody Heights Brewery. 401 E 30th St. 7 p.m.
4/29-30: Independent Bookstore Day and Vendor Fair Book Shopping
Perhaps it goes without saying, but the festivities are also an ideal time to support local retailers by stocking up on new reads. Celebrate Independent Bookstore Day on Saturday by hopping around to the micropress fair at Peabody, book pop-up at the 32nd Street Farmers Market, and local shops like Red Emma's and Urban Reads. At the main stage festival on Sunday, browse a pop-up book fair with visiting vendors including Charm City Books in Pigtown, Bird in Hand in Charles Village, The Ivy in Mt. Washington, Snug Books in Hamilton-Lauraville, and others.
4/29: Adrienne Maree Brown and Tarana Burke in Conversation
Spend your Saturday evening at Red Emma's, where author, musician, and social and environmental justice activist Adrienne Maree Brown will speak with New York Times best-selling author and #MeToo movement founder Tarana Burke. Expect the conversation to address their emerging strategies in the fight for liberation and the intersection of sexual violence and racial justice. Red Emma's. 3128 Greenmount Ave. 7 p.m.
4/30: Main Stage Festivities
Head to 32nd and Greenmount to enjoy on-site food and drink vendors, family-friendly activities, books and merch for sale, and hourly 1:1 talks with authors and writers from near and far. Catch pairs like Cameroon-born essayist Vanessa A. Bee and The New Republic contributor Osita Nwanevu at 12 p.m.; Time magazine-featured photographer Devin Allen and I Got a Monster author Baynard Woods at 1 p.m.; and poet and essayist Hanif Abdurraqib and True Laurels founder Lawrence Burney at 4 p.m. 32nd and Greenmount. 11 a.m.-6 p.m.
4/30: Children's Entertainment Area
Bring the little bookworms along to join in on the fun at the designated kids' zone on the corner of Merryman Lane and Brentwood Avenue. Aside from family-friendly activities and live readings from special guests throughout the day, little ones will enjoy performances by the Baltimore Improv Group. "We wanted to make sure that we didn't leave anyone out," Emerson says. Corner of Merryman Lane and Brentwood Avenue. 11 a.m.