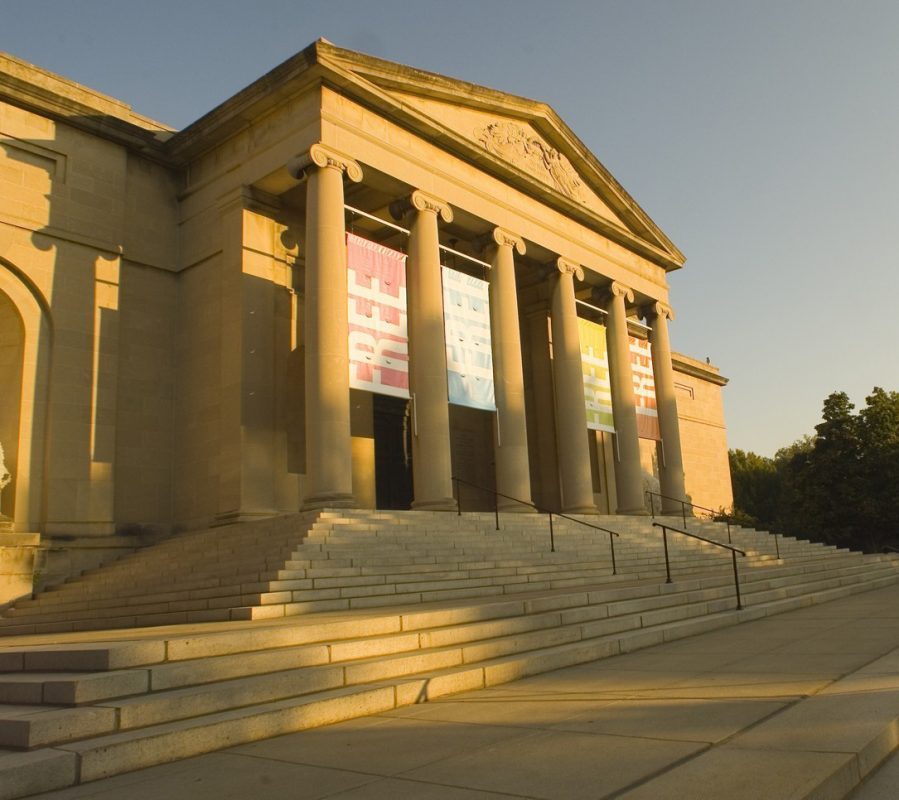 The Baltimore Museum of Art
Five things to eat, drink, see, hear, and do with your Charm City weekend.
---
EAT
Nov. 16: Charm City Wing Wars
Mother's Federal Hill Grille, 1113 S. Charles St. 2-6 p.m. $20. 410-244-8686. mothersgrille.com
Mother's might already be your Sunday Funday go-to spot, but either way, head to the Purple Patio this weekend for the fourth annual Charm City Wing Wars. Like the Bacon Wars before it, 10 local restaurants will battle it out for the Best Wings badge, as chosen by you. This year's competitors include Mother's, Alexander's Tavern, Bandito's, Sweet Caroline's, Blue Agave, Ten Ten American Bistro, Sweet Caroline's, and C&R Pub.
DRINK
Shell Raiser by The Greene Turtle and Heavy Seas Beer
The Greene Turtle, 718-722 S. Broadway. 410-889-3399. thegreeneturtle.com
Two local legends, The Greene Turtle and Heavy Seas Beer, teamed up to release a new brew yesterday—an English-style pale ale called Shell Raiser, fittingly enough. It's the first house draft for the go-to sports, which is typically home to the light-beer-guzzling crowd. For that reason, they made it an approachable craft beer—nothing too crazy, man—with a mild flavor, using both American and English hops. It's not available on tap at all GT locations, so if you're feeling adventurous this weekend and want to substitute out your standard Bud Light, try out the new brew, made with local love.
SEE
Nov. 16: Ghost Brothers of Darkland County
Modell Performing Arts Center at the Lyric, 140 W. Mt. Royal Ave. 7:30 p.m. $39.50-79.50. 410-900-1150. lyricoperahouse.com
Fourteen years in the making, this epic musical was helmed by an unlikely trifecta of talent: Stephen King, John Mellencamp, and T Bone Burnett. T Bone Burnett! How the world didn't explode is beyond us. (I mean, have you seen Nashville?) But the supernatural, Southern gothic musical rolls with all the power and tension and blues you'd expect as it tells the haunting tale of fraternal love, jealously, and revenge.
HEAR
Nov. 15: Atmosphere
Rams Head Live, 20 Market Pl. 8 p.m. $25-27. 410-244-1131. ramsheadlive.com

You probably blasted this Minneapolis hip-hop group out of your car stereo a few years ago. Songs like "You," "Sunshine," and "Yesterday" have stood out for their clever lyrics, catchy beats, and upbeat, anti-gangster attitude. Now Atmosphere is back on tour with a new album, Southsiders, and making its way downtown for a night of fun, feel-good tunes.
DO
Nov. 15: BMA 100th Anniversary Party
The Baltimore Museum of Art, 10 Art Museum Dr. 6 & 8:30 p.m. till midnight. Sold out. 443-573-1700. artbma.org
How often do you get a chance to get dolled up and drink and dance in an iconic art museum? Once a century, to be precise, and this weekend The Baltimore Museum of Art is letting you do exactly that at its 100th anniversary gala and party. Black-tie and cocktail-attired guests will sip champagne, dine on Linwoods, listen to live music by the New Legacy Jazz Band and Baltimore-based experimental electronic duo Matmos, and then dance the night away in the newly renovated American Wing and historic Merrick Entrance as they celebrate the BMA.