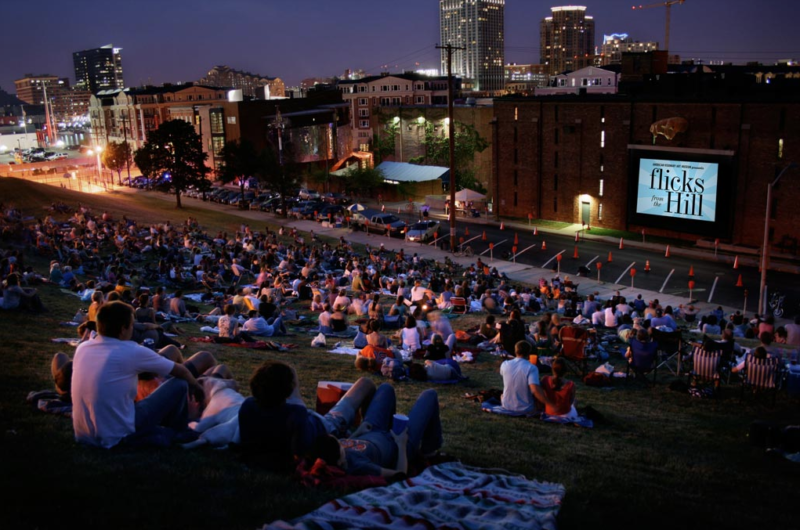 American Visionary Art Museum
By projecting movies on buildings or piers, Baltimore has developed a summer tradition of hosting movies in the fresh air. While the city continues to add to the history of free summer movies, there is a new celebration going on this season.
Eddie's of Roland Park will show Wallace and Gromit and Jaws outside of its Charles Street and Roland Ave. locations to celebrate the store's 75th anniversary. Founded in 1944 by the late Victor Cohen, the store has become beloved for its specialty food and locally inspired sandwiches. Still family owned, it is now led by second- and third-generation family members.
"Chances are, if you're a fan of Eddie's of Roland Park, you're also a fan of food," says marketing director Jared Earley. "So it's not a far leap to assume we can all identify with the cheese-obsessed Wallace and Gromit, or the insatiable appetite of a monstrously 'hangry' fish."
But that's just one of many movie series gracing the walls and screens of Baltimore institutions this summer. Mark your calendar for these film fanatic events.
Eddie's of Roland Park Celebrates 75 Years: Bring a chair or blanket and head to Eddie's of Roland Park for a free neighborhood screening of films. At dusk, the independent grocer will encourage the community to join them in celebration of its 75th anniversary. Store hours will be extended and refreshments will be available for purchase inside. Free. July 17-18, July 24-25.
Mt. Vernon Movies: The picturesque Mount Vernon Place is the ideal backdrop to escape into cinema. First up is the wildly popular Spider-Man: Into the Spider-Verse, followed next month by the Hitchcock classic Rear Window, and concluding with favorite fantasy film Labyrinth. As an added bonus, MVP will offer free popcorn. Free. June 27, July 26, August 22, 7:30-11 p.m.
Federal Hill Flicks: Visit The American Visionary Art Museum for Flicks from the Hill, which projects outdoor movies every Thursday night during July and August. The Hughes Family Outdoor Theater puts on a show with a 30-foot screen that you have to see from the massive hill to believe. Come early for free admission to the museum before the main feature at 9 p.m., which this year includes family favorites Coraline and Mrs. Doubtfire. Free. July-August, 9 p.m.
The Wine Bin Screenings: Wine Wednesdays have been moved to Saturdays. Join the Wine Bin for a sip and a flick June through September. Every Saturday, the outdoor movie series opens up parking 90 minutes before the show for drive-in style viewing. After that fills up, there is still plenty of room for to set up camping chairs and blankets. This summer is filled with a wide range of films including A Star Is Born and Beauty And The Beast. Free. June-September, 9 p.m.
Fells Point Films: Another year of films on the pier starts up on July 10 with a showing of a childhood classic—The Princess Bride. Bring your own chairs, wine, and food to turn this event into a romantic date or a night out with friends. Take part in this weekly, Wednesday event through August and enjoy other movies like Oceans 8 or Captain Marvel. Free. July 10-August 28, 8:30 p.m.
Lakefront Summer Shows: What better setting for an outdoor event than Columbia's idyllic Lake Kittamaqundi. Check out a different movie every Monday and Friday this summer, including Disney's Tangled and the Avengers blockbusters. Free. Through September 7, 8:30 p.m.
Bel Air Airings: Join The Bel Air Downtown Alliance for fun, film, and—now—food. For the first time, summer movie nights include Bel Air's only food truck rally. Try some local fare from the trucks parked along Lee Street from 5-8 p.m. Six times a year, the community comes together to watch family-friendly movies like Incredibles 2 and Trolls under the stars. These movies are not only free, but also come with popcorn and face painting. Free. June-August, Sunset.
Moonlight Movie Series: Spend time with the whole family this summer in the parking lot of the Shops at Kenilworth. Every other Monday from June 24-August 19, enjoy a movie playing at sunset in the open air, including animated features like Minions, Zootopia, and Inside Out. Free. Sunset.
Merriweather Movie Nights: Normally, you would catch your favorite band at Merriweather Post Pavilion, but now you can enjoy the lawn throughout the summer with its movie nights in Columbia. After kicking off the series in May with a Sound of Music sing-a-long, the next showing is Smallfoot on July 7. The film will be screened on the lawn, so grab a blanket and friends to join the fun. In the event of rain, the movie will be screened inside the pavilion. $10. May 25, July 7, August 16, 5:30-8 p.m.
Pics in the Park: Join the Downtown Partnership of Baltimore for feature film night, on select Saturdays in June through August on the lawn in downtown's Center Plaza. Movies begin at sunset, but exact start times will be posted on the event's Facebook page on movie nights. The plaza is bike-, stroller-, and pet-friendly and movie-goers are encouraged to bring a picnic, lawn chairs, and blankets. Free. Times vary.