Track Star
Belinda Stronach wants to bring Preakness—and the horse-racing industry—into the 21st century.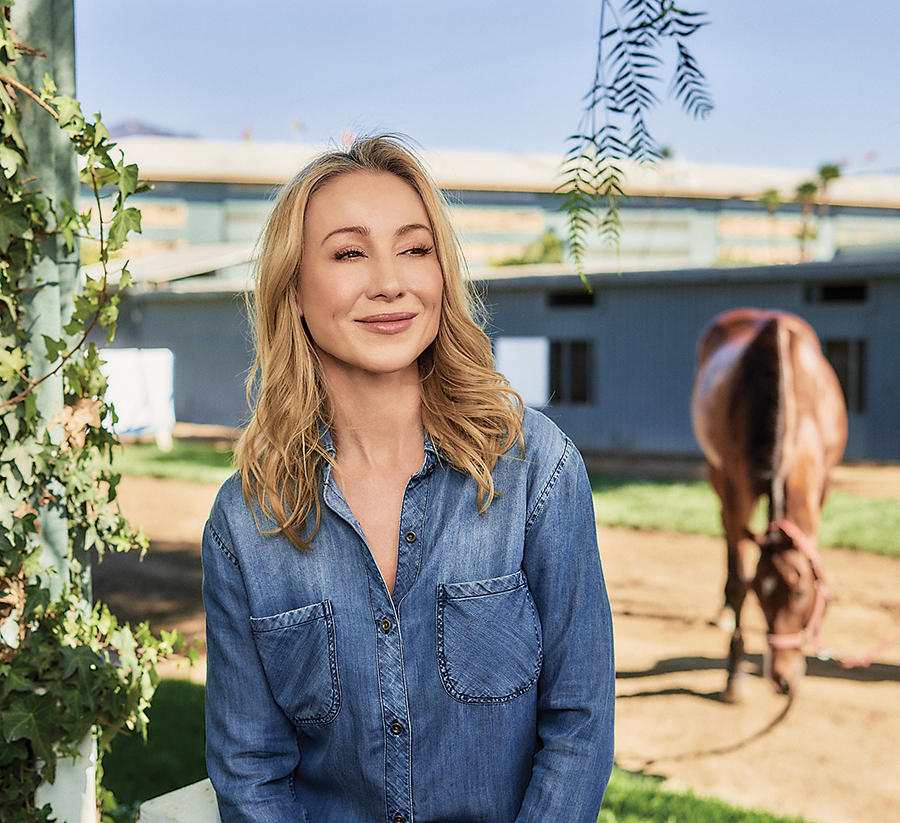 If life was like a horse race, you could place a winning bet on where to find Belinda Stronach on the third Saturday in May: right in the middle of the spectacle that is Preakness Day at Pimlico Race Course. Inside a carefully designed two-story, glass-walled "chalet" erected on the track's grass infield, Stronach will entertain local celebrities, politicians, and other guests in a glamorous Old English-style building whose décor she describes as "Ralph Lauren meets SoHo House." The 52-year-old blonde's designer attire will match appropriately.
Outside, college kids will party for hours ("It's kind of legendary," she says of the madness), listening this year to the music of Post Malone and Odesza. And, finally, after 6 p.m., in the 13th race of the day, a dozen or so thoroughbreds will sprint around the one-mile dirt oval. More than a hundred-thousand fans of all ages will scream, as . . . down the stretch they come . . . the second leg of the Triple Crown, and $1.5 million in prize money, is up for the taking in the iconic horse race's 143rd running.
You may have never heard her name until today, but Stronach has been known simply as Belinda in headlines in her native Canada throughout her well-documented public life. She is a lifelong businesswoman with model-like looks, a former lightning-rod member of Canadian parliament, a breast cancer survivor, a twice divorced mother of two, and the heiress to her father's self-made billion-dollar fortune. She is chairman and president of the Stronach Group, one of the world's largest thoroughbred racing companies, which owns Pimlico, the historic-yet-dilapidated 148-year-old venue that hosts one of America's most iconic sporting events, as well as the newer racetrack in Laurel, and four other premier tracks across the country.
That position makes her one of the most influential figures at the center of what will continue to be one of Baltimore's hot-button issues in the months and years ahead. No, it doesn't rise to the level of school funding, safety, or public infrastructure, but the question does pertain to one of the area's beloved and well-known annual traditions, held nearly every spring since 1873 on the same plot of land in Park Heights: Will the Preakness stay at Pimlico? The question echoes in the minds of the city and state stakeholders inside the chalet tent, and it's a question that Stronach, who is bent on modernizing one of the country's most overlooked legacy sports, often asks herself. "We want to bring great events to Maryland," she says. "The question is what is the appropriate stadium and venue for that?"  
The road to an answer is long and complicated. The second phase of a Maryland Stadium Authority analysis of the ideal Preakness venue is expected to be completed by the end of this year; the first phase estimated that Pimlico would need around $300 million in renovations. Maryland law states the Preakness can be moved "only as a result of a disaster or emergency," but legislative acts with the right support could change policy, of course. In the meantime, Stronach's perspective plays an important part in the story.
"It's my responsibility first to look at it as a business," she says. It's an approach she first learned about when she dropped out of college after one year to take a position in her father's auto-parts manufacturing empire, Magna International. By the age of 32, she was the organization's executive vice president of human resources. Three years later, Magna's board of directors recommended to her father that she take over as CEO of the $10.5 billion company with 62,000 staff members and offices and factories in 18 countries. Stronach then became Magna's president in 2002.
Along the way, she piloted the spinoff of an entertainment division that eventually became the Stronach Group. And she encountered the realities of being a woman, and family successor, no less, in a male-dominated business world. "Who is this lovely lady?" an executive at Ford Motor Company asked a Magna junior executive at the start of a key meeting in Detroit in 2001, where Stronach was "dressed to kill," as Canadian political journalist Don Martin wrote in his 2006 biography of Stronach, Belinda. She interrupted and introduced her colleague as her subordinate. "That's why I never attend a meeting carrying a purse," she said at the time.
From a personal standpoint, Stronach supports the #MeToo movement: "It's messy, it's imperfect, but the level of awareness that has now arisen as a result of very inappropriate behavior, specifically in the workplace, is a good thing," she says. "Everybody has the right to come to work and do their job with dignity."
Her father, Frank, an Austrian immigrant, instilled the value of pride in her. He built his company from mere pennies to a net worth estimated at $1.5 billion. Frank has a legendary passion for the horse business, owning tracks and animals that have won big races, (his Red Bullet took the 2000 Preakness). At 85, he still owns and operates a successful breeding farm, Adena Springs.
But while his daughter shared her father's passion and penchant for business, she was indifferent to the track. In elementary school, "I wanted to do other things with my friends," Stronach says. "But I had a couple of girlfriends who also went to the track, whose fathers were trainers, and we'd hang out and eat really crappy food, hot dogs and Coke, or something like that. I didn't really like the experience very much. It kind of turned me off."
What's more, one of Stronach's first memories of life was falling off a tractor and breaking her collarbone on the family's farm in Aurora, Ontario, an opulent compound with an entrance adorned by wrought-iron gates and stone pillars topped with horse heads. In one of three houses on the property, Stronach eventually raised her two children, Frank Jr., who is now 26 and a music producer, and Nikki, 24, an accomplished equestrian, after divorcing their father, Magna executive Donald Walker, in 1995.
Stronach was married again for three years to Norwegian Olympic speedskater Johann Olav Koss before she exited the C-suite of Magna and made what was a surprising entry into the Canadian political scene. In 2003, she spent $2.5 million to run for the leadership of Canada's new Conservative Party, came in second, and instead won a House of Commons seat in parliament representing her home district.
A year later, alienated by a limited role in the party, she shocked the country (think round-the-clock national TV coverage), and her then-boyfriend, Conservative deputy leader Peter MacKay, by defecting to become a Liberal cabinet minister. Voters reelected her in 2006, but a year later, she left politics for good after being diagnosed with breast cancer.
Many felt her departure was for the best. "The entire time she was here, she wasn't in her natural habitat," says award-winning Canadian political journalist Susan Delacourt, who broke the news of Stronach's cancer diagnosis in 2007. She was also once rumored to be romantically linked to former U.S. President Bill Clinton, and had a relationship with former Toronto Maple Leafs hockey player Tie Domi.
But the fact is, for all the public attention, she's a very private person. When she discussed her cancer treatment with the Canadian Press in 2009, talking about her decision to opt for a mastectomy and a right breast reconstruction, it was only to raise awareness and money for the University of Toronto's cancer center.
This is all to say Stronach isn't afraid to take an unorthodox approach.
"The word gets used a lot, but she's a disrupter," says her former spokesperson Greg MacEachern. "She will buck tradition when she thinks it's time to shake things up a little bit. And if Belinda makes up her mind to do something, good luck trying to dissuade her." Not long ago, a belief in horse-racing circles went that on the day Frank Stronach passes away, his daughter will sell the tracks, pack up what's largely considered a dying business, and find something else to do almost immediately. But, despite her initial misgivings about the sport, that's not the impression she gives off.
"I feel like all I'm doing 24/7 is horse racing," Stronach says. The work is clearly a priority, but exhausting. "I just want to sleep in." Indeed, she could use it, considering her typical schedule includes an early-morning workout routine, and she has gained a reputation for partying late into the night. Now, when she's not working on business projects, Stronach, who still lives in Aurora, often dines and spends time with her children—and their friends—in nearby Toronto or out of town spots such as Wellington, Florida, where Nikki spent the winter riding and competing. "Basically, I'm sandwiched between a bunch of horse enthusiasts," Stronach says. "I just go and have fun with them."
She's also just as likely to be found at home, watching an episode of The Crown on Netflix—she was particularly tickled when Queen Elizabeth (played by Claire Foy) discused her horse running in a race at Laurel. "That was kind of cool," Stronach says. The track hosted the famed D.C. International from 1952-1994, and the Stronach Group is looking to revive the event.
Two months before Preakness, Stronach is talking about all the new plans her team have in place for this year's event at Pimlico. One is a centralized stage for the music, as part of a redesigned infield intended to better blend the party with the corporate village. She's worked on the details with I.M.P., which has been programming Preakness' music since 2009.
Then there's that new, larger Stronach Group chalet—where last year Gov. Larry Hogan, rapper 50 Cent, and a handful of Ravens players stopped by—and other double-decker suites, part of a bigger idea to create more space in the infield for people to watch the races instead of just enjoying the beer, wine, and non-equine entertainment. "You don't have to do one or the other," Stronach says. "That's where the magic is."
"This sport hasn't innovated to the degree it needs to," Stronach says. "It's really the last great sporting legacy platform that has not yet modernized. That's what we're doing."
And that strategy includes evaluating the facilities where the races are run. As far back as the 1950s, there have been discussions about moving Preakness to what was then a newly renovated Laurel Park. A 1958 bill to do it failed in Maryland's general assembly by just one vote. Pimlico was 88 years old. It's nearing double that now, and looks it. Stronach Group COO Tim Ritvo says the company has put $20 million into the facility in the past three years, spending some of that to replace old box TVs, demolish walls to provide greater visibility to the track,  and improve electrical and plumbing infrastructure. The goal is to create the type of facility that could generate Kentucky Derby-like revenue from premium seating, says Sal Sinatra, president and GM of the Maryland Jockey Club, which is controlled by the Stronach Group. In 2016, Sinai Hospital's acquisition of part of Pimlico's parking lot from the Jockey Club fueled speculation about the site's future.
"I don't think anyone wants it to disappear," says Sinatra, who toured Pimlico's grounds earlier this year with city officials, including Mayor Catherine Pugh, who has said she's committed to keeping the Preakness at its historic location. "There is tradition and everything else. We all feel that way when we go up there. "I'm sure people will kick and scream either way, but at the end of the day, Baltimore is going to see a giant hole if it goes away . . . Can we use the infield for other things? Can we do music things? Can schools or someone else use the infield for ball games? It has to have life."
At the same time, the Stronach Group is positioning its Laurel site, a 30-minute drive south with direct MARC train access and better parking, as a place that can host premier events. Laurel was purchased in 2002, and the Stronach Group has put $30 million into the facility in the past two years, renovating the grandstand and expanding the barn space because "eventually that will be where the horses will stable year-round," Ritvo says. The track already runs races 150 days out of the year.
In her ideal world, Stronach says one "supertrack" would exist for the region. But she remains open-minded about the possibility of operating two facilities via public-private partnerships pending the analysis results. That study has already been delayed a year and alone carries a more than $420,000 price tag.
"For us, if we're going to make the investment, it'd be better to have one track that caters to everyone," Stronach says. "Having said that, we totally respect the tradition of the Preakness at Pimlico. It's a complicated question. We don't know how this will unfold, but we're going to do what's best for the sport and the fans."
For now, the horses will once again run at Pimlico this Preakness Saturday. The swirl of humanity and pageantry in the nearly 150-year-old facility will be a sight to behold. And Stronach—the Canadian import running things from the top—will be at the center of it all, thinking about how the Sport of Kings can make it in modern America, even if that means bucking tradition to do so.
Correction: May 1, 2018: An earlier version of this article stated that Preakness was held in Park Heights every year since 1873. However, from 1890-1908, the Preakness was in New York and there were no races for three years from 1891-1893. Baltimore regrets the error.