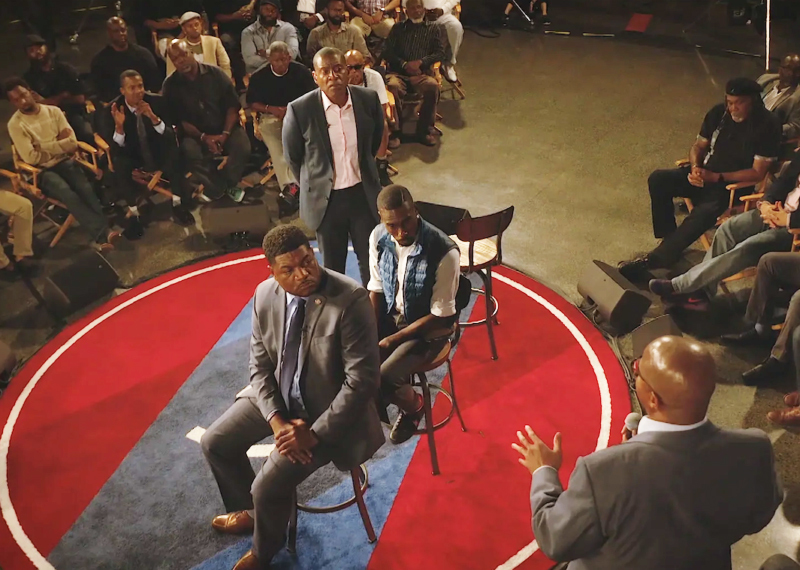 PBS
A town hall featuring 100 black men in Baltimore, some prominent and familiar—others less often heard, but no less compelling and thoughtful—discuss everything from President Donald Trump and Colin Kaepernick to fatherhood, police reform, and the challenges facing black boys in the first episode of new series Take on America, airing tonight from OZY Media.
"Black Men in Baltimore," hosted by award-winning journalist and OZY Media co-founder Carlos Watson and including Jemele Hill, formerly of ESPN and now of The Atlantic, is the first of four televised town halls that "take on America" through the lens of race.
Upcoming episodes include "White Women in Nashville" (airing October 25), "Latino Families in New York City" (airing November 1), and "Asian-American Millennials in San Francisco" (airing November 8). The series—which debuts tonight at 8 p.m. on YouTube, OZY.com, and a variety of PBS stations around the country—aims to generate dialogue that can help Americans understand each other better, and foster "greater insight and understanding at a critical time."
Among the panelists in the Baltimore episode, filmed earlier this month at the War Memorial building, are Maryland Democratic gubernatorial candidate Ben Jealous, Republican U.S. Senate candidate and Towson University professor Tony Campbell, Black Lives Matter activist DeRay Mckesson, The Wire actor Lawrence Gillard Jr., journalist and author D. Watkins and T.J. Smith, who recently resigned from the Baltimore Police Department after expressing his frustration with the struggling department.
It also features a good number of men most Baltimoreans likely don't know—local business leaders, nonprofit directors, scholars, organizers, artists, and barbers among them—who care no less deeply about their state of their city and country.
The debut episode features candid, and at times emotional, conversations around the ongoing challenges facing black men in the U.S. today as well as revealing personal stories. Smith, for example, admits that even as a police officer he's been the target of racial profiling and wrongfully stopped while driving and shopping.
The most moving segments of the episode, not surprisingly, come when the men talk about the obstacles their own fathers and mothers encountered in raising them and the twin trauma of poverty and violence all too common today in many Baltimore neighborhoods.
Politics and pressing issues, such as the continued War on Drugs, mandatory minimum sentencing, and voter suppression efforts—all of which disproportionately affect minority communities—are never far from the discussion, however. Nor are wide-ranging opinions on the best way forward.
With racial tensions running high in the era of President Trump and the run up to the mid-term elections, the aim of the town hall, and the series, according to OZY Media, "is to see how, in today's incredibly tense political climate, we're actually more alike than different in our strive for progress, and for outsiders to get an inside look at the conversations these minority groups are really having."
"I feel passionately that we are at pivotal moment in our nation's history," said Watson, the series host in a statement. "We are living in one of the most racially charged eras since the Civil Rights movement, and the world is both more connected technologically, and disconnected interpersonally, than it's ever-been before. We hope that we will create a forum for substantive dialogue and ultimately inform and inspire action."