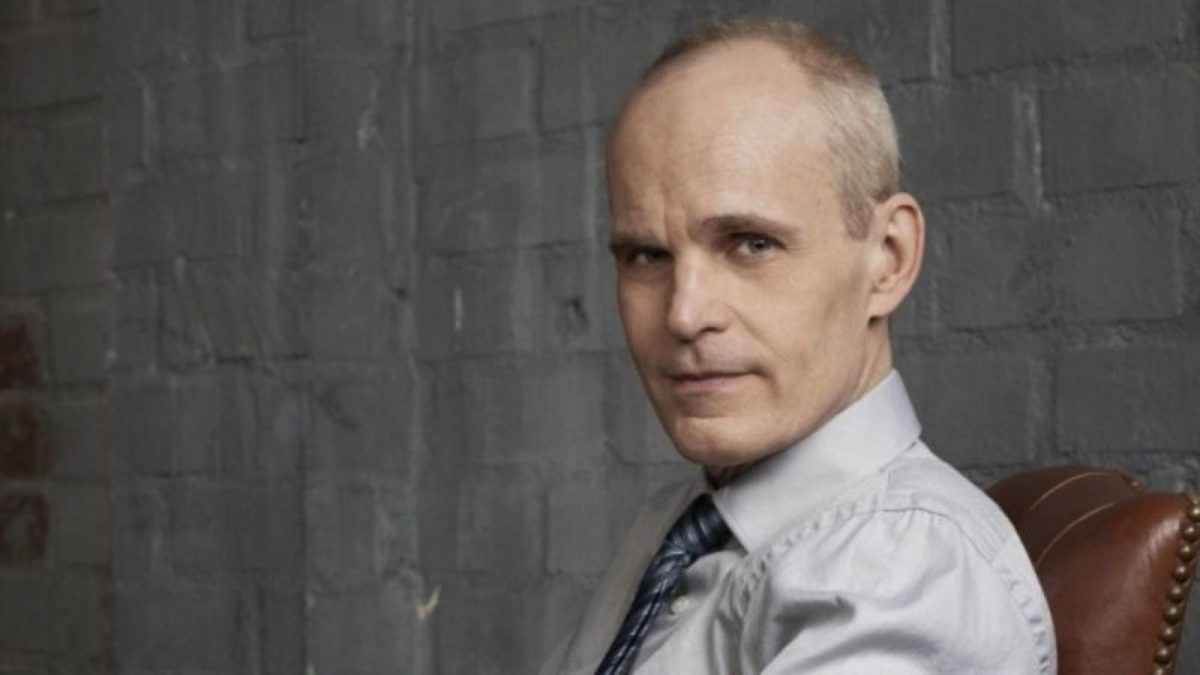 A/V Club
Emmy Award-winning actor Željko Ivanek has played dozens of parts on stage ("The Caine-Mutiny Court Martial," "Brighton Beach Memoirs"), as well as big and small screen (Three Billboards Outside Ebbing, Missouri, Madam Secretary, Damages). But this week, on Thursday, September 27, the Yale University graduate will appear as himself when he hosts the 35th anniversary of the nonprofit NAMI (National Alliance on Mental Illness) at Center Stage.
While preparing to serve as the narrator for the event in which speakers share their stories, we caught up with the actor who lives in New York with his partner, Greg Pierce (introduced to each other by Greg's uncle David Hyde Pierce). We talk about Homicide, typecasting, and why, in some ways, this is the actor's hardest role yet.
Why does this particular cause speak to you and why did you agree to narrate the evening at NAMI?
Originally, I said no. That kind of thing—standing up in front of people as myself—gives me the hebbie jebbies. It scared me off initially, but the contact person was [board member] Mary O'Byrne and I went to college [at Yale] with Mary. I also have some affection for Baltimore having spent time working there on Homicide.
I've also had my own experiences with people in my extended family and have seen what it's like to deal with mental-health issues. The idea of anyone or their family members having to struggle through without any resources, or just knowledge at the ready, is overwhelming. You can be at sea if you don't have resources to draw on. It's way too much to tackle yourself without any support or information—it was important for me to contribute.
I'm surprised to hear that someone who is the very definition of a working actor experiences stage fright.
I get very self-conscious going to parties and events where I just have to chitchat. What am I going to talk about? I'm always stunned by actors who can do that. A lot of actors do share my fear. It's just a completely different thing when you have lines and a character and a context—that doesn't phase me—but to just stand up there and give a speech suddenly you feel like all eyes are on you. . . . Someone said that I should just act like someone who is comfortable being the emcee and just play that character.
What have you learned from watching loved one's suffer?
When things are good, you forget what pain actually is. When you're not in a crisis, you get lulled back into your everyday life. Any brush with health issues and mortality and anything that can take away the things you take for granted, you want to hold closer to you. It makes even mundane things all the more precious.
How has seeing suffering so up close informed you as an actor?
I hadn't thought of it specifically, but any encounter with human suffering is bound to elicit empathy, and empathy is at the core of understanding human behavior, and that is, in turn, essential to acting.
Now that you no longer come to Baltimore regularly to shoot Homicide, is there something you miss about the city?
I've always just loved walking around Baltimore. There's so much history in the architecture and the streets and such a sense of place. It clearly trying to invent itself in some ways. It was to fun to see that start to happen. Of course, Fells Point was the center of my Baltimore universe, and is still what I think of most fondly. I'll be curious to see how much it has changed.
You've had so much success as an actor. To what do you owe your success?
I'm not sure I know. I just came back from the 40th reunion of my drama class in London [at the London Academy of Music and Dramatic Art] and most of my classmates are not working in the business anymore and there were so many talented people. I started playing slightly smarmy men in suits or powerful men in suits. At some point you just fill a niche or a certain kind of category I fell into what's useful and needed and I've managed to keep going.
I have also always appreciated working with people repeatedly and building on those connections. One of those people who got me started is Tom Fontana, who created Homicide. He became my mentor in terms of the business. He was working on St. Elsewhere and then created Homicide and cast me as a recurring character. That's probably the first man in a suit I got to play. But the rest of my [success] has been a great mystery to me.
Your IMDb describes you as an actor who is "frequently cast as political or business middlemen of corrupt, shady natures who often end up stabbing somebody in the back." Why do you think the casting directors believe these are the roles you should play?
A lot of times people see the last thing that you did. When I've been on the other side of the camera trying to cast a reading or help someone finance a movie, your mind works in the same way and you ask yourself, "Who do I know who has played that kind of part before?" If you're lucky, you get to step out of that once in while, but it's also incredibly gratifying to keep working and to belong to something. We are in our fifth season of Madam Secretary. I like the continuity and love going to work. Whenever that's over, it will be a shock to go back out and get a call from my agent saying, "You have an appointment."