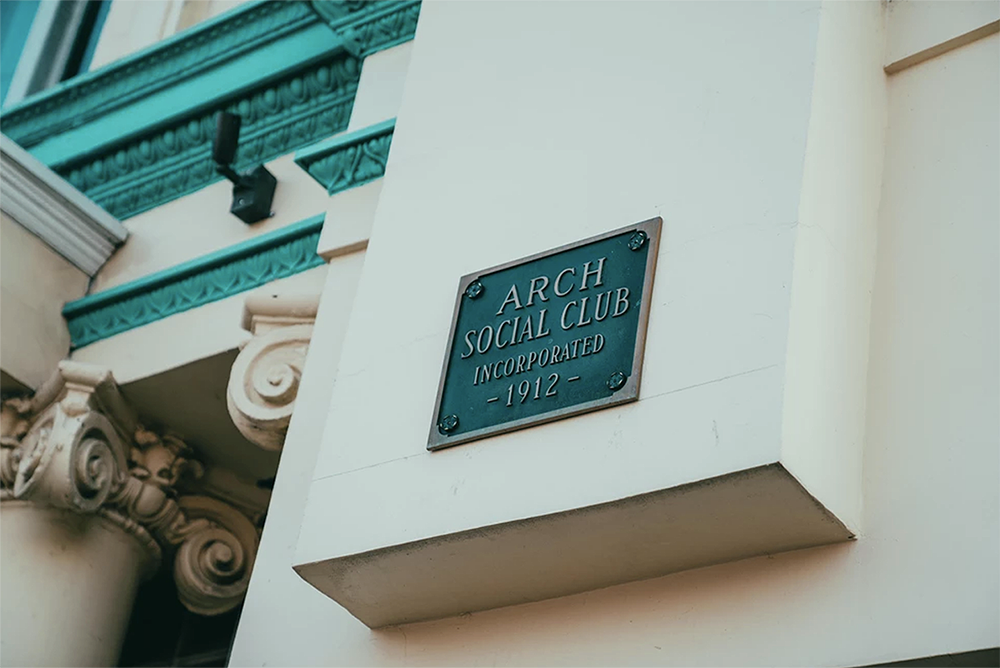 The Arch Social Club
A placard hangs in the foyer of the historic Arch Social Club that reads: "We are strong, moral men who believe in service to our community, preservation of our culture, friendship, and brotherly love." Founded in 1905 by African-American professionals Raymond Coates, Samuel Barney, and Jeremiah S. Hill, the club is one of the oldest b men's social clubs in the U.S., and one of the few remaining black-owned organizations to have operated while Pennsylvania Avenue was still nationally recognized as a hub for arts, culture, and entrepreneurship.
The club—which continues to serve as a cornerstone of culture, civics, and commerce for African-American communities in Baltimore City—recently won a $118,000 financial award from the National Trust for Historic Preservation to restore parts of the building back to its original grandeur.
Kaleb Tshamba, chairman of the Board of Trustees, gave me a tour of the club, which he hopes the city will support more in the future. "We've always been a part of the community, never left the community," Tshamba said. "That's why during the Uprising, we stayed open."
The foyer also features a small exhibit of archival prints and articles about historic achievements made by black Baltimoreans. "They were doctors, lawyers, organizers, activists, Arabbers, carpenters—we had all of them," Tshamba shared about club membership. "A lot of [us] were in the military," he points to several pictures of young servicemen in their uniforms. "That's me there!" he beams at a handsome image of himself in his early 20s. "We are warriors."
Many of the portraits displayed are of founders and early members of the club who were prominent leaders in Baltimore City. Well known figures include Harry Syth Cummings, Baltimore's first black City Councilman who was instrumental in getting segregated African-American K-12 schools renamed after prominent figures, and raising awareness about the importance of black voters. Then there was A. Philip Randolph, a civil rights activist, organizer of the March on Washington Movement, and founder of the Brotherhood of Sleeping Car Porters.
Of course, Paul Coates, founder of the Black Classic Press publishing company and father of scholar Ta-Nehisi Coates, is among the many important figures recognized. "To be a member of our club you could be a Democrat, Republican, atheist, Black Nationalist, we didn't discriminate," Tshamba continues, "As long as you were about community building, uplifting our community, that is what we all had in common." That the 113-year-old institution survived Jim Crow, redlining, the Baltimore riot of 1968, or contemporary gentrification, is nothing short of miraculous.
Tshamba points to a portrait of John Kier, another early member of the club, who was the conductor of the big band, the Melody Boys. "Cab Calloway played with the Melody Boys before he went to New York and became famous," he notes. We walk through the Raymond Coates Lounge and enter the Billie Holiday Room, a small ballroom with tables, seating and a large stage, a larger ballroom on the second floor is named for Calloway.
"Bands would be playing right here," Tshamba points towards the stage in the Billie Holiday Room where legends like Holiday, Calloway, and Duke Ellington once performed. "Every time Duke Ellington would come to town, they would come here to play. All the black entertainers from all over the United States came here to Baltimore." he continued. "All the black movie stars came here to Baltimore [and] to the Royal Theater. All of that is torn down now. It should have never been torn down."
There is an old West African Proverb that notes, paraphrasing here, when an old man dies, a library burns to the ground. The Arch Social Club is one of the last standing archives dedicated to the preservation of critical local histories about early affluent African Americans. The club is part of an on-going initiative, led by "Lady" Brion Gill, cultural curator for Leaders of a Beautiful Struggle (LBS), to reestablish an African-American Arts and Entertainment District on Pennsylvania Avenue. "To lift up a nation," Tshamba said, "you have to lift up your people."