Playing for Keeps: Baltimore Banners Youth Hockey Program Celebrates 20 Years on Ice
The team continues to pull together kids from the nearby neighborhood known as "Down Da Hill" to play an otherwise unfamiliar sport in East Baltimore.
"Bring it in, bring it in!" yells Daryl Fletcher, banging his stick against the boards inside the Dominic "Mimi" DiPietro rink at Patterson Park. "Look, we got the defense tightened up now," the defenseman says, imploring his teammates between periods. "We gotta to keep it tight. We gotta keep it tight."
This year marks the 20th season that the Baltimore Banners ice hockey program has been pulling together kids from the nearby neighborhood known as "Down Da Hill" to play an otherwise unfamiliar sport in East Baltimore. Fletcher, who now also plays football at Sussex County (N.J.) Community College, started playing ice hockey when he was seven. "Fourteen years," he says later. "Most of my life."
Their fourth annual match against the Baltimore Sentinels, a team of police, firefighters, and first responders, didn't go as well as it did last year when the Banners won on a last-second goal and piled on each other like they'd won the Stanley Cup. They rallied several times but ultimately lost 6-4.
"I'm competitive," Fletcher says. "Not going to lie. It was disappointing. But we never hung our heads. We never quit."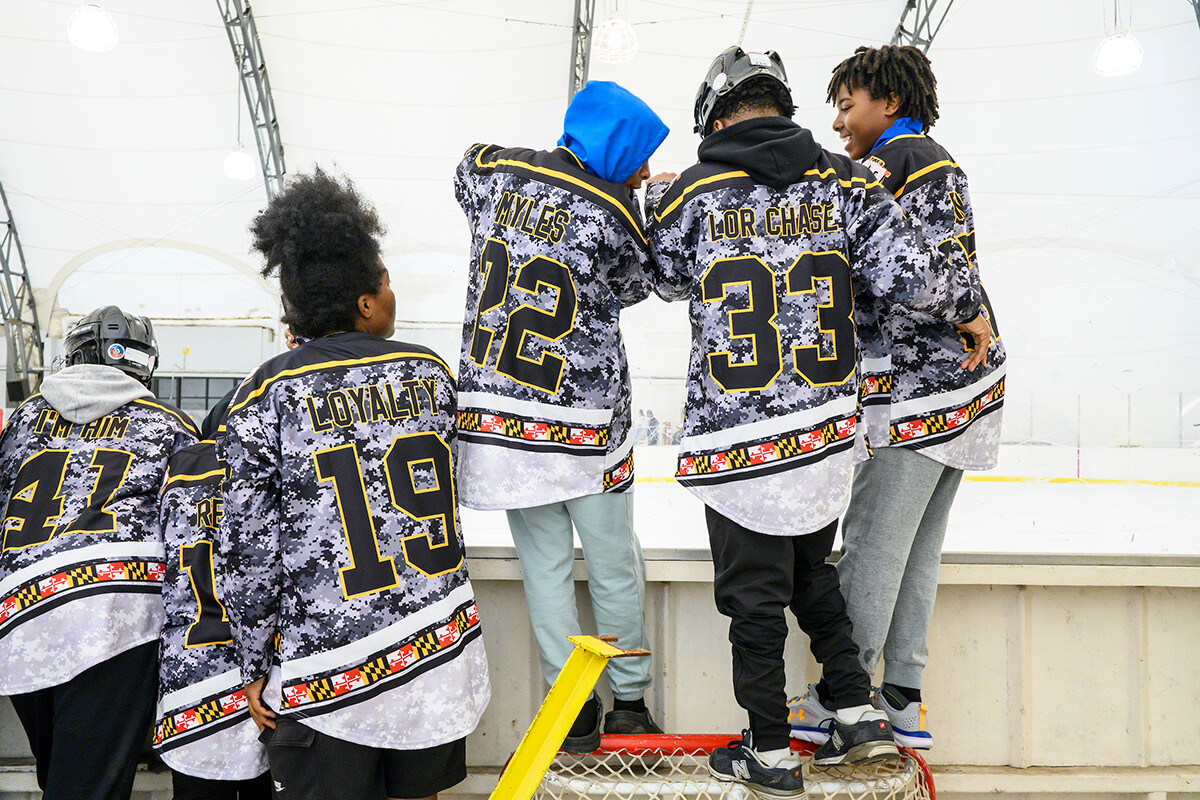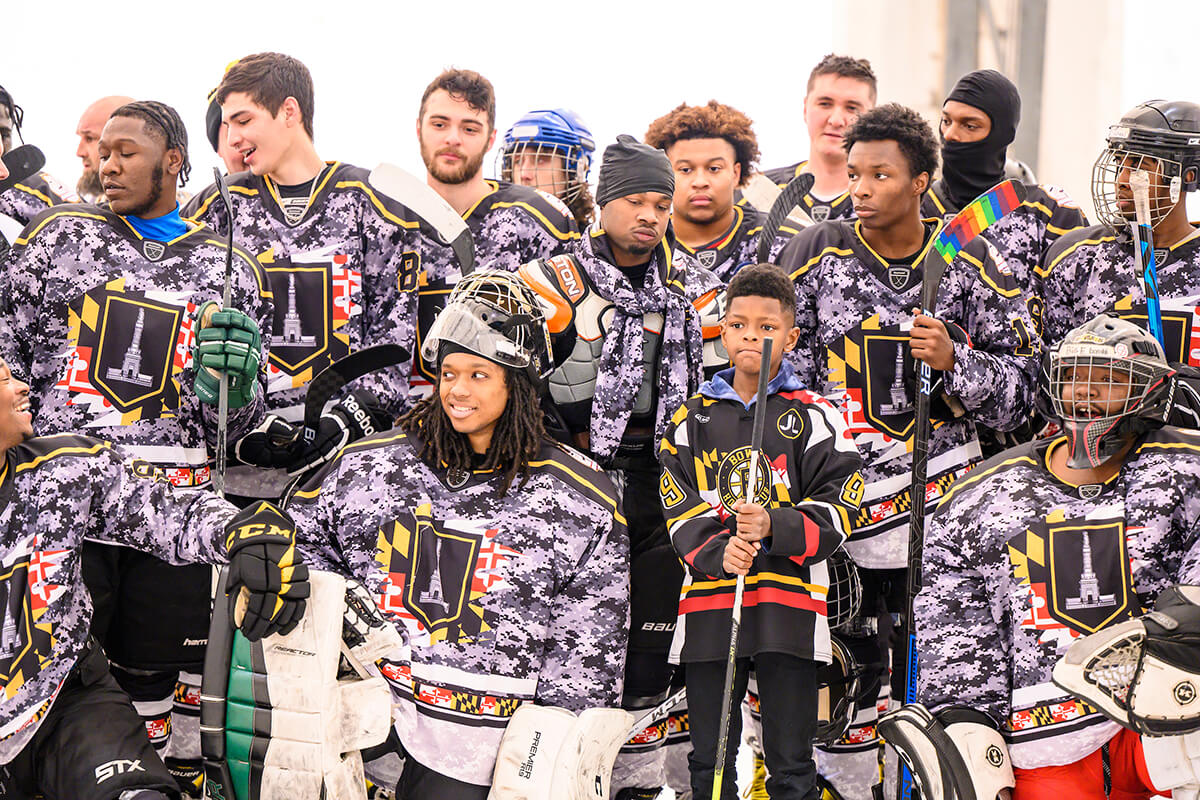 A retired architect, 79-year-old Noel Acton started the program after helping a friend watch some local kids during a bowling party and then learning that several of the boys were headed to the rink the next day. Seeing their enthusiasm, he began shuttling a few back and forth, and eventually realized that a hockey team could become something more—a means of bonding amid the pain and potential dangers of East Baltimore.
Acton, who never played hockey himself—"I'm not very coordinated," he says with a laugh—started the Tender Bridge nonprofit, which runs two teams, the teenage and young adult Banners, and the younger Junior Banners. In season, they practice or play twice a week. Off-season, it's street or roller hockey and sometimes mountain biking and sailing, which was Acton's sport.
"My wife, who has passed, and I never had kids and I just enjoy being with these guys so much," Acton says. "When you get to see where they are living and their home situations, it's nice to see them feeling better about themselves. We get them their own boat and they learn to sail a mile and half to Hart-Miller Island themselves."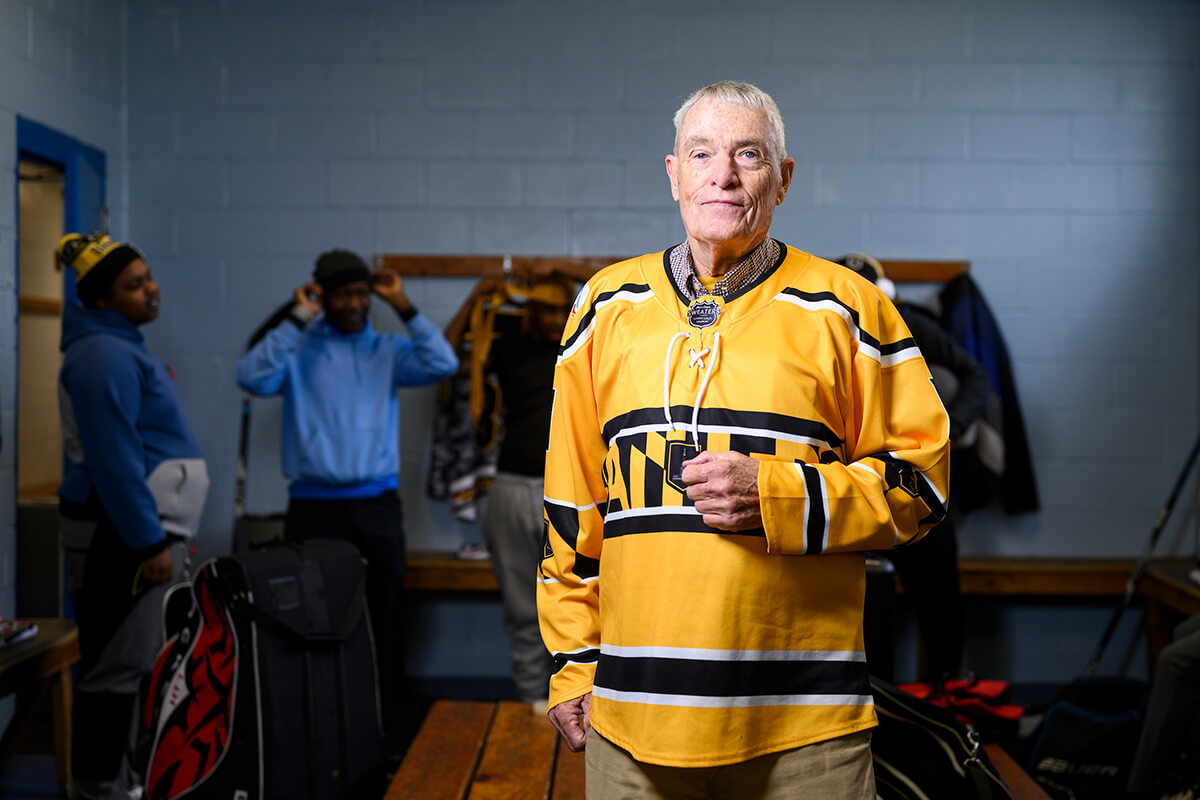 Acton and his coaches work with roughly 40 kids, keeping in close contact with the players year-round and year after year, building trust, affection, long-term relationships, and familial-like commitments to one another.
Last June, the NHL gave Acton its Willie O'Ree Community Hero Award. (A former Boston Bruin winger, O'Ree became the league's first Black player in 1958, despite having lost vision in one eye after a puck struck him in the face. He's served as the NHL's Diversity Ambassador for the past 25 years and is in the Hockey Hall of Fame.)
"The NHL award was a surprise and the recognition helped with the fundraising," says Action. "I do wish 'Peanut' and 'Abe' were here to see it." In September 2021, the Banners lost two longtime players, Davon "Peanut" Barnes, 20, and Abraham "Abe" Ludd, 22, to gun violence in the 3000 block of East Monument Street—less than a mile from the rink where they played. One of the team's best players, Barnes had been living with Acton before the shooting and had been driving Acton's car the night he was shot. The players' numbers, 14 and 7, respectively, have since been retired and hang above the rink.
One of the things that encourages Acton the most, he says, is watching older and former players assist the program's younger players. Fletcher, for example, now helps coach the Junior Banners.
On a high-profile note, Carolina Panther tight end Ian Thomas and several of his teammates wore Banners jerseys to a game at M&T Bank Stadium last season as part of a fundraising effort. Thomas had joined shortly before his parents died, one year apart from one another. He later gave up hockey to focus on football, but he's remained involved—and introduced two of his cousins, including the Banners' standout goalkeeper, Naleli Danso, to the program. Danso's father, Antoine Green, now serves as chairman of the Tender Bridge and an official scorekeeper on game day.
In fact, last year the Banners honored Danso, a transgender athlete, with the team's first annual Courage Award. She's been with the team since 2012.
"This year [after she'd begun transitioning], I brought in rainbow 'pride' tape for my goalie stick," Danso says. "I didn't know how I was going to be accepted, but then a couple of the guys asked for the tape and put it on their stick. One of them surprised me, too—like the last person on the team I thought would do that. Someone I figured was maybe anti-gay. In Baltimore, it's not easy with the image you have to put out. I said, 'You?' He said, 'Hey, I'm not doing it for me. I'm doing it to support you.'"