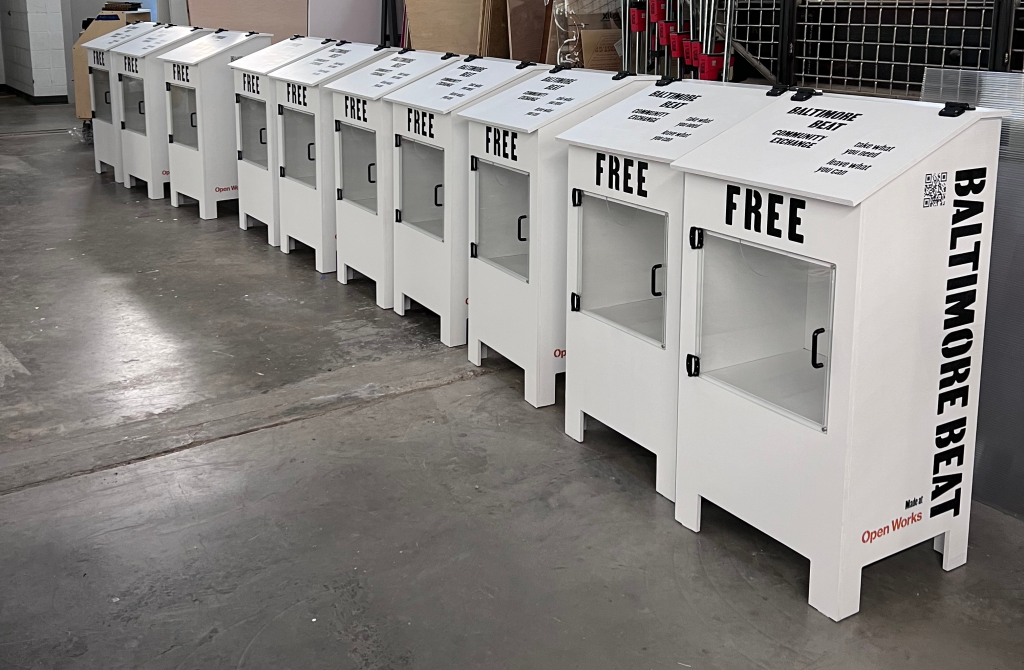 —Courtesy of Open Works
Toiletries, boxes of Hamburger Helper, beef stew cans, books, face masks, and Narcan might not be what one would expect to see inside of a newspaper box. But the new distribution stands for the city's Black-led, bi-weekly nonprofit newspaper, the Baltimore Beat, encourage locals to take what they need and drop off what they can.
Last month, the aptly named Beat Boxes began cropping up all over the city. They're currently stationed at 11 sites (and counting) including Dovecote Cafe in Reservoir Hill, The Arch Social Club in Penn North, Avenue Market in Upton, The Real News Network downtown, and the Creative Alliance in Highlandtown. 
Editor-in-chief Lisa Snowden-McCray—who co-founded the Beat with former City Paper colleague Brandon Soderberg in 2018—says the vision for the community exchange-focused Beat Boxes came from Soderberg last year, around the time their staff was preparing to reinstate the paper's online and print editions after a two-year hiatus. The team used City Paper's fabled yellow boxes as inspiration. 
"After City Paper closed—and even during City Paper's run—people would kind of repurpose the boxes and put stuff inside," Snowden-McCray says. "We wanted to figure out how to nod to City Paper and really use the boxes as a way to further extend our reach into the community."
To make this work, the Beat needed to find a manufacturer. Soderberg had previously reported on Greenmount West makerspace Open Works (specifically on its quest to create PPE during the height of the pandemic) and thought it would be the perfect partner to bring the Beat Boxes to life. 
"Brandon had seen a lot of the old newspaper boxes get repurposed as Little Free Libraries, and in the aftermath of the pandemic, little free pantries and refrigerators started to crop up," says Open Works' executive director Will Holman. "We wanted to braid those ideas together and make space where you could leave personal care items—masks, T-shirts, canned goods. So we basically took a salt box and extruded it vertically so that there was room below for a newspaper compartment and a sloping lid on the top that opens up and reveals other stuff."
Based on this prototype, the first Beat Box emerged last summer outside of Open Works to see how well it would hold up. Now, the collaborative team has deployed more than 10 boxes across the entire city. 
"Coming from City Paper, one of the things we thought about was that those boxes were always in the White L, or the whiter, more developed parts of the city," Snowden-McCray says. "We wanted to be really thoughtful and make sure that we were reaching different places in the city—places that are already community touchstones for people."
Not only does Snowden-McCray stress the importance of "meeting people where they are" with the wellness items, but she also hopes the boxes provide free and accessible local journalism to anyone who wants it. 
"Deciding to go with a physical paper goes against the trend right now in journalism," she says, referring to digital-only outlets. "But I feel like that leaves a lot of people behind. Thinking about having a print paper—one that puts the needs of Baltimore's many different communities at the forefront—the boxes give us a further reason to be here. And while we're here, we can help people in different ways, not just with information."
So far, about a month since the first group of boxes were installed, they've proven successful. The Beat's distribution team—led by local artist and community champion Eze Jackson—has even partnered with a growing group of nonprofits to help donate supplies and hopefully stock new boxes, while also amplifying the paper's reach.
"I want the Beat to be a resource for people in Baltimore City in a whole lot of ways," Snowden-McCray says. "Even if you don't want to sit down and read a 1,000-word story, there are tangible ways that I hope we are helping people during times that are really tough."