Sorry, My Weekend's Fully Booked
Nothing stacks up to starting your own Little Free Library.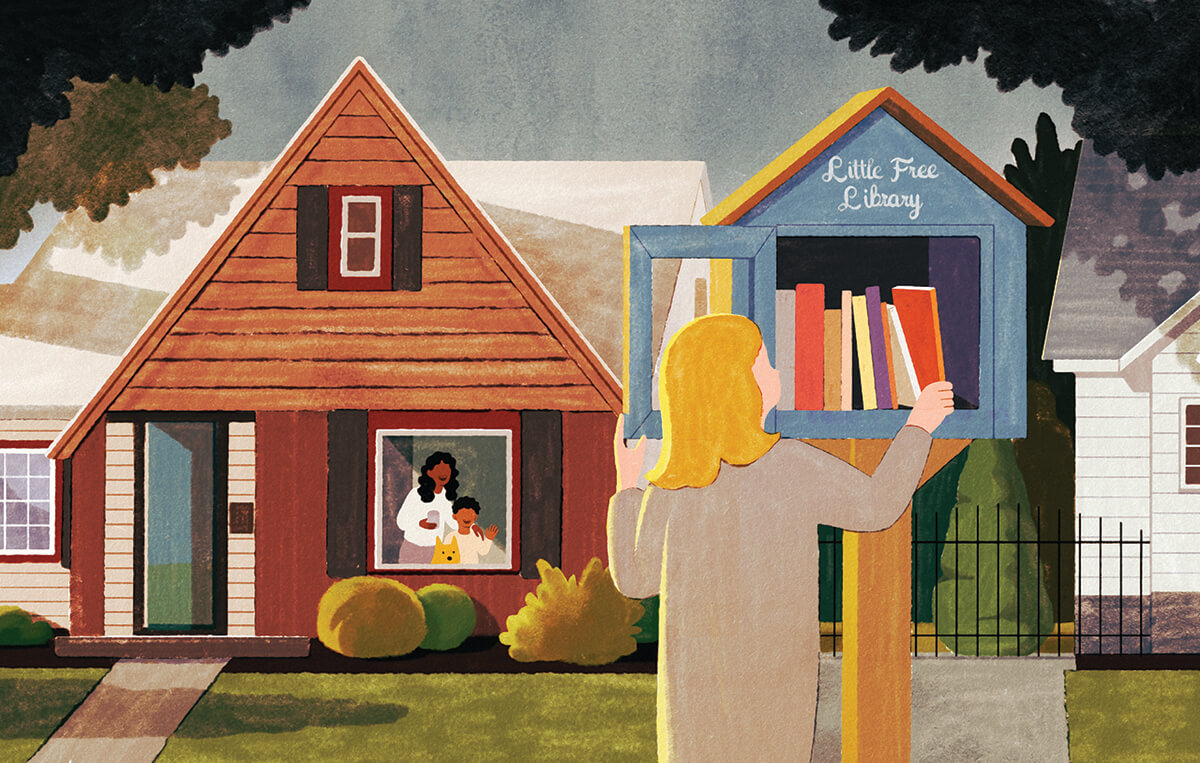 It's a warm fall day as I pull open my front door, hurrying to pick up someone from somewhere, which is your daily existence when you're the mother of four kids. As I rush toward my minivan, there's a car parked in front of my house and a woman is pulling a book from my Little Free Library, a sort of public bookcase installation on my front lawn.
Not wanting to scare her off, I freeze on my porch. She looks up and spots me. "I just loooove your library," she calls out. A big smile spreads across my face. It's like a stranger telling you how gorgeous your kid is. Like, you already know it, but it's so validating when someone else says it. "Take as many as you want," I reply, trying not to sound overly enthusiastic. She nods. "I took two and left two in exchange," she says. I call out a "thank-you" to her before retreating into my house—the kids can wait—and hiding in my kitchen until she's gone.
You see, being a "steward" of a Little Free Library, as we're known, is a bit like returning to middle school, when the biggest concern was: Do people like me? Am I wearing the right thing? Am I cool enough to sit at the lunch table with the popular kids? But now I stress about whether people are driving up to my Towson lending library and taking books. Is there enough turnover? Enough diversity in titles and authors? The right balance of the classics vs. bestsellers? Despite my self-imposed anxiety, it has brought me nothing but joy.
I've always loved to read. My bat mitzvah theme was "books." (Yes, really.) And my parents wrote to all my favorite authors (Beverly Cleary, Judy Blume, Lois Lowry) to tell them what a fan I was—and they all sent back congratulatory cards and signed books. I've been a member of my book club (cleverly called "Our Book Club Has No Name") for at least 14 years. And heavy boxes of books have followed me on every move.
This Little Free Library—a booksharing box with no obligation to return the book or leave anything in exchange—seemed like the next natural step on my bibliophile journey. It took 45 years, but last February, my family (parents, husband, kids) "surprised me"—I may have strongly hinted—with a Little Free Library for my birthday. The library my family chose is blue. Very, very blue. (Think: Violet Beauregarde in her blueberry form in Willy Wonka & the Chocolate Factory.) Now, I might have chosen something in a more subtle gray, but "Blue Betty," her affectionate nickname, has grown on me.
My library (charter #1195960), purchased on the littlefreelibrary.org website, is officially registered as the "Diamond Nature School Little Free Library," chosen by my four kids for the silly name we came up with in 2020 when we suddenly found ourselves learning from home and, by extension, the great outdoors, during COVID-19.
It took about two months for the ground to thaw (and a broken piece to be replaced), but the Diamond Nature School Little Free Library, sandwiched between my mailbox and my neighbor's trash cans, officially opened on April 26, 2021. On April 27, I woke up in a cold sweat. The Kinks song "Dead End Street" rattling around in my brain.
People are living on dead end street. (Dead end!)
Gonna die on dead end street.
Dead end street (yeah).
Dead end street (yeah).
As in, I live on a very small, dead-end street with no through traffic other than my own neighbors—who had been very excited and supportive—but still, how many books were they going to take? I lay in bed wondering what I'd been thinking. Had I set myself up for failure? Was anyone actually going to drive down our bucolic suburban street to pick up a copy of Station Eleven as the world worried about its own pandemic?
The next morning, I got to work, snapping pictures for my IG account @diamondlittlefreelibrary, posting on Nextdoor and Facebook, mentioning it to everyone I encountered, and basically forcing anyone dropping off packages or working on our street to take a look-see inside the library. (It's in my Jewish DNA. Instead of forcing matzo ball soup on someone—"eat, eat"—I'm pushing Captain Underpants: "read, read.")
THE OTHER DAY SHE DROVE BY, ROLLED DOWN HER WINDOW, AND YELLED, "I'M ON THE HUNT FOR MORE BOOKS FOR YOU."
In Maryland, there are 1,500 registered Little Free Libraries, with a large concentration in Baltimore—we are, after all, the city that reads—according to Margret Aldrich, director of communications for the Wisconsin-based nonprofit Little Free Library. Once you have a LFL you start seeing them everywhere, and your friends start sending you pictures of all the ones they encounter. You can search for Little Free Libraries literally anywhere in the world, but most importantly in your own city. Whenever she travels, Aldrich looks for the nearest LFL.
"There's something so universal about a Little Free Library," she says. "It's that love of books and connecting with people," she says.
A little bit of shared humanity. If it sounds a bit romantic, that's because it is. There's a certain intimacy in sharing a book, but also a level of pleasing anonymity, like a secret relationship.
My library has given me a purpose, an activity, and a landmark. ("Look for the blue library," I tell people when they are driving to my house.) Maybe it's a bit self-serving, too. As someone who works for a print magazine, I am continually living in fear that people don't crave the touch of a periodical or book in their hands anymore. But my library is a constant reminder that readers still want to throw a book in their bag or dog-ear the corner of a page to remember where they left off. In a world of audiobooks and Kindles, the humble book is still the best kind of throwback.
"It's tangible, an analog thing," says Aldrich. "We're all so caught up in the digital pieces of our lives. There's something really special about being able to open a door on a wooden box and pull out a book to read."
It's also brought about some unexpected connections. A local self-published author, Sarah Forester Davis, reached out to see if I wanted a copy of her young adult book Confessions for my library. ("Sure!" I said.) My dear neighbor, Mary, leaves children's books for me wrapped in old bubble mailers on my porch or sometimes inside the library. I take each one out and mark it with my, "This book passed through Diamond Nature School Little Free Library" stamp. The other day she drove by, rolled down her window, and yelled, "I'm on the hunt for more books for you."
When a friend unexpectedly passed away, I was so humbled to be gifted some of her books for the library. "For Jessica," I wrote inside each one, hoping her magic rubs off on the next recipient of her tomes. My 10-year-old twins tell me when I can put one of their books inside the library ("Just never the Diary of a Wimpy Kid ones," said Zeke) and my 12-year-old daughter, Willa, spent an afternoon making bookmarks to keep inside the library. ("You can't read a book without a bookmark," she said, while rolling her eyes.) An old high-school friend who is the steward of "The Little Library on Pennrock" in Wilmington, Delaware, gifted me with a homemade decal for my library's plexiglass window. "Take a book. Share a book," it reads.
A Little Free Library is not so much a time capsule, as it is evidence of the people who have passed through our lives. "I can't resist stopping and looking into every library I see," Aldrich tells me. For her, it's a glimpse into those who contributed: travel books about Belize, an Italian cookbook, or a grad school class on African-American women authors. The idea should always be that the library belongs to the community.
"You're a co-librarian with the people in your neighborhood," she says. "That keeps the books flowing."
So, what does someone think when they look into my library? Middle-aged mom, probably. Someone who splurges on hardback books. A woman who prefers fiction. It's hard to judge me by the library's contents because the more popular books tend to go quickly—The Vanishing Half, How To Be An Antiracist, The Seven Husbands of Evelyn Hugo, Olive Kitteridge, Becoming, Bossypants, anything Harry Potter. My 13-year-old self would be impressed that Lois Lowry, Beverly Cleary, and Judy Blume still show up in my library. Other books take longer to leave, and I want to shake someone and say, "Give El Deafo a try. You'll love it!" It's often like being a mama bird. You want your babies to leave the nest and soar, but some just take longer to learn to fly.
Eleven months into my "stewardship," and I'm still just as smitten. This summer, I accidentally wrote the title of Taffy Brodesser-Akner's book, Fleishman Is In Trouble as Fleishman Is Dead, on my IG post, tagging the author. "He's not in *that* much trouble," she commented. It made me laugh so hard that I never fixed it. I hope she's happy knowing her book is out circulating in the world, instead of gathering dust on my bookcase.
For so long, I hoarded all the books I bought, thinking I needed each one as a time marker—the one I purchased in Greece on my honeymoon, the one from a great bookstore in Savannah, the one I bought because a friend wrote it—but I realized what I really wanted was to have them read by someone other than just me.
And so, Fleishman and all the other books, from my kids, neighbors, friends, and strangers, are merely temporary lodgers at the Diamond Nature School Little Free Library, on a dead-end street. And that's exactly how it should be.