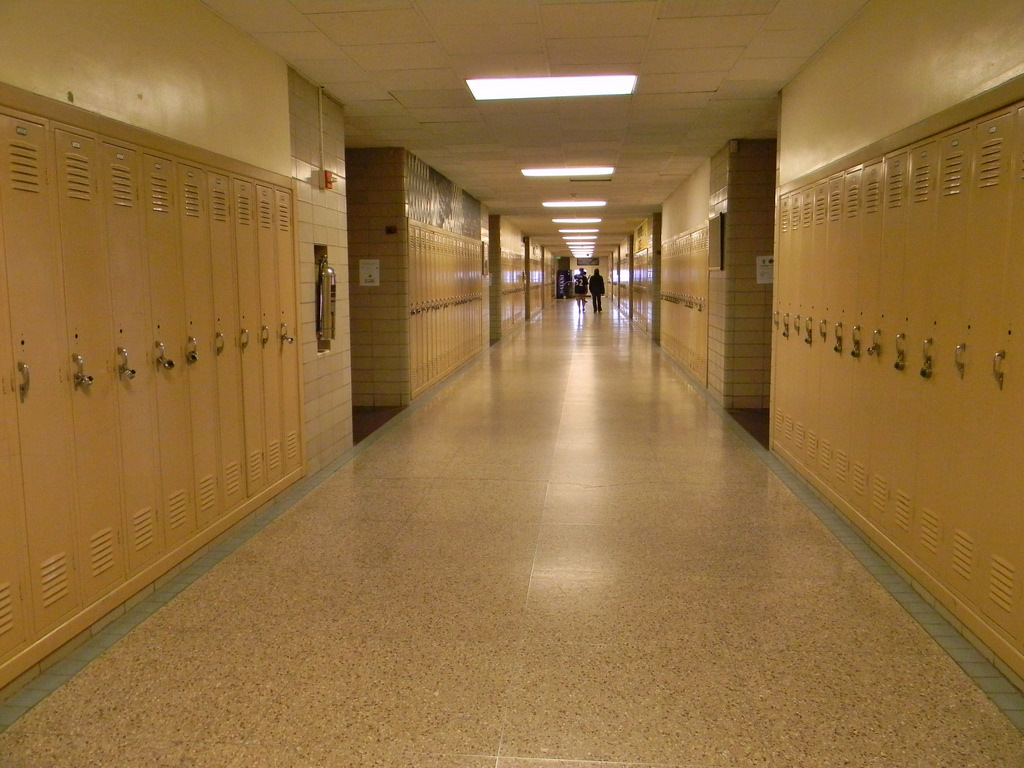 Flikr/Creative Commons
Jake Turner was in his U.S. History class at Hereford High School when his teacher announced that a nearby high school, Loch Raven High School, was on lockdown because a student brought a gun into the school. Turner and his classmates were in the middle of a discussion about the previous day's shooting at Marjory Stoneman Douglas High School in Parkland, Florida that killed 17 people, when it clicked for him that it could happen anywhere and at any school.
Turner, who is the student council president of Baltimore County Public Schools, is one of the thousands of students across the country who are calling upon government officials and school administrators to reform gun laws and revaluate school safety measures.
"I don't feel safe knowing that somebody could come into my school with an assault rifle at any moment," says Turner. "Anyone could end my life, one of my peer's lives, and I don't like knowing that over the next few months or years there's going to be more shootings if we don't do something."
In order to put those concerns into action, Turner will take part in The National Student Walkout on March 14, exactly one month after the shooting in Parkland. It's scheduled to begin at 10 a.m. in every time zone and last 17 minutes to honor each of the victims who died in one of the deadliest school shootings in American history. The goal of the walkout is to put pressure on Congress to pass gun reform and make schools safer.
Also being dubbed the #Enough walkout, the demonstration is being organized by the Women's March youth branch EMPOWER, started as a Facebook event and has grown to include schools across the country—including ones in Baltimore County.
Baltimore County Public Schools released a statement to Baltimore from Interim Superintendent Verletta White that details how the school system will handle the upcoming walkout.
"In order to maintain a safe environment for students who wish to exercise their civic rights during the school day, we provided guidance to our school principals and their staffs to plan for potential or spontaneous peaceful demonstrations or protests," the statement read. "We view these moments as learning opportunities while providing structure and protecting the instructional focus of our schools."
One day after the shooting in Florida, a 14-year-old Loch Raven High School student was arrested by Baltimore County Police for bringing a pellet gun to school. This is the second of these incidents in just under a month, as 18-year-old Darren Bennett was arrested for bringing a pellet gun to Perry Hall High School on January 19. Just this week in Howard County, Clarksburg High School student Alwin Chen was arrested after bringing a loaded handgun to school, and authorities found a variety of weapons inside his home.
"This is not a partisan issue. This is a, 'I am scared to go to a place that I thought was safe' issue," said Pikesville High School student Josie Shaffer, who serves on the Baltimore County Board of Education and spoke on the issue of gun violence and school safety during Tuesday night's board meeting.
In a passionate speech, Shaffer called on the board to support the March for Our Lives protest in Washington D.C. on March 24 that holds the same mission as the #Enough walkout. "Show that you are listening to the students in our system and all over the country that are now using their voice to say enough is enough," she said.
The Baltimore Teachers Union voiced their support for the National Student Walkout, saying that the protest signifies that it's time for community members to take action.
"As we mourn the lives lost in Florida, we must also mourn those young people whose lives ended too soon due to gun violence in our own backyard," says Marietta English, president of the Baltimore Teachers Union. "It is my hope that our collective voices demanding change will get the attention of our congressmen and congresswomen, letting them know that now is the time to do what is right, which is to enact stricter gun laws."
Though this certainly isn't the first conversation about gun violence in the U.S., it is unique that high schoolers like Turner are leading the charge. He also urged the board to take action by encouraging open conversations, strengthening student mental health services, and enforcing updated safety measures and protocols.  
"Even though we're students and we're under 18, our viewpoints still matter," says Turner. "We go through this every single day and we know what it's like inside of a school. There's no one better to tell people about the issues we're going through."