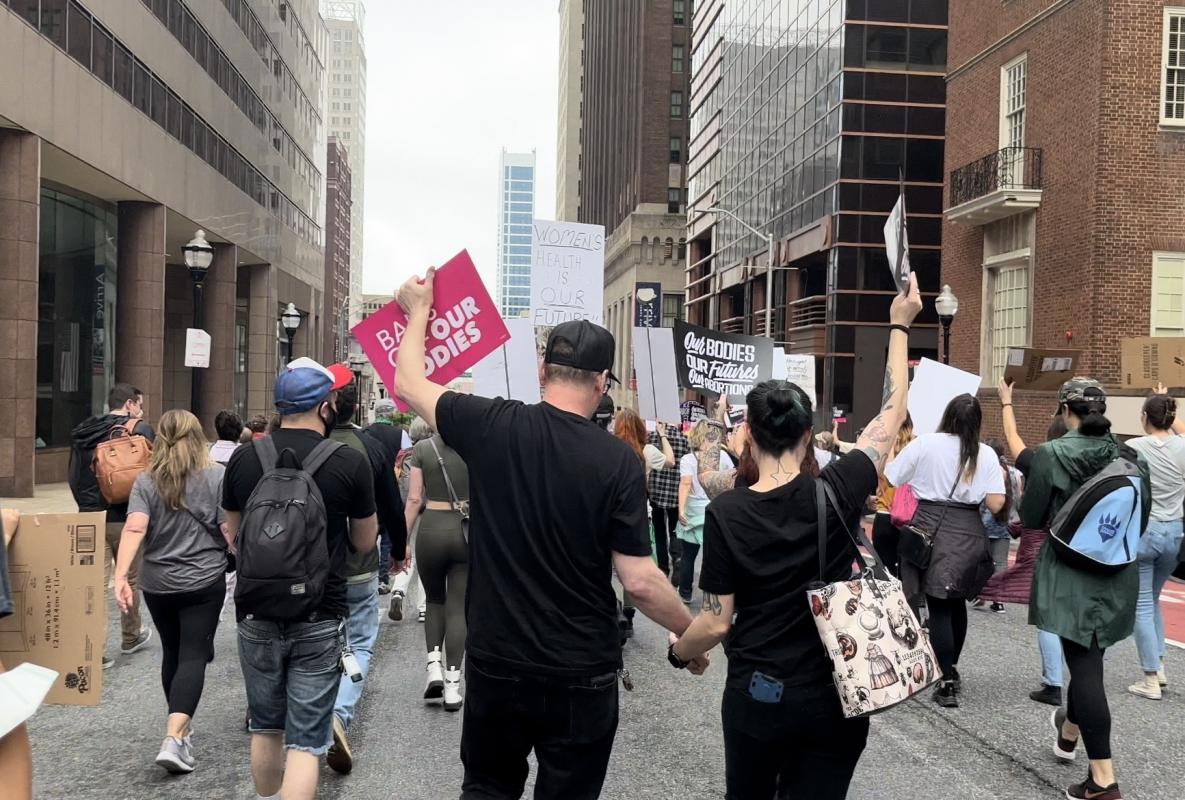 Baltimore protestors take to the streets after a draft of the Supreme Court decision that would overturn Roe v. Wade is leaked. —Photography by Grace Hebron
In May, not long after a leaked Supreme Court draft revealed that Roe v. Wade would likely soon be overturned, Baltimore abortion doula Carling Sothoron's first concerns weren't tethered to Charm City, but to patients based in other states. 
After the court's 5-4 decision officially came down on June 24—a landmark ruling that effectively removed federal abortion protection—her fears became a reality. 
"Honestly, I didn't think much about Baltimore, I thought about folks living in trigger states who would soon have to travel far out of state to get care," Sothoron says. "With lots of clinic options, funding support, and doula care, abortion services in Baltimore and Maryland are hopeful." Even so, she adds that "poor people, people of color, and most especially, poor people of color," are less likely to benefit from these advantages. 
In Maryland, abortion is still legal until pregnancy is viable—between 24 and 26 weeks of gestation—meaning that a fetus has a reasonable chance of being born alive. Last week, a new law was passed allowing more providers in the state, including midwives, to offer the procedure after undergoing training. 
According to The New York Times, while the District of Columbia and some neighboring states have taken the same stance as Maryland, abortion has been banned in at least eight states, with more waiting on restrictions that are poised to take effect within a 30-day timeframe. In the wake of the news, out-of-state abortion candidates are now expected to seek help at clinics based in Maryland. 
"People are going to have to travel farther and spend more money to get an abortion, which for many people, is not within their means," Sothoron says. Sothoron also feels that Roe's demise will "lead to people seeking illegal abortion options and being forced to continue pregnancies that may not be wanted or are medically unsafe." 
These circumstances are, in part, the force behind her work to offer safe abortion services with the Baltimore Doula Project (BDP)—a local program that supports low-income, marginalized people through the full spectrum of pregnancy (prenatal and postpartum), while oftentimes assisting with abortions and miscarriages.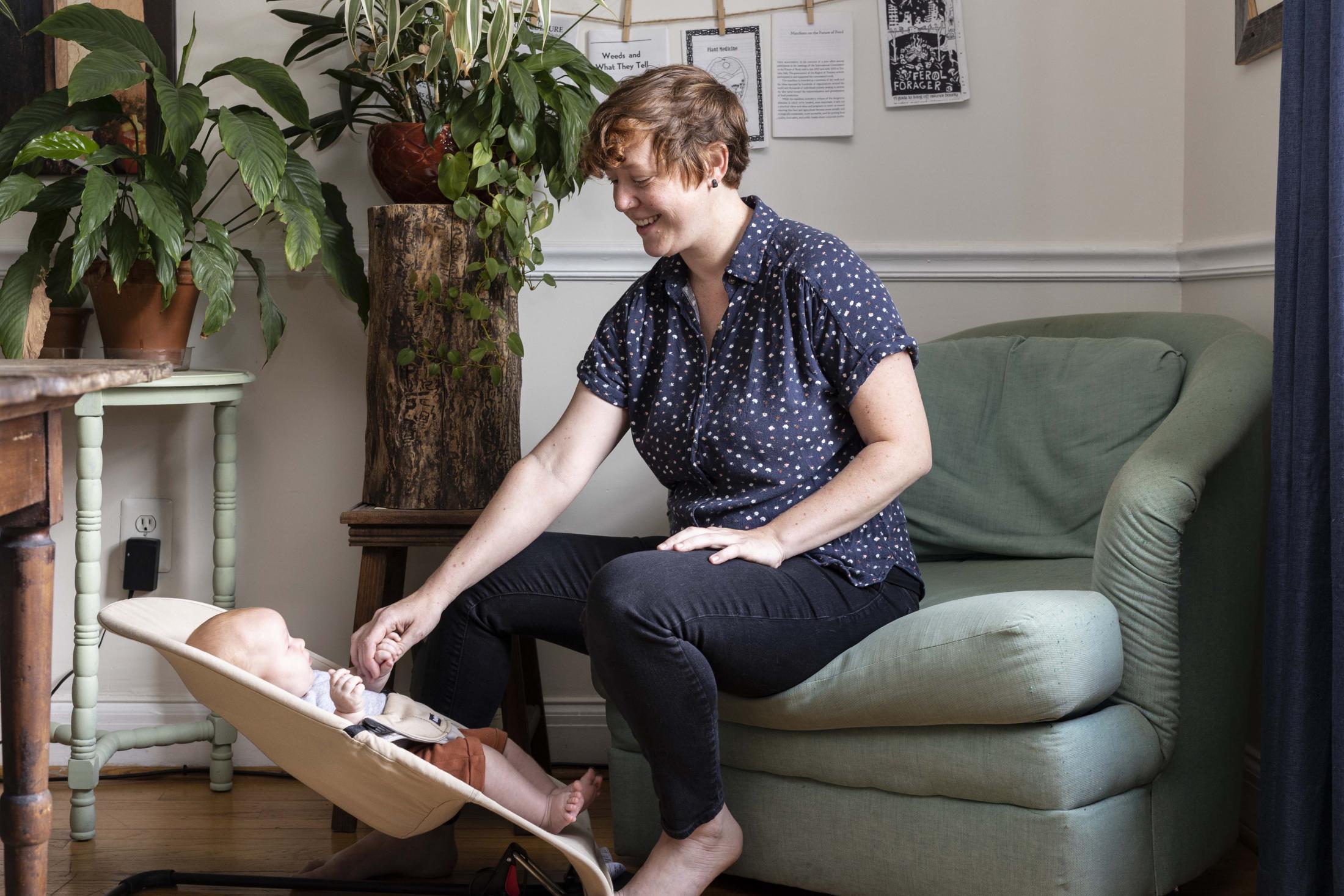 It started in 2015, when a friend was giving birth and asked for Sothoron to be in the room to offer support. This experience led Sothoron, whose background is in early childhood and farming education, to become a birth doula—a person who provides companionship and support to pregnant individuals through labor and delivery. Soon after, hoping to expand her skills beyond birth work (and having previously worked at an abortion clinic) Sothoron joined Baltimore Doulas for Choice—a program that provided doula services to people undergoing abortions.
When it comes to the procedure, in which pregnancy is ended via surgery or medicine (typically before the third trimester), "The medical team plays a pretty specific role. Their focus is on the medical wellbeing of the patient," Sothoron says. "But oftentimes what's missed is the patient's emotional wellbeing. Our role as doulas is to fill that void—to make sure that our clients are well cared for and they have the information that they need."
Eventually, along with fellow doula Clare Donofrio, Sothoron expanded Baltimore Doulas for Choice into what is now BDP.
Operating out of four area clinics, as well as the Maryland Correctional Institute for Women, the program provides free, gender-affirmative, and anti-racist abortion doula services to all who are in need of one, along with birth support at city hospitals for those ready for parenthood. Services are payable on a sliding fee scale. Through the organization, clients are also connected to resources including counseling, emotional support, and childcare. 
"If somebody has a medical abortion [induced via prescribed drugs], we can join them in their home or provide support remotely via text and calls. And for a surgical abortion, we can be there with them pre and post-procedure," Sothoron says. "We meet people where they are."
In light of recent changes to the reproductive landscape, BDP has "several big ideas" to continue its work. The program—which is currently preparing to return to clinics in the wake of COVID-19—is planning to offer doula trainings, as well as host community events to help create post-abortion care kits to disperse at local clinics. (Donations to support BDP's work to expand access and cover doula training costs can be sent, here.) In the meantime, Sothoron throws out offering rides, housing, childcare, and meals as ways to show support to neighbors or those traveling here to undergo the procedure. 
Today, in place of what began as rage and anger in response to Roe's overturning, Sothoron "feels more sadness." 
"I feel sad for the people who are navigating abortion and reproductive healthcare right now," she says. "I feel sad and scared for my three-month-old child, whose future reproductive rights are [now] uncertain. People are going to die because of this. It's really scary for an incredible number of people."
And while there's lots of work to do in Baltimore and elsewhere, when it comes to reproductive health access in Maryland, Sothoron and her team aren't going anywhere. 
"BDP will continue to focus on what we do best—abortion doula services," she says. "These are challenging times. We know we can't rely on the government to fight for our reproductive rights and freedom, so we have to show up for each other."