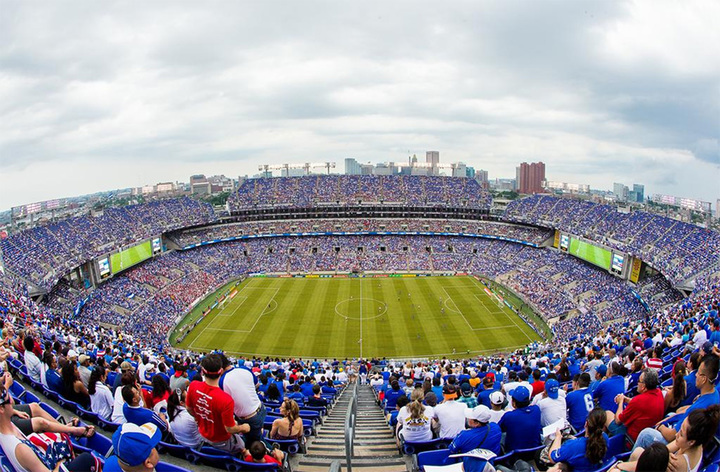 CONCACAF
In the last few years, Baltimore has hosted sporting events ranging from Division I U.S. Wheelchair Fencing to the Grand Prix to the always-popular Army-Navy Football game. But, have you ever wondered how we get so lucky?
Turns out, the man we have to thank is Terry Hasseltine, executive director for Maryland Sports, whose team searches for events that will boost the local economy.
"Intercollegiate women's lacrosse and men's lacrosse meet here on a regular basis," he says. "That creates a great profile. Parents come into town spending money in our food and beverage scene and staying in our hotels."
But as Baltimore's skyline expands and gets written up in the national media, Hasseltine sees a great opportunity to go after a wider range of sports. When he heard about the tri-country bid with the United States, Canada, and Mexico for the 2026 FIFA World Cup, he knew that Baltimore would be a perfect host.
"We obviously want to make sure that M&T Bank Stadium and the city of Baltimore are considered a part of that portfolio," he said. "We had such a great response when we put in a bid for 2022 [FIFA World Cup], we did it again."
In 2016 alone, Maryland hosted more than 300 sporting events—primarily amateur sports, youth soccer, and lacrosse tournaments—generating $176.6 million in direct spending on the state's economy.  
"There are studies performed that show exactly how these large sporting events affect the projected tax revenue for the greater Baltimore region," says Zach Jones, director of market research for the Economic Alliance of Greater Baltimore. "The jobs that are spun from the events are a bonus as well."
To bring that money into Maryland, Hasseltine says that bidding process can take on many forms: some require a simple question-and-answer session, and others involve a more detailed explanation for a why a city should be chosen.
"I like those," he says. "You get to tell your own story."
Usually, Hasseltine describes Baltimore's story as a "diverse market" that is invested in their sports teams with a buzzing social scene and says he is careful to never directly debase the city's competitors. "Crafty word-smithing" as Hasseltine puts it, is highlighting all of the city's amenities that the competitor lacks. "We never say names," he said. "We finesse it."
On the flipside, he says that Baltimore's centrally located geography can sometimes be a hindrance when attracting these big-market events.
"The resources in the companies you can penetrate in your market are not the same scale as some of the other major markets like Philadelphia and Washington D.C.," he explains. "So now you're knocking on the same doors for professional, colleges, and secondary sports."
In an effort to solve this problem, Senate bill 1148 and House bill 1619 were enacted in order to create affiliated partnerships with large companies. When a bid is placed, the city has five to six years between the bid and the actual event. This allows more flexibility to acquire the funds while spreading them over a longer period of time.
After submitting 12 bids to the NCAA, Baltimore were awarded five: Women's D-I Lacrosse National Championships in 2019, 2020, and 2022 at The Johns Hopkins University and 2021 at Towson University. The city will also host the 2020 NCAA Women's D-III Lacrosse National Championships at Hopkins, as well.
Currently, Maryland Sports is in the process of bidding for M&T Bank Stadium to host the Army-Navy games for 2018-2022 with a decision announced in the next several months. But they are also setting their sights on one other big-ticket item.
"We are in discussion right now with the NFL, maybe taking the Inner Harbor and transforming it for the purposes of the draft," he said. "We have our eyes peeled on opportunities that will better the city of Baltimore and state of Maryland as whole."