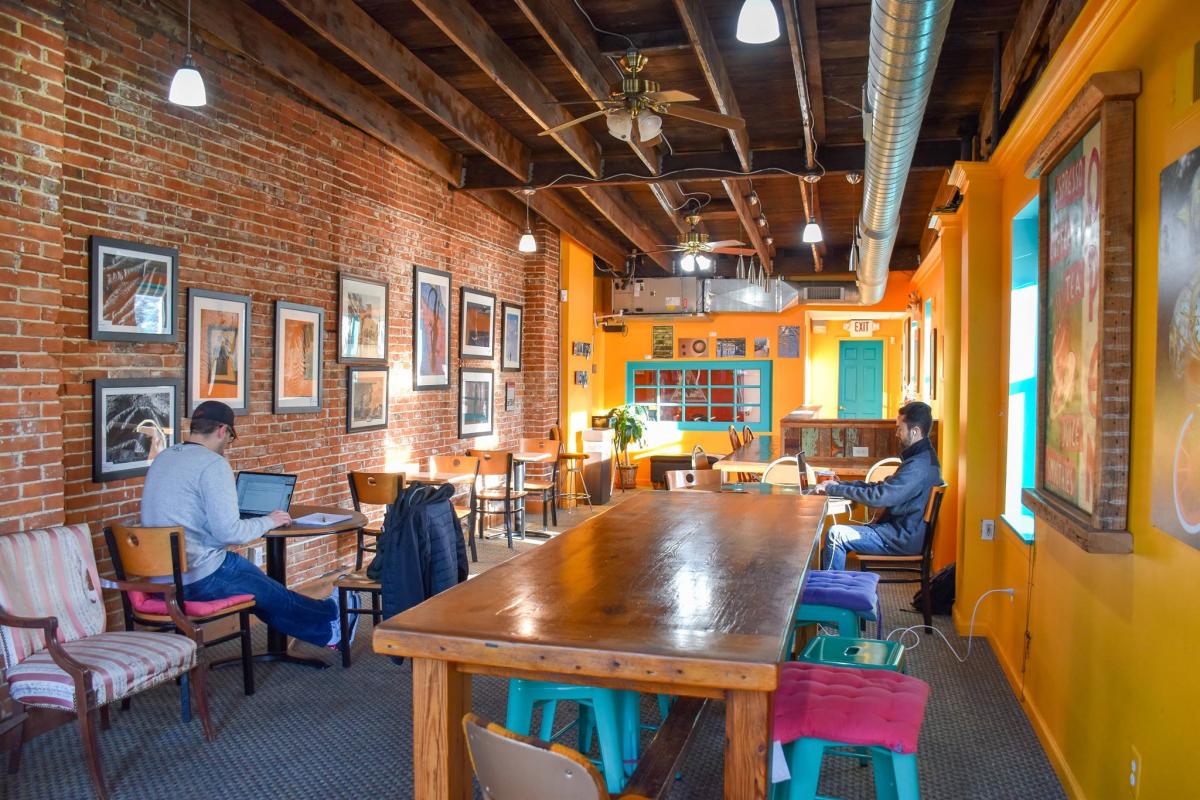 —Courtesy of Koba Cafe via Facebook
Working remotely doesn't have to mean that you're trapped inside your home all day. That's why we've compiled some places in Baltimore where you can create spreadsheets, fire off emails, take Zoom calls, and, perhaps most importantly, stay caffeinated and nourished—all while breaking free from the confines of your home office. So grab your laptop charger, and head to these spots to get a change of scenery. 
Coffee Shops
Artifact Coffee: Located within a reclaimed factory building in Hampden, Artifact offers farm-to-fork fare for breakfast and lunch. The rustic coffeehouse brings the peaceful vibes necessary for focused work. 1500 Union Ave. 
Ceremony Coffee Roasters: This bright coffee chain will keep you energized as you work remotely. With locations in Whitehall Mill, Harbor Point, Cross Street Market, and Mt. Vernon, you can order your favorite cup of joe, grab a slice of avocado toast, and sit either inside or outside on the patio. Multiple locations
Daily Grind: This artsy coffee shop offers the perfect atmosphere for professionals and creatives to get inspired (and treat themselves to a much-needed java jolt.) Located in Fells Point, you can sit inside against the backdrop of the unique exposed brick just past the coffee bar, which showcases work by local artists. 1720 Thames St.
Koba Cafe: This sunny Federal Hill spot self proclaims that it is, "more than just your local coffee shop." And for remote workers, that mantra holds true. Fill your mug with piping-hot coffee and meet with co-workers downstairs at a table, or head upstairs to the quiet lounge to work independently. 644 E. Fort Ave. 
Order & Chaos: This industrial space in South Baltimore is a great spot to get your creative juices flowing. (There are even communal white boards available for visual learners.) Fuel up by trying the shop's specialty drinks (blueberry pancake latte, anyone?) or a breakfast pick-me-up like the chicken and waffle sammie. 1410 Key Highway
Red Emma's: If you're looking for vegan food and coffee options—and maybe even a good book to read on your lunch break—look no further than this worker cooperative-run coffeehouse in Midtown. After work, relax at the bar and enjoy happy hour from 4-7 p.m. 1225 Cathedral St. 
Zeke's Coffee: A staple for Baltimoreans since 2010, Zeke's offers freshly roasted blends that are the perfect start to your 9-to-5. With free WiFi, the option of outdoor seating, and a large space for social distancing, Zeke's has become known as an ideal work-from-home location. 4719 Harford Rd. 
Co-Working Spaces 
Spark: Conveniently located in Power Plant Live, Spark is known for its stimulating work environment. The facilities are divided into different areas for eating, attending meetings, and lounging, so you can comfortably work at an affordable price. 8 Market Place. $15 day pass.
Impact Hub: This North Avenue co-working space is focused on creating positive growth and innovation in a collaborative workspace. The list of amenities includes strong WiFi and interesting workshops for local professionals. 10 E North Ave. $30-50/month
Open Works: Around since 2016, Open Works is one of the country's largest nonprofit makerspaces. In addition to a wood shop, metal shop, 3D printing studio, and electronics lab, the space offers 115 "micro-studio" cubicles with strong WiFi and plenty of outlets. 1400 Greenmount Ave. $20 day pass. 
Vision Fed Hill: This luxury workspace offers everything you could ever need while checking tasks off of your to-do list. Some of the amenities include a virtual golf simulator, lounges, a cafe, and even an on-site barber. There's also a location across the harbor in Fells Point. 12 W. Montgomery St. $25 day pass. 
Libraries
Enoch Pratt Free Library: If you're looking for somewhere free and quiet to work, check out the historic Central Library in the heart of Mt. Vernon. After undergoing renovations in 2019, the library now offers more amenities and services than ever—including access to databases for research and meeting room reservations. Looking for a branch a bit closer to home? (The Hampden branch celebrated its grand reopening earlier this summer.) View all of the Pratt libraries' operating hours, here. 400 Cathedral St. 
Baltimore County Public Library: With 18 branches to choose from, Baltimore County's public libraries are open for use. Many boast study rooms, quiet areas, and public computers—so no need to lug your laptop from home. View all of the branches and hours, here. Multiple locations.
Food Spots
The Bun Shop: Known for its strong coffee drinks and worldly pastries, this Mt. Vernon staple offers late hours and comfy couches, not to mention free WiFi—the trifecta for anyone looking to do work here. 239 W Read St.
Cafe Fili: Just when we thought the expansive Mediterranean menu already made this Mt. Vernon cafe a great choice, we heard that it also has WiFi. Grab a seat by the window, indulge in baba ghanouj mezze or a falafel sandwich, and get your work done while watching the foot traffic along Cathedral Street. 816 Cathedral St. 
Dovecote Cafe: This Reservoir Hill neighborhood cafe is perfect for teleworking—offering fast WiFi, natural light, comfy chairs and sofas, and a wide selection of baked goods and micro-roasted coffee. Forgot your headphones? Vinyls provide the background noise if you're motivated by music while you work. 2501 Madison Ave. 
Gertrude's Chesapeake Kitchen: Check out the Baltimore Museum of Art's on-site restaurant for free WiFi, a gorgeous view of the Sculpture Garden, and chef/owner John Shields' signature crab cakes. Plus, take a break and browse the galleries for a burst of inspiration. 10 Art Museum Dr.
Mindpub: This brand new community hub in Riverside—an offshoot of Mindgrub Technologies—has a comfy lounge area on the first floor with a cafe that serves coffee, sandwiches, and other snacks. If you're in the mood for an afternoon pick me up, check out the ice cream with pecan pie crumble. 554 E Fort Ave
R. House: For a variety of seating and dining options, head to R. House in Remington to telework. As a bonus, it's the perfect place to get together with co-workers for a meeting, with food options ranging from poke bowls and pizza to tacos and fried chicken sandwiches. 301 W 29th St. 
Terra Cafe: If you're in the mood for some comfort food to get you through a stressful day, this quaint Charles Village cafe has a vast menu to choose from (think omelets, fried chicken platters, and pie.) As a bonus, you can get some Vitamin D outside in the Jerk Garden. 101 E 25th St.