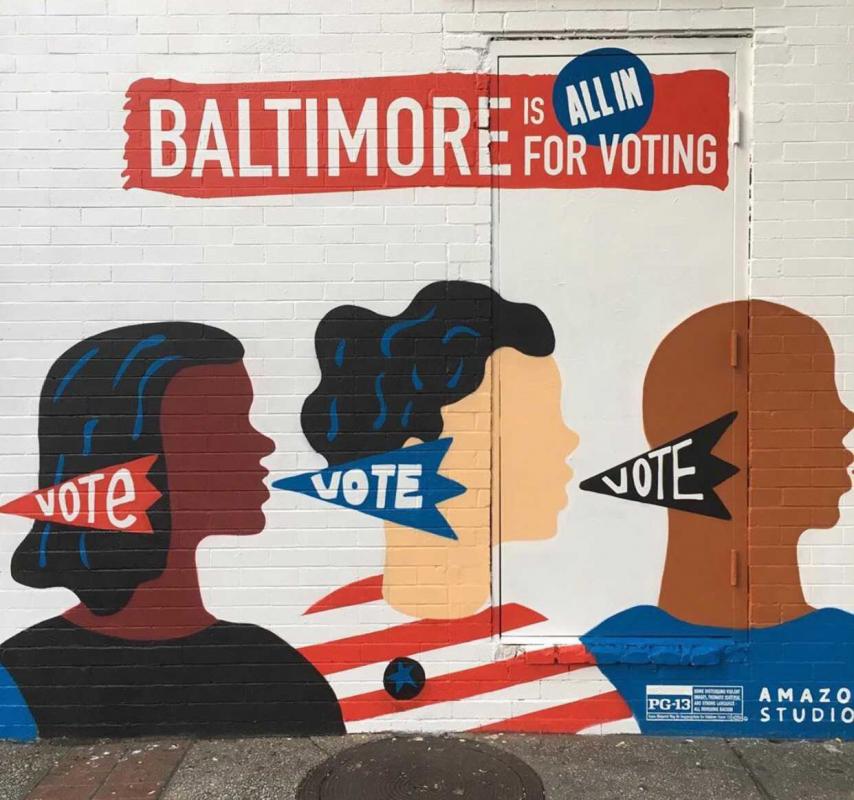 A Fells Point mural encouraging Baltimoreans to vote. —@baltimore_votes
Molly Burger volunteered to serve as an election judge this summer when state and city officials, who were facing a potential shortage of poll workers due to COVID-19, pleaded with residents to train and serve as judges in the fall.  
The Baltimore resident stepped up, she says, because of her relative youth. At 39 years old, Burger is at lower risk to develop a serious illness from the virus compared to the older adults who generally serve as election judges. 
"I kind of felt called to register [as a judge]," says Burger, a regular voter and campaign volunteer. 
Burger—who after offering her services wasn't called on to serve as a judge due to a revamped voting plan that requires fewer poll workers—is among a significant number of Baltimoreans who have stepped up to ensure their neighbors vote in the presidential election on Nov. 3.  
Those efforts came despite the obstacles and potential danger created by a virus that has sickened roughly 130,000 residents and killed nearly 4,000 Marylanders since March.  
As the deadline to register to vote approaches on Oct. 13, and voters start casting ballots when in-person early voting begins on Oct. 26, these Baltimore area volunteers will soon find out whether their efforts were worthwhile.   
Lynn Robinson, of Catonsville, started to help register voters as part of the Baltimore Bern Unit, a group that supported Sen. Bernie Sanders' campaign for the Democratic Party's presidential nomination. Once Sanders halted his campaign, after it was obvious former Vice President Joe Biden would win the nomination, members of the Bern Unit shifted their attention to local races, she says, and eventually some started working on nonpartisan voter registration.    
"We wanted to go door to door, but we couldn't do that because of the virus," Robinson says.  
Unable to register voters face-to-face because of COVID-19, Robinson and others made flyers explaining how to register to vote, with English on one side and Spanish on the other. Those flyers were included with meals for residents in need, and Robinson estimated they distributed roughly 50,000.    
Robinson, 69, who says her political activism stretches back to the Civil Rights movement and protesting the Vietnam War, also volunteered with the League of Women Voters. 
In that capacity, she set up a table outside of the Orleans Street Branch of the Enoch Pratt Free Library in order to convince residents to register to vote. Despite a few heartwarming moments, she says her efforts didn't result in as many new voters as she hoped. 
"I thought about moving to the Burger King across the street because there was more traffic," she says. Robinson adds that she hopes her efforts helped, but remains skeptical that enough people, particularly poor residents, were reached.
"When I see the lines of people waiting for food, and see that the supplies of food do not nearly look like enough, I get a pit in my stomach, and fear for my country," Robinson adds. 
Francesca Uberoi, 41, registers voters as a volunteer with When We All Vote, a non-partisan organization launched by Michelle Obama and co-chairs including Tom Hanks, Lin-Manuel Miranda, and Faith Hill. 
She discovered the organization, she says, while casually flipping through Instagram. After doing some research on the group, and registering online, When We All Vote commissioned her as a "squad captain."
"For me it was just a time when there are so many things going on, and you feel so helpless, so it seemed like a very easy, local, thing to do," Uberoi says, "and feel like I was making a difference in a very concrete way."       
Launching an effort to register people to vote in the middle of a pandemic, however, meant Uberoi and friends had to ditch the traditional voter registration playbook that targets places where large groups of people congregate. 
"The pandemic and COVID added difficulty because all the normal gathering places weren't really happening," she says. 
Eventually she found that partnering with local businesses, like Upper Fells Point restaurant Cocina Luchadoras, proved the best way to reach potential voters. But while doing the work, she also discovered registering voters was only part of the job.   
"As I did the work to register people to vote it quickly became apparent there was a lot of misinformation [about various election issues]," she says. 
Efforts like those by Robinson, Uberoi, and others have added a significant number of new voters in Maryland during the last several months, according to State Board of Elections data. State records show more Marylanders registering to vote than in the months leading up to the 2016 presidential election. 
According to state records, 179,050 new voter registrations were recorded between April and September statewide. As the general election loomed, the number of new registrations in Maryland surged. From April to July, the median number of new registrations was 19,081. The elections board recorded 41,433 new registrations statewide in August and 63,684 in September. 
During the same time period four years ago, the state recorded nearly 150,500 new voter registrations. In 2016, new registrations, however, never topped 35,659 in a single month between April and September.       
But for volunteers like Uberoi, while the big numbers count, the effort to bolster participation in the democratic process provided its own reward.
"It makes you feel like you're doing your part to keep democracy moving forward," she says.