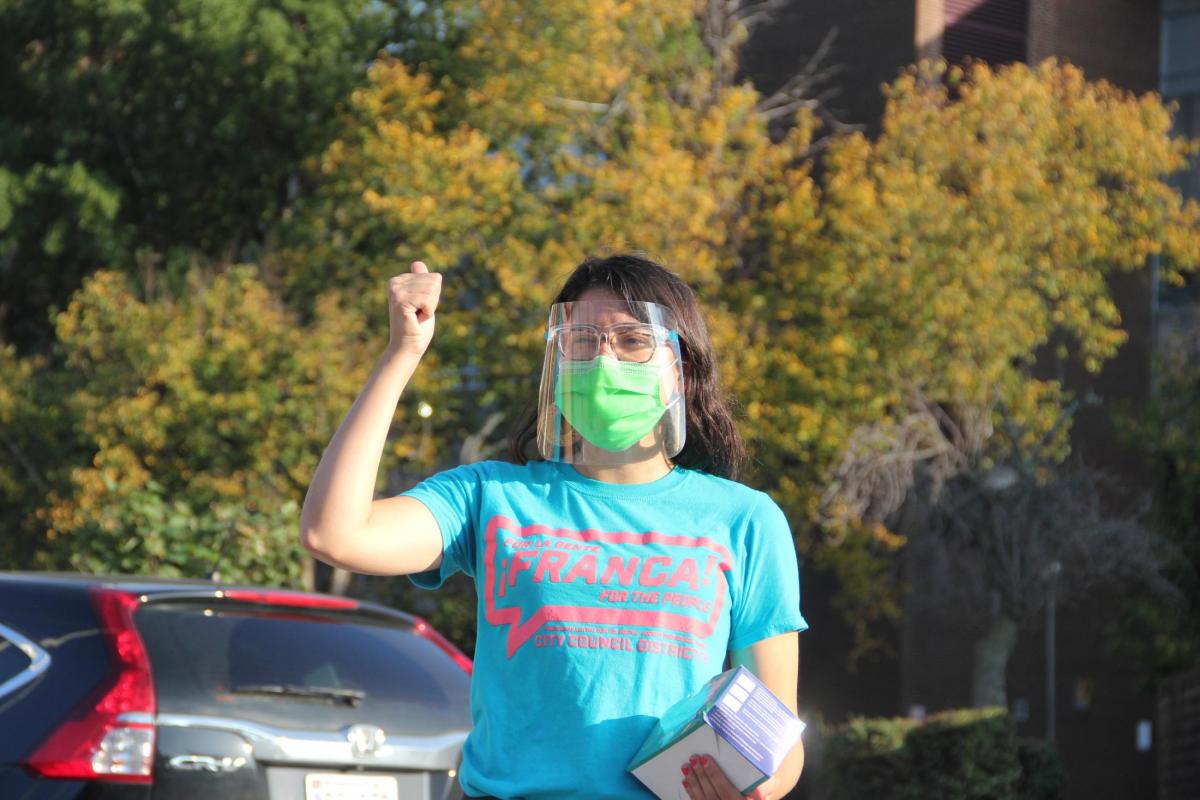 Photography by Adam Bednar
Franca Muller Paz sets a punishing pace striding uphill east on Orleans Street. Neither the oddly muggy October evening, nor the fact she's decked out in a face shield and surgical grade face mask, slows her stride.      
She doesn't have time to dawdle. Despite her days starting at 4 a.m., time remains an invaluable commodity as she balances her obligations as a teacher at City College with running a campaign for Baltimore City Council. On this recent autumn evening, after teaching classes all day, her canvass starts with feeding volunteers, briefing them on COVID-19 safety measures, and then covering what she wants emphasized to voters at doors.   
After that, it's time for Muller Paz to speed from Paul Laurence Dunbar High School up a few blocks to the Douglass Homes to visit housing rights activist Rev. Annie Chambers. Once she checks in with Chambers, Muller Paz pushes onto the primary reason she's hoofing it up and down Orleans Street in the heat—to introduce herself to as many voters as possible before dark. 
"I've always been a marcher," Muller Paz says during a brief pause waiting for a traffic light to change at Aisquith and Orleans streets as she heads toward her canvassing turf at Pleasant View Gardens.  
The setting sun isn't the only factor pushing Muller Paz's tempo. After roughly three months of campaigning—an extremely short period of time for electioneering—her bid to serve on the City Council has entered the home stretch. In-person early voting began this week and runs through Nov. 2, with Election Day itself slated for Nov. 3.  
If Muller Paz sways enough votes before polls close on Election Day, she'll make history as the first Green Party candidate elected to city office. She'd also likely join Odette Ramos, the Democratic nominee in District 14, as the city's first Hispanic elected officials.  
At the moment, however, that's all hypothetical. Muller Paz and her turquoise clad troops still must clear more obstacles than an Olympic hurdler.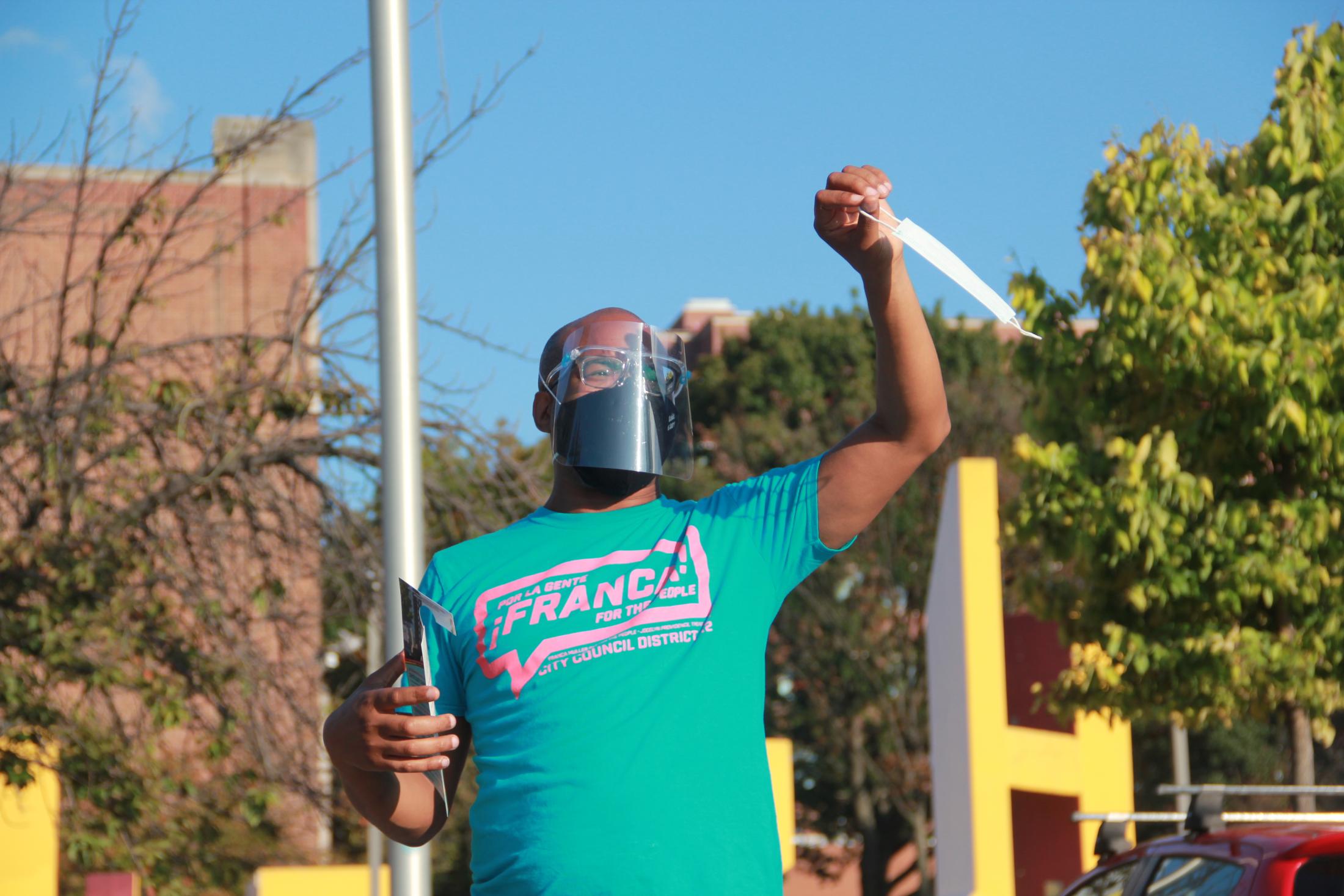 While there's anecdotal evidence the campaign's momentum has shifted her way, based on fundraising and campaign activity, Muller Paz remains a heavy underdog.   
A major reason Muller Paz's bid is considered a long shot is the candidate, who has never sought elected office before, only had a relatively short time to introduce herself to the district's voters after kicking off her campaign in July. 
In recent instances locally, where upstart candidates defeated incumbents, those challengers previously held elected office and started campaigning long before the election.  
Arguably the biggest obstacle in Muller Paz's path to victory is party affiliation in the district. Democrats in District 12 make up about 81 percent of registered voters, and she'll need to convince a large chunk of voters to reject their party's nominee, Councilman Robert Stokes Sr. 
In the past three presidential General Elections, district voters cast a median of roughly 13,000 votes. If turnout is in that ballpark, and the makeup of the electorate reflects party affiliation in the district, about 10,500 Democrats will cast ballots in District 12.  
In that scenario, Muller Paz—assuming she overwhelmingly wins the 15 percent of voters in the district registered as unaffiliated, or with a third-party—will need to pull more than 5,000 votes from Democrats to earn a majority. That number drops if Republican candidate Eugene Boikai overperforms, opening the potential to win with a plurality of votes.   
Green Party officials say there's too many variables to project precisely how many Democratic voters they'll need to convert to win, but agree Muller Paz will need to earn "thousands" of Democratic votes to emerge victorious. That's still a tall order considering Ian Schlakman, the Green Party's candidate for City Council in District 12 four years ago, received 1,827 total votes.  
City operatives and activists familiar with the district all doubt Muller Paz has a path to victory. That's predicated on the expectation that Democrats will back the party nominee.  
They're also skeptical the district's majority Black voters will support a Latina candidate, especially when she's running against a Black incumbent. Politicos skeptical of Muller Paz's electability cite the results of the 2011 Democratic primary.  In that race, Ramos, who is of Puerto Rican heritage, ran a serious campaign, but only earned about 23 percent of the vote. She lost to then Councilman Carl Stokes, no relation to Robert Stokes Sr., who carried the day earning nearly 50 percent of ballots in the crowded field. 
Conventional wisdom is that once Carl Stokes decided at the last moment against running for mayor, Ramos' bid was doomed regardless. Nonetheless, her heritage, various politicos say, served as a liability in the contest. They expect a similar dynamic to play out in 2020.    
Mueller Paz's campaign, however, does have some advantages.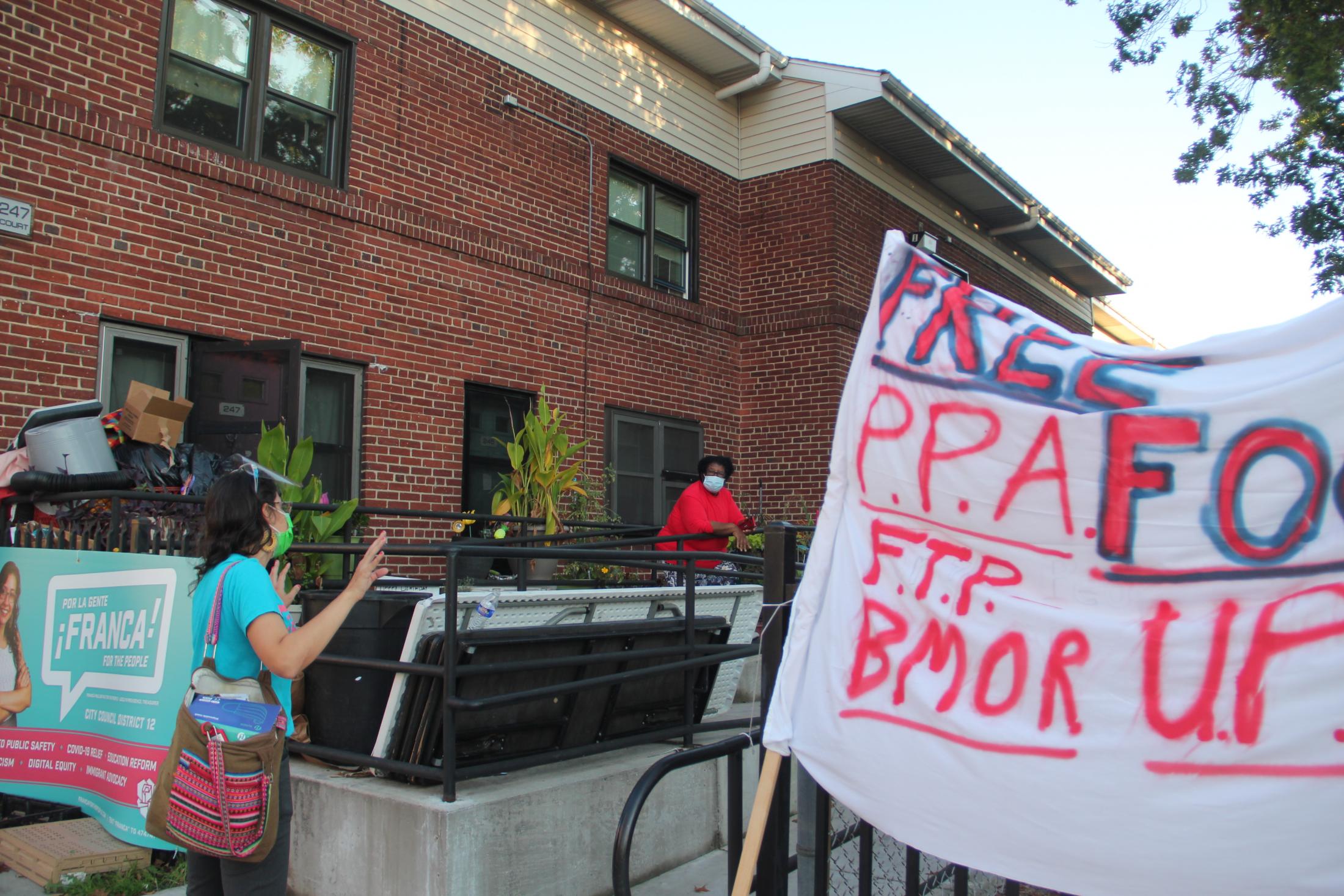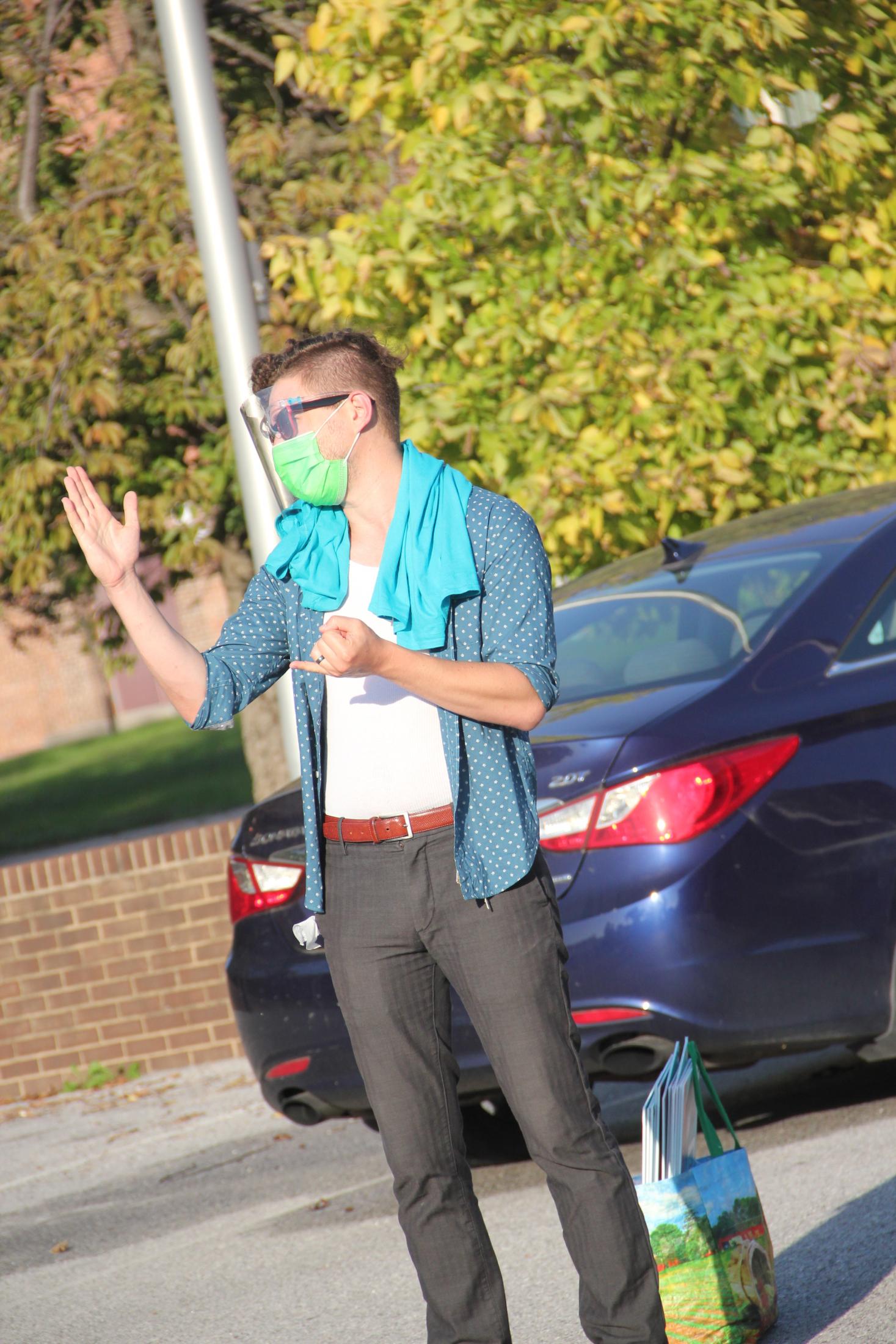 Arguably, its biggest leg up stems from a dramatic shift in the Green Party's election strategy, which provides her candidacy with resources previous party efforts lacked.
Following the 2018 election cycle, when the local Green Party failed to win a single race after fielding its broadest slate of candidates ever, party loyalists decided to go a new route. 
Baltimore Green Party co-chairman Owen Silverman Andrews says watching third-party candidates in Philadelphia, Minnesota, and Seattle win races in recent years sold the party on the strategy that worked in those cities. That blueprint calls for pumping all of the party's resources into a single contest. It's what Silverman Andrews calls going, "narrow and deep." 
By focusing its efforts into Muller Paz's campaign, the Green Party provides her with an unprecedented level of organization and fundraising support. Bolstered by the party's ability to tap into a national network, Muller Paz's campaign has raised more than $100,000 from 1,400 donors since July. 
"We've funneled it all into one City Council race, and given that we're a smaller party than the two corporate-funded parties, we have to be strategic in how we deploy our resources," Silverman Andrews says.
By comparison, Robert Stokes Sr., who did not return multiple phone calls seeking comment on this story, has essentially eschewed electioneering. 
The few pieces of campaign material featuring the incumbent's name, such as signs or mailers, have come from City Council President Brandon Scott's mayoral campaign. His most recent campaign finance filings reported the campaign raised $0 ahead of the general election.
At the same time, the incumbent has dealt with a personal tragedy that would understandably make campaigning difficult. His older brother, former Councilman Edwin Johnson, died in September. Johnson gave Robert Stokes Sr. his start in politics when he hired his brother as a campaign coordinator in 1984. 
While the incumbent's lack of campaigning seems a curious choice at first, and would seem to portend an upset this fall, there's a rationale behind the decision. It's a strategy often used by candidates with a substantial edge in factors like voter registration. Actively campaigning in those scenarios, the reasoning goes, only helps the challenger by drawing attention to the fact there's an alternative in the race. 
Another edge for team Muller Paz is their candidate has proven to be an energetic, if raw, retail campaigner who's leveraged relationships she's built in the community as a teacher at City College, and through her involvement with the teachers union.
By comparison, her opponent has not proved himself a particularly dynamic campaigner. That's reflected in the fact Robert Stokes Sr. won both his primary races by a combined 576 votes despite being raised in the district, attending Paul Laurence Dunbar High School—which boasts a powerful alumni network—and having worked in East Baltimore politics since before Muller Paz was born.      
All of this is making some of Robert Stokes Sr.'s allies uneasy.   
During a recent appearance on WEAA's "Real Questions with David Brown," Carl Stokes said he was aggravated at the number of his fellow Democrats supporting Muller Paz. 
He called that support for his successor's challenger, along with organizations that generally support Democrats, such as the AFL-CIO, The Sierra Club, and Clean Water Action, "politricks." 
"I think the present council person is being targeted…as a test to see if, and… I'm really measuring my words, because I do want to invoke race," Carl Stokes said. "His challenger, I guess by some, could be called brown, but in truth is white, and it is the white portion of the 12th District that is supportive of this candidate."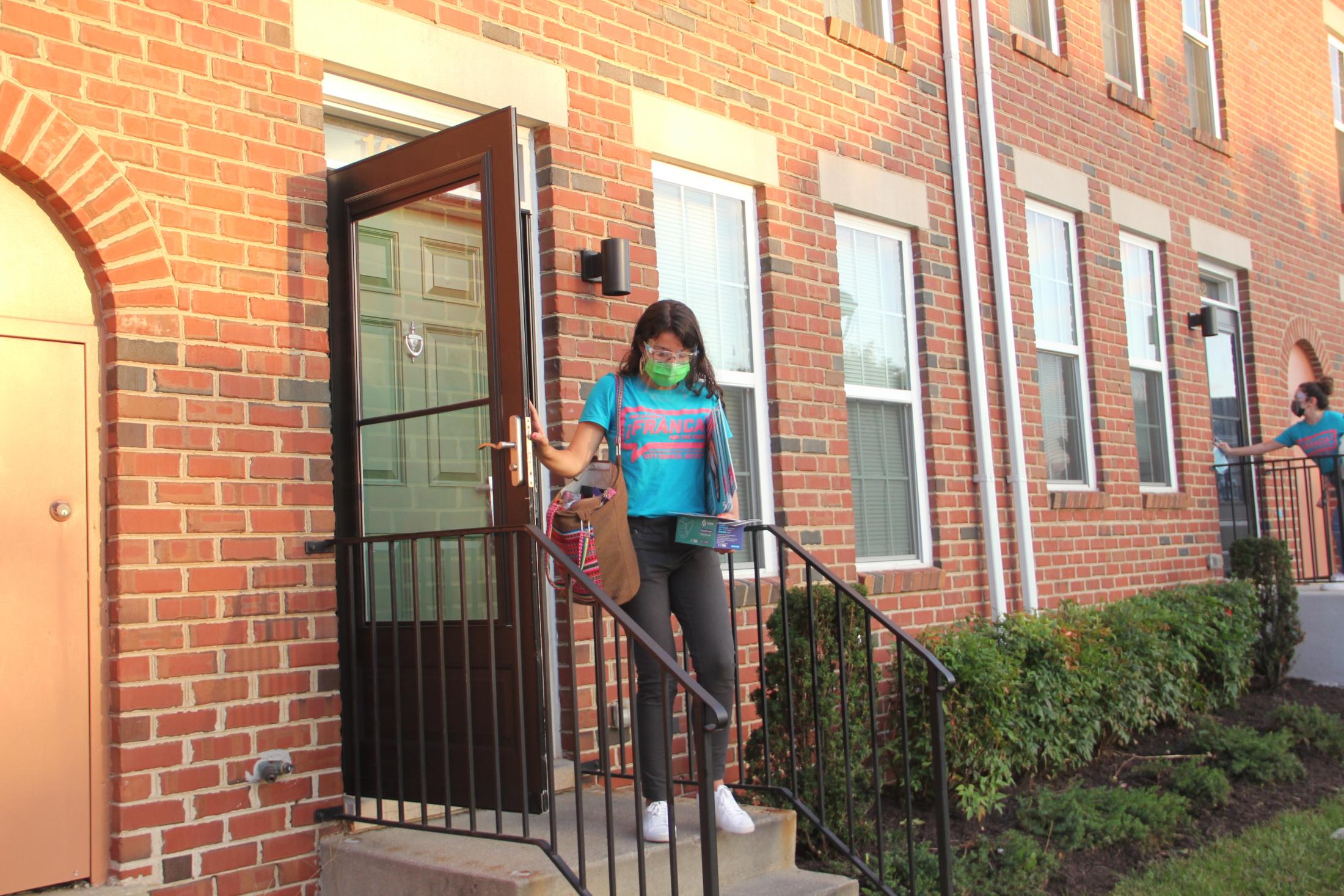 During a recent interview, Muller Paz, who was born in Perù and whose family moved to the U.S. when she was a child, steered away from directly addressing the role of race and identity in the campaign.
The residents she speaks with while canvassing, Muller Paz says, routinely express the same concerns. The most common anxieties all voters share with her, she says, can be divided into two "buckets." At the top of the list are intertwined issues of crime and youth investment. The second bucket, she says, consists of frustrations about lack of constituent services, such as trash collection. 
If elected, Muller Paz says she will help to address those issues by supporting a $15 minimum wage, backing increased funding for schools and recreation centers, and pledging to adopt a constituent services model like the one used by Councilman Zeke Cohen in neighboring District 1.    
But those are all concerns for after the election. For now, Muller Paz, the Baltimore Green Party, campaign staff, and volunteers must stay focused on winning the election. 
While one city political operative said it would take "a miracle" for Muller Paz to win, the candidate, party activists, and volunteers alike are more optimistic, and give her a puncher's chance to flip the deep blue district green.  
A drive around the district, which stretches from lower Charles Village to Upper Fells Point, shows why there's growing optimism in Muller Paz's campaign, and provides reason to believe a victory will take slightly less than divine intervention. 
Her distinctive turquoise signs—featuring the candidate's smiling bespectacled face and "¡FRANCA!" in white letters—are ubiquitous in the district, hanging on doors, windows, and yards rather than jammed on light posts, in median strips, or slapped on vacant buildings. 
But signs are not votes, and a Muller Paz win would rank among the greatest underdog stories in the long, if not august, annals of Baltimore political history. 
As the campaign heads to a close, there's more uncertainty than certainty. But one thing the candidate does know for certain, if she loses, it won't be for a lack of hustle. 
"I feel like I can say we put everything on the table," she says. "Everyone that has worked on this campaign has done it with their whole heart."