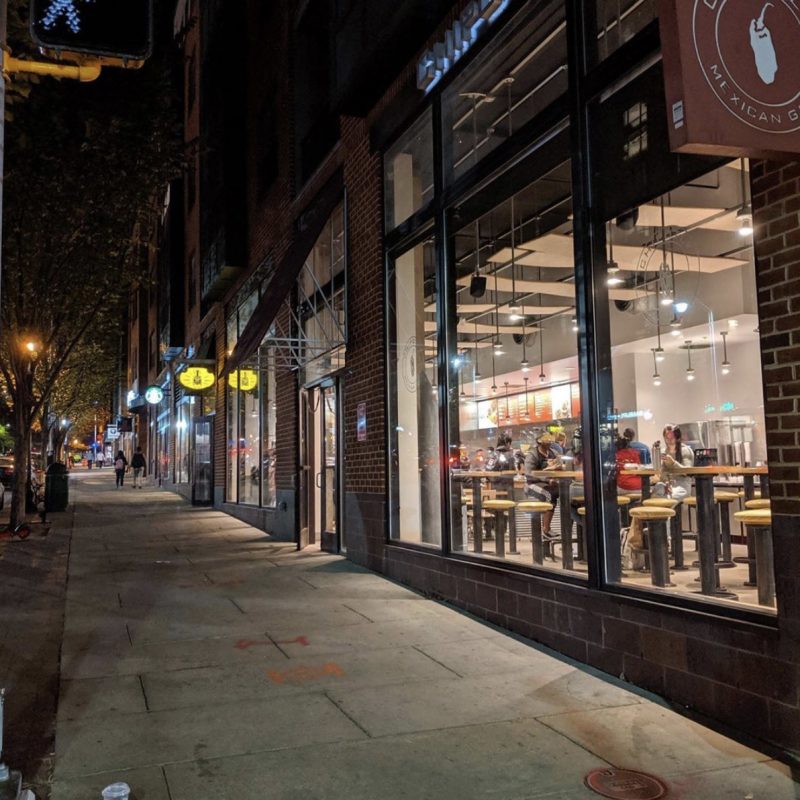 @charlesvillagelife via Instagram
There is a bit of a grand irony to the streetscape project that has been going on in Charles Village and the area surrounding—and facilitated by—the Johns Hopkins University campus for much of this year. The construction, when finished, is meant to draw more people to the area, provide more parking, streamline car traffic, and improve visibility and walkability for patrons.
But if you talk to local business owners, there might not be much for these patrons to see by the time the initiative is finished in December.
"If all the small businesses go out of business, box chains are going to go in, rent will go up, and there will be no local flavor and nothing interesting in Charles Village," says Sara Autrey, whose shop Get Shredded Vintage on St. Paul Street was one of the many businesses affected by fencing, loud jackhammers, and concrete dust flying at all hours of the day. "You can invest as much money as you want into a streetscape, but if the businesses that are the attraction to come don't survive, it's a big waste of money."
It's a sentiment that Autrey says is shared among her neighbors on all sides—for a large part of the summer, there was fencing in much of the area surrounding St. Paul and 33rd Streets. This was both an inhibitor for normal customers, as well as a deterrent for foot traffic.
In a neighborhood that also saw a number of restaurant closures—including Ledo Pizza, Pizza Studio, longtime sushi spot Niwana Restaurant, and Fells Point spinoff Red Star Charles Village—within the past year, the impact of construction has loomed large.
"We're all despondent," Autrey says. "It's very hard to hold onto business when nobody's coming and you're having to work three times as hard."
Another business that felt the impact was Carma's Cafe, located just down the street from Get Shredded, which typically triples its seating with outdoor tables during the summer. A gourmet hot dog cafe extension called Carma's Doghouse closed midway through the summer when owner Carma Halterman said it stopped making sense to sell to a nearly empty streetscape.
"Cement dust wafting across your gazpacho is not appetizing," Halterman says. "It was so loud that customers couldn't have conversations. They physically worked on my corner for a long time."
Though this construction was not a secret (plans and meetings were held and made public beforehand), some of the work went on longer than planned this summer, adding additional strain.
While the worst is behind them, Autrey and Halterman fear the damage might already be done. "I'm looking at the culture of Charles Village and what will be left when construction is done," Halterman says. "I'm not sure I'm gonna be left when it's done."
Halterman does see some silver linings in the construction plans. Namely, she's pleased that there will be more street lighting at night around Charles Village that will encourage people to stay in the area longer.
For his part, Eddie's Market of Charles Village owner Jerry Gordon feels that these types of growing pains are just something to adapt to. He acknowledges that his business was hit hard, as well, but sees the project as a net positive for the community at large.
"It's going to be a very attractive area," Gordon says. "I'm looking forward to the future where people are going to say, 'Let's go down to Charles Village and hang out.'"