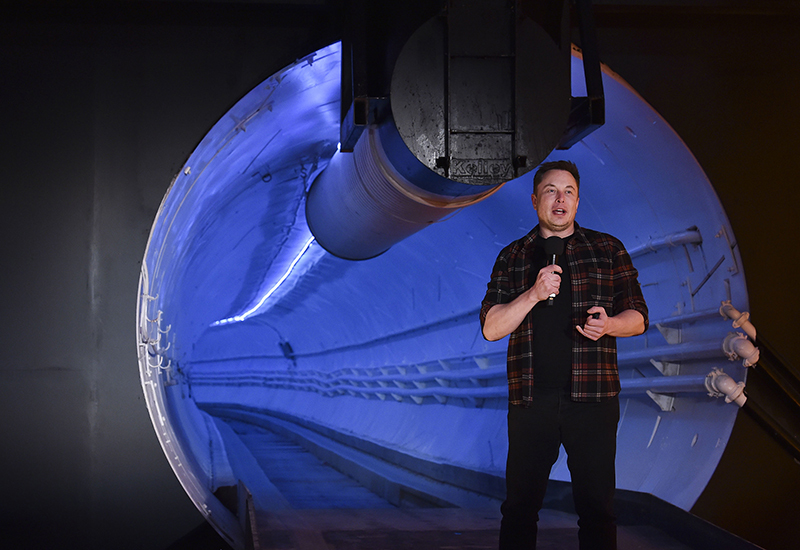 Robyn Beck/Associated Press
The proposed loop put forth by Elon Musk and his Boring Company would oversee the building of two 35-mile tunnels connecting Baltimore and Washington, D.C. and make the commute time between the two cities 15 minutes. Sure, on paper, that sounds exciting. But given rising concerns related to climate change and a Baltimore transit system that needs and has the mechanisms for improvement, it might not be the solution for right now.
"The idea of us spending billions of dollars on some rich guy's vanity project when people are in desperate need of mobility options right now, and we have those options and don't have to invent them—that is just the height of irresponsibility," says Del. Robbyn Lewis, who represents District 46 in Baltimore City. "Preparing for climate change means building mass transit that works."
While Musk's idea is big and bold and would serve a purpose in theory, many across the city are worried that it fails to address what they see as its actual needs, essentially putting the cart before the horse. "People in the greater Baltimore region need affordable, reliable, and efficient access to jobs," says Brian O'Malley, president and CEO of the Central Maryland Transportation Alliance. "We can't chase a shiny object and neglect that. We would be wiser to say, 'What are we trying to accomplish and how much do each of these cost? What is being asked of us, and what do we get in return?' And then choose the combination that gives us the best deal."
As for opponents who say the loop is "fixing" a problem that doesn't exist considering the already effective MARC Train service, an assessment on the project zeroes in on the potential speed and convenience it could bring: "As an all-electric transportation system, the Project would provide a high-speed, zero-emissions transportation option connecting Washington, D.C. and Baltimore."
But Lewis, a staunch opponent of the project, calls the loop "a waste of time, money, and mental energy." She echoes O'Malley's sentiments, emphasizing the need to focus on "the basics," which means expanding existing rail systems and the city's mass transit system as a whole. There is also the immediate concern over the environment, and as worry and imminent danger grows, one of the extensive changes being proposed is an investment in infrastructure: removing cars off the road in an effort to reduce pollution and carbon emissions.
With Musk's proposal, too, there are also major concerns that extend into its logistics from cost to construction to anticipating potential problems that could arise on a day-to-day basis. In total, the project has been met with more than its fair share of skepticism and even ridicule—something that sounds like a fun thought when said aloud, but loses steam when all the different variables are considered. "What if there is a slight misalignment in the tubes?" wonders Samuel Jordan, president of the Baltimore Transit Equity Coalition. "What happens with an accident? What happens when [the skin on] the tube itself is punctured?"
Jordan is also concerned with what this proposal and those like it say about the focus of those in charge of policy. That these are the types of projects being given credence, he says, shines a light on exactly whose interests are being prioritized. "We're looking at a system that is actually going to promote more income inequality and aggravation that it already has caused," he says. "With respect to transit equity, this is a system that continues to express the annuities in the transit system we already have. We need a transit system to get people to work and other places where they need to go."
But it's these same city leaders and those who share their views that are working toward other solutions. The Central Maryland Regional Transit Plan, led by MDOT MTA, is striving to define what is says is a "25-year vision of mobility . . . [defining] public transportation goals for Central Maryland." This includes increased funding, access points from one area to another, reliability, and other areas that would create a convenient and improved transit system across the area. As Lewis says, oftentimes the best solution is to look inward before looking outward.
"We need to use the infrastructure we already have and improve on it," she says. "And then we can worry about a moonshot."