Ron Cassie
Several state delegates and a group of Italian-American activists demanded Baltimore Mayor Bernard C. "Jack" Young and Gov. Larry Hogan protect the city's statues and monuments erected to honor Christopher Columbus at a press conference Friday in Harbor East.
Last week, an anti-racist protest group known as Baltimore Bloc took to Twitter to publicly warn Young that activists planned to remove the city's Columbus monuments if he did not.
Baltimore has three monuments dedicated to Columbus. One currently sits in a fenced construction area at Druid Hill Park. A second monument in northeast Baltimore's Herring Run—believed to be the first erected to the Genoa-born explorer in the U.S.—was severely damaged as an act of protest three years ago. And the most prominent city monument to Columbus is the massive marble statue in Harbor East, which was formally unveiled by President Ronald Reagan and then-Mayor William Donald Schaefer in 1984 and dedicated with the inscription to the "Discoverer of America."
"The decision to take down statutes on public lands must be made by the public through a thoughtful process," said Republican Del. Kathy Szeliga, who represents Baltimore and Harford counties and served as one of the organizers of the press conference. "Vigilante groups cannot be permitted to pick and choose what stays and what goes. Any removal of public statues on public lands requires a public process with public input. Until this process can be established, we are asking the Governor and the Mayor to protect these statues and monuments from vandalism, destruction, and removal."
State Del. Nino Mangione, a Republican from Baltimore County, had a more succinct message for anti-Columbus activists: "If you don't like or appreciate Christopher Columbus, don't visit this statue. Stay the hell away from it."
Mangione said that if "the Mayor does not do his job [protecting the statue], the Governor should immediately step in with the National Guard." In the meantime, Mangione said, 24-hour private surveillance would begin.
"Italian Americans have rights, too," he said. "We do not scream the loudest and we do not complain the most, but we still have rights."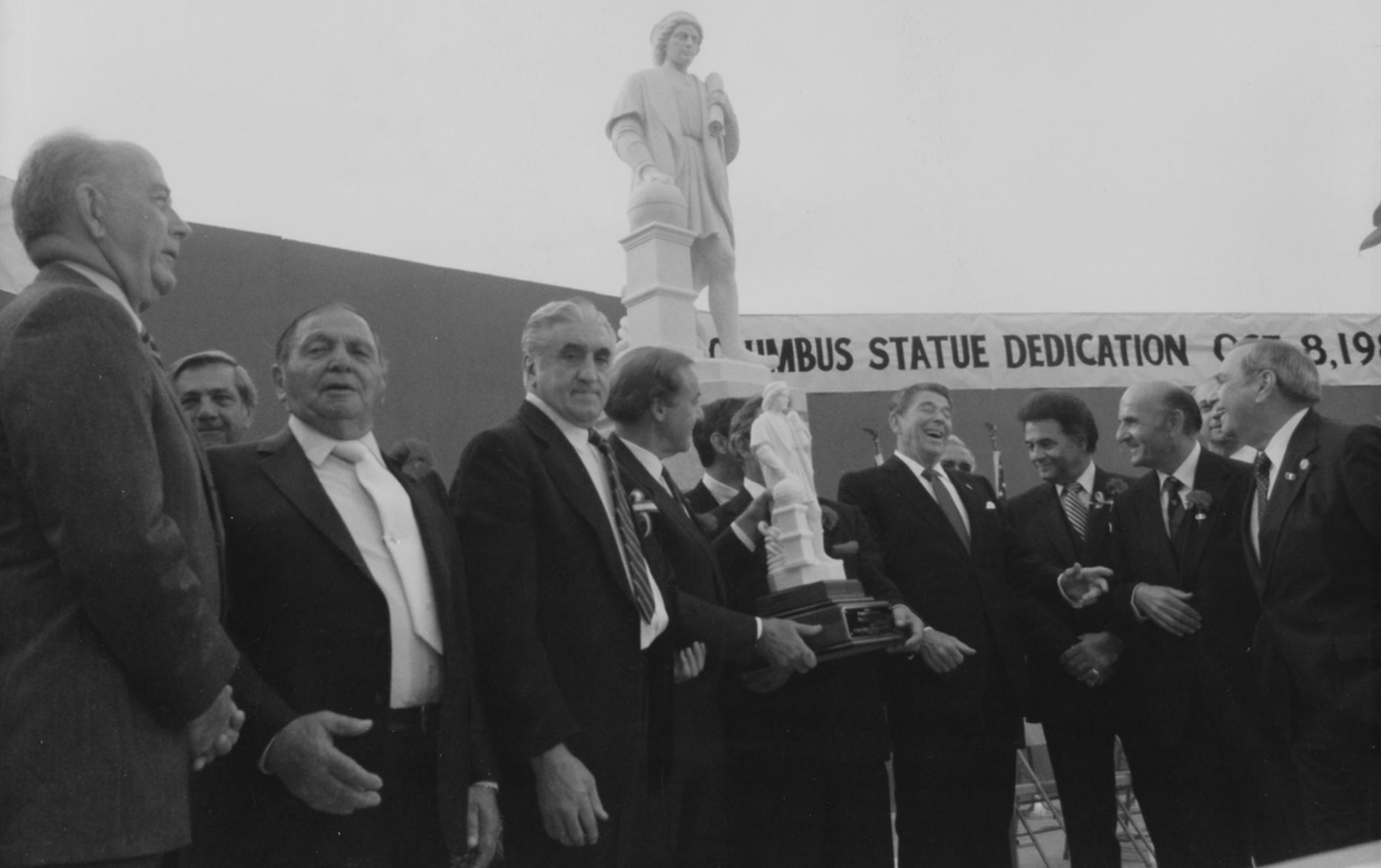 Also on hand supporting the call to protect the city's Columbus statues were Republican state Sen. Johnny Ray Salling, former Baltimore County Republican delegate Pat McDonough, and former Baltimore City Democratic state Sen. John Pica Jr.—who serves as event chairman of Little Italy's annual Columbus Day commemoration.
The warning from anti-racist protestors to Mayor Young about pulling down the city's monuments to Columbus comes as more activists—as well as cities, states, and institutions—are pulling down statues of both Columbus and Confederate generals. On the heels of the Charlottesville, Virginia tragedy—in which a protestor was killed by a white supremacist who drove his car into a crowd—then-Mayor Catherine Pugh ordered the removal of Baltimore's four Confederate statues, without any advanced notice, to diffuse any potential conflicts between anti-racist activists, white supremacists, and the city police.
A recent change.org petition was started to replace a statue of Columbus in Cleveland's Little Italy neighborhood with one honoring Ettore Boiardi, also known as "Chef Boyardee," who immigrated to the United States in 1914 and opened his first restaurant in Cleveland.
The mayor of Columbus, Ohio, once again under pressure from protesters, has announced the city's most prominent statue of Christopher Columbus would be taken down "as soon as possible."
In Saint Paul, Minnesota, demonstrators brought down a Columbus statue that stood in front of the state capitol. In Richmond, Virginia, protesters toppled a Columbus statue in Byrd Park that had been dedicated in 1927, and then set it on fire and threw it into a nearby lake. In Boston, a marble statue of the explorer and colonizer was beheaded. In Chicago this summer, protestors defaced two statues of Columbus and have faced off with Italian Americans determined to protect the monuments, which they say represent their ethnic pride.
Last week, City Councilman Ryan Dorsey introduced a bill that would rededicate the Columbus obelisk at Herring Run to the victims of police brutality.
"You do not heal racial wounds and injustices by targeting another historic minority," Mangione said. "The statues honoring Christopher Columbus do so much more than honor one man. They recognize the thousands of Italian-Americans and their contributions to this city, our state, and this nation. You cannot use discrimination and prejudice to fight discrimination and prejudice."
Columbus's legacy has become more troubled in recent decades as the brutal treatment of the Native Americans he and his men encountered in the Caribbean islands and Central America—including mass slaughter, enslavement, and child rape—has become better and more widely understood. Columbus's record as a tyrant also includes forcing indigenous people to mine for gold. For Native Americans, Columbus's arrival highlights the beginning of a centuries-long genocide. For many African Americans, the enslavement of Native Americans, including the 1,500 people Columbus bonded and sent to Spain for sale—presages the start of the Transatlantic slave trade.
Popular myths about Columbus and the nature of his voyages, long taught in U.S. schools, have been increasingly exposed by scholars and presented in the media, changing public perception of him. Columbus did not, for example, prove the "flat Earth" theory wrong. Nor was Columbus the first European to sail to the continent, as Scandinavians sailors had done so centuries earlier. Those beliefs and others took hold in the U.S. only after writer Washington Irving popularized an "Americanized" Columbus in a best-selling fictionalized historical biography in 1828.
Baltimore's annual October Columbus Day Commemoration and Italian Heritage Festival and parade, approaching 130 years, is also believed to be the longest-running commemoration in the country to honor Columbus in the U.S.
Pica, the former state Senator joining the call for protecting the Columbus monuments, acknowledged the statue likely will be removed at some future date, if not by activists, by the next mayoral administration and city council. But he doesn't want to see it vandalized or destroyed.
He noted that City Council President Brandon Scott, who won the recent Democratic mayoral primary, introduced a bill in 2016 that would've renamed Columbus Day in the city to Indigenous Peoples Day. The intention of the bill, Scott said, was "to honor the many peoples inhabiting North America before its colonization by European settlers."
"We shouldn't celebrate terrorists," Scott said of the bill at the time. "That's what celebrating Christopher Columbus does. Very rarely do we have a chance to correct the wrongs of history. This is about Christopher Columbus. This is not anything against Italian-Americans."
Referencing Dorsey's recent bill to rededicate the Columbus obelisk to the victims of police brutality and Scott's earlier holiday renaming legislation, Pica said, "We are going to celebrate Columbus Day no matter what."