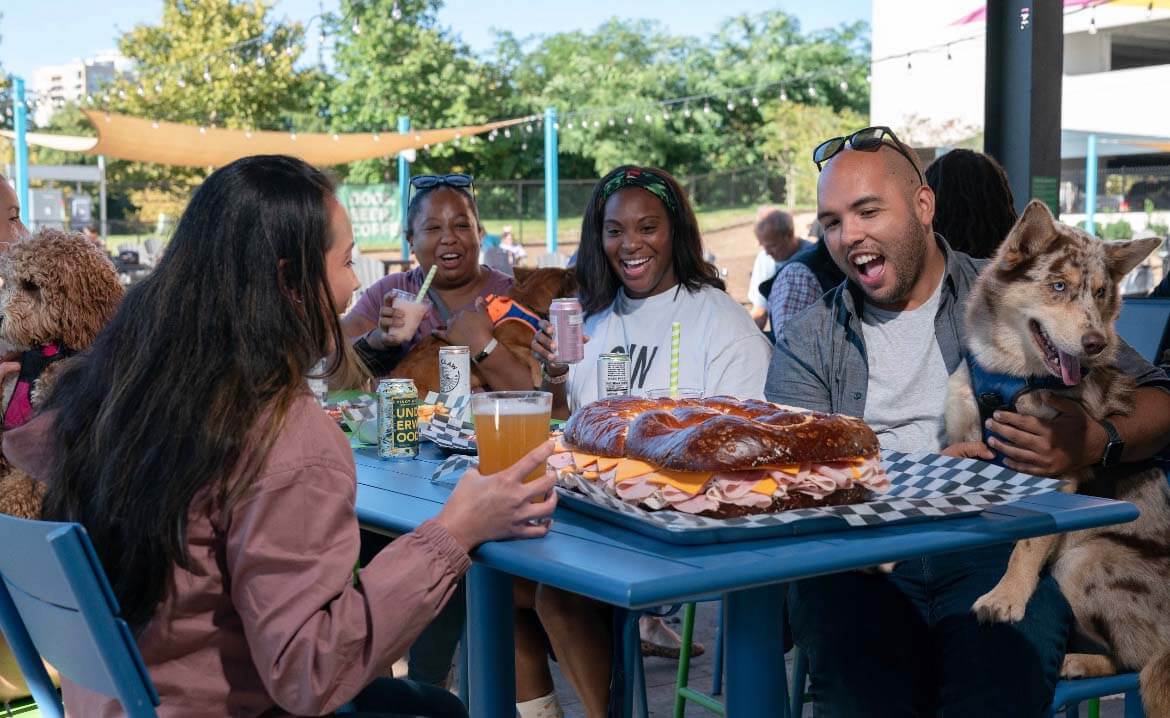 —Courtesy of Bark Social
Leaves emerging, flowers blooming, and days getting warmer means it's almost time for Earth Day. April 22 marks the celebration of the modern environmental movement, which started in 1970. Arguably, the best way to spend the holiday is by doing something good for the planet.
If you want to get a head start on the Earth Day celebrations, a park clean up might just be the way to go. Local initiative Everyday is Earth Day is partnering with Bark Social to host a clean up of Patterson Park, powered by the Parks and People Foundation, on Saturday, April 16 from 1:30-3:30 p.m. 
Bark Social is a social club for dogs and their owners, with a location currently open in Bethesda. A Baltimore spinoff is set to open in Canton on May 6, just in time for summer. Owner Luke Silverman wanted to create a space where both dogs and dog owners can enjoy themselves.
Everyday is Earth Day Clean Up is an initiative founded by Dan Brover. The group organizes clean ups around the city on a bi-monthly basis, often partnering with local businesses to get the community together to pick up trash.
"Initially, it was only going to be once a year," Brover says. "But then everybody just kept coming up to us asking, 'Hey, when are you doing this again?'"
According to Brover, usually 40 to 50 community members come together to help pick up trash. They collect anywhere from 100 to 1,000 pounds of debris at each event.
"We have our regulars who are always there, but we always have new people who show up, especially families and young kids," Brover says. "We see people who really love the community aspect of it and making their city a little cleaner, while supporting small businesses along the way."
The partnership with Bark Social was a perfect fit for both groups. Silverman finds it important to work with local organizations and get involved in the community. At the Bethesda hangout, the team has worked with local organizations, which Silverman says they want to start doing in Baltimore, as well. It also allows the dogs to get involved. As Silverman puts it, bringing the two groups together multiplies the effect on the community.
"It's not like you have multiple opportunities to replace Earth," he says. "I think everyone has to be environmentally conscious and focused on their behavior. I think it just comes down to civility, so if you see trash pick it up."
Brover's first memories of Earth Day date back to when he was in elementary school. Throughout the years, he's seen his local watersheds negatively impacted by climate change and pollution, which inspired him to get more involved.
"To me, Earth Day is a hope for the future," he says. "Twenty years ago, no one was doing clean ups, and now you have them everywhere."
Those wanting to participate can show up at Patterson Park at 1:30 p.m. on April 16—no need to sign up in advance. Refreshments will be served for both humans and their pups.
Bark Social has also launched their own subscription box, the first of its kind made for both humans and dogs. This month's box is Earth Day themed, and comes with dog treats, Parisian carrot seeds, and more. You can order one, here.
And if you're looking for other opportunities to get involved for Earth Day, check out some of these Baltimore organizations hosting events:
4/22: Earth Day Plant & Sip Workshop
Hotel Revival in Mt. Vernon is hosting a workshop in their lush Garden Room to teach you how to properly take care of your houseplants. Canned cocktails will also be served at a cash bar. A ticket includes a terra pot, choice of prayer plants, pathos, or snake plants, and instructions on plant care. Tickets are $30 and can be purchased here.
4/23: Whose Earth (Day)? A Day of Reckoning, Celebration, and Digging in the Dirt
The Ivy Bookshop, Vital Matters, and the youth-led environmental group Baltimore Beyond Plastic, have all come together to host this outdoor event, starting at noon. The get-together features workshops such as reusable bag decorating, readings by members of the community, and a discussion of Harriet Washington's book, A Terrible Thing to Waste: Environmental Racism and its Assault on the American Mind. The event is open to the public, tickets are free and can be reserved here.
4/23: Soul'D Out Saturday: Earth Day
CityFam is partnering with So What Else and the Westport CEDC to celebrate Earth Day this year. They will be planting trees in Westport on Annapolis Road and working in the community garden in Mt. Winans. The event will be held from 9 a.m. to noon and you can register here.
4/24: Earth Day Weekend: Stream Clean Up at Arbutus Middle School
Join the students of Arbutus Middle School and Patapsco Heritage Greenway to help clean up the Herbert Run and the surrounding areas of the school. From 10 a.m. to noon, volunteers will be picking up litter and removing invasive plants from the area. Everyone who wishes to volunteer must register here.
4/24: Earth Day on the Farm
The Center for Maryland Agriculture and Farm Park invites you and the whole family to the farm to celebrate Earth Day. Get ready for a fun-filled day including hayrides, touching a tractor, and listening to live music, performed by Baltimore Irish rock bands. No registration is required for this free event.