U.S. Rep. Elijah Cummings, chairman of the House Oversight Committee and a powerful advocate for civil rights and Baltimore, died early Thursday at 68. According to his office, the 12-term Maryland congressman passed away at Gilchrist Hospice Care, a Johns Hopkins affiliate, due to complications concerning longstanding health challenges. Cummings had not gone back to work this week as Congress returned to Capitol Hill.
Over the past year, since the Democrats retook the House of Representatives following the 2018 midterm elections, Cummings had served a key and high-profile role as the myriad of Congressional investigations into President Donald Trump and his administration have unfolded.
Speaker of the House Nancy Pelosi, also a Baltimore native, said of Cummings' unexpected death that "the people of Baltimore, the U.S. Congress, and America have lost a voice of unsurpassed moral clarity and truth." She described herself as "personally devastated."
"In the House, Elijah was our North Star," Pelosi said. "He was a leader of towering character and integrity, whose stirring voice and steadfast values pushed the Congress and country to rise always to a higher purpose."
"He worked until his last breath because he believed our democracy was the highest and best expression of our collective humanity and that our nation's diversity was our promise, not our problem," said Maya Rockeymore Cummings, the congressman's wife and chair of the Maryland Democratic Party, in a statement.
Cummings, whose district includes parts of Baltimore City, as well as Baltimore and Howard counties, had—along with the city itself—become a target for President Trump's vitriol earlier this summer. Cummings addressed Trump directly, describing his work ethic and mission as an elected official.
"Mr. President, I go home to my district daily," Cummings wrote. "Each morning, I wake up, and I go and fight for my neighbors. It is my constitutional duty to conduct oversight of the executive branch. But, it is my moral duty to fight for my constituents."
My heart is heavy with a flood of tears waking up to the news my friend @RepCummings has died! Rest in peace my friend. May God be with your wife, your family, friends & the City of Baltimore who mourns your loss. May the Nation & the world remember your heat & your fight.

— AprilDRyan (@AprilDRyan) October 17, 2019
In 2015, after the uprising and riot in Baltimore following the death of Freddie Gray while in police custody, Cummings was in the streets day and night, playing a key role in diffusing tensions between protestors and police during the week of subsequent curfews.
"With the passing of U.S. Rep. Elijah Cummings, the city of Baltimore, our country, and people throughout the world have lost a powerful voice and one of the strongest and most gifted crusaders for social justice," Baltimore Mayor Bernard C. "Jack" Young said in a statement Thursday morning. "Rep. Cummings, the son of sharecroppers whose ancestors were slaves, wasn't afraid to use his considerable intellect, booming voice, and poetic oratory to speak out against brutal dictators bent on oppression, unscrupulous business executives who took advantage of unsuspecting customers, or even a U.S. President. He was, put simply, a man of God who never forgot his duty to fight for the rights and dignity of the marginalized and often forgotten."
Cummings first rose to national prominence five years ago, after Rep. Darrell Issa, then the Republican chairman of the House Oversight Committee, cut off Cummings' microphone during a key hearing. As Baltimoreans already knew and the country soon learned, Cummings remained a man who wore his heart on his sleeve.
"It's not just my voice that was being shut down," Cummings said at the time, maintaining his composure while passionately trying to make his case. "Remember what I said: 'I represent, we represent, over 700,000 people.' What about our voice? 'Shut it down [Issa said].' That's not the Democratic way."
Raised with six brothers and sisters in South Baltimore's historically black Sharp-Leadenhall neighborhood, Cummings attended a segregated elementary school and was among the first children to integrate the Riverside Park swimming pool in the summer of 1962. The son of former South Carolina sharecroppers, Cummings was elected to the Maryland House of Delegates in 1982—still on the heels of the civil rights movement and several years before Kurt Schmoke was became the first elected black mayor of Baltimore.
"Of the many things I learned from my father—and neither he nor my mother completed elementary school because they went to work in the fields—was to treat everyone with equal respect and not to speak or act out of anger," Cummings told us in a 2014 Baltimore profile. "Because when you do, the person only hears your tone, they don't get the message.
"And," Cummings added, tapping a finger to the table for emphasis, "you'll lose sight of the bigger picture. You'll get so caught up in who you are fighting, you'll forget what you are fighting for—and it's the 'what' that is important."
University of Maryland Carey School of Law professor Larry Gibson, Schmoke's former campaign manager, noted in the same story that Cummings' rise in congressional stature followed in the footsteps of a number of local African-American leaders who made significant contributions to the city, state, and country. "… look at who held that congressional seat before him—Parren Mitchell and Kweisi Mfume. All became powerhouses in Congress."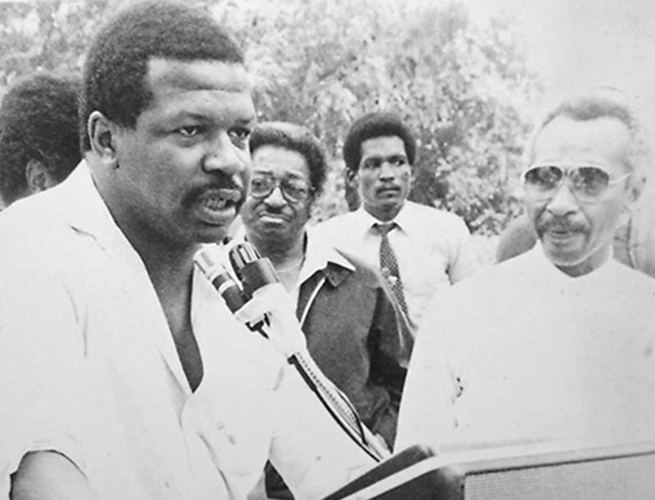 Governor Larry Hogan described Cummings as "a fierce advocate for civil rights and for Maryland for more than three decades."
"Congressman Cummings leaves behind an incredible legacy of fighting for Baltimore City and working to improve people's lives," Hogan said in a statement. "He was a passionate and dedicated public servant whose countless contributions made our state and our country better."
Cummings was born on January 18, 1951 and was a distinguished student at City College High School, where he graduated in 1969. At Howard University, he majored in political science, served as class president, and became a member of the Phi Beta Kappa Society.
He graduated from the University of Maryland School of Law in 1976 and practiced law before succeeding Lena Lee in the state House of Delegates. He often said her encouragement and support was crucial in launching his political career. In the General Assembly, where he served for 14 years, Cummings became the first African American in Maryland history to be named Speaker Pro Tem.
Among other efforts, up until the time of his death, Cummings also served on the U.S. Naval Academy Board of Visitors, the Morgan State University Board of Regents, the University of Maryland School of Law Board of Advisors, and the SEED School of Maryland Board of Directors.
To fill the Cummings' seat, by law, Hogan will soon call a special primary election and a special general election will be held to fill the vacancy, according to reporting from The Baltimore Sun. Hogan's spokesman, Mike Ricci, said Thursday morning that it wasn't clear yet when the special election would take place.
Michelle and I are heartbroken over the passing of our friend, Elijah Cummings. May his example inspire more Americans to pick up the baton and carry it forward in a manner worthy of his service. pic.twitter.com/lM2rES3PNV

— Barack Obama (@BarackObama) October 17, 2019