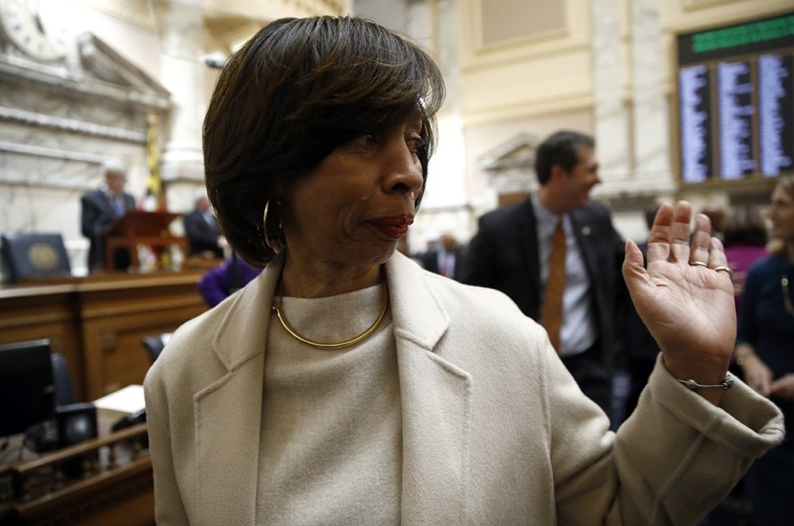 Mayor Catherine Pugh in January 2019. -AP Photo/Patrick Semansky
Former Baltimore Mayor Catherine Pugh has been charged with 11 counts of wire fraud, tax evasion, and conspiracy by federal prosecutors, who allege in a 34-page indictment released Wednesday morning that the former politician was involved in a long-running, corrupt enterprise involving sales of her self-published children's book series, Healthy Holly.
After weeks of mounting pressure, Pugh resigned her office in May 2019 following revelations first reported by The Baltimore Sun that she made hundreds of thousands of dollars from sales of her children's book to the University of Maryland Medical System, where she was a longtime board member. It's been alleged that $800,000 from book sales to a variety of nonprofits and foundations—including Kaiser Permanente and Associated Black Charities—with business, or potential business, before the city and state was funneled through her Health Holly limited liability company.
Pugh, who initially called the investigation "a witch hunt," stepped down after the FBI raided her two homes and City Hill office, and the City Council put forth a charter amendment to make it possible to remove a mayor from office.
From November 2011 to March 2019—a time period that includes when Pugh served in the state senate—federal prosecutors allege the 69-year old Baltimore politician, most notably along with legislative aid Gary Brown, Jr., "did knowingly devise" a scheme to defraud purchasers of Health Holly books. The allegations claim that Pugh used the proceeds of sales to promote her political career, fund her mayoral election campaign, and enrich herself—including buying and renovating her house, and paying down $40,000 in credit card and home equity loan debts.
Pugh is scheduled to appear for arraignment in U.S. District Court in Baltimore before U.S. District Judge Deborah K. Chasanow on Nov. 21. She is also expected to turn herself in to the U.S. Marshals prior to the afternoon hearing in federal court.
"Our elected officials must place the interests of the citizens above their own," United States Attorney Robert K. Hur said in a statement announcing the indictment. "Corrupt public employees rip off the taxpayers and undermine everyone's faith in government. The U.S. Attorney's Office and our law enforcement partners will zealously pursue those who abuse the taxpayers' trust and bring them to justice."
Guilty pleas from related investigations of Brown, Jr., and Roslyn Wedington, the executive director of a nonprofit training center where Pugh served as board chair, were also unsealed Wednesday. Brown has pleaded guilty to conspiracy to commit wire fraud, falsifying a tax return, and two counts of conspiracy to defraud the United States. Wedington has pleaded guilty to conspiracy to defraud the federal government and multiple counts of falsifying tax returns.
Central to the federal investigation, the indictment highlights, is that Pugh's self-published Healthy Holly books—generally considered amateurish—were sold to nonprofits, foundations, and others with business before the city and state. Also central to the federal investigation are allegations that Pugh "double sold" books and did not provide actual books to entities that had paid for them.
Among other tax evasion charges, federal prosecutors allege Pugh reported her taxable income in 2016 to the IRS as $31,020 when it was, in fact, more than 10 times that figure. Among the related allegations is that Pugh wrote checks to Brown "to create false business expenses for purported outside services performed for Healthy Holly." She is also charged with tax evasion in 2015.
If convicted, Pugh faces a maximum sentence of 20 years in federal prison for the wire fraud conspiracy and for each of the seven counts of wire fraud; five years in federal prison for conspiracy to defraud the United States; and five years in federal prison for each of the two counts of tax evasion. It is worth noting that actual sentences for federal crimes are typically significantly less than the maximum penalties allowed.
Here's further background: After Pugh's mayoral election, Brown was found guilty of violating election laws for using his relatives to channel illegal funds to her campaign. Nonetheless, despite questions, Pugh did not fire Brown from his City Hall position after his conviction.
Pugh launched Healthy Holly, LLC, in 2011 to publish, market, and sell children's books she authored. Since 1997, she also owned Catherine E. Pugh and Company, Inc., a marketing and public relations consulting firm. The principal address for both companies was Pugh's residence in Baltimore, according to the federal indictment, which adds that Pugh was also the sole signatory on the Healthy Holly and Pugh Company bank accounts. Pugh did not maintain a personal bank account, according to the indictment, commingling her business bank accounts for personal and business use.
Pugh, of course, became the second recent Baltimore mayor to resign following a criminal investigation. Former Mayor Sheila Dixon, who assumed office in 2007 after former Mayor Martin O'Malley was elected governor, resigned in 2010 after she was found guilty of charges she had misappropriated gift cards intended for low-income families.
Current Mayor Bernard C. "Jack" Young, the City Council president when Pugh stepped down, has assumed the mayoral duties in the interim. He also recently announced he will run for a full term in 2020.
Pugh has not appeared publicly to address questions about the scandal since her resignation, which was read in a short statement by her private lawyer Steve Silverman at a press conference at his downtown office
"In the best interest of the people and the government of the Mayor and City of Baltimore, I am writing to attest that, effective immediately, I hereby resign from the Office of Mayor, to which I was duly elected on November 8, 2016," read Pugh's resignation letter. "I am confident that I have left the City in capable hands for the duration of the term to which I was elected."