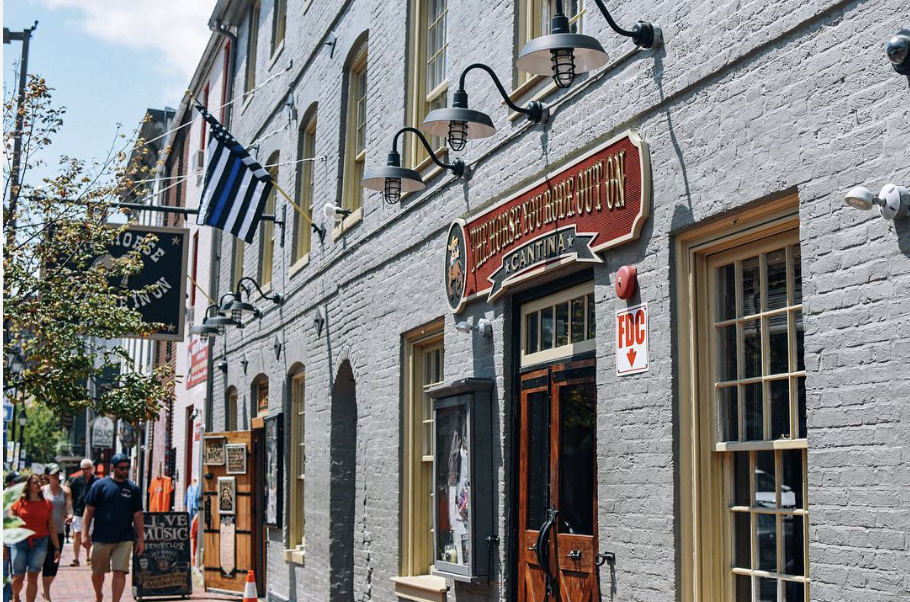 @fellspointdistrict via Instagram
The ongoing construction working to beautify Broadway Square in Fells Point might not be complete just yet, but organizers of the upcoming Fells Point Fun Festival aren't letting the work stop them from upholding the community's 51-year-old tradition.
In a classic case of turning lemons into lemonade, organizers with the Fells Point Main Street Association (FPMSA) saw the construction as a reason to downsize the event this year. And, along with the smaller footprint, comes a renewed focus on the local community.
"We knew that without the square we would lose some of the vendor space," says FPMSA president Nick Johnson, who also owns Su Casa. "We thought about how to still make it this phenomenal festival that people will love even with less vendors. And the answer was to turn it back into a real Fells Point festival, and showcase what's here every day."
The community street fair returns October 7-8, focusing in on more local bars, restaurants, artists, musicians, and small businesses than in recent history.
Johnson says that, in recent years, the festival has adopted more of a carnival feel—with offerings like inflatable prizes and eats on a stick. Now, he hopes to get back to the roots of the event—which originally started as a fundraiser to protect the waterfront neighborhood from demolition during the proposed federal highway expansion of 1966.
"If you look at it from a historical context, the festival started out as a celebration of the neighborhood so that the city would see that there was value to keeping it," he says. "This is a chance to change things up and really start to emphasize what's so phenomenal about this community day in and day out."
Unlike previous years where vendors were set up inside Broadway Square, the smaller event will be primarily held along Thames Street this year. Although the Baltimore City Department of Transportation (DOT) estimates that construction on the square will be complete by Friday, September 29, FPMSA admittedly has its doubts.
"I was in an elevator this morning with the community liaison for DOT, and she was like 'Aren't you excited the square is going to be done on Friday?'" he recalls, with a laugh. "And I was like, 'Have you been there lately?'" 
Johnson says that there is still a significant amount of bricklaying and concrete-pouring to be done, but, if anything, the association hopes that the fences around the square will be removed by next weekend so that guests can hang out in the center of the neighborhood during the festival.
Instead of organizers bringing in outside food purveyors, the eateries on Thames Street will set up booths in front of their restaurants and cafe-style seating in the street—a model which Johnson says will be similar to Annapolis' reoccurring Dinner Under the Stars program. The festival's open-container policy will once again be in effect this year (organizers got rid of the beer gardens in 2013), allowing attendees to consume alcohol anywhere on festival grounds with the purchase of a wristband.
Aside from restaurants, there has also been a boost in other Fells Point businesses that are vowing to participate this year. Among them is Amuse Toys, which will feature a tent outside, and various family-friendly activities including Smithsonian-recommended silhouette artist Tim Arnold on Saturday, October 7.
"We've participated before, but now it's kind of a reenergized participation," says Amuse owner Claudia Towles. "It's going to feel very different. It only makes sense to celebrate the neighborhood by featuring those who make it so charming. Bringing the festival back with a local focus is key to the continued success of the community."
Other highlights to look forward to include handmade wares for sale by local crafters, and a jam-packed live music lineup boasting only Maryland bands. Headliners are set to include local rocker—and Dangerously Delicious Pies owner—Rodney Henry, the bluesy Kelly Bell Band, and Annapolis-based reggae and ska favorite Bumpin Uglies.
The reinvigorated festival comes at a transformative time for the neighborhood, which recently welcomed Kevin Plank's $60 million Sagamore Pendry Hotel, and was added to Waterfront Partnership's purview earlier this month.
Johnson says that the evolution of Fells Point is something that he and longtime friend Bryan Burkert, who owns The Sound Garden, talk about often: "Whenever there is a new project announced we always joke, 'This is going to be the one that takes us to another level,'" he says with a laugh. "But this year really marks the turning point. Once the square is done, there is very little to hold us back."
Towles, too, sees the reinvigorated festival and all of the recent improvements as a larger vision for what's to come.
"It's turning the page on the focus of the neighborhood," she says. "What's new is shiny and beautiful, and certainly changes the dynamics, but it's only serving to highlight what is already here."