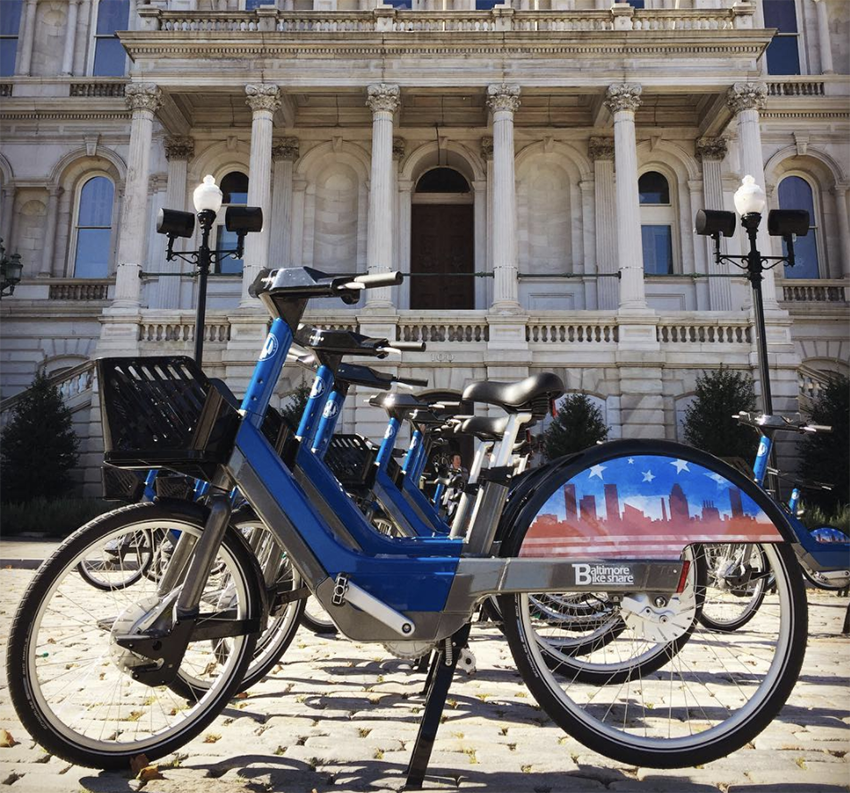 Meredith Herzing
Like Riding a Bike
After a tumultuous first year that included temporary suspension of service, Baltimore Bikeshare is expanding. According to an announcement in its most recent membership newsletter, Bikeshare will add nine locations around the city, bringing the total number of stations to 50. The new locations include two in South Baltimore, two in East Baltimore, and four in Mt. Vernon/Station North. Installation of the new locations, which will also include a new downtown station at the Charles Center metro stop, will begin December 15.
The locations are:
Charles Center
Chase Street and St. Paul Street
1200 Maryland Avenue
North Avenue and Maryland Avenue
St. Paul Street and Madison Street
Light Street and Ostend Street
Charles Street and Fort Avenue
Betty Hyatt Community Park (near Broadway and East Baltimore Street)
Perkins Homes (1400 Gough Street)  
Maryland Goes Anti Antibiotic 
Maryland farmers raising animals for consumption will have to abide by stricter criteria when administering antibiotics to a member of their flock or herd thanks to a newly enacted state law. Passed by the state legislature earlier this year, the so-called Keep Antibiotics Effective Act, prohibits dosing healthy cattle, hogs, and poultry with broad-spectrum antibiotics in order to promote growth, a common industry practice that scientists warn has contributed to the rise antibiotic resistance. Now, in order to administer an antibiotic to an animal, farmers will need the express approval of a licensed veterinarian. Furthermore, the law outright bans agricultural use of some medically precious antibiotics. In enacting the law, Maryland becomes only the second state (after California) to place limits on antibiotic usage in livestock. 
However, prominent public health officials charge that the law does not go far enough. Firstly, the law does not apply to farming operations classified as small, which, in this case, means farms selling fewer than 200 cattle or pigs, or 60,000 birds per year. Secondly, in a recent oped in The Washington Post, Ellen Silbergeld, a food systems expert at The Johns Hopkins Bloomberg School of Public Health, notes that while the bill requires veterinarian approval it does not require that veterinarian to confirm the presence "of disease in the herd or flock before animals can be treated with antibiotics." Given these parameters, she says it would be easy for a cooperative veterinarian to write an unneeded prescription based on risk factors—or the threat of disease—rather than the actual presence of disease. 
"Given the crowded conditions characteristic of factory farms, it would not be difficult for a veterinarian to conclude that every animal stands a reasonable risk of contracting a disease," she writers. "This situation is analogous to how a pediatrician might conclude that every child who attends day care should take antibiotics on a daily basis throughout childhood simply because they have an increased risk of contracting strep throat."
First Day Hikes
For those looking to start 2018 off on the right foot (so to speak), the Maryland Department of Natural Resources has posted a list of New Year's Day hikes at 32 state parks. Hike times, distances, and difficulty levels vary (but most are easy to moderate). Local options include ambles through the historic Jerusalem Mill Village section of Gunpowder Falls State Park, a 2-mile jaunt around North Point State Park, and easy excursions into both the Avalon and McKeldin areas of Patapsco Valley State Park. More information can be found on the DNR's website.   
Park Places
Earlier this month, it was announced that Baltimore City's parks received $7.6 million from the state for fiscal year 2018. The funds, which come from the Maryland Department of Natural Resources, are earmarked for 10 projects around the city's green spaces. The largest chunk of funding ($2.4 million) is allocated for the renovation/rebuilding of the Cahill Fitness and Wellness Center in Leakin Park. Other line items include $500,000 for a new artificial turf multipurpose playing field, scoreboard, lighting, fencing, and ADA-compliant pathways in Clifton Park; $300,000 for upgraded lighting, an expanded community garden, and renovated park entrances and pathways in Patterson Park; and $300,000 for improved trailhead access to the Jones Falls Trail in Druid Hill Park. The city also received $1.5 million for general activities such as "continued maintenance, planning, volunteer support, and operations." Details on the various projects can be found in the city's grant application, which is available as a PDF here.     
Hopkins Cuts Coal
The Johns Hopkins University is joining the global movement to cut financial ties with fossil fuel companies. On Friday, December 8, the university's board of trustees voted to withdraw its investment holdings in companies that produce coal for electric power as a major part of their business. The new policy also prohibits future purchases of shares in companies that earn more than 35 percent of their revenue from electricity-generating coal. Studies have shown that burning coal for electricity produces more greenhouse gas emissions per unit than any other fossil fuel. In embracing the new edict, Hopkins joins a growing list of academic institutions, state and local governments, faith-based organizations, nonprofits, and businesses that are jettisoning investments with fossil-fuel-burning energy giants. The University of Maryland announced a similar pledge last year, but its directive went even further, eliminating investment in any coal, oil, and natural gas companies.  
Turtles Rescued 
In our continuing sea turtle coverage, the National Aquarium took in a group of 30 sea turtles in November after the aquatic reptiles fell victim to cold water temperatures off the coast of Cape Cod. The turtles arrived suffering from a range of ailments, including pneumonia and blood chemical imbalances, which can arise when the water temperatures drop rapidly and the turtles become "cold stunned." Cold stunned season typically last from December through April, but a chilly New England fall caused an early onset. The group of turtles is largest ever taken in by the aquarium, which is a member of the Greater Atlantic Region Stranding Network, a network of zoos, aquariums, and conservation groups along that East Coast that respond to animals in peril. Aquarium employees had fun with their newest charges, naming each turtle after a breakfast food. Resultant names include Waffles, Bacon, Flapjack, and Benedict.