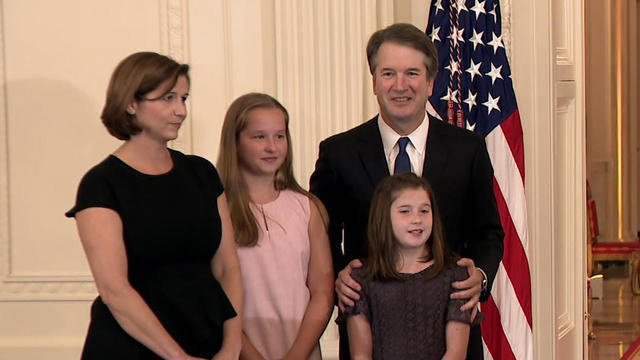 CBS News
President Donald Trump nominated judge Brett Kavanaugh to replace Supreme Court Justice Anthony Kennedy following his retirement at the end of the month. Kavanaugh, an appellate courts judge in Washington, D.C., who worked in George W. Bush's White House, will be Trump's second Supreme Court nominee since taking office.
"In keeping with President Reagan's legacy, I do not ask about a nominee's personal opinions," Trump said in the announcement. "What matters is not a judge's political views but whether they can set aside those views to do what the law and the Constitution require. I am pleased to say that I have found, without doubt, such a person."
While many may not have heard of him until yesterday, here is some background on the latest Supreme Court Justice nominee, who is a native of Bethesda:
Kavanaugh has decades of experience as a federal judge.
After graduating from Yale Law School, he was plunged into politics when he was charged with investigating President Bill Clinton's deputy counsel Vincent Foster. He also later laid the groundwork for impeaching Clinton following the president's affair with White House intern Monica Lewinsky.
In December 2000, with the presidential race between Al Gore and George W. Bush undecided, Kavanaugh joined the Republican legal team that won the fight to stop the ballot recount in Florida. He was then nominated in 2003 by President George W. Bush to the appeals court and was confirmed in 2006. Since then, he has written nearly 300 opinions and has taken stances on several Obama-era environmental regulations including efforts to limit greenhouse gases and hazardous air pollutants.
He describes his judicial philosophy as "straightforward."
Kavanaugh has said in the past that he does not believe that there is a such thing as Democratic or Republican judges. He believes that there is only one kind of judge under the constitution.
"A judge must be independent and must interpret the law, not make the law," Kavanaugh said. "A judge must interpret statutes as written. And a judge must interpret the Constitution as written, informed by history and tradition and precedent."
He portrays himself as an advocate for women.
The judge spoke at length about his wife and two daughters, even mentioning that it was his mother who first introduced him to law. These comments are particularly examined because his nomination is expected to center around his views on abortion and access to contraception.
Democrats on Capitol Hill are prepared to rally in defense of Roe v. Wade, the landmark abortion rights decision. They also fear that LGBTQ rights and same-sex marriage could be overturned by the court with Kavanaugh's nomination. But, it is unclear how soon those decisions will be made.
Kavanaugh once worked for his predecessor.
He clerked for Kennedy on the Supreme Court in the early 1990s alongside Justice Neil Gorsuch, Trump's first Supreme Court pick. Although Kavanaugh is a protégé of Kennedy, he is more conservative and may not share his views on cases regarding civil and women's rights.
His history in D.C. will provide the opposition with ammunition to deny his appointment. Last fall, Kavanaugh ruled against an immigrant teenager in federal custody who sought to terminate her pregnancy. But he did not go as far as another D.C. Circuit judge who said the teen had no constitutional right to an elective abortion.
He values family, church, and basketball.
Kavanaugh grew up in Bethesda and attended Georgetown Preparatory School, the same Jesuit high school as Gorsuch. He is an observant Catholic, regularly attending church at the Shrine of the Most Blessed Sacrament in Northwest D.C.
He met his wife, Ashley, while they were both working at the White House under President Bush. The couple has two daughters together and Kavanaugh has coached their basketball teams for the past seven years. Following President Trump's announcement, Kavanaugh event cracked a joke about Duke's men basketball coach Mike Kryzyzewski.
"I have two spirited daughters," he said. "Margaret loves sports and she loves to read. Liza loves sports and she loves to talk . . . The girls on the [basketball] team call me Coach K."