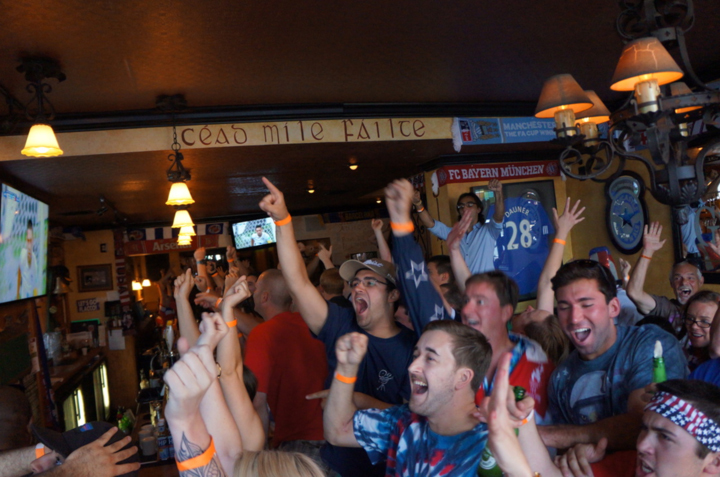 Slainte Pub
Baltimore is one step closer to hosting the 2026 FIFA World Cup.
Back in April, when executive director for Maryland Sports Terry Hasseltine heard that the United States had entered a tri-country bid with Canada and Mexico for the 2026 World Cup, he knew that Baltimore needed to be included—so he placed a bid to host at M&T Bank Stadium.
"We obviously want to make sure that M&T Bank Stadium and the city of Baltimore are considered a part of that portfolio," Hasseltine told Baltimore in April. "We had such a great response when we put in a bid for 2022 [FIFA World Cup], we did it again."
In a list released on August 15 by the United Bid Committee of the United States, Mexico, and Canada, Baltimore was listed as a potential candidate to host and will have until September 5 to declare interest. Final bids will be due January 2018 pending declaration requests.
Ravens are undefeated in the pre-season.
Okay, we know it's only two games…and it's only pre-season but we looked good in Thursday's game against the Miami Dolphins. 
Taking the game early, Baltimore ended the game with a final score of 31-7.
The Ravens defense controlled the tempo of the game, holding Miami to just one touchdown. Third string QB Josh Woodrum showed his chops with 2 touchdowns and some quick running. 
Speaking of the Ravens. . .
There are rumors that the former Ravens center Jeremy Zuttah may be headed back to Baltimore. The 2016 Pro-Bowler was traded to San Francisco in March. However, by August, the 49ers released him putting the big guy in a tough spot.
Considering the injuries on the offensive line and the familiarity of Zuttah, it would be a kismet reunion for both sides if he came back to Baltimore. According to The Sun, the 31-year old offensive lineman and the Ravens are close to a deal. But they better act fast because word on the street is that the Indianapolis Colts are in need of a big guy to protect QB Andrew Luck.
Under Armour's Kevin Plank parts ways with Trump.
In a statement on Monday, August 14, Under Armour's CEO Kevin Plank announced that he would be stepping down from President Donald J. Trump's American Manufacturing Council after the president was openly criticized for not responding quickly to the events in Charlottesville.
"We remain resolute in our potential and ability to improve American manufacturing," Plank said in a statement. "However, Under Armour engages in innovation and sports, not politics."
Plank joined the 28-member panel back in January to help the White House promote job growth because he believed that "it was important for Under Armour to have an active seat at the table" representing the sports industry.  After announcing the company's departure from the group, others on the board followed suit causing the president to disband the panel.
O's outfielder Anthony Santander set to hit the field in today's game.
The injury-prone outfielder was unable to play in 2016 due to a right shoulder surgery and was unable to throw during spring training because of a forearm injury. While on the disabled list for 60 days, the Venezuelan has hit .382/.453/.745 in 16 minor league rehab games. To make space for Santander on the roster, the Orioles have optioned outfielder Joey Rickard to triple-A in Norfolk.