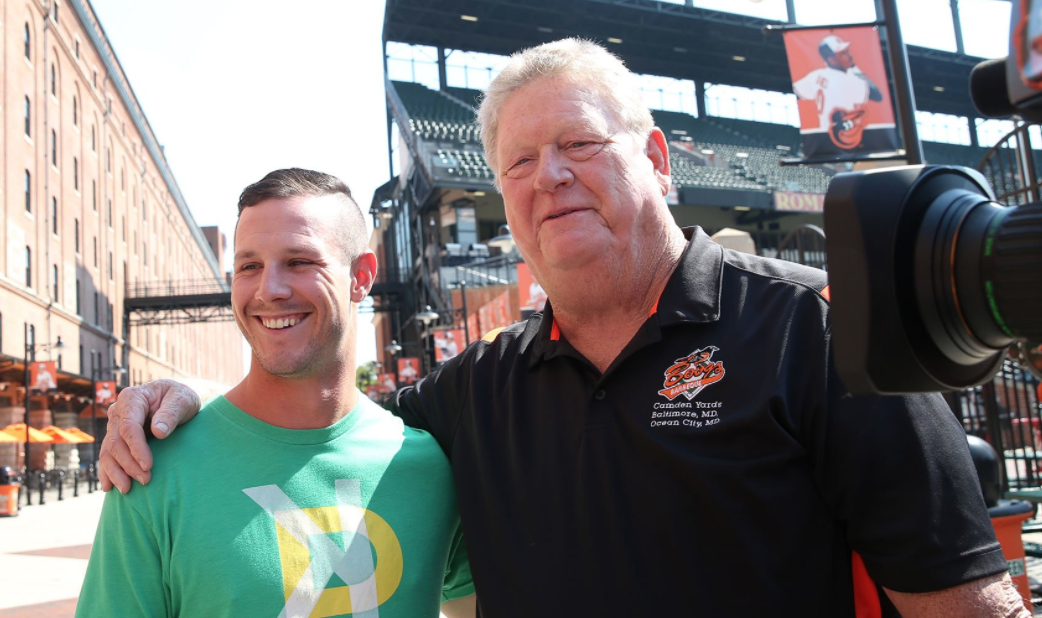 Baltimore Orioles
Let's call what it is—kismet.
First, let's be clear. Boog Powell is no Boog Powell. By which we mean the rookie Oakland A's outfielder—a 5-foot-10, 185-pound contact hitter—is hardly Boogian in stature. Nor had the 24-year-old hit a major league home run before Monday. It's all the more reason to suspect that the baseball gods were in action this week, organizing the circumstances around the young Powell's first career round-tripper. Not only did he smash his first HR in Baltimore, home of his legendary namesake, his shot over the right-field fence nearly reached the original Boog's BBQ stand in right field.
The two Boogs—the younger Boog's real name is Herschel Mack Powell IV, he acquired "Boog" to avoid confusion with his father and grandfather—then met in-person the next day. Naturally, Baltimore's beloved former first baseman brought lunch. "We got him a real nice pork sandwich with a little mustard BBQ sauce—he said he didn't like horseradish—and some onions," big Boog told Baltimore magazine later.
Boog, of course, had nothing but nice things to say about the Oakland ballplayer.
"I've known about him for a couple of years now. He'd been with [the] Tampa Bay and Seattle [organizations] before, but it looks like he found home now. He got a hit off Zach Britton the other night and that's no easy feat for a lefthander."
Amazingly, there was one more Boog for those two Boogs to meet—"Boog 3"— stout 12-year-old Jeffrey "Boog" Powell of Tennessee's Little League World Series team, who face-timed with the professional pair while in school Tuesday.
Our Boog, for his own reasons, received his nickname from his dad as a kid. "In the South they call little kids who are often getting into mischief 'buggers,' and my dad shortened it to Boog," he once said. "Hardly anybody ever calls me John. I don't know if I'd even turn around if someone called me that."
Gervonta Davis fights for world title Saturday.
Baltimore's boxing star—who trained at the Upton Boxing Center—Gervonta Davis will be co-featured in Floyd Mayweather's junior middleweight bout on Saturday night. Davis will be defending his 130-bound belt for the second time against Francisco Fonseca. "I think I have the skills to be able to carry on what he is leaving the boxing fans with," Davis told ESPN. "I'm preparing myself to be a great, great fighter and also a big star in the sport." All the action starts at 9 p.m. on Showtime PPV—or head to places like Corner Charcuterie Bar in Hampden, the QG downtown, or other bars that will be screening the fight.
Manny's curtain calls.
All we can say is we hope the O's somehow manage to resign our third baseman. Manny Machado was named American Player of the Week for the period that ended Aug. 20 after hitting four home runs, including a walk-off grand slam, driving in 12 runs, and batting .385. For an encore, Machado blasted another walk-off home run this week—in the 12th inning no less—to pick up Zach Britton after the O's closer botched his first save since Sept. 20, 2015. (Yes, nearly two years ago.)
Ravens beef up roster (of their broadcast team).
We don't need to get into the Ravens depleted roster and injuries woes (see: Joe Flacco's back). But at least they are adding healthy bodies to their radio squad. The team and 98 Rock/WBAL NewsRadio 1090 announced this week that former tight ends Todd Heap and Dennis Pitta, and former running back Justin Forsett and linebacker Jarrett Johnson—popular, accomplished players one and all—will each join Ravens radio broadcasts for four games this season. They will work alongside play-by-play man Gerry Sandusky and former Baltimore Colt linebacker Stan White this year.
Paddle it forward.
Breast cancer survivor and Havre de Grace-native Carolyn Choate, 59, and her daughter Sydney, 27, left New York in kayaks two weeks ago, expecting to reach the Inner Harbor this Sunday. Their goal along the way is to raise $500,000 in honor of the late Dr. Angela Brodie, a world-renowned researcher at the University of Maryland School of Medicine.
Brodie, who passed away this June at 82, developed the new class of drugs that Choate credits with saving her life. Choate, who lives in New Hampshire, was initially given three years to live after her diagnosis 14 years ago. She became to determined to find the researcher who had saved her life, finally meeting Brodie in 2014 at the University of Maryland School of Medicine, receiving a tour of the laboratory where Brodie did her groundbreaking work.
You can follow the kayaking journey here.