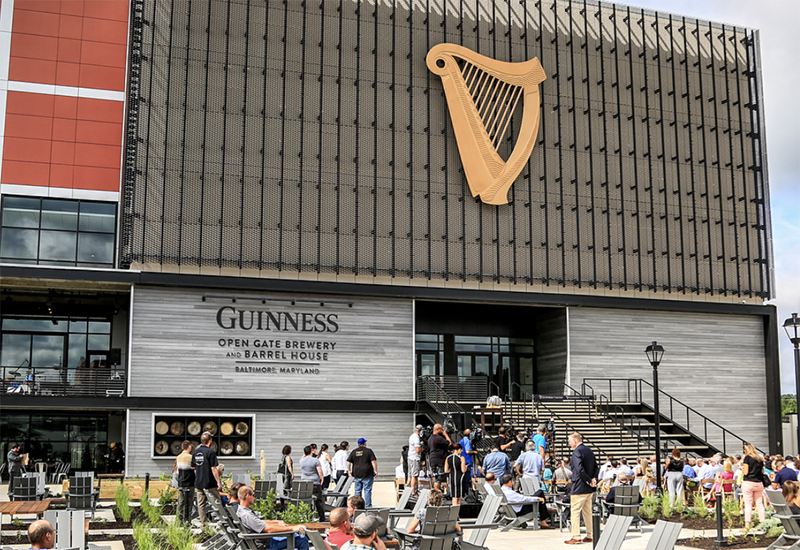 Guiness/Instagram
Beyond booking a trip to Ireland, if you want to drink Guinness beer straight from the source, Halethorpe is the only place in the United States to go to drink the legacy brand's beer. And now, thanks to a partnership with MDOT MTA, that trip just got a whole lot easier.
At the beginning of September, a new CityLink Yellow route started running from downtown Baltimore to the Guinness Open Gate Brewery and Ale House—a trip expected to take 30 to 40 minutes which Guinness hopes will build upon the 400,000-visitor number it achieved in its first year. Service will extend from the Halethorpe destination all the way to a final stop between Guilford and Centre Streets in Mt. Vernon.
"Sixty percent of our visitors are from the state of Maryland," says Guiness general manager Michael Donilon. "We've become a local brewery."
As such, it seems prudent to make that local brewery as widely accessible to as many Baltimoreans as possible. In the year it's been open, the facility has become a popular weekend destination, as well as a popular attraction for tourists visiting the city. With this in mind, the new bus route, which will start as a year-long pilot program, will service 58 weekly round trips—including nine on weekdays, seven on Saturdays, and six on Sundays.
Donilon was pleased with MDOT MTA's willingness to collaborate on a project that worked best for the government and for the brewery. The initiative speaks to Guiness's commitment to promoting safe and responsible drinking, and serves to complement its partnership with Lyft's ride sharing service. "We are a test brewery, and MTA is willing to test and learn and adjust," Donilon says. "That's in line with the way we do business here."
Donilon also cited another way the route will be a boon for the brewery—assisting its employees. Guiness added 200 jobs on its sprawling facility, and in staff interviews, management found that around 30 percent of those workers used some form of public transportation to get to the area.
As for the future, Guinness hopes that its visitor numbers will continue to increase, and with the introduction of this new bus line, there's no reason that can't be the case.
"Maryland does have a very good brewing history and a very knowledgeable base," Donilon says. "The brewery hours are not changing, but now our guests have several avenues to come out and see us."