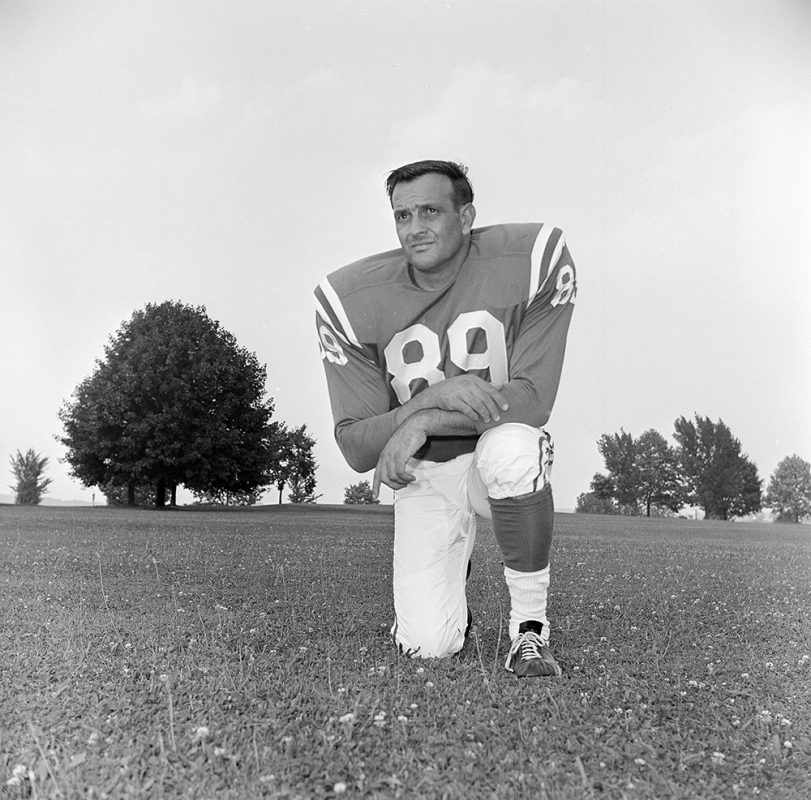 AP Photo
"He was one of the greatest of the true Colts . . . "
—Pete Genovese, son of an Italian barber
Last week, when the first reports of Gino Marchetti's death hit the news, somebody on TV flubbed the Hall of Fame football legend's last name. Instead of pronouncing the second syllable with a hard C—as in "kettle"—he made a soft C, like "cheddar."
Obviously, the guy behind the microphone did not grow up in Baltimore.
"Gino Mar-cheh-tee died," was how it came over Phyllis DeFelice Rubino's television in Belair. As soon as the words were out of the announcer's mouth, the die-hard Colts fan called the station to complain.
Rubino, who came of age in 1950s Highlandtown when the area was Baltimore's second Little Italy, wasn't the only Colts fan to call TV Hill with a correction after Marchetti succumbed to pneumonia on April 29 in Paoli, Pennsylvania. He was 93.
But it's a good bet that the she was the only one who jumped up and down on the Memorial Stadium sidelines and screamed Marchetti's name —along with Unitas and Donovan, Ameche and Parker—in white boots and a short blue jumper way back when she was an original Colts cheerleader.
"He was like a freight train," said Rubino of the 6-foot-4, 245-pound defensive end, a Colt from 1953 through 1966. Freight train, yes—his surviving peers were quoted in nationwide obituaries saying you did not want to get in Gino's way. But he was also quick off the snap, agile, and as fast as just about anyone in the backfield, be it running back or quarterback, whom it was his job to bring down. "We went crazy when he made a tackle," said Rubino, who cheered for the team for more than a decade.
The West Virginia-born Marchetti was the son of an immigrant coal miner. He was the husband to Joan Plecenik; father to Gina Burgess, Michelle Kapp, John Marchetti, and Eric Marchetti; stepfather to Donna Lloyd; and beloved grandfather and great-grandfather many times over.
But to Nazzareno F. Vellegia—the 86-year-old son of one of Little Italy's original restaurateurs—Marchetti was a dear friend and, not long after the Colts were humiliated by the New York Jets in the 1969 Super Bowl, the best man at his wedding.
He was a big fan of the polenta parties hosted by Enrico Vellegia, founder of the restaurant at 829 East Pratt Street, which began serving meals out of the family's private kitchen on High Street in 1937 and was sold in 2009. It is now a failed and shuttered sports bar.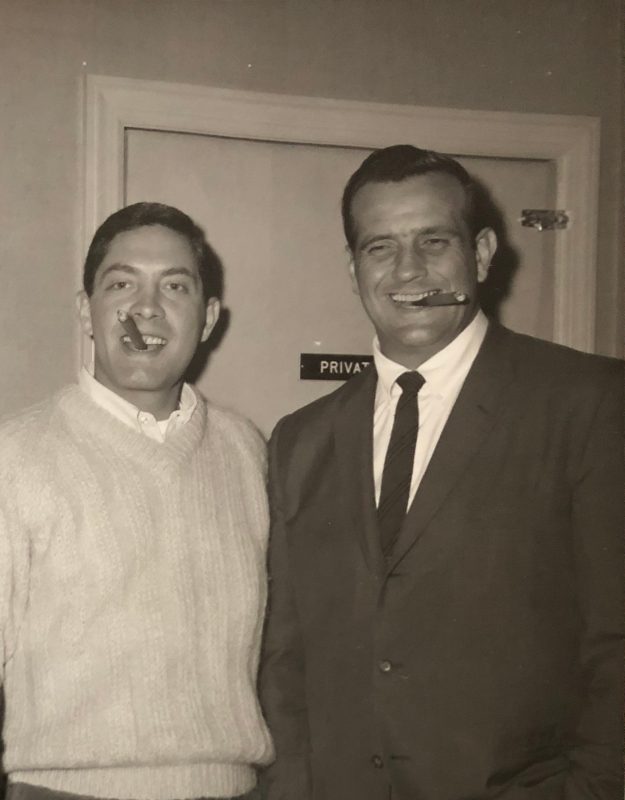 "Gino's favorite dish was veal saltimbocca," said "Naz" Vellegia of the veal, prosciutto, and sage dish marinated in dry white wine. The name translates into "jumps in the mouth," for how good it is and plenty made the journey from plate to palate when Marchetti dined at Vellegia's.
Naz said his extended family got to know Marchetti and some of his teammates—particularly fellow Italians Alan Ameche and Joe Campanella—when the local Italian-American Civic Club invited them to a father and son dinner. "He was very proud to be Italian. We all were," said Naz.
The trio of Italian ballplayers would later launch a fast-food restaurant called Gino's in Dundalk, which became a chain whose "Gino Giant," is said to have been copied by McDonald's for the Big Mac. The burger joint's jingle is still fondly remembered: "Everybody goes to Gino's, cuz Gino's is the place to go . . ."
"Marchetti was one of the greatest defensive players I ever watched," said Pete Genovese, who grew up above his father's barbershop at 234 South Highland Avenue before moving to St. Louis to teach college literature. "No smart coach or quarterback ever ran a play to his side."
Genovese's father Pietro was not an especially keen fan of sports, but he knew enough to know which teams had an Italian on the roster and would root for that paisan no matter for whom he played. "He's the one who told me that [Red Sox outfielder] Tony Conigliaro's name meant 'rabbit,'" he said. "It was all a matter of pride."
When it came to other ethnicities, however, the old barber had a decidedly closed mind. Pete never told his father that Hall of Fame catcher Roy Campanella of the Brooklyn Dodgers [and the Baltimore Elite Giants of the Negro Leagues] was African-American.
Marchetti, however, was vocal in his support of his black teammates, both in college and in the pros. "He stood up for his black college teammates [at the University of San Francisco] before a bowl game that tried to exclude blacks," said Jack Gilden, author of Collision of Wills, a 2018 book about the testy relationship between Colts quarterback Johnny Unitas and coach Don Shula. "Gino urged the team to turn down the invitation and they did."
Deeply held, Marchetti brought his convictions to Baltimore—where in 1969 he was named the best defensive end in the first half-century of NFL history—and the Hall of Fame in Canton, Ohio in 1972.
Upon learning of his old friend, teammate, and fellow Hall of Famer's death, Colts running back Lenny Moore told the The Baltimore Sun: "With all of the racism and stuff going on then, Gino was right there in our corner, and we never forgot that."
Marchetti's death, said Moore, " . . . hits the heart."
Right between the blue horseshoes on a white helmet.