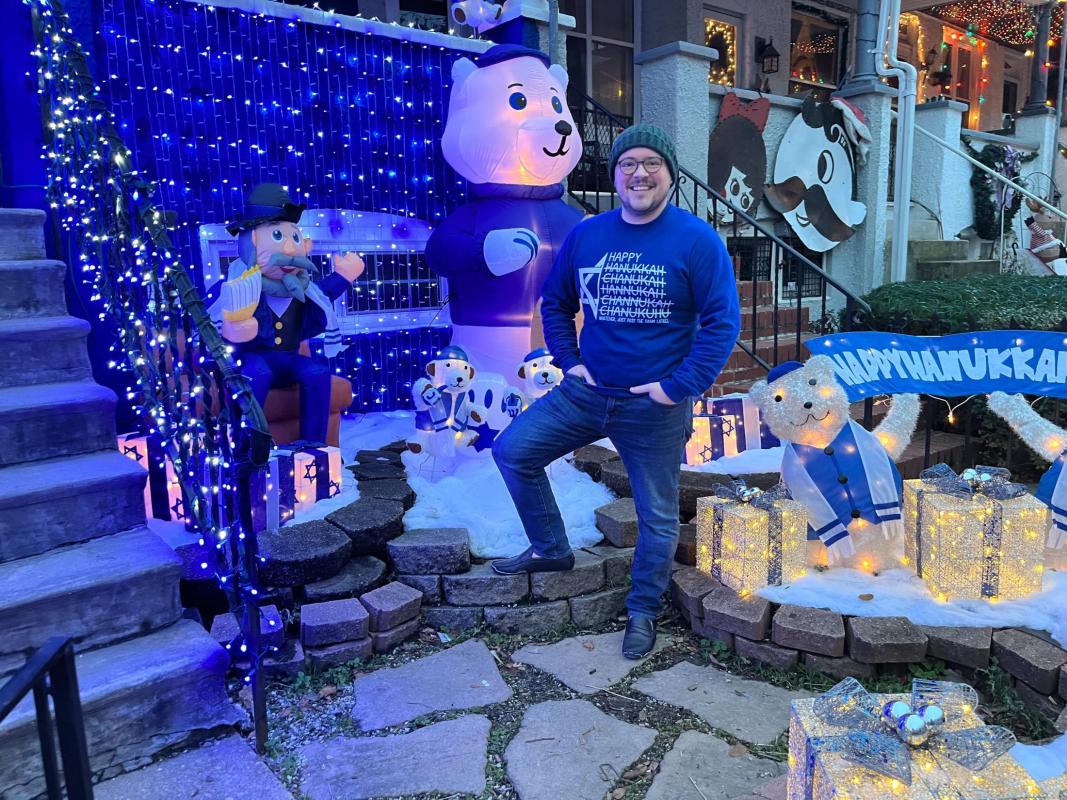 Joshua Lamont poses in front of his Hanukkah decorated rowhome on West 34th Street. —Grace Hebron
In the five years since Joshua Lamont became a resident of the 700 block of West 34th Street in Hampden—the stretch that annually transforms into an illuminated holiday wonderland from Black Friday until New Year's—he's gotten used to fielding misconceptions about what it takes to live there. 
"Generally, you get the same questions every year," says Lamont, an ASL interpreter who has lived in Baltimore most of his life. "Like, 'Oh, I hear the city pays for your electricity' or 'I hear that it's an obligation and that you sign a [decoration] contract when you buy your house.' None of that is true. None of us are forced to do this. We all just kind of pitch in and do it together."

Although Lamont was fully on board to participate in the tradition alongside his new neighbors when he moved in, he knew that he wanted to use his home to fill a void in the block's holiday representation, which is mostly filled with traditional Christmas decor. 
"There's not a whole bunch of [Hanukkah representation in general,]" he says. "We get one Adam Sandler song, and that's really about it." 
Taking inspiration from childhood excursions to Pikesville's famous Chanukah House, Lamont thought to himself: "If I could bring something like that to 34th Street, maybe the young Jewish children who come here to see the lights [could also feel included.]"
So, in 2017, Lamont began a wintertime tradition of decorating his rowhome to honor the Festival of Lights—the Jewish holiday that celebrates a small supply of oil that miraculously kept the ancient maccabees' temple illuminated for eight nights.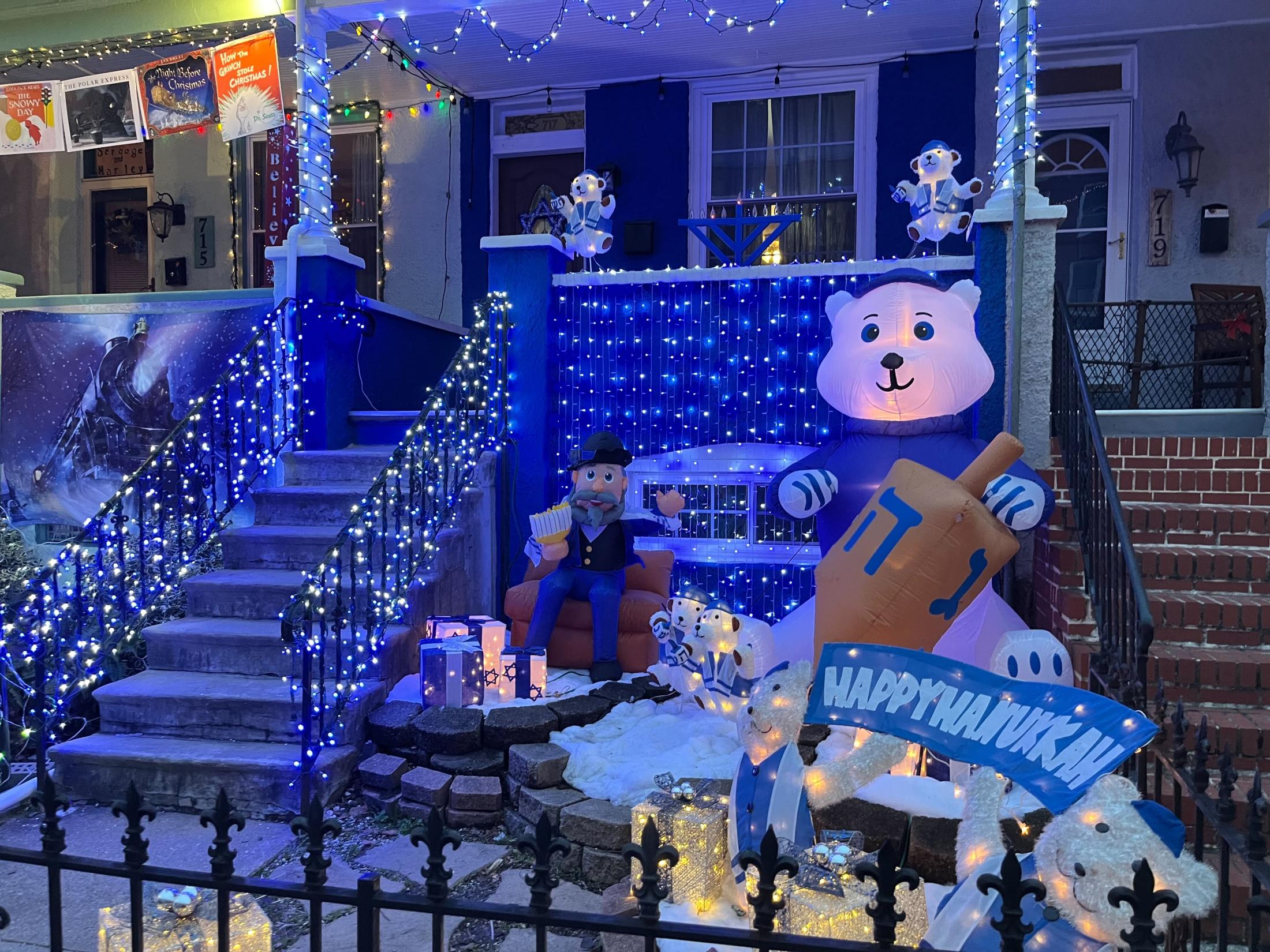 The first order of business, says Lamont, was to track down and purchase large-scale Hanukkah decor.
"That first year I found the big bear and menorah that I have out there online," he says. "My realtor also bought some decorations, which was really sweet. And I worked with a lot of the lights that were left by the previous owner. If you look at pictures of that first year versus now, it's two completely different houses."
Over time, Hampden's Hanukkah House grew to showcase several smaller polar bears, a covering of cotton snow, a pile of glowing gift boxes, an inflatable "Mensch on a Bench (a Hanukkah counterpart to the Christmas favorite "Elf on the Shelf,") and four dreidels twirling on the roof—each displaying the symbolic Hebrew letters found on the four-sided spinning tops. But Lamont says the menorah (a glowing candelabra with eight branches to symbolize each night of the holiday) on his front porch is the element that continues to be a favorite among spectators.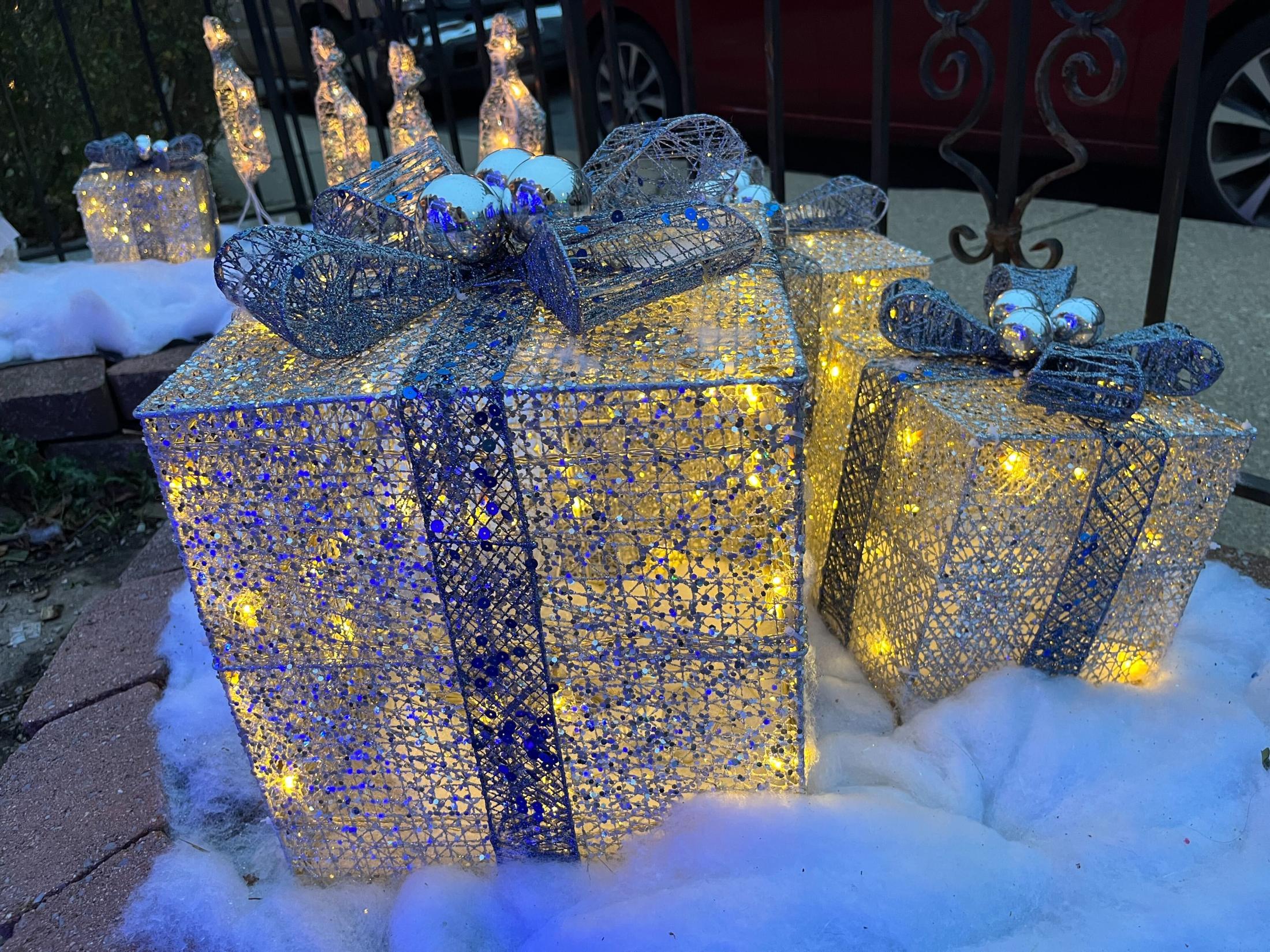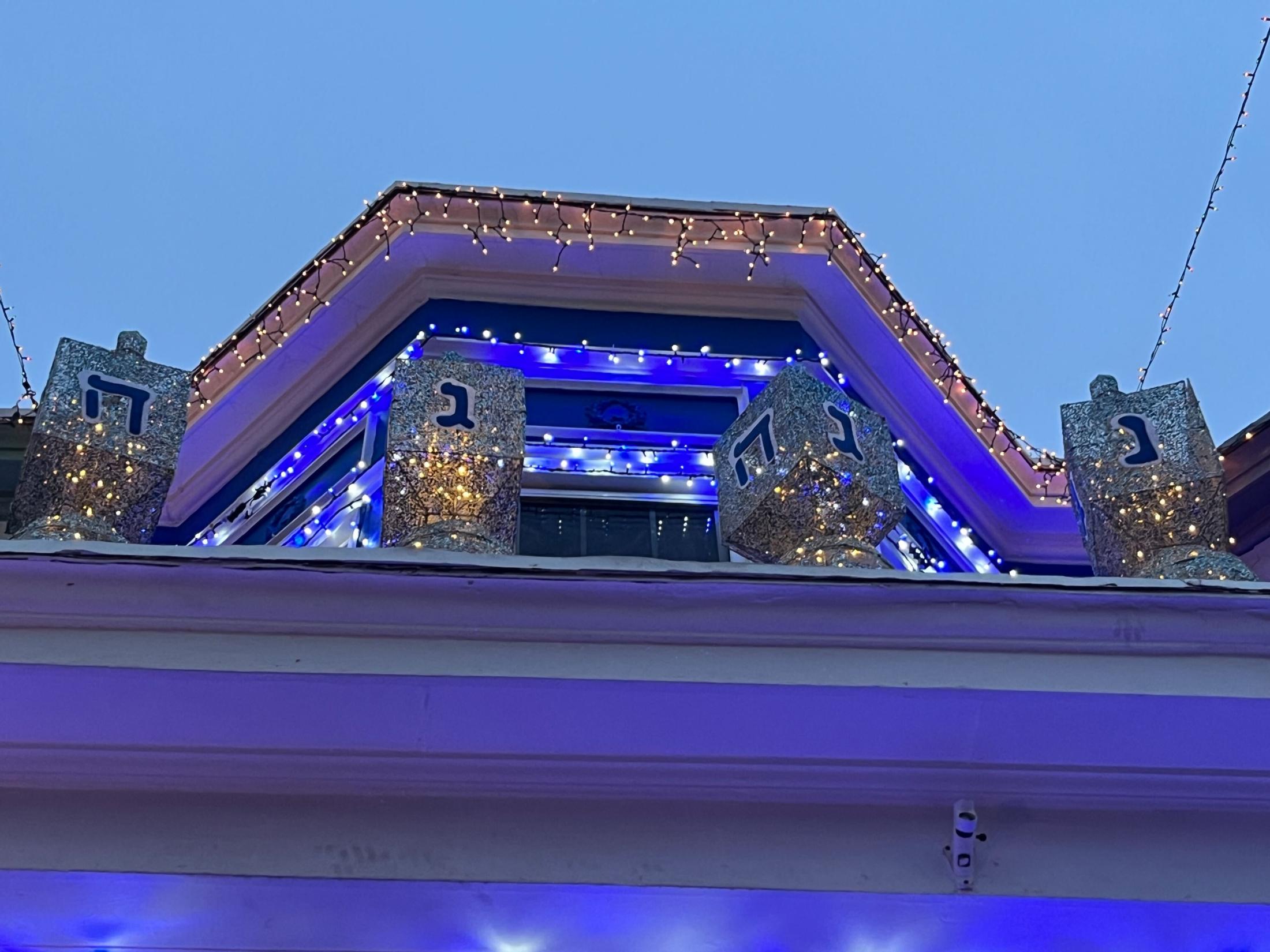 "Once Hanukkah starts, I go out every night and light the candles," he adds. "People really like that. We try to pick one or two nights where we also make latkes [traditional potato pancakes, fittingly fried in oil] for the people who come by."
For his part, Lamont says his best memories of Hanukkah involve receiving socks on at least four out of eight nights—to which he credits a collection of at least 150 quirky pairs amassed throughout his life—and spending time with family. With the Hanukkah House, Lamont is grateful to be able to help carry on that sentiment for others.
"That's why I want to do it," he explains. "That's the point of the holiday, right? To gather around the hearth, be warmed by the fire, be with your family, and just appreciate making it through the year. That concept doesn't have words. It's just joy."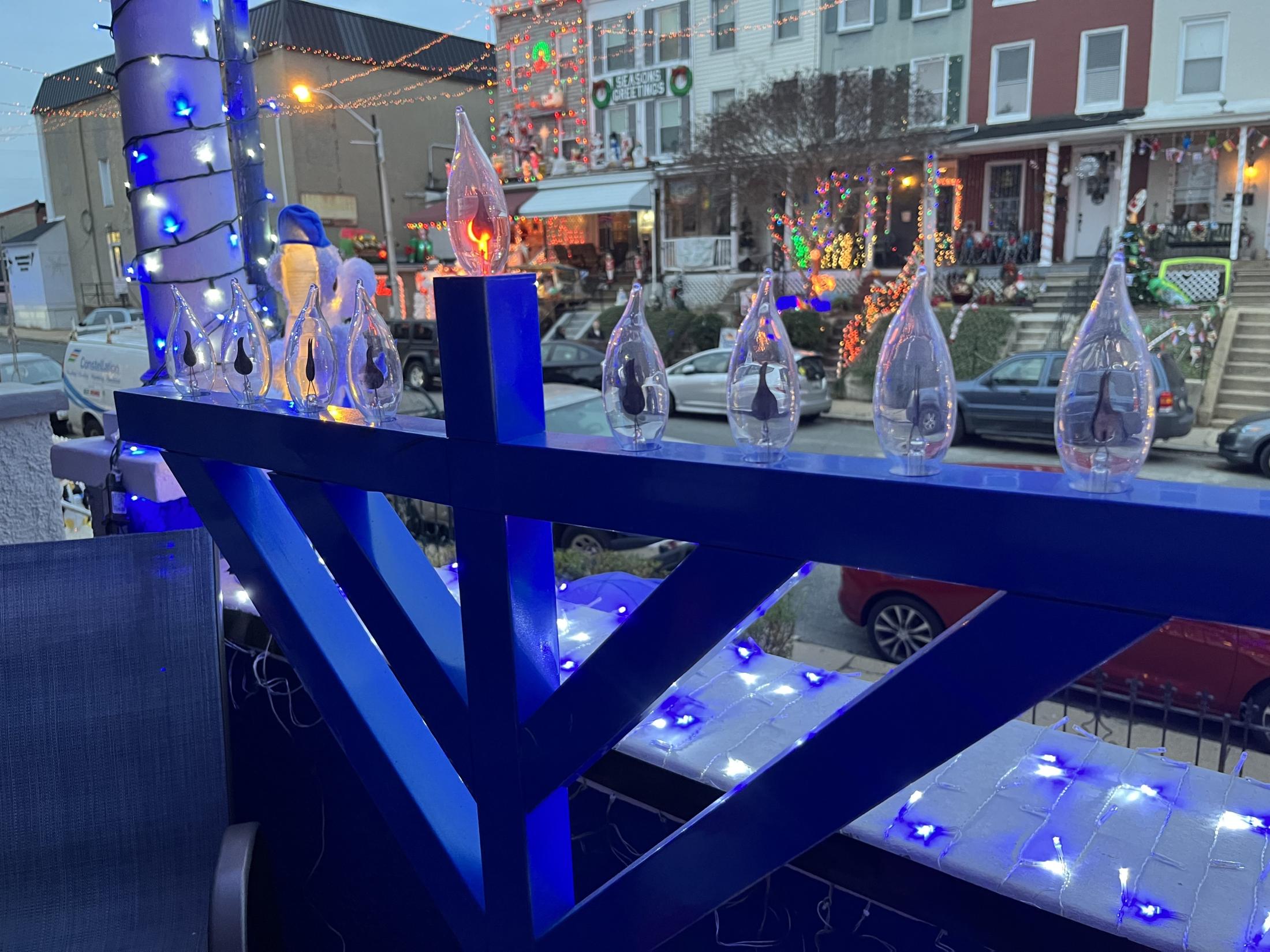 Sadly, an age of heightened antisemitism comes with looming threats of vandalism to his passion project, but Lamont says the majority of the reception has been "incredibly positive."
"We've had experiences with graffiti and destruction of things," he says, "but it's nothing that I can't clean with a power washer. You just keep your head up and keep going on."
That's exactly what Lamont intends to do. In years to come, he hopes to buy and build more decorations, like a 12-foot-tall menorah for his roof.
"I'll be here for the long haul," he says. "Every year, I'm trying to figure out, 'What's the next coolest thing I can add to this? What can I do to make it a little bit bigger? A little bit better?'"
Such, he says, is "life on 34th Street."