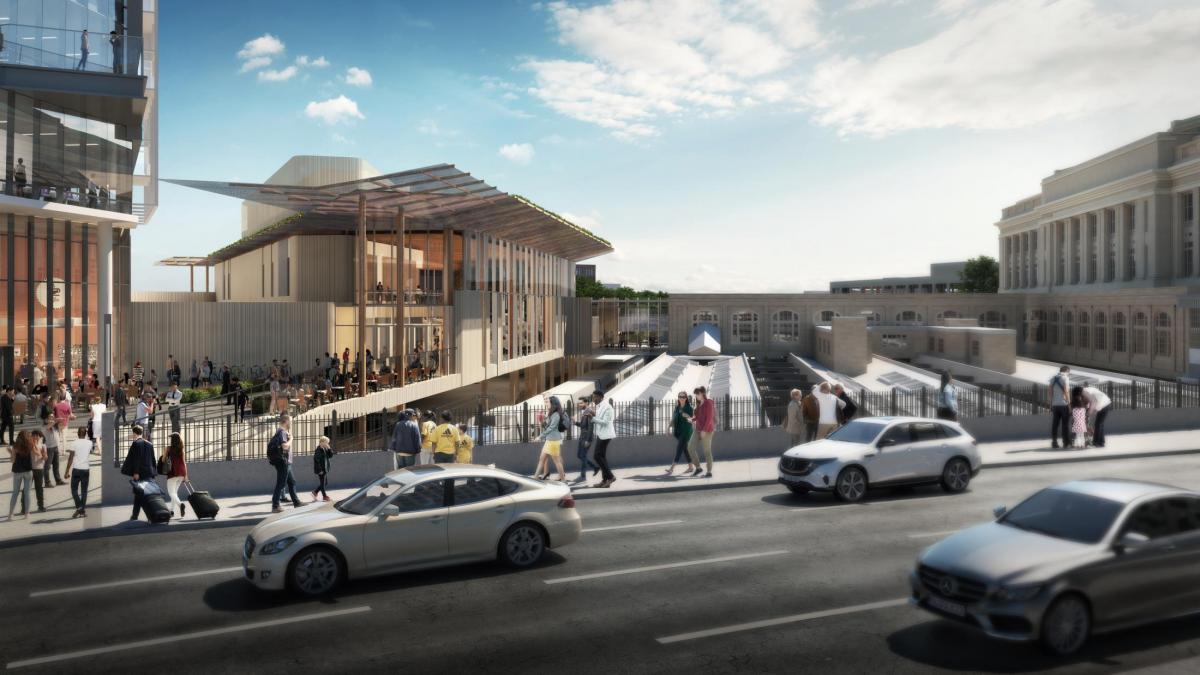 A new concourse is being built north of the historic station. —Renderings courtesy of Penn Station Partners via Gensler
By now you've probably seen the renderings—released by development group Penn Station Partners last month—of what a redeveloped Penn Station could look like.
They show a modernized version of the historic hub that is cleaned, refurbished, and well-lit. The outside plaza, currently a maze of drop-off and pickup lanes, looks more pedestrian-friendly (though the debated Male/Female statue isn't accounted for.) And north of the building is a brand new, glass-encased concourse for the passenger trains that will run through.
Adjacent to the new concourse, the renderings show two multi-story buildings, which developers say are intended to be private and mixed-use, combining retail, offices, and apartments.
Long-awaited construction is expected to begin this summer, according to Penn Station Partners' John Renner. The first phase will include cleaning the outside of the existing building, while also refreshing, repairing, and re-lighting it. 
"Before we know it, we'll see scaffolding outside," Renner says. "After so many years of talking and planning, there will be some physical work at the station."
Tim Pula, another developer with Penn Station Partners, says interior work should begin in the fall, followed by the construction of the expansion north of the existing structure in spring 2022. The developers say all work is slated to be complete some time in 2023. 
We know the new building is where passenger-facing operations like ticketing and bag check will be. It's also where a new, high-speed rail platform managed by Amtrak will be accessed. But what the renderings don't show is what the renovated interior of the historic Penn Station building, first constructed in 1911, will look like.
Three years ago, we had some thoughts on what we'd like to see in the new station. Now, with construction finally looming, we thought we'd share some more insight, and talk with regular commuters about what features they'd like to see, as well. 
The basics: Better lightning, clean bathrooms
We hope the refurbished Penn Station has more spacious, and renovated, bathrooms that don't feel so grim. Many of the commuters we spoke to mentioned they'd like to see improvements to the stairs and elevators, making it easier to get to and from the train platforms. And yes, this wish list item includes more seating, so that passengers waiting for a delayed train all have an actual spot to rest.
Dining options
There's nothing wrong with Dunkin' and the grab-and-go cafe inside the station now—especially if you're trying to move quickly—but Penn Station, which is in some absolutely prime real estate, would seriously benefit from a nice sit-down restaurant or two. 
"It would be nice to have one or two other options for food, even if it's little carts that come and go," says Phyllis Fung, who works in marketing and, pre-COVID, commuted to Washington, D.C. each day from Penn Station. 
Jay Louis, who works as a federal budget analyst, tells us he'd like to see more locally owned food and amenities on the property, both as a commuter and as a neighbor. 
Local art
With a 50,000-square-foot addition and all of historic Penn Station to fill, we think there's great opportunity for developers to adorn the walls with local artwork—especially given that Penn Station is directly adjacent to the Station North Arts District, and, in non-pandemic times, smack in the middle of Artscape. 
"That whole section of the city is about art, in my brain," says Owen Henry, another Penn Station commuter. "I've seen some of the renderings [of the redeveloped station], and they look good. But within that design, they're going to have to decorate the space."
Less, not more, parking
The plans call for making the existing exterior plaza more pedestrian friendly, and we're happy about that. But, Talia Kaatz, a survey researcher who would bike to the station in non-COVID times, says that the plans should not prioritize cars and rideshare over cyclists or buses. 
"The bike racks [outside Penn] would overfill by 8 or 9 a.m. pretty much every day except during the few coldest months," she says, "and it's crazy to me that busses only can pick up and drop off on the surrounding streets. It would be nice to have something of a bus bay like they have at metro stations in the D.C. area."